Entrepreneur Shop – Uniting Blockchain and Near Field Communication
The influx of people into the cryptocurrency market has made an astronomical rise in the adoption of blockchain technology. Numerous supporters, investors from different field of professions and businesses around the world have embraced new technological innovation which has helped reshape the world. Basically the rise of cryptocurrency and subsequent attention brought to blockchain technology has prompted nearly every industry to evaluate the benefits of integrating the technology into their operations One firm at the forefront of this innovation is ESO introduces the most advanced applications made on top of artificial intelligence technology and blockchain technology.
Entrepreneur Shop Platform
ESO introduces the most advanced applications made on top of artificial intelligence technology and blockchain technology. While existing solutions offer to solve just one problem at a time, our team is up to build a secure, useful, and easy-to-use product based on private blockchain. It will include easy cryptocurrency payments integration, and even a digital arbitration system.
ESO is a platform that unites Blockchain and NFC technology. Currently, there are many weaknesses in financial transactions, such as a weak level of security, not efficient because we must to carry cards (credit cards, ATMs and others). ESO is the opening door for future advancements and the development of financial transactions from transaction technology that is integrated with NFC technology and machine learning that have not been applied at all by current financial transactions. This concept is very good for the future growth of financial transactions.
Why NFC?
NFC works between two adjacent devices that can open various forms of communication and transactions in a way that is very convenient when used by users. NFC allows people to do what they want by touching or placing their device close to the desired service. This makes the form of electronic services and other interactions more accessible to many people.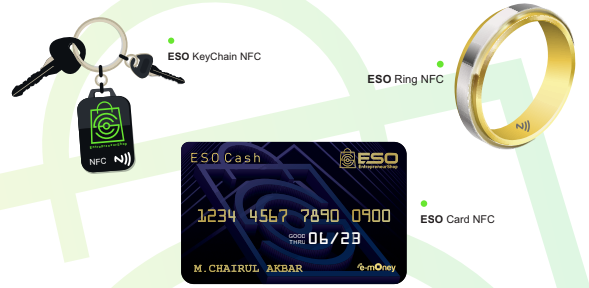 ESO will have its own wallet, and you can connect to your ESO wallet through this. Users can directly store their digital assets on the provided wallet, safely without worrying about the wallet to be stolen because ESO uses NFC, cryptographic and encryption systems, which only Users know the key to their digital wallet. This wallet is designed using the ERC-20 system, which securely stores the user's assets.
ESO is developed using a directly integrated system, which uses renewable and sustainable Blockchain technologist to create a secure and transparent financial service for the user. Using Blockchain technology, ESO allows users to transact instantaneously. Every transaction made by the user will be completely anonymous so that users can transact freely without any interference from unauthorized parties. Users can directly purchase goods online, without the need to face to face with the seller.
ESO Platform believes that with a solid and dependable team and system, ESO can provide Users, a secure, yet powerful financial service, and provide users with diverse benefits and conveniences that can enhance their experience in using transactions and using financial services in daily life – their day. In the Entrepreneur Shop ecosystem will be possible to make trade, payments, store the assets purchase goods, marketplace and news channels will be available, without worrying about the security of the transactions we all do.
Entrepreneur Shop Ecosystem
ESO Wallet
ESO Wallet is a crypto-e-money financial platform that will facilitate cryptocurrency users to conduct transactions who cannot use cryptocurrency as a payment instrument in several jurisdictions. With ESO wallets you can easily make purchases quickly and can be used anywhere due to operations on electronic money-
based ESO wallet applications.
ESO User Gate Wallet (UGW)
ESO UGW is an NFC (Near-Field Communication) tool that has the function to access ESO Wallet Application user accounts. You can imagine how comfortable you are to make transactions without having to carry money, digital devices like smartphones. ESO issued several NFC devices that can be used to make sales.
ESO e-Commerce
ESO e-commerce is a platform for buying and selling goods and services on a global/international scale. As a large-scale target, ESO will use ESO tokens for barter transactions based on ESO token market prices or using ESO cash for payment by exchanging fiat currencies instantly, so that it can make it easier for everyone to shop anywhere and anyone without having to use a credit card for the payment.
With ESO e-commerce we will bridge all people from various backgrounds, races and countries to develop their business on a global scale easily, safely and reliably.
ESO Pay
ESO Pay is a payment gateway such as skrill, PayPal etc. In the e-money world where you will be able to easily make transactions directly in the mini market, withdraw cash at merchants who work with ESO just by attaching ESO UGW.
ESO Finance
Eso finance works as an Acquisition is buying a majority or as an owner of a business entity whether it is experiencing a financial crisis or not.
ESO Education and Training
ESO Education and Training will be used to improve the ability of users who are still in school education and who have completed school to home users' skills in marketing, entrepreneurship, self-development and individual leadership with the aim of developing the potential for success and reducing financial disparities in various countries so that users will be able to create jobs.
ESO Beauty
Beauty and body care clinics are where customers can pay for maintenance by using ESO, ESO Beauty also functions as a supplier of beauty products at affordable prices and quality.
ESO News
ESO News will provide information about Fintech, Cryptocurrency, Regarding Forex, E-Commerce and related to the business world. ESO New's primary objective is to update business information media so that visitors get information.
ESO Forum
ESO Forum will be an excellent tool for the community as facilitators and supporting the needs of ESO Forum members.
ESO Technology
One of ESO's ecosystems that aims to develop technologies that already exist and will be built, so that the community of technology lovers can issue ideas and skills with the ESO team to create innovative new technology. Where these technologies can be useful for children, students, students, businesses and companies.
ESO Fauchet
A place for producing Cryptocurrency and Dollars to its members in the form of free digital money just by passing Captcha with a specified time interval, there are those every 15 minutes, 30 minutes or once an hour.
ESO Network
ESO is a holding company engaged in Network Marketing with premium quality products in the content of people who have experience in the network world with a proven marketing plan.
How ESO Works
Token Sales & Details
Token Name: EnterpreneurShop
Symbol: ESO
Platform: ERC20 (Ethereum)
Type: Smart Contract
Total Supply: 300,000,000
Road Map
Team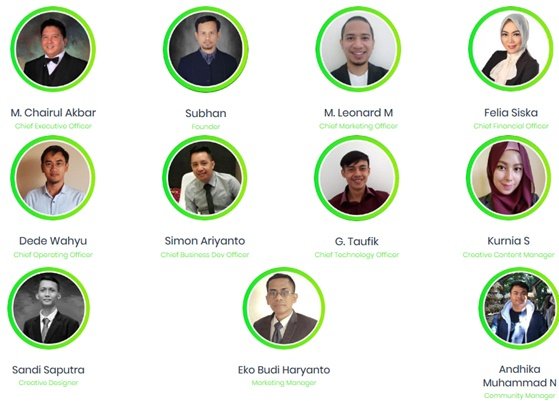 For more information, please visit the links i have provided below;
Website: https://e-so.co/
Whitepaper: https://drive.google.com/file/d/1ElYQ4MIWkoaew2xbuatd8Rvs0SYssx8K/view
Facebook: https://www.facebook.com/EsoIDs
Twitter: https://twitter.com/ESO_Officials
Telegram: http://t.me/ESO_Official
ANN Thread: https://bitcointalk.org/index.php?topic=5049218#new
Medium: https://medium.com/@ESO.Officials
Bountyhive Username: Brainerdpaul
Referral Link: bountyhive.io/r/Brainerdpaul
BitcoinTalk profile link: https://bitcointalk.org/index.php?action=profile;u=1680409