ENTRY: Modern and People-Oriented Blockchain Bank ( ICO in PROGRESS)
Modern economic circumstances along with blockchain technology development have revealed new problems related to the financial sector. The existing banking system does not give a reasonable technical answer to such challenges as global financial crises and lack of security due to centralized nature of the financial institutions. That is why the integration of blockchain technology into the banking sphere will enable bringing unprecedented system self-organization and greater security for the clients. Such undertaking is not a simple task and requires complex solutions for seamless functioning of the blockchain mechanisms within banking ecosystem.
📌 And here the solution comes up – ENTRY PROJECT that may be considered as the people's blockchain bank.
WHITEPAPER: https://entry.money/ENTRY_Whitepaper_v1.pdf
WEBSITE https://entry.money/
Why ENTRY?
ENTRY team is developing an AI empowered banking services functioning on smart contracts within a unique blockchain ecosystem (ENTRY platform). Such platform is aimed at simplifying the usage of fiat and cryptocurrencies for the clients in their daily financial activities. Furthermore, ENTRY will serve not only as a banking entity (offering deposits, access to credits and low-cost transactions) but as a cryptocurrency exchange used both by institutional investors and private individuals.
The concept of the global ENTRY crypto bank assumes combining such BASIC SERVICES within ENTRY platform: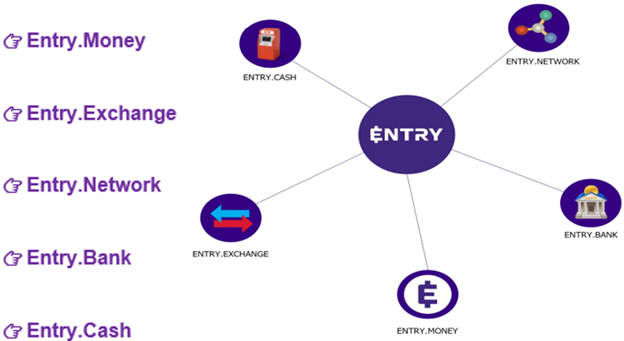 Each of the above-mentioned components has its own specific functions:
➡️ Entry.Money will serve for e-commerce purposes as a gateway for fiat and cryptocurrency payments;
➡️ Entry.Exchange will deal with easy currency conversions and will be used by traders worldwide (have a look at the advantages of Entry.Exchange in the below-given comparison table);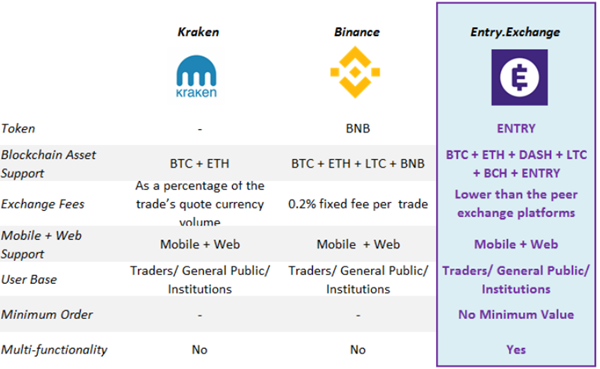 ➡️ Entry.Network will use smart contracts for integration of the complex processes into the ecosystem;
➡️ Entry.Bank will provide crypto-banking services (deposits, credits, insurance etc);
➡️ Entry.Cash will be used as an ATM system for fast converting and withdrawal crypto to cash.The combination and interoperability of the Entry services will enable the creation of the new revolutionary financial entity integrated with smart contacts and bringing transparency, security, and ease of use for the customers worldwide. Furthermore, such undertaking will allow for expanding the use of cryptocurrencies in the real sectors of the global economy by achieving suitability for everyday transactions.
Among KEY ADVANTAGES of the ENTRY platform I would emphasize the following:
👍 People will get an opportunity to use fiat and cryptocurrencies without going into details on the technology behind the system;
👍 Increasing the flow of cryptocurrencies in the real economy thus providing more stability in the crypto world;
👍 Enhancing utility of crypto tokens with a possibility of the transaction in fiat;
👍 Removing intermediaries from the system thus making it faster, cost-effective, and secure.
👍 Incentivizing loyal users with ENTRY Tokens by rewarding for purchases made through ENTRY wallet. This will maintain the growth of the token price, liquidity, and platform speed.
BENEFITS: TRADITIONAL BANKS versus BLOCKCHAIN BANKS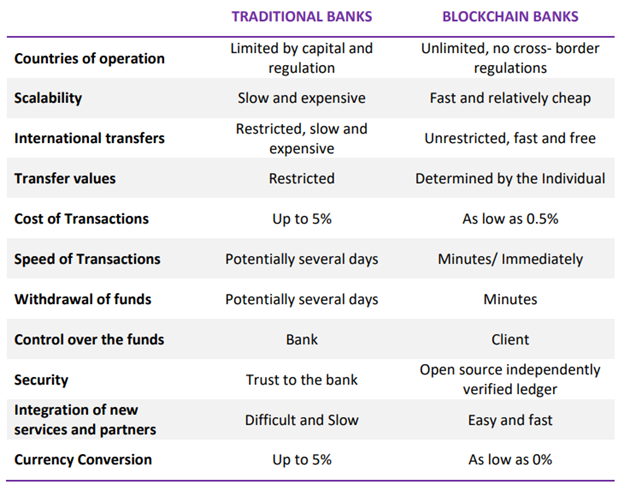 ENTRY Token and ICO Details
ENTRY project will be issuing ENTRY Token serving as the utility for a decentralized banking ecosystem for micropayments as well as for supporting and exchanging value in a cost-effective manner through peer-to-peer transactions. There will be a possibility to use ENTRY Token to pay for any fees and services within ENTRY banking platform thus allowing to build a fully functional ecosystem where ENTRY will be the main currency. The tokens will be managed in the Ethereum ERC20 network and can be bought and exchanged in Ethereum-supported wallets.

ENTRY can be considered as one of the earliest adopters of blockchain integration into the banking sector of the economy. This fact must attract a lot of institutional investors and private individuals who will invest money in the form of ICO – a new way of fundraising campaign through issuing the utility crypto tokens of the project. Let us look into the details of the ENTRY Token specifications and fundraising campaign:
▶️ PRIVATE PRE-ICO: 15th of March – 1st of May
▶️ PUBLIC PRE-ICO: 3rd of May – 10th of May (extended by community request due to a late start)
▶️ TOKEN SALE / ICO: 1st of June – 31st of August
▶️ TOKEN SYMBOL: ENTRY
▶️ KYP/AML: required for all ICO participants before or after purchase
▶️ TOTAL SUPPLY OF ENTRY COINS: 590 000 000
▶️ SOFT CAP: 25 000 000 ENTRY / 2 500 000 EUR
▶️ HART DAP: 325 000 000 ENTRY / 80 500 000 EUR
▶️ TOKEN PRICE: depending on the ICO stage (starting from 0.1 euro at public pre-ICO)
▶️ PURCHASE METHODS: EUR, USD, DEBIT CARDS, ETH, BTC, BTH, LTC, DASH and more
It must be noted that tradable ENTRY tokens can serve as an investment tool and stored by active traders or long-term investors for good profits.
ENTRY tokens distribution will take place according to the following structure: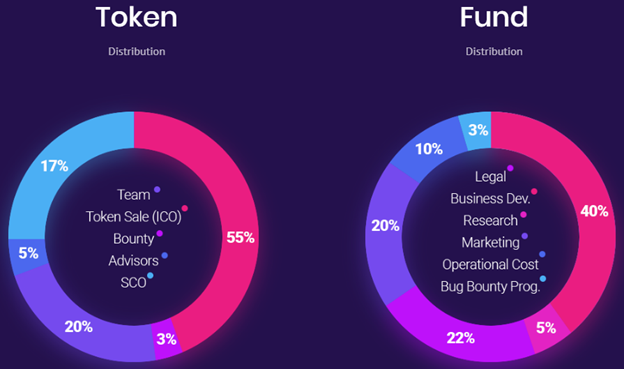 PROJECT TEAM:
ENTRY project team is quite large and consists of successful industry experts and advisors having a lot of experience in the related fields: blockchain technology, finances, infrastructure and integration, Frontend & Mobile Development, operations management, software engineering, data science, fintech, and marketing etc. It must be noted that the team members and advisors have been selected very carefully and this can really help ENTRY undertaking to achieve stated financial results and implement the concept of blockchain integration into the banking ecosystem. The explicit list of the team members/advisors and their details can be found on the official website of the ENTRY project: https://entry.money/ico-team_members/
CONCLUSIONS
Taking into account innovative concept of ENTRY project I would conclude that this undertaking is worth investing in more details and contributing at the early stages of ICO. Blockchain implementation into the banking sector will give the possibility to resolve a lot of issues related to funds security, cost-effective transactions, sharing personal data with intermediaries, clear working mechanisms. ENTRY banking platform in the combination with decentralized blockchain technology will attract big corporations and private individuals that is why investing during early ICO stage is very promising in terms of high returns on investments so let us take a closer look at this project and keep tracking the progress of fundraising and advertising campaigns so that to be able to observe the emergence of the new banking system powered by smart contracts.
ENTRY PROJECT CONTACT DETAILS:
Website:https://entry.money/
Whitepaper: https://entry.money/ENTRY_Whitepaper_v1.pdf
Telegram: https://t.me/Entry_Official
Twitter: https://twitter.com/EntryMoneyICO
Facebook: https://www.facebook.com/entrymoney/
Medium: https://medium.com/@entry
Bitcointalk ANN: https://bitcointalk.org/index.php?topic=3229958.0
PeterHarrisonCY
0x4aBD5F53FFAaFBd22705be185B9760CCE2ca9170