EQUI: Creating An Up-to-Date Venture Capital Market
Investment these days becomes a common thing that people mostly do in order to earn more money. As technology is getting advanced, now most people prefer to do the investment through investment platform. EQUI becomes the latest innovative platform dealing with cryptocurrency. EQUI is built on the advance tech of Ethereum Blockchain where it will disrupt the conventional venture investing and bring it into up-to-date tech era. Unlike the other investment platforms, EQUI empowers individuals to participate next generation of investment sector.
By using EQUI token, the investors are capable to purchase stakes in rising entrepreneurial companies. Moreover, they can also get advantages of getting investment profit and rewards. Do not worry about going bankrupt! EQUI will help you find the great investment chances in newest tech companies, real-world assets, and great ventures. It will support the investors and innovators by providing them business guidance and knowledge, so they can increase their ventures.
The Founders of EQUIE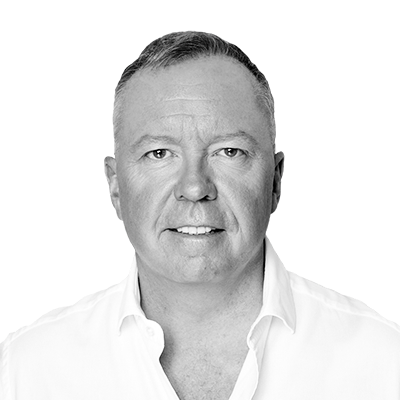 Doug Barrowman – Founder
EQUIE is established by Doug Barrowman and Michelle. Doug is a successful businessman who is very experienced in operating the business and investing. He finished his business studies at Glasgow University, and then he became a Chartered Accountant in Deloitte Haskin and Sells. Doug opened 3 paintball in Scotland when he was 22. He got a lot of awards due to his ventures until he was being recruited to investment team. In 1992, Doug decided to set up a finance practice, the Aston Ventures.
Over 10 years, Aston Ventures are successfully made 13 traditional business acquisitions with an amount turnover more than of £400million. Doug has had a lot of experiences since he began his career. He became founder and chairman of Knox Company. He controls successful business companies, including its Property and Wealth Management. Now, together with Michelle, Dough builds EQUI by utilizing Blockchain tech. EQUI will be the first platform; providing venture capital chances supported by great entrepreneurs and crypto community.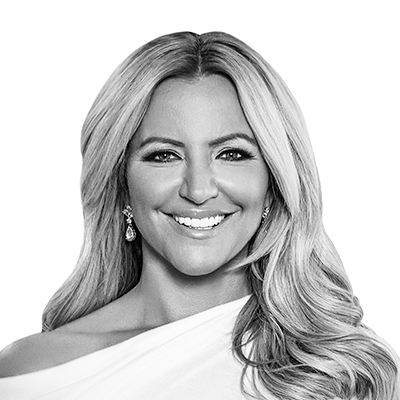 Michelle – Co-founder
Who does not know Michelle? She is one of the most influential businesswomen in the UK. Michelle has got a lot of awards due to her career as an entrepreneur. Michelle is chosen by UK Government as Start-Up Business Tsar and she is also a popular advocate that fights for female equality. She achieved a lot of appreciation such as World Young Business Achiever, Business Woman of the Year Award, and received an OBE (Officer of the Order of the British Empire) from Queen Elizabeth II. However, in 2104 she decided to exit the business and sold it to MAS Holdings. Michelle then focuses on other business related to jewelry, global mentorship, interior design and others. Recently, she started the tech business in cryptocurrency market.
Introducing EQUI to New Tech Venture Capital
EQUI has the vision to convey venture capital to a current tech era. EQUI will let all individuals join and combine the investment sectors. Supported by successful entrepreneurs and Business Company, EQUI utilizes its global network and connectivity to discover innovative ventures. EQUI has a great team that gives operational support, guidance, mentorship, strategic advice and resource to help investors and entrepreneur grows their ventures. They also will help investor turn the ideas and plan into a reality. By using blockchain tech, EQUI believes they can revolutionize businesses of the future. The EQUI platform will let investors join the newest generation of leading and successful companies.
HOLDERS
Increase Token Value
Indirect Project Returns
Direct Project Return
EQUIcredit Rewards
Holders who purchase EQUItokens and keep them on the EQUI platform without investment will receive a 5% profit generated from the realized investment portfolio. It provides tokens held for 3 months prior to distribution.
TRADER
 Increase Token Value
 Project Investment
 Direct Project Return
 EQUIcredit Rewards

The trader who buys EQUItokens and buys and sells them on third party exchanges receives improvements in the token price.
75% of all profits are returned to Investors and Holders. The remaining 25% goes to the EQUI Investment Team as a performance reward. This structure has been designed to ensure that the interests of all parties stay aligned over time so as to provide maximum value to all stakeholders.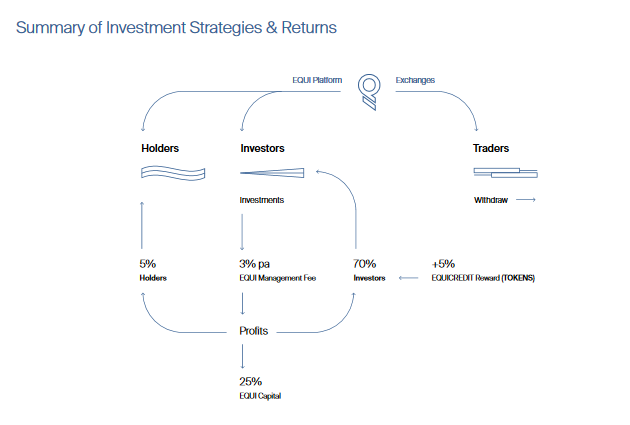 The EQUI platform utilizes the Ethereum blockchain to process and store credentials, information, and transactions, including the acquisition of project stakes, distribution of profits and investment returns, as well as investor rewards, its whitepaper said.
PRESALE will run from March 1 to March 8.
A minimum $100,000 investment is required to participate in that with a 25 percent bonus incentive.
The public ICO will run from March 8 to the end of the month. The project will have 250 million tokens in supply, of which 65 percent will be released for sale to investors, with each token priced at 50 U.S. cents.
Barrowman and Mone (founder & co-founder) have collaborated before. They launched a residential and commercial property development in Dubai last year valued at 250 million pounds ($350 million), with residences that can be purchased in bitcoin.
For more information visit the following link:
Website : https://www.equi.capital/
WhitePaper : https://www.equi.capital/whitepaper/EQUI_Whitepaper_050218.pdf
ANNthread : https://bitcointalk.org/index.php?topic=2888110.new#new
My profile Bitcointalk:https://bitcointalk.org/index.php?action=profile;u=1055569