EQUI – Transforming Venture Capital
EQUI
 is the exciting unification of a new cryptocurrency with an innovative investment platform,built on Ethereum Blockchain technology,EQUI disrupts the traditional venture investment market and empowers the crypto community to join the next generation of venture capital investors.Utilising EQUItokens,investors will be able to buy stakes in emerging, entrepreneurial companies and benefit from great investment returns and rewards.
Venture capital is a type of private equity,a form of financing that is provided by firms or funds to small,early-stage,emerging firms that are deemed to have high growth potential or which have demonstrated high growth.Venture capital firms or funds invest in these early stage companies in exchange for equity or an ownership stake, in the companies they invest in.Venture capitalists take on the risk of financing risky start-ups in the hopes that some of the firms they support will become successful. The start-ups are usually based on an innovative technology or business model and they are usually from the high technology industries,such as information technology,clean technology or biotechnology.
SOLUTION OFFERED
EQUI has decided to build a new kind of venture capital platform which is based on the blockchain technology. It will allow great ideas to take shape on its platform by providing them mentorship and strategic advice while providing an opportunity to the investors to take part in one of the biggest platforms for new age enterprises, which is going to change the face of the industry.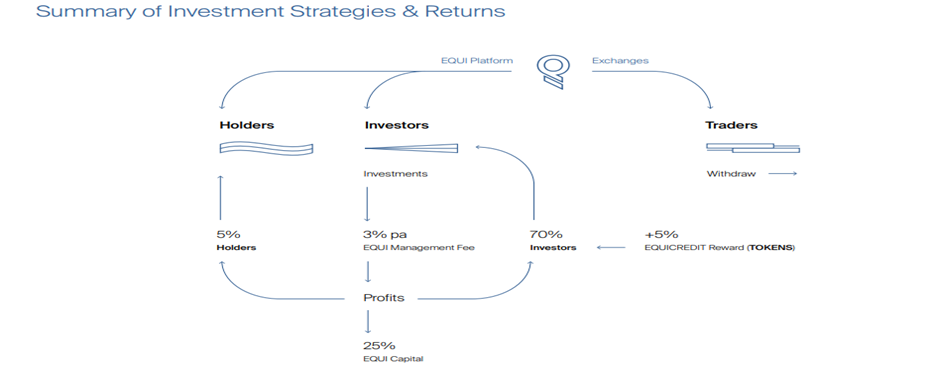 EQUI CREDIT Scheme provides entrepreneurs and businesses with a golden opportunity to be part of the platform by accepting resources, operational guidance and strategic advice of the experienced EQUI team of investors.
VISSION EQUI
Utilising this Blockchain technology and combining it with traditional venture capital investment models,EQUI is a unique offering that will disrupt conventional thinking in this space. Backed by a board of successful and visionary entrepreneurs, EQUI harnesses a vast global network to identify innovative pioneers and exciting ventures that will excel from the injection of not just finance but also operational and strategic expertise
EQUI's vision is to bring venture capital into the modern technological era. It will allow individuals to combine forces and participate in an investment sector that has been traditionally reserved for institutions and ultra high net worth individuals.
DETAILS OF THE ICO
There will be a total supply of 250 million EQUI tokens, priced at $0.50 USD each during the ICO. Investors with large capital ($100k minimum) can join the pre-sale which will run from 1–8 March 2018 and receive a 25% bonus on their issued tokens. The main public ICO doesn't have such minimum investment restrictions (only $100), and will run from 8–31 March 2018. The public ICO will have an initial bonus of 15% for early-birds which will last for one week, so make sure to register early.
The thing I like most about this ICO is that a large proportion of the tokens are issued to investors — 65% to be exact. The tokens that are allocated to the team also have time-vesting restrictions. The thing I feel most confident about though is that this team has experience with other venture capital companies, so the likelihood they will abandon the project just to dump their tokens is incredibly low.

TOKEN INFORMATION
TOTAL TOKEN SUPPLY : 250 million EQUItokens
PAYABLE IN : Bitcoins (BTC), Ethereum (ETH), Litecoins (LTC), Ripple (XRP)
Pre-Sale : 1 March 2018–8 March 2018 + 25% Bonus
8 March 2018–15 March 2018 +15% Bonus
15 March 2018–22 March 2018 + 5% Bonus
22 March 2018–31 March 2018 0% Bonus (No Bonus)
A minimum investment level of $100,000 is required to participate in the pre-sale.
The public ICO will run from 8 March to 31 March 2018.
A minimum investment level of $100 will apply to the public ICO, subject to participants complying with regulatory guidelines.
For more information visit the link below :