EVENTUM: A PLATFORM FOR DECENTRALIZED REAL-WORLD DATA FEEDS


Every day, a huge amount of data is generated worldwide. These data are generated from our daily activities which include buying and selling, reading, watching games, etc. However, these data cannot be turned into a real-time API and as such cannot be monetized. To top it off, data from data feeds cannot be depended on and are not verified as they rely on a single data source which is error and failure prone. For instance, fake news cannot be detected by a single human or AI system. Also, the one-sided perspective of reports made by reporters on events is another example of the unverifiable and unreliable nature of data feeds. To top it off, almost all real-world data API's in existence are tightly and strongly controlled by one company which has total control over these data as well as their prices. This shouldn't be so as it means that the safety and integrity of data cannot be assured and, reasonable margins are included in the prices. The effect of this is that, it creates a lacuna, one that runs into billions of dollars, where there is huge demand for cheap and trusted data feeds from all modern companies, and one where over 2 billion people who own smartphones and easy access to as much data but without a means to provide and monetize their data.
To this end, Eventum, a decentralized platform that sources the truth from the public and then turn it automatically into a real-time API, has been set up to settle the issues related to data feeds integrity. With Eventum, reporters get paid for what they see as well as their experience, and developers can in turn get any data they want at a cheap rate and with great reliability. Eventum leverages the wisdom of crowds principle in its approach. The wisdom of crowd is one where data is reported by people so as to avoid any bias or one-sidedness in data feeds. This made possible via Eventum's decentralized network of reporting and validation nodes, among others. Please feel free to visit the Eventum whitepaper https://eventum.network/Eventum-whitepaper.pdf for more information on this project.
HIGHLIGHTS OF THE EVENTUM PLATFORM



• Decentralized – Ethereum + Swarm + decentralized Eventum nodes
• Fast and Secure – Real-time encrypted data with blockchain as a court system
• Verified – Using wisdom of crowds instead of trusting a single data source
• Fair – Free market economy with zero fees and margins
ARCHITECTURAL OVERVIEW AND WORKABILITY OF EVENTUM
Firstly, Eventum, based on the blockchain technology (for fairness and security) and a decentralized reporting network and validation nodes (for real-time speed), consists of 3 layers;
• Core layer
• Services layer
• Application layer
The decentralized network of nodes, and blockchain technology are both tightly integrated into these 3 layers, and the Alpha version of Eventum currently is based on Ethereum smart contracts. Also, it should be noted that Eventum does not enforce any authentication other than the private/public key that is associated with each node.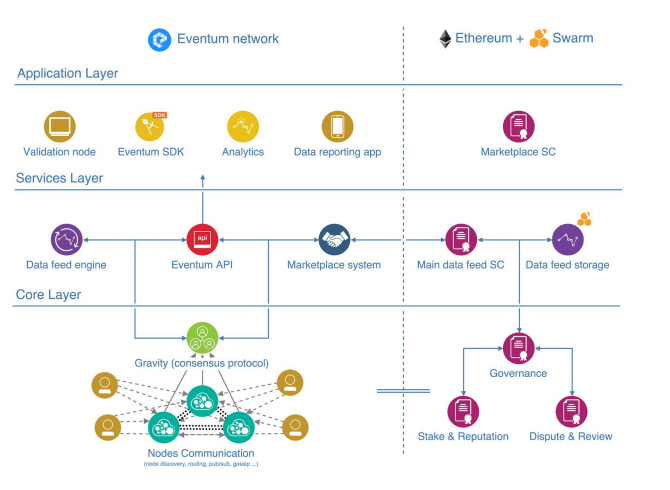 Providers of data access valuable data and reports it to the Eventum validation nodes through a mobile/desktop app. The validation nodes then wait for a consensus to be reached on the data before it gets sent to the developer in a real-time API form. Rewards are locked in a smart contract by the developer, and is shared and given to providers of data that were part of the consensus. Note that rewards are split in the same speed at which the data was provided in the first place.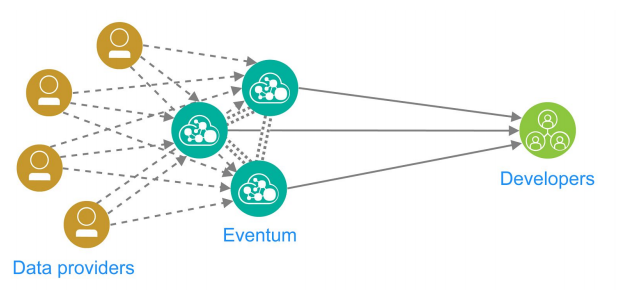 EVENTUM TOKEN MODEL
Eventum token (EVT) is a means for validation nodes to earn fees for capturing, processing and delivering data correctly. They can also be as staking mechanism, reputation system, for disputes and governance. Eventum tokens will have an unchangeable total supply, and will all be minted and distributed in the token generation event (TGE). Based on the amount of validated data, Eventum platform users that create markets are charged a fee, and these fees are paid in EVT and other ERC20 tokens. ERC20 tokens will be exchanged automatically to EVT on decentralized exchanges so as to incentivize the use of EVT tokens as well as ensure that validation nodes are paid in EVT consistently.
EVENTUM TOKEN
Total token supply: 500,000,000 EVT
Minimum target (soft cap): 1,159 ETH
Total target (hard cap): 18,539 ETH
Price: 1 EVT = 0.00007416 ETH
Team's vesting: 3 years
TOKEN DISTRIBUTION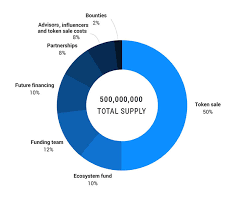 2% – Bounty
8% – Advisors, Influencers, and token sale cost
8% – Partnerships
10% – Future financing
12% – Funding team
10% – Ecosystem fund
50% – Token sale
FUND ALLOCATION
20% – Marketing & Communications
10% – Legal
10% – Operations
10% – Education, Research and Miscellaneous
50% – Core development
ROADMAP
2017
May – Concept and feasibility study
July – Pre-alpha test
September – Consensus protocol tested on validation nodes
November – Whitepaper release and Alpha version deployed on test network
December – Multiple rounds of external beta testing
2018
Q1 – Alpha validation nodes released to public
Web reporting interface launched
Q2 – (Full public beta version on test network)
1st part of the community voted markets launched on test network
Q3 – Beta mobile clients released
2nd part of the community voted markets launched on test network
Q4 – (Official public launch on main network)
Mobile clients and SDK released
TEAM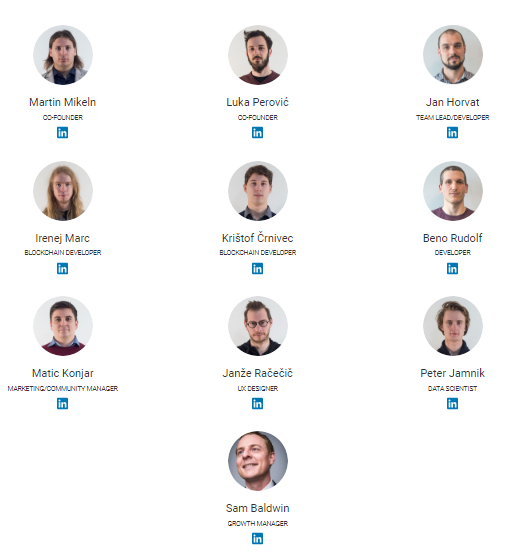 Martin Mikeln – Co-Founder
Luka Perović – Co-Founder
Jan Horvat – Team Lead/Developer
Irenej Marc – Blockchain Developer
Krištof Črnivec – Blockchain Developer
Beno Rudolf – Developer
Matic Konjar – Marketing/Community Manager
Janže Račečič – UX Designer
Peter Jamnik – Data Scientist
ADVISORS



Nicholas Bartlet – Business Development & Fintech Advisor
Niko Klanšek – Strategy Advisor & Crowdsourcing Expert
Jason Warren – Advisor for Scientific & Medical Partnerships
Julien Coustaury – Business Development & Investments Advisor
PARTNERS



D.Labs
FACTMATA
Data quality and integrity will be well established with the aid of Eventum. Companies will finally have access to quality and reliable data at a cheap rate. I, hereby, urge everyone to participate in the Eventum token sale event so as to share in its benefits.
Should you require more details on this project or want to connect with other unique participants across the globe, please feel free to click on any of the following links:
ANN thread: https://bitcointalk.org/index.php?topic=2992193.0
Website: https://eventum.network/
Telegram: http://t.me/eventum_network
Twitter: https://twitter.com/eventum_network
Facebook: https://www.facebook.com/EventumNetwork
Whitepaper: https://eventum.network/Eventum-whitepaper.pdf
Published by: charleyles
Bitcointalk URL: https://bitcointalk.org/index.php?action=profile;u=1344011
Ethereum wallet address: 0x69C516900e939e97C7c60Ca59bdaF15295556838