Everest ICO (ID Token Sale) — Be Identified, Be Secured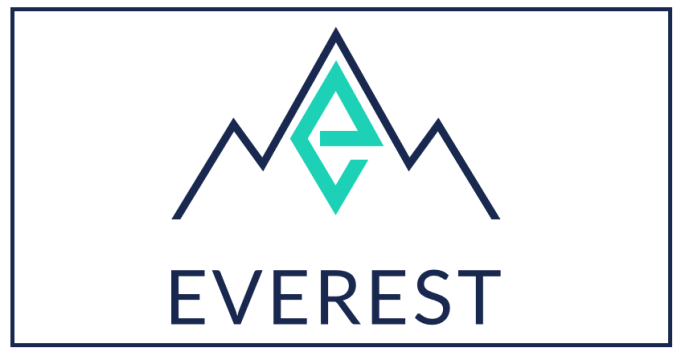 I welcome you my dear subscribers and readers. Today we will talk about a very technological and interesting platform, Everest, that has it infrastructure rooted in blockchain technology, built a decentralized digital identity system to store and confirm user identity data, documentation and biometrics.
Everest is a project I've been following for sometimes now and this is what I can say about it:
it has a great team with a lot of relevant experiences, very attractive business model with a good dividend token use case, cap limits are within a reasonable range, professional content, good looking materials, secured, focus on the relevant networks and has a great road map.
Let talk about their product and the solutions they offer.
Everest, if you haven't heard of it already, it's a decentralized platform incorporating a massively scalable payment solution, EverChain, with a multi-currency wallet, EverWallet, and a native biometric identity system, EverID. Everest delivers a complete solution for a new economy. Creating global access to financial services and allowing total financial inclusion enables Everest to unlock the huge economy of the emerging markets. People across the world will be empowered and have more economic opportunities.
How it Works
Multiple types of biometric information for each identity are recorded and stored in the identity network. Legacy identity documents, including national identity cards, driver's licenses, passports, voter's identity cards, etc. are recorded, as well as third-party certificates by cryptographically signing these confirmations of claims.
If a person does not have the technology, an agent system allows them to be enrolled via the EverID Agent DApp. Public Access Devices (PADs) are used for EverID validation, use and update. PADs use a Software Development Kit (SDK) to add identity validation to devices for banking, government services, healthcare and more. The Bridge service allows a user to securely access his data and use it on another device that he does not own.
Blockchain and Everest's Security:
Everest's instruments and services provide unique solutions on the basis of blockchain, which has no extant analogues in the world and offers revolutionary solutions regarding the consolidation of the world of cryptocurrencies and classical finance systems. Blockchain technology is widely used in Everest business processes which makes it impossible to substitute or lose financial data. The security system of Everest is unparalleled. Through blockchain technology the whole platform will be fully transparent to the users. Using Smart contracts makes Everest a reliable and impartial guarantor of fulfilling obligations to the users and investors of the platform/project.
Uses/Benefits of Everest:
Cash Transfer: The platform intends to facilitate cash transfers between parties, validating the money sent 100% since the participants will have been biometrically verified.
Remittance: Everest will offer an easy and cost-effective way for various banks and financial institutions to help them offer better money transfer services.
Micro-Finance: The platform will also offer a full solution to lend money to SMEs as well as billions of people across the globe.
Micro-Insurance: Everest will allow the collection of documents and biometrically signing contracts with or without devices.
ID Verification: All users in Everest will be verified through third party attestations, government IDs, and biometrics
Medical Records: The platform will enable better management of medical records, hosting the documents in device or the cloud to allow seamless tracking of healthcare.
Land: With Everest, it will also be possible to combine titles, identities to banks and GPS coordinates in order to secure land.
Recommendation (Based On Personal Conviction):
I personally have done a lot of digging on Everest and I am yet to find any major red flag that would make me give up on investing in their ICO. The team is absolutely amazing and they have been working on Everest as a whole for sometimes now. I have tracked the records of various members of the team and I can say that they are incredibly professional.
Everest's reputation speaks for itself and is strongly supported by various facts and by real business model that works every day. By investing (cryptocurrency or fiat currency) in the project you can be 100% sure of the reliability of your investment, as you invest into business with real assets and real people.
ID Token and Everest ICO:

ID Token is a valuable digital asset, Everest platform's token, which will be used/tradeable at/on the biggest crypto currency markets. With the help of ICO Everest plans to attract the investment resources at a wide range. As suppose, the token sale will be interesting for the owners of digital assets, who would like to transfer them into the more secured investment tool and not to tremble anytime they hear the news about the possible Bitcoin rate falling.
In other to participate in the ICO follow these steps below:
• Purchase the tokens: Everest will issue a number of tokens during the ICO.
• Receive dividend payments: As a token holder, you have the right to receive payments equivalent to shareholder dividends.
• Convert your tokens into shares: As a token holder, you also have the right to convert yits tokens into Ordinary Shares.
Token Details
Token: ID
Price: 1 ID = 0.09 USD
MVP/Prototype: Available
Platform: Ethereum
Accepting: ETH, BTC, Fiat
Minimum investment: 10,000 USD
Hard cap: 20,000,000 USD
Country: USA
Whitelist/KYC: KYC
Restricted areas: China, Korea, Pakistan
Roadmap:
Team:
In conclusion, if Everest ICO piques your interest then it's meant for you.
Warning:
Please, never make your final decision based only on what you've read here. I advise you to do your own due diligence on the project and have personal conviction before making the final call.
For more information on how to participate in the ICO, log on to:
WEBSITE: https://everest.org/ 
WHITEPAPER: https://everid.net/wp-content/uploads/2018/07/ever_id_whitepaper-1.pdf
MEDIUM: https://medium.com/@EverestDotOrg
TWITTER: https://twitter.com/everestdotorg
TELEGRAM: https://t.me/EverID
Author: Cryptocraz
Bitcointalk Add.: https://bitcointalk.org/index.php?action=profile;u=1698372