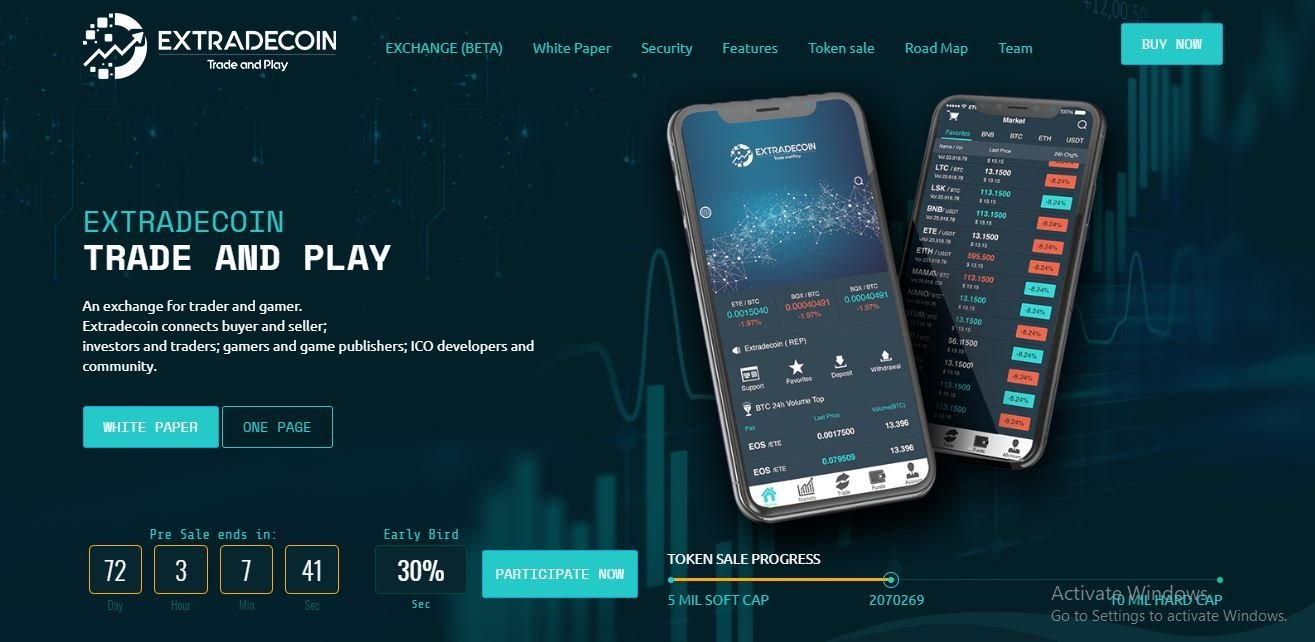 Extradecoin is a cryptocurrency platform. Investors can sell Crypto on the stock market. Extradecoin what created with the desire to provide a high quality, reliable and secure financial platform for investors. In addition, we strive to bring the most advanced technology platforms with the best user interface experience to the extradecoin platform while creating ecosystems to maximize community value.
General information:
Token – ETE
Standard token – ERC20
The total number of tokens issued is 250,000,000
The price of the token for pre-sale: 1 ETH = 6000 ETE
Bonus – 20%
An additional bonus when buying for more than 100 ETH, the bonus will be 30%
Accepted currency is ETH
Cost of the token on the ICO: 1 ETH = 5000 ETE
The bonus will be 10%.
Soft cap: 5 millions USD
Hard cap: 10 millions USD
Pre-Sale is live. You can get your tokens here: https://ico.extradecoin.com/
business model
Extradecoin is geared to specific customer groups:
Investor: Extradecoin wants to help investors buy the majority of available cryptocurrency on the market. The company offers services with the lowest commission, minimum waiting time for withdrawal, almost transfer of the process and immediate placement of orders.
Developer ICO: Extradecoin supports new ICO projects at opening and needs funding. The company assists its clients in selecting and investing in the ICO project. The company also helps investors resell the token, even though the ICO project is still running. Once the ICO is completed, investors want to continue to trade this coin with Extradeco. In this way, Extradecoin supports the ICO community in the expansion, increasing the liquidity and value of the token.
Gamers: Token Play is a place where gamers can entertain while benefiting from the game. When playing our games in TokenPlay, players use a coin to exchange for gambling services. TokenPlay has a high information security. In Extradecoin people can both be both players and investors.
Ability to process
The integrated platform Extradecoin wants to provide ultra-fast processing speed, which allows the market a high level of liquidity. Thus, the cash flow is continuous and no transaction is due to a long wait.
Multilingual support
Extradecoin supports common languages ​​on all user interfaces. The first publication covers English and Chinese and then Korean and Japanese. Other languages ​​will be added later to Extradecoin.
Key features
Extradecoin allows investors to trade through limit orders and market orders. In addition, the company wants to support margin trading with a high profitability of the company, integrated with the borrowing platform. In the near future Extradecoin wants to build a decentralized exchange. Through a decentralized platform, investors can carry out cryptocurrency transactions without restrictions. Extradecoin wants to develop a new trading model, including the decentralization of transactions to blockchain, to meet different investment needs.
Updating of news
The latest news on the crypto-currency market and the latest breakthrough technologies are updated in the News section to give investors a multi-dimensional overview and detailed market information.
Autonomous and online learning
To help new investors who are unfamiliar with cryptocurrency and increase transaction efficiency, Extradeco wants to introduce online courses and online courses. Investors who come to Extradeco are trained in market knowledge and trading skills and have the opportunity to meet with professional traders.
Report on analysis and evaluation
Periodical report on kriptovalyutnomu market wants to be made by professional analysts with knowledge of modern technologies and has a long-term investment experience in the market. At the same time, Extradecoin wants to conduct a detailed review of the ICO's list of assistive start-up companies. This ICO projects aims to provide sufficient quality and potential profitability for our clients.
Customer service 24/7
Solve transaction problems and inform customers in the case of a problem,
Borrowing Platform
To increase investor profitability, Extradecoin wants to act as intermediary on a platform that connects lenders and borrowers. Investors can not use cash in their extra-deco wallet. Investors who want to increase their capital and look for new investments can turn to Extradecoin to find suitable loans.
Edge mechanism
Investors who want to borrow money for Extradecoin must find appropriate loans based on the platform rules. The prerequisite for borrowing is at least the number of coins they want to borrow. This is the margin used to secure loans to investors. Borrowers wants to get paid to share with the registered credit, and at the same time, interest in the registered. For example, an investor has an ETH; You can borrow ETH credits at the ETH and monthly interest payments via the ETH. Investors can borrow up to the amount they can. Every month, investors must pay according to the terms of the loan. Interest is deducted directly from the borrower's account at the interest payment date. On the Maturity Date,
The detailed information:
Website: https://extradecoin.com
White Paper: https://drive.google.com/file/d/1ZOZiqfFTu71UiY5-FAWTnHWa2uKqH4wV/view?usp=sharing
Facebook: https://www.facebook.com/extradecoin
Twitter: https://twitter.com/Extradecoin1
Telegram: https://t.me/extradecoinofficial
Linkedin: https://www.linkedin.com/in/extradecoin-live-884357164
Author
nugezmils
BITCOINTALK PROFILE
https://bitcointalk.org/index.php?action=profile;u=1729621
ETH ADD
0xde7fB34D93f672A5D587Dc0f8a416b13eED8547d