EXTRADECOIN: TRADE AND PLAY

Cryptocurrencies (aka, the future of global payments and remittances) have come a long way from their not-so-humble beginnings. They've gone from possible disruptors to full-fledged payment solutions with increasing global acceptance and adoption rates. Hype and fanfare aside, what exactly is their value proposition and how do they fit into the global picture in the years to come?
In 2017, we saw the cryptocurrency market hit an all-time market valuation of over $600 billion, and while that certainly beats every stroke of the imagination, expect more of the same in 2018. Cryptocurrencies have proved to be a revolutionary asset class, and you can expect a horde of organizations — including top brands, government and business agencies from the world over — to enter into the crypto scene in 2018. As was in the past, increased interest in the cryptocurrency market seems to translate to increased gains.
Extradecoin is an exchange platform for the cryptocurrency. Investors can trade crypto-crypto on the exchange. Extradecoin is established with the desire to provide quality, reliable and safety financial platform for investors. In addition, we are eager to bring the latest technology platforms with the best UI experience on the Extradecoin platform, and at the same time build ecosystems to maximize the benefits for the community. Extradecoin has been established with the desire to provide a high quality, reliable and safe financial platform for traders.
Extradecoin understands users' needs for entertainment hence we have integrated our Game
ecosystem into the platform trading platform. Investors can not only trade coin, exchange on
the platform but can also play games on the Exctradecoin's Blockchain platform.
And TokenPlay is not just entertainment; Gamers can make money from Extradecoin. Extradecoin connects sellers and buyers. Anyone can trade cryptocurrency on our platform with ease. If customers use our ETE coin to transact, they will benefit the lowest you get on the platform which is about 0.01% (ETE) compared to the average rate of 0.05%. Whether you place a buy or sell order, we will not charge a deposit. The withdrawal fee will be calculated according to the change of current rates.
Extradecoin will provide free analytical reports to clients to help customers trade effectively, this is actually one of the features planned for curtomers in our ecosystem. Additionally, Extradecoin will have a high Interactive Broker (IB) commission policy that will offer up to 30% of the transaction fee that Extradecoin receives per transaction.
Extradecoin targets some specific groups of customers;
• Investor
• ICO Developers
• Gamer.
Extradecoin employs Amazon Web Services' security mechanisms. Extradecoin systems require account authentication, client identification, and 2FA security to log in. Different individual systems cannot interact with each other unless approved and monitored. Extradecoin will introduce a multi-signature wallet services on client accounts. Multi-signature is a highly advanced technology for private information security. These wallets will consist of two private keys: one held by the user and the other is held by Extradecoin. All private keys will be stored on a separate server.
Extradecoin will support common languages on all user interfaces. The initial release will include English and Chinese, followed by Korean and Japanese. Other languages will be added to Extradecoin later.
PARTNERS


EXTRADECOIN FEATURES
• Customer Services 24/7
• Listing ICO
• Knowledge
• Borrowing platform
• Token Play Platform
• Trading Platform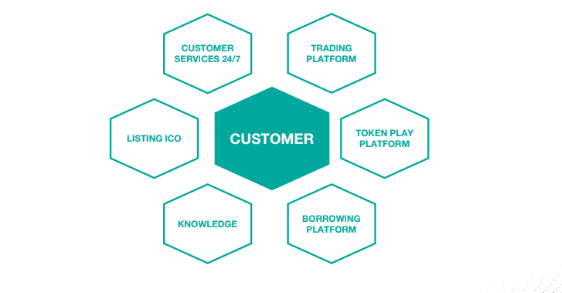 TOKEN SALE DETAILS
Token Standard – ERC20
Token Name – ETE
Soft Cap (ETH) – 6,000 ETH
Hard Cap – 16,000 ETH
Payment Method – ETH
Pre-sale – 1 ETH = 6000 ETE + bonus 20% = 7200 ETE (Buy more than 100 ETH, bonus 30%)
ICO Price – 1 ETH = 5000 ETE + bonus 10% = 5500 ETE (bonus 10% in 1st week and 5% after)
Token for Sale – 125,000,000
Presale time – 07/2018/ – 09/2018
ICO time – 09/15/2018 – 10 /15/2018
We will issue token for Extradecoin. We plan to issue Token for Extradecoin, dividing it into 5 phases;
• The first phase, 15% of the tokens will be issued to the founding team;
• The second phase, 10% of the token will be issued to advisors and angel investors;
• The third phase, 5% of token will be issued for Bounty & Airdrop programs;
• The fourth phase, 20% of token will be issued for Pool Game – Tokenplay;
• The final phase, 50% of the tokens will be sold publicly.
TOKEN DISTRIBUTION
Angel Investor + Advisor – 10%
ICO – 50%
Founding Team – 15%
Poolgame & Tokenplay – 20%
Bounty + Airdrop – 5%

FUNDS DISTRIBUTION
R&D New Features – 15%
Human Resources & Operations – 15%
Transaction Speed & Security – 25%
Marketing & advertising expenses – 15%
Reserve Fund – 30%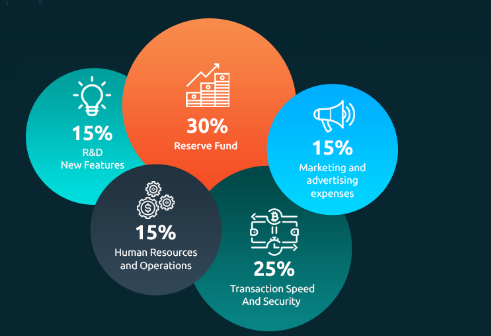 ROADMAP
09/2017 – Brainstorming ideas and planning for project's initial deployment.
12/2017 – Research and analysis, project started.
05/2018 – Completing fundamental features for Coin market.
06/2018 – Private Sale for Angel Investors.
07/2018 – Publishing ICO plans and Whitepaper for Investors.
08/2018 – Pre-sale official launch. Launching new office in Singapore.
09/2018 – ICO Starts
11/2018 – Launching official exchange platform named "Extradecoin.com" with high security.
12/2018 – Mobile apps (Android, iOS) released.
01/2019 – Commencing development process for ICO listing feature Token Play features and game features for the coin ecosystem.
06/2019 – Objective to become number one trading platform in Southeast Asia.
03/2020 – Launching new office in USA.
06/2020 – Community Development in Africa.
TEAM
Mr. Duyen Tran – Founder & CEO
Mr. Phi Hoang – CTO of Extradecoin
Mr. Khanh Le – Community Manager
Ms. Linh Phan – Lead Operation
Mr. Nghia Phan – Blockchain Developer
Ms. Nhu Nguyen – Lead Content
Mr. Lam Hoang – Lead Support
Mr. Phu Tran – Lead Design.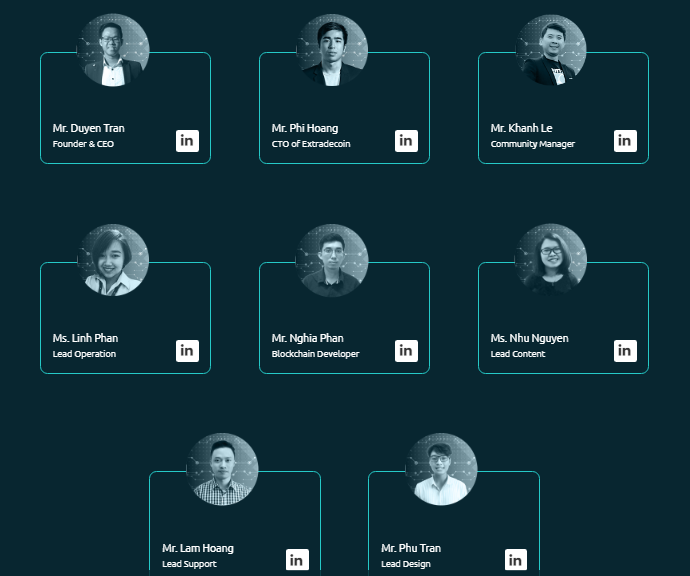 ADVISORS
Dr. David Nguyen Vu – Strategic Advisor
Savio Gomez – Fintech-Blockchain/ A.I & ICO
Tim de Rosen – CEO ICO Direct
Dmitry Pshenin – Founder ICO Board
Jae Shim – Founder & CEO Bravo Coin
Vladimir Loskarjov – Founder & CEO Dylyver
Bogomil Alexandrov – Co-Founder & CEO Cargo Coin
Mardo Soo – Founder ZANTEPAY
Shane Rushent – Digital & E-commerce CEO
Loren Minel Andronie – CEO & Founder at xCrypt Ltd.
For more details on this project, please feel free to click on any of the following links:
Website: https://extradecoin.com
Whitepaper: https://drive.google.com/file/d/1ZOZiqfFTu71UiY5-FAWTnHWa2uKqH4wV/view
Facebook: https://www.facebook.com/extradecoin
Twitter: https://twitter.com/Extradecoin1
Medium: https://medium.com/@Extradecoin
Telegram: https://t.me/extradecoinofficial
Linkedin: https://www.linkedin.com/in/extradecoin-live-884357164/
Published by: tszone
Bitcointalk URL: https://bitcointalk.org/index.php?action=profile;u=1742409
Ethereum wallet address: 0x684c9d1c004AB2023E1d3ae9aEb902B514B703d1