Hey my dear and highly esteemed attentive cryptocoinpravda ICO investors , like I am fond of introducing you to reliable and promising projects in the cryptocurrencies sphere , I bring before you today a platform/project that offers the world unique opportunities and matchless positive impacts by being the world first—and the biggest—multinational online classifieds platform for trading goods and services using cryptocurrency. We're disrupting the world of online trading
The 21st century will forever be remembered as the century that ushered in one of the most disruptive technologies in the history of mankind: the blockchain. The breakthrough of this technological phenomenon continues to revolutionize all spheres of human endeavors. We live in an era that is increasingly influenced by technological advancements. Their roles and importance in our daily lives have become increasingly more meaningful and, in many cases, inseparable.
With real technological advancements birthed by the advent of the blockchain technology, mind boggling developments of real time solutions to the world's problems have not ceased.
I enjoin you to kindly seat tightly to enjoy this mind -boggling exposition of one of the best projects in the world to invest in,
a project that is a highly ambitious project, and not without its challenges. That
said, we believe that these challenges will be addressed by implementing an
international marketplace with blockchain technology at the center, ultimately
creating a self-sustaining global online classifieds marketplace.
Fairninja project description and why you should make it your next investment option
Fair Ninja is the world's first multi-national online classifieds platform that allows
users to buy and sell goods and services from anywhere in the world to anyone in
the world. Our goal is to connect the world's individual classified marketplaces into
a single market, making commerce easier than ever. Moreover, the Fair Ninja
platform will be the first to offer fully integrated cryptocurrency payment options,
including Bitcoin, Ethereum, and Litecoin, as well as our own ERC20-compliant
Yoshi coin. Using smart contracts, Fair Ninja will offer transparent, reliable, secure,
and anonymous transactions that will make online commerce internationally viable
and completely frictionless.
There are many benefits for both online marketplaces, as well as individual sellers
and buyers. Online marketplaces and sellers will now have a much wider audience
to sell their goods and services, while buyers will have unprecedented access to an
enormous variety of products. And with Fair Ninja's automated translation tool,
language and communication barriers will be erased, allowing for a truly
international marketplace. Additionally, using our smart contracts, users will be
able to conduct business in a fully secure manner, knowing both products and
payments will be delivered
t is for the above reasons that we believe the market conditions are ripe for Fair
Ninja. Fair Ninja is seeking to be the first worldwide classifieds marketplace for
trading goods and services with no barriers in payment, language or support.
Our goal is to empower the top online classified platforms in each country to reach
new, international audiences, while simultaneously providing individual buyers
with a wider selection of products and services, as well as an easier way to conduct
business. To enable the free-flow of goods and services, and to offer frictionless and
reliable transactions, Fair Ninja will be the first complete solution for online
classifieds, offering the ability for users to complete transactions in both the top
cryptocurrencies as well as our own ERC-20 compliant Yoshi coin.
Why you should make fairninja your next investment option?
Vast product selection: By integrating Fair Ninja with online
classified platforms in other countries, buyers will have the largest
selection of products possible, all in one place. This will also help
to buyers find products at the most reasonable prices.
Automatic Translation: One of the biggest barriers in
international online commerce is language. Fair Ninja will offer a
built-in translator, making it easy for users to interact with each
other.
Multiple Platforms: Users will be able to access Fair Ninja
through both a web application as well as a mobile app.
Flexible Payment Methods: Fair Ninja will accept Bitcoin,
Ethereum, Litecoin, and our own Yoshi coin
Reward system
Fair Ninja will seek to generate enough funds to sustain its ecosystem and to
secure weekly giveaways for all active Fair Ninja users using Yoshi coin only. Personal users with the most transactions will have a chance to win extraordinary
monthly prizes to reward their loyalty.
User Rating System: Buyers and sellers will be able to rate each
other based on their experience.
Intuitive and user-friendly services: Offering a user-friendly
design across platforms is a top priority for Fair Ninja.
Optional Anonymity: Buyers and sellers can opt to remain
anonymous, or they can choose to have their identity verified to
create an on-platform trusted brand.
Flexible payment options: Both buyers and sellers will be able to
benefit from being able to conduct transactions using
cryptocurrencies, ensuring that neither will need to transfer funds
back and forth between fiat and crypto.
Safe trading: Fair Ninja only transfers the money to the seller's
account only when the buyer confirms receipt of the product,
which is reinforced by the user rating system described above.
Token metrics, ICO details ad Yoshi coin distribution
The Initial Coin Offering will consist of two phases: Pre-ICO and ICO. Hard cap for
pre-ICO is USD $6.4M (100,000,000 tokens). If pre-ICO doesn't reach its cap, the
remaining unsold tokens will transfer to ICO phase. Hard cap for token sale is USD
$22,400,000. Pre-ICO will run for 2 weeks or until hard cap is reached. ICO starts
immediately once pre-ICO is finished.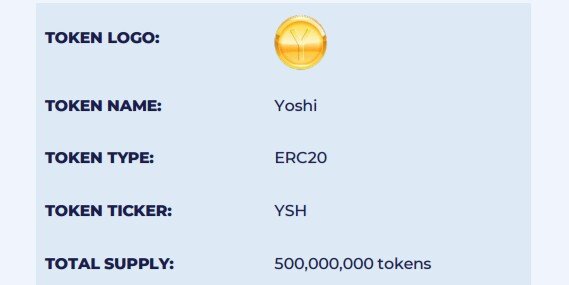 Token Distribution:
Two percent is reserved for bounty and referral programs. 3% will be given to our
advisors and their coins will be locked for 12 months. Team will receive 15% of coins,
and coins will get locked up for 12 months. 10% is reserved for our current and
future partners. 20% is the reserve found for future ideas, development and
business movement, locked up for 12 months. 60% will be available during token sale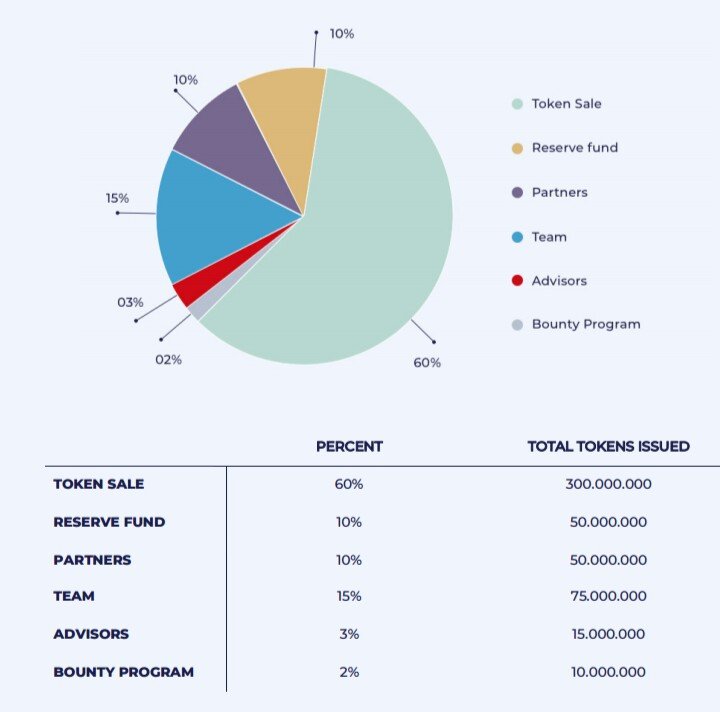 Meet the team: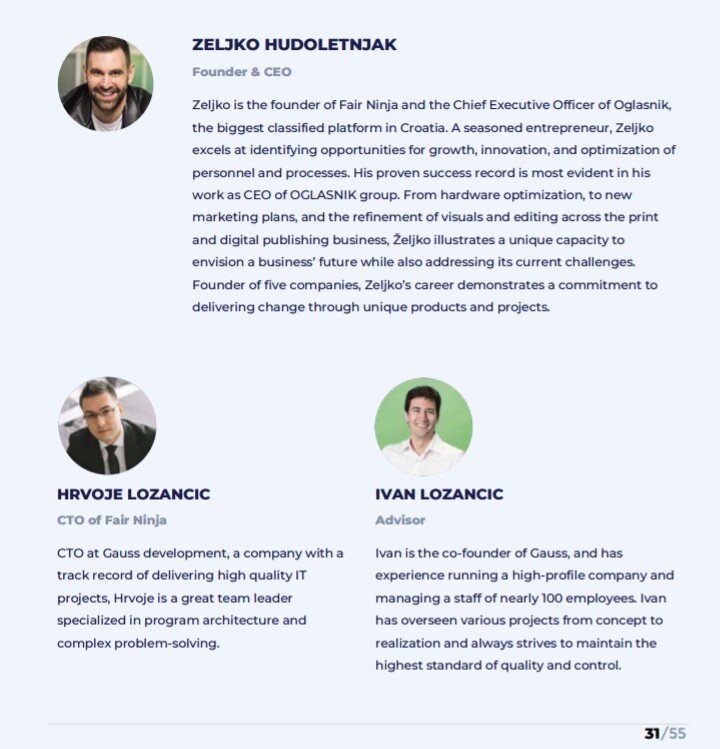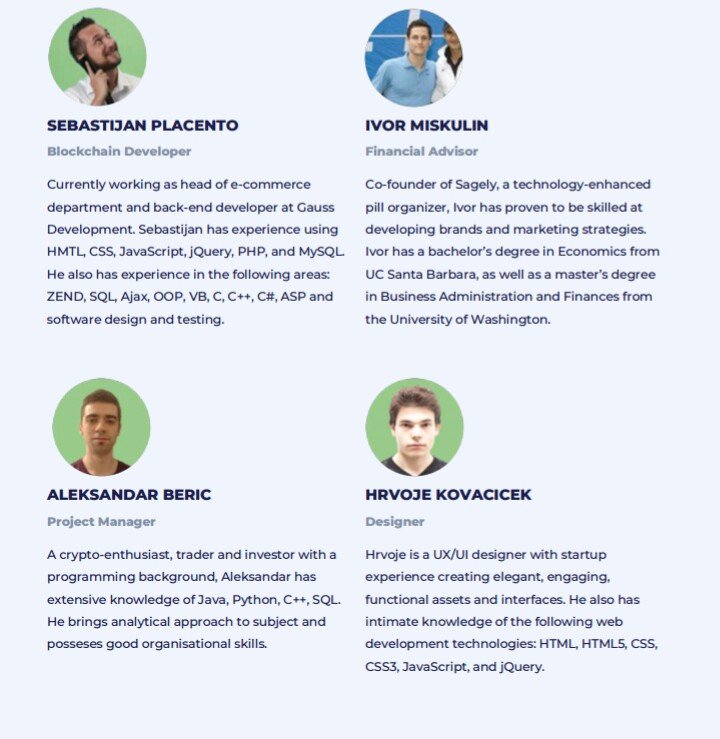 For more information and udates, visit
https://www.fairninja.com/
https://www.fairninja.com/whitepapers/fairninja_whitepaper_engl.pdf
https://www.facebook.com/fairninja/
My bitcointalk profile link : https://bitcointalk.org/index.php?action=profile;u=1547752;sa=summary
My ethereum address :0xBa6566814D7864cf6DFbc32c9A51d7869A32D9D8