FamilyPoints – Smart Parenting Ecosystem Using A Smart Contract Blockchain
PRESENTATION
The FamilyPoints is a Smart parenting ecosystem that works with blockchain technology using smart contracts. The most important work of FPT (Token Name) is the creation of a smart environment between User/Customer, Service provider and Investors using reviews and reward system.
FamilyPoints is a scalable platform that uses blockchain ledgers as the foundation to support the three pillars of our Company principles: economic value, integrity, and education. By using a transparent ledger that can be seen by anyone and who can not be tampered with, we give parents a system that ensures peace of mind.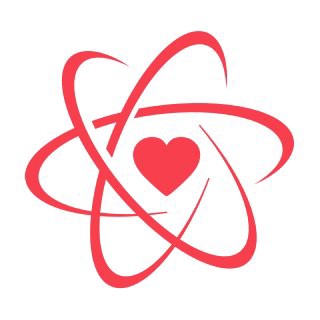 Utilizing the scalable blockchain technology, the FamilyPoints team created the platform based on three fundamental values that are economic value, integrity, and education.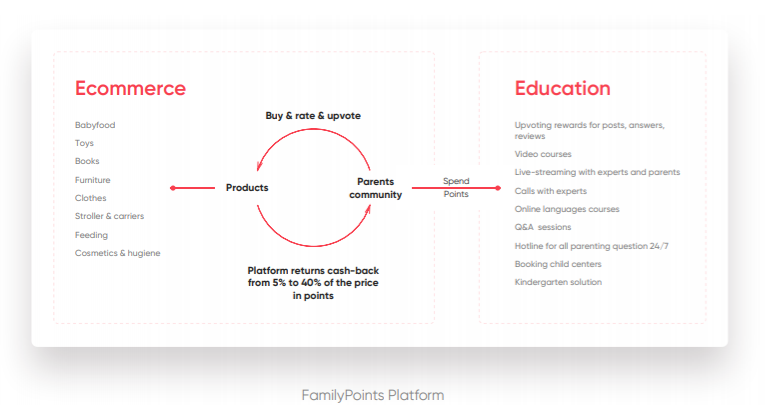 The project operates as follows:
Parents install themselves on a smartphone or other device application and make purchases.
The first purchase is fixed in the block, which guarantees the safety of information. Then he offered to leave a review about the goods or service.
They receive a reward in tokens, in the amount of 5 to 40% of the purchase. But this is not a classic cashback, you can spend the money only on a certain list of goods. Almost all are related to education. It can be video courses, online sessions, phone calls, consultations, teaching foreign languages, etc.
The parents can spend their earn rewards on the FamilyPoints platform. They can purchase a various baby product, services, get access to the educational videos, online classes, and insurance service or buy family holidays.
Parents also get the option to convert their earned rewards point in the cash. The platform is currently offering the educational services to the parents.
There are several pre-design online courses listed in the platforms. It also provides the live consultation with the experts.
There are many problems in the market. High markups which make the product most costlier to buy for the customer. Fake reviews of products, Parents can't afford to spend on education, Advertisement-driven communities.
Family points will resolve these problems by Eliminate excessive markups and pass the savings to parents, Genuine reviews powered by community upvotes, Provide parents with educational opportunities, Value driven community.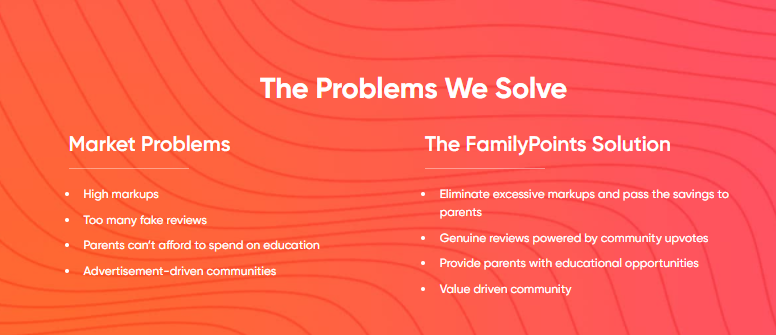 Reasons for Family Points?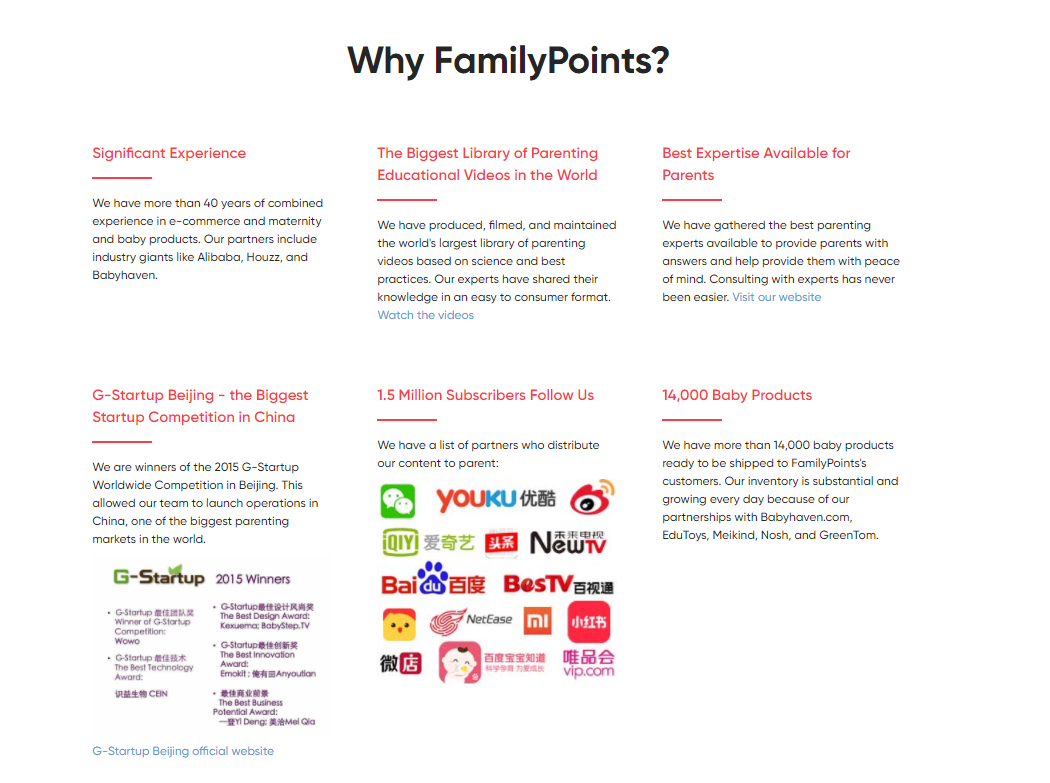 Using Family points Smart Contract Services, parents buy products from a seller registered with family points and use the product/service and give their feedback/reviews and return they get FPT tokens as a reward. Which will help reduce their cost and help them buy quality products and services?
And the same contract helps the Service provider to gain more new customers based on the quality of good they are selling. Win-Win right!
and Investors can also take the benefits process as the more customers and sellers will subscribe to FamilyPoints, more the value of FPT will increase in the market which will eventually increase the Investment.
Familypoints advantages:
Eliminate excessive markups and pass the savings to parents
Genuine reviews powered by community upvotes
Provide parents with educational opportunities
Value driven community
ICO and Token
In the current phase, the project going for their main token sale #ICO
You can join FamilyPoints by participating in the token sale and buy some FPT with Huge bonuses.
Token Allocation:
This is done according to the future plan of the company. The 65% of the token is distributed to the contributor of the community.
From that 25% is saved for the management team. The 8.5% is secure for the legal advisor and other required services. The final piece of 1.5% will be released to the community.
Funds Allocation:
The 35% of the fund will be used in the platform development, infrastructure improvement, building the warehouse for the product, and smoothing the delivery services.
The 30% of the fund will be used for the marketing and sales.
Familypoints token is an ERC20 token based on ethereum blockchain, if you would like to invest do it now, before it's too late.
Buy FTP
Pre-Sale Feb. 21, 2018 — Feb. 27, 2018 (minimum contribution 1,000$)
Token Sale Feb. 28, 2018 — March 27
You can go to their Website – https://familypoints.io/
BONUSES
Closed Private Sale (Capped) : 30%
Pre-Sale (21 February – 27 February) : 20%
Week 1 (28 February – 6 March) : 10%
Week 2 (7-13 March) : 7%
Week 3 (14-20 March) : 4%
Week 4 (21-27 March) : 0%
Currency Bonus : 10%
Currencies Accepted During Token Sale : XEM,BTC,ETH,LTC,BCH,USDT,USD & EUR
Conclusion
Family Points aims to launch its platform in China by April 2018, although that goal could be pushed earlier with a successful crowdsale. Overall, the company aims to reinvent the parenting marketplace, making it easier for manufacturers and service providers to connect directly with parents while eliminating the middlemen. Family Points plans to initially focus on China, which is one of the world's largest parenting marketplaces.
Roadmap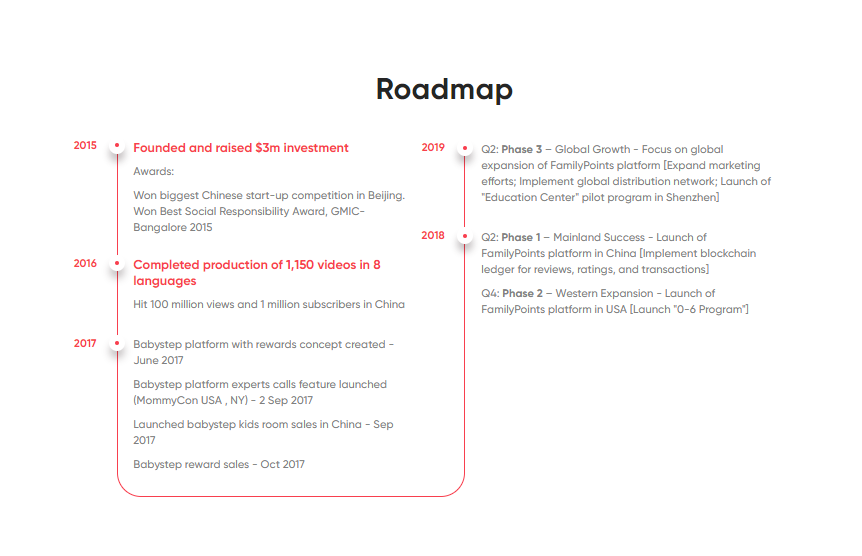 The Familypoints was Founded in 2015 and they already got Awards in the bag:
Won biggest Chinese start-up competition in Beijing. Won Best Social Responsibility Award, GMIC-Bangalore 2015
They also Completed production of 1,150 videos in 8 languages which got Hit 100 million views and 1 million subscribers in China.
Be a part of this incredible project. Download the whitepaper for the full scoop.
Till next time…
For more information, please visit:
bountyhive.io/join/familypoints.io
Website: https://familypoints.io/
Whitepaper : https://familypointsio.r.worldssl.net/pdf/whitepaper.pdf?version=3d278bd18979f15d458bcb5044d45c08
Facebook : https://web.facebook.com/familypoints/
Twitter : https://twitter.com/points_family
Telegram : https://twitter.com/points_family
Reddit : https://www.reddit.com/user/familypoints
Linkedin : https://www.linkedin.com/company/familypoints/
Ann Threads BTT : https://bitcointalk.org/index.php?topic=2418198
Author: TheMichaelMatch
My BitcoinTalk Profile: https://bitcointalk.org/index.php?action=profile;u=1326035
Disclaimer: This article was published in terms of the bounty campaign. I am not a project team member or its representative but a supporter of this incredible project.