FAXPORT: SPORTS BUSINESS SERVICE AND FUNDING PLATFORM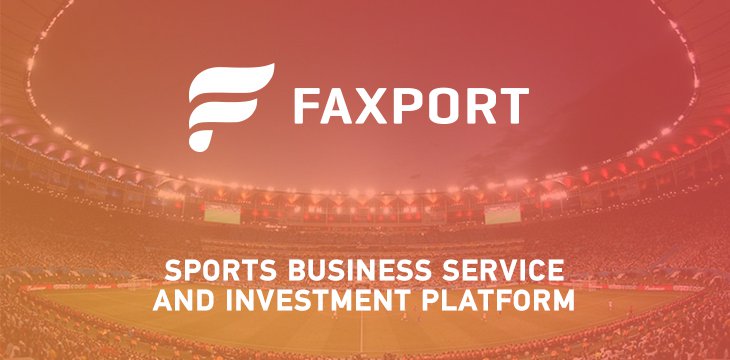 The sports industry is one of the biggest industries in the world today. The global sporting community is one that is growing at a massive rate since more people are daily participating in the sporting industry, increasing the fanbase. The sports service industry is mature in the economies of North America and Western Europe, comprising a gross output value of 80% of the entire sports industry. There are also areas in the growing global sports industry such as China. These are areas exhibiting explosive yet sustained expansion and growth.The sports market in North America was worth $60.5 billion in 2014. And Forbes predicts this growth to reach $73.5 billion by 2019. According to statistics, the sports industry globally, has a production value of about $200 million yearly. The sports industry is large and it is made up of competitive sporting events such as sports & fitness industry, sporting goods, venue operators, intermediaries and traditional sports media. Also, the sports service industry has contributed a lot to the sporting industry providing it with talents, capital, technology and real assets. Despite the fact that the sporting service industry has experienced sustainable growth, the sports industry is, however, faced with certain challenges like; mistrust, lack of secured data privacy, high transaction service charges and high foreign exchange fees. This challenges are some of the issues plaguing the sporting industry. But thanks to faxport as faxport resolves to put end to these challenges. Faxport is a sports business service and funding platform. Faxport will utilize the blockchain technology to increase security and trust, whilst also reducing abuse and establish a trust system for the global sports industry. Thereby, we provide a platform for participants with a user experience based on trust and security.
FAXPORT PRODUCT
• FAXGO – Sports crowdfunding platform
• FAX data – Sports Business Database
• Fax Connect – Sports Business Social Network
• FAX Career – Sports Talent Recruitment
PARTNERS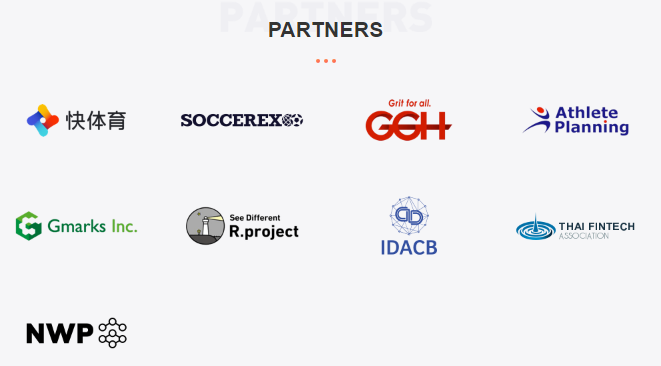 TOKEN DETAILS
The token of Faxport has the transaction code FAS based on the Ethereum standard ERC20. It can be used in addition to legal tender to purchase FX credit on the platform. The next crowdsale will start on the 17th of May to the 30th of May, 2018 with the rate of 3, 161.76 = 1 ETH. The total number of tokens to be supplied is 200,000,000 FAS. The soft cap is valued at 18,000,000 FAS. The pre-sale target is 40,000,000 FAS while the main token sale target is 50,000,000 FAS.
TOKEN DISTRIBUTION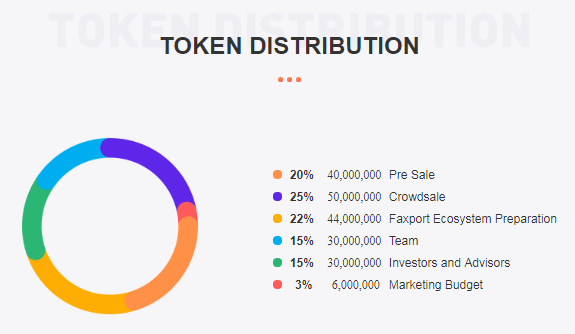 Crowdsale – 25%
Faxport Ecosystem Budget – 22%
Pre-Sale – 20%
Team – 15%
Investors & Advisors – 15%
Marketing Budget – 3%
FUND USAGE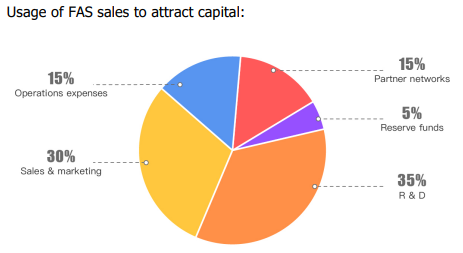 R &D – 35%
Sales & Marketing – 30%
Operations Expenses – 15%
Partner Networks – 15%
Reserve Funds – 5%
ROADMAP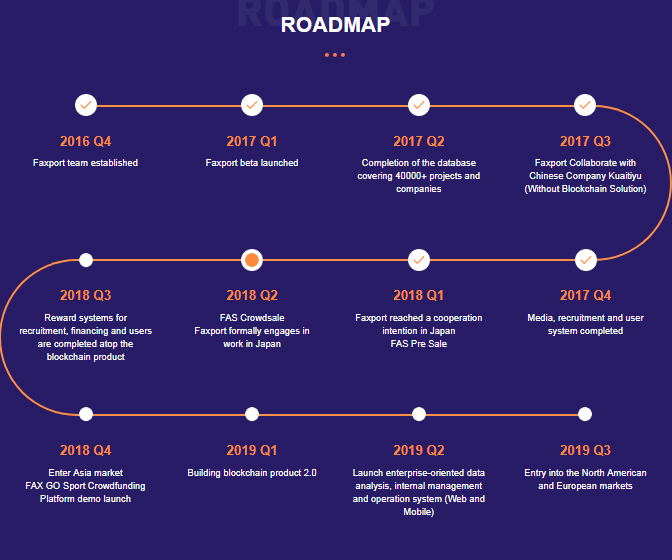 November 2016
• The Faxport project team is set up
February 2017
• Faxport beta operational
May 2017
• Database covering 40000 projects and companies established
August 2017
• Faxport enters into a partnership with the Chinese firm Kuaitiyu (no blockchain solutions proposal/)
November 2017
• Media, recruitment and user system completed
February 2018
• Faxport reached a co-operative intent in Japan
March 2018
• FAS Pre Sale
April 2018
• FAS formally launched
June 2018
• Faxport formally engages in work in Japan
Q3 2018
• Reward systems for recruitment, investment and financing, and users are completed atop the blockchain product
Q4 2018
• Entry into the Korean, Hong Kong, and Taiwanese markets; FAX GO demo launch
Q1 2019
• Blockchain product 2.0 finished.
Q2 2019
• Launch data analysis for corporations, as well as internal management and operations systems (Web and mobile clients)
Q3 2019
• Entry into the North American and European markets
TEAM & ADVISERS



Li Xiaocheng – Co-Founder
Huang Zhijin – Co-Founder
Haibing Gong – Tech Partner
Tom Tong- Marketing Director
MeiKeiChueng- Business Manager
Leung Wai- Senior Business Manager
Meider Shaw- Social Media Manager
Jiang Hao – Business Manager
Zhiwei Ho- Customer Support Specialist
Nanjie Wang – Investor & Adviser
Shek Xiang – Adviser
Faxport is a revolutionary force that will transform the face of the sports industry in a spectacular way. It will be a driving tool for the development and incorporation of traditional sporting services into the blockchain community. I specially invite everyone to join in the participation of our ICO, invite friends and family to this amazing project and be among the community that will transform the sporting industry. For more information about faxport, visit the website and participate in any of our social media platforms listed below:
Website: https://faxport.io/?utm_source=BCT
Whitepaper:https://s3-ap-southeast1.amazonaws.com/cdn.faxport.io/static/de3db62f/other/Faxport%20Whitepaper%20EN.pdf
Facebook: https://www.facebook.com/Faxport_Global-150461205635116/
Twitter: https://twitter.com/Faxport_EN/
Telegram: https://t.me/Faxportglobal/
LinkedIn: https://www.linkedin.com/company/faxport/
Published by: Tszone
Bitcointalk URL: https://bitcointalk.org/index.php?action=profile;u=1742409
Ethereum wallet: 0x684c9d1c004AB2023E1d3ae9aEb902B514B703d1