FIRST CRYPTO BY DOGS
Erc20.Dog
Erc20.Dog (DOG) is the first cryptocurrency created solely by dogs. It's a community Erc20 token carefully designed to satisfy every need.
Erc20.Dog has been a big believer of Ethereum and its family of technologies. With DOG, we look forward to continuing to give back in whatever way we can, so that we can take advantage of these new technologies.
The Erc20.Dog Token (DOG) is powered by Ethereum, a blockchain global computing platform. DOG is a standard ERC20 token and can be stored and transferred using the generic Ethereum wallet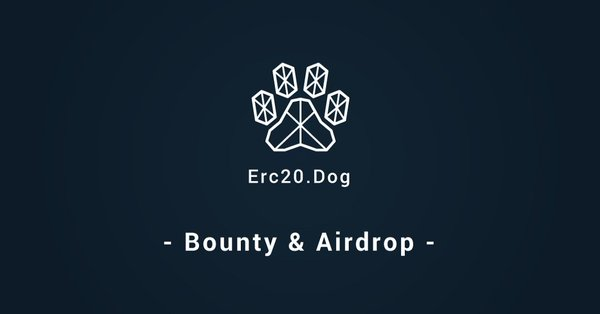 CROWDSALE DETAIL

The DOG Token crowdsale will start on March 20, 15:00 UTC. A proportional distribution mechanism will be used for the sale. Each participant will receive an allocation in proportion with their purchase amount.
The goal for the sale is to ensure a fair distribution and to establish the pool value. A hard cap of 375 ETH will be applied to ensure the initial pool value is significant but still has room to grow as the network matures.
ROADMAP
TEAM
1.Goldereum-Founder & CEO
"I worked in Google for 10 years, when I discovered cryptos I left my job and bought some Ethereum. I lost all my private keys, but I'm still a happy dog."
2.Cryptoraner-Marketing Expert
Marketer since 1 y.o., first place at the Dog Marketing Awards for his work on InstaDog. "Same shit than Instagram, but only for dogs"
3.Solidity-Ethereum Developer
 Vitalik Buterin's ex-best friend, and one of the best dog developers of the world. "He left me when he went to Whaterloo, so I started learning about smart contracts."
4.John McBeagle-Security "Expert"
Founder of McBeagle Antivirus. Sold his company for 20,000 kg of dog food. "Follow me on twitter and I'll follow you back! Please follow me! I'll pay you."