Fluzcoin, as an independent retail coin structured in computer-aided governance, solves the problems of speed, cost, compliance and excess volatility; ushering in a true retail coin ready for mass adoption.
Fluzcoin's Artificial Intelligence (AI) algorithm, EUNOMIA, overcomes crypto-economic volatility with real-time, computer-aided market corrections to the Fluzcoin supply and demand.
The value generated by minting new Fluzcoins is maximized by Fluzcoin holders in the form of dividends; meaning the accumulation of Fluzcoin, results in an appreciation path similar to traditional cryptocurrencies even though the value of an individual Fluzcoin may never skyrocket.
Fluzcoin's computer-governed economy results in a transparent and predictable fluctuation path, compared to FIAT and crypto-currencies.
Fluzcoin's clever, patent-pending (United States patent application pending 62/648,206) coin minting rationale creates additional value without the need for energy intensive crypto-mining infrastructure.
The technology
Fluzcoin is deliberately configured as technology-agnostic. For the start it has chosen JP Morgan Quorum forked from Ethereum, in a version customized for institutional needs. The adoption of a validated solution, JP Morgan Quorum last generation permission based blockchain, enables high throughput as well as data privacy.
FINANCING & GOVERNANCE – EUNOMIA
Fluzcoin is issued and the Fluzcoin Reserve is held by EUNOMIA (from greek mythology where EUNOMIA was the goddess of good order and lawful conduct. She was associated with the internal stability of a state, including the enactment of good laws and the maintenance of civil order).
EUNOMIA Foundation is also responsible to maintain the operations of the Fluzcoin Algorithm and the Fluzcoin Blockchain. Its costs are paid out of two streams of income:
Interest proceeds from the Fluzcoin Reserve
Proceeds from the sale of new Fluzcoin in the SCO process
Future licensing revenue generated by the Eunomia coin stability mechanism
Surplus of proceeds over costs are added to the Fluzcoin Reserve.
The Fluzcoin Reserve is invested in exchange traded funds (ETFs) with a passive investment strategy that EUNOMIA Foundation is selecting from respected and well-known ETF issuers. The funds selection strategy will be modelled on the investment philosophy of central banks and sovereign wealth funds. Investment shall automatically rebalance by algorithmic steering in case of foreign exchange or other shocks – where the basket of ETFs reflects the exposure to the geographical markets of the participating merchants, weighted by their transaction volume. There is thus no scope for human decision-making in the handling of the reserves of Fluzcoin and stability for Fluzcoin users at both the retail and consumer end.
The EUNOMIA Foundation will be hands-on with respect to compliance and transparency in management of Fluzcoin Reserve, yet hands-off with respect to investment decisions that are to be automated as indicated above.
EUNOMIA Foundation council members are decision makers independent from Fluzcoin Global Inc management.
Fluzcoin Global Inc is responsible for Marketing and IT development of Fluzcoin. Fluzcoin Global Inc as an agile private enterprise with vast know-how in physical and online retail will ensure the appropriate go-to-market of Fluzcoin.
The below figure illustrates this clear division of powers: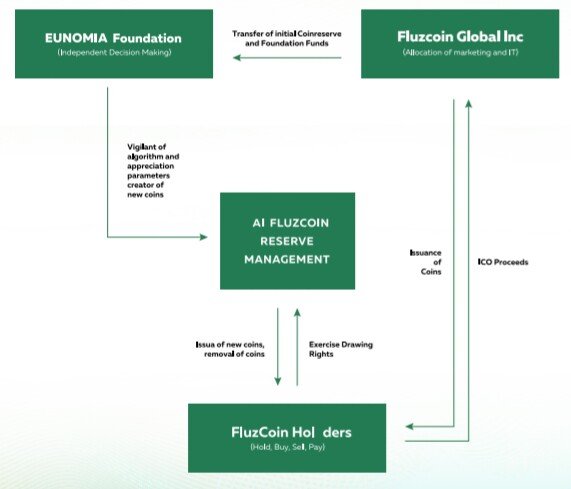 EUNOMIA Foundation has independent foundation council members whose mandates consist of
• Supervision of the Fluzcoin reserve algorithm
• Monetization of licensing activities of EUNOMIA
• Assuring compliance of reporting of Fluzcoin Reserve Management
• EUNOMIA Foundation Retail Coin Research & Think Tank built-up
• Developing retailer/industry relationships
• Blockchain and Eunomia technology development (can be contracted out to Fluz Global, but mandate and task is hard to separate from Foundation purpose) Enforcement rights: KYC thresholds and the ability to freeze funds of non-compliant actors supervision of platform coins issued on top of Fluzcoin, i.e. the right to issue and revoke the licence to run a platform coin
• Selection and control of external Fluzcoin market making services
• Ensure the professional development and training of EUNOMIA
Foundation council members and, if desirable, of senior management of Fluzcoin Global Inc
• Anticipate and manage the officer election process for the Foundation's council members, the Treasurer, and the Secretary.
• Review the staff officer positions of Treasurer and Secretary on a periodic basis.
The council members are elected by electronic voting of Fluzcoin holders during yearly digital general assembly for a maximum of five (5) years of renewable service, with the obligation for Foundation members to step down should a conflict of interest arise. Potential conflicts of interest shall be communicated as soon as they arise by the council member and EUNOMIA Foundation to Fluzcoin community members.
ICO SETUP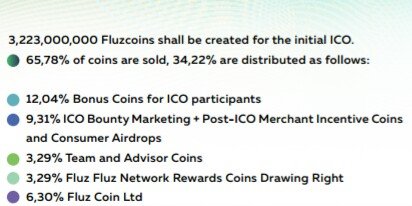 The soft cap to realize the project is USD 10 Mio. The theoretic hardcap is effectively USD 212 Mio (all sold coins at full ICO crowdsale price).
The ICO shall be divided into stages where Fluzcoins will be offered at a discount until the Fluzcoin ICO crowdsale price of USD 0.10 is reached.
USE OF ICO FUNDS
Fluzcoin Global Inc plans to use the ICO collected funds in the following manner:

ROADMAP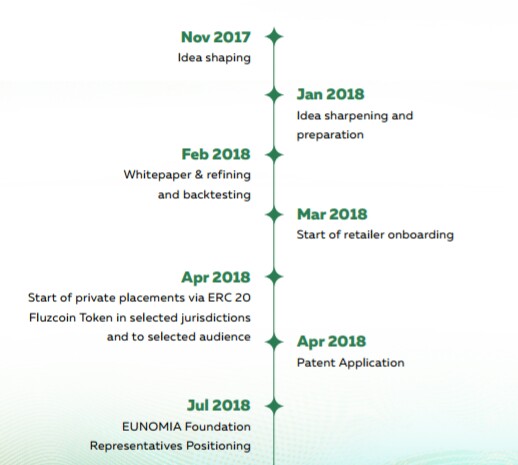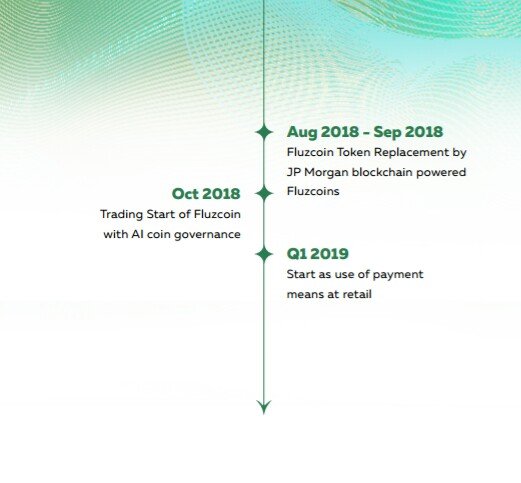 For more information, please visit:
Website: https://fluzcoin.io/?utm_source=bitcointalk&utm_medium=bounty
Whitepaper: https://fluzcoin.io/docs/Fluzcoin_Coin_Sale_Whitepaper.pdf
Telegram: https://t.me/joinchat/FaUXnVJkE62Onj6NcXuiPw
Facebook: https://www.facebook.com/fluzcoin/
Twitter: https://twitter.com/fluzcoin
Medium: https://medium.com/@fluzcoin
Youtube: https://www.youtube.com/channel/UCdK-HoZdmvmC-9bS5TeJT0g
Author: Crator Touch
My Bitcointalk Profile: https://bitcointalk.org/index.php?action=profile;u=1612381