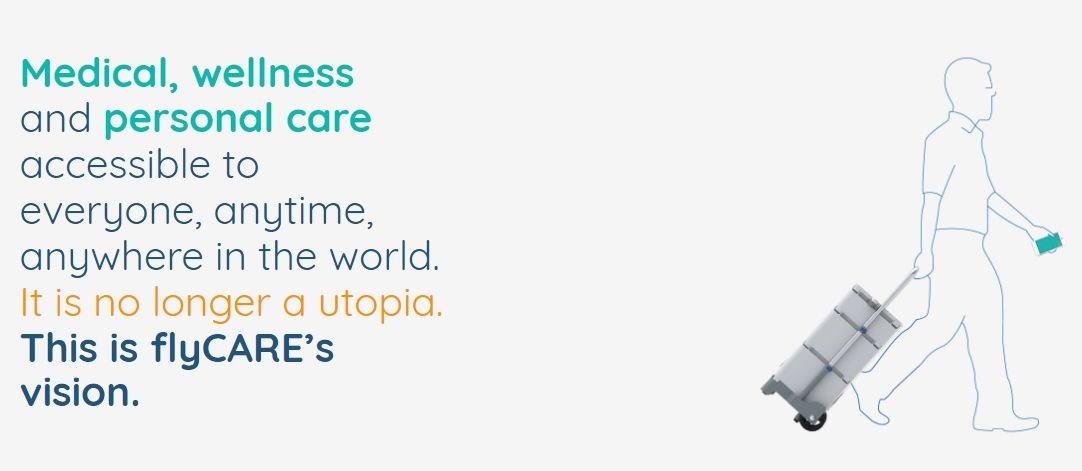 Hello friends, in today's review I will examine a project that focuses on personal care and health services named flyCARE.
Project was evaluated by Trackico with 4.3 points and icometre by 8 points. The project was launched in 2017 by Bruno Lamoureux and Dieter Bauch, founders of the NWT.
What is FlyCare?
All kinds of personal care and health professionals such as flyers, physiotherapists, hairdressers, dentists and even pedicure specialists will work on a platform. As you can see from the following video: the people in this area will come to your house and serve you. With the FlyCare platform, you will be able to get preliminary information about the service providers by seeing reviews and comments from the profiles of the service providers.
Thanks to technology and competition, our lives become easier each day. If you are on your way to shopping and spend hours visiting the shop, we can see the prices of many of the places we live in and order directly to the address of our home. FlyCare wants to apply this ease to the service sector as well. Perhaps the price of the service to be provided at home may increase, but I think that the price is still reachable to many people.
Also, nowadays everyone does not use appointment systems for personal care, so when you go to a bargain, the number of people who make an appointment over the phone is small. In this case, certain clocks also cause unnecessary accumulation, causing queues to waste people's hours.
Who can benefit
Some people who are not able to go out for personal care due to temporary illness or bedridden patients. These people are very difficult to find people who can serve in their homes for personal care. Because today there is no such platform.
It is impossible to find suitable catagory service in this area because it is not a market which is a competition for patients and people in need of care at home.
Again those who are willing to save time and have a heavy workload will be willing to take these services at home. This is the second part of the people I will refer to as people who are often elite people, although the financial situation is good and I do not like it very much. A friend who has been in trade for a long time told me as a golden rule. If you want to make a lot of money, do what you do, address the rich.
FlyBox
FlyBox was developed as a result of 3 years of development by using 75 tons of steel and 61 plastic injection molds. FlyBox NWT is ISO 13485 certified, a model for the transport of materials for home services. You can see the modules in detail by visiting the website. Flyxbox is part of the flycare project.
Let's read the future With the invention of Internet in 93 and the emergence of 2009 Block Chain technology, we are about to conclude the first quarter of the 21st Century, the beginning of Digital Age. After 2025, we expect a real digital world. With the Internet of objects, 26 billion products will be connected to the Internet. From A to Z you have to have a connection with the digital world in a way that all kinds of jobs and professions that you have in mind. The service sector is an area that has not been sufficiently digitalized except for the online service. So I can say that the flyCare project is a project with a very vision for the future.
Ico information
flyCare will be available from 14 May to 11 June. 1 The FCC token is valued at EUR 0.2. A target limit of at least EUR 1 million has been set for Sofcap. The minimum investment amount to join Icoya is 0.1 ETH. In order to prove that you are not a citizen of prohibited countries while participating in the Ico, the international requirement KYC is sought. The project also has a bounty campaign, you can click here to view the bounty headline. The Bounty campaign is run by the
TokenSuite team
Those interested in learning more about Flycare can review the links below.
Official website: https://flycare.com/
White page: https://flycare.com/assets/FC-White%20paper-02-05-18-EN_double_en_continu.pdf
Telgram: https://t.me/flyCARE
Twitter: https://twitter.com/care_fly
Medium: https://medium.com/@flycare
About the author: phatpharm20
Bitcointalk profile: https://bitcointalk.org/index.php?action=profile;u=2038562
ETH ADDRESS-0x1cff5da802703815aea69be79491c636369d0d1f