FORESTING: Blockchain Based Rewarding System for Social Media Content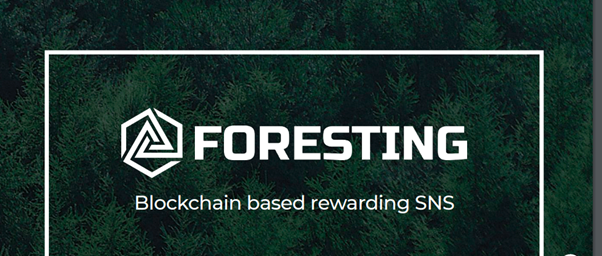 Overview:
It is a blockchain based social media platform which provides the rewards for the users for the exchange of content, users can create wide range of content in the form of video, images etc. issues Ethereum based utility token called PTON for the services and rewards, backed by amazing team and advisors.
Problem:
Social media became part of our daily lives, social media giant Facebook has created wonderful platform for people to connect with world, people share their thoughts, opinions, pictures and videos sometimes most influential tool for the politics and revolutions despite of the advantages it has some major drawbacks like such as theft of personal information for the target marketing, data breach issues like Cambridge Analytica has indulged in major data breach of Facebook. It sells the data for political campaigns and voters manipulations by analysing user behaviour.
All advertising companies rely on the high traffic platforms i.e. social media and they are ignoring the quality of content, all the social media and content providing platforms are centralized they highly focus on the revenue generation.
Solution:
To solve the existing problems in revenue-based content in the social media platform FORESTING Network came up with innovative idea by creating blockchain based rewarding social media platform for the content creators.
Its network consists of three departments such as FORESTING Social Media, FORESTING Bank and FORESTING Lab
FORESTING Bank which supports the financial support required by the users for the activities such as comments, liking, providing content and sharing.
FORESTING Lab provides place for the users which allows users to create high quality content by providing equipment's such as cameras, microphones, lights, speakers, and instruments, it is aiming to provide the ecosystem for high quality content.
FORESTING Social media platform wide range of communities ranging from beauty, fitness, and entertainment on the blockchain network.
Token economy:
FORESTING platform issues Ethereum based utility tokens called "PTON" which can be used in the internal ecosystem of the platform for services availed and rewards distribution for content creation.
Token Details:
Token symbol: PTON
Token type: ERC 20
Total supply of tokens: 24 Billion
Pre-initial Price 1ETH = 49,999.5 PTON
Initial Token Sale 1ETH = 33,333 PTON
40% of the tokens are allocated to Public sale
Soft Cap – 90,000ETH
Hard Cap – 170,000ETH
Team:
David Kim-Founder
David Kim is an M&A investment specialist and business architecture specialist and accelerating companies in diverse industries from manufacturing to ICT. Currently, he is the Founder of Foresting and the CEO of 500V, an alliance venture company which has over 500 innovative companies based on LIFE and TECHNOLOGY both online and offline.
Daniel Eom-CEO, Co-Founder
Daniel Eom is the Co-founder and CEO of Foresting. After graduating from California State University, Los Angeles with the degree of Business and Economics, Dan joined the McKinsey & Company as the business analyst. He used to be the Executive Director of Valuable Accelerator, an accelerating program helping entrepreneurs in Asia expand to new global markets. Daniel has a proven track record of starting companies and making them profitable for investors.
Jimmy Kim-Co-Founder
Jimmy Kim is the Co-founder of Foresting who is also the CEO of 500V2 and Start-up Radar, a global tech media company with more than 100,000 subscribers in Facebook. He used to be the VP of Zeroweb, a web publishing company, and a team leader of the Domestic MKT at LG Electronics.
Verdict:
Pros:
• Website and whitepaper has detailed explanation of the project
• Core team members are well experienced in various fields such as Marketing,
• Finance, IT, Software, PR, Business Development, Web & Android Developer, UX/UI Designer etc.
• Partnered with Google, Sony, ThinkCoin, Fox, WB, Universal Studio, 20th Century Fox, Walmart, Bibox, BBC etc
• Its advisory team consists of 25 members from various fields such as Law, Marketing, Digital Marketing, Investments, ICOs and Blockchain
• Team members and advisors are previously worked in Microsoft, Coca-Cola, Samsung, LG, McKinsey & Company etc.
Cons:
• MVP is not yet released
• Social media hype is average, its telegram community has 3k+ members
Links:
Website: https://foresting.io/
Whitepaper: https://forestingnetwork.com/whitepaper/FORESTING_Whitepaper_Eng_Ver.0.92.pdf?ver0.2
Telegram: https://t.me/foresting_global
Twitter: https://twitter.com/foresting_io
Facebook: https://www.facebook.com/forestingHQ/
ANN Thread: https://bitcointalk.org/index.php?topic=4906179