Foundation of soundeon
Foundation of soundeon:
Every artist have a success story and their fans love to listen about their journey towards the success. And an artist needs to learn from the professionals and their previous work. So for a music artist or beginner he/she needs to listen recorded music, a platform to upload his own creation for the sake of recognition, a fan following, funds to launch its creation and one to buy them.
That would be much easier if a single platform have all these features for the world. There is feasible platform for all above mentioned characteristics named as SOUNDEON.
Soundeon and the emerging artists (A music token):
The blockchain based crypto music world industry with users from all over the world is presenting the world a brand new concept of becoming an artist having fans as the stakeholders of artist's success.
The above line will not sound confusing when you get to know that artist can get financial support from his/her fans in order to compose or sing new songs/ lyrics or to release album. For this the artists release a music token which will be then purchased by the fans.
The artists will also be given remarkable revenue based on their liked and streamed songs.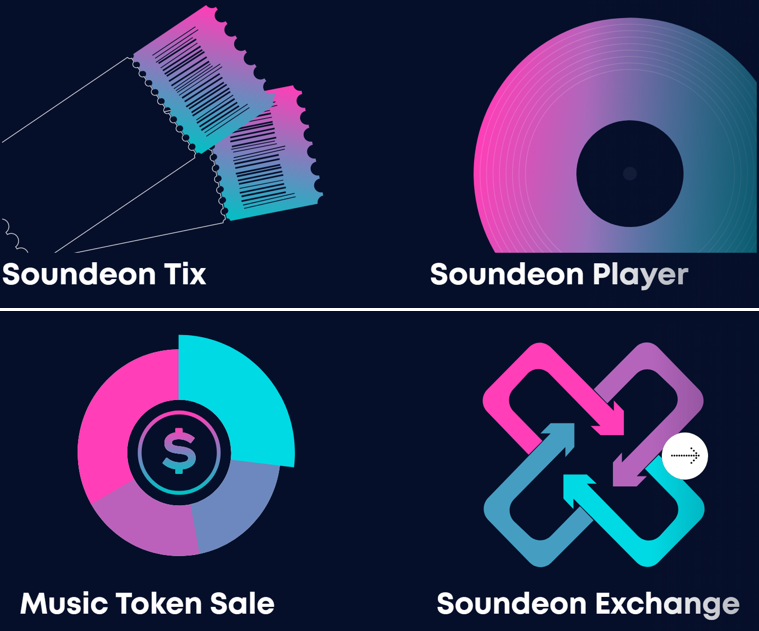 The ticketing (soundeon Tix):
The artists getting recognition is only one aspect of soundeon. The fans of known celebrities can also stream their favorite songs and make their personalized playlist (on payment). Not only this they can also enjoy the ultimate fun of live events and concerts from every of the world sitting in any corner of the world.
The managers can issue a ticket and soundeon will buy them in order to attend the concert. This will be fair and transparent as creative smart contract and QR code will make ensure that there is no fraud and scam from both managers and audience's side.
An exchange (Soundeon exchange):
As mentioned in foundation paragraph the artists can sell their creation, they definitely needs an exchange to do so. So soundeon provide its users with extreme ease of providing them built in exchange, the soundeon exchange, here any user can purchase either complete or part of any artist's composition (but only with the artist's will). Soundeon also allow third parties for better understanding and cooperation.
The soundeon player:
Last but not the least, this also have a player with a variety of songs, playlists, recorded music and much more. The users will pay for their songs and save them to create playlist and they can also update them as well.
Inshort, this platform is the final solution for every music related query, desire of every music fan, blockchain based decentralized music world a music fan ever wished for.
Token sale:
Like other blockchain and crypto currency based platform, soundeon also have a token sale to launch. The token will be available to purchase from the month of June 2018 however, the token sale allocated as all user public sale will held in the end of last year, in the month of November 2018. Interested users can see the alpha version of the platform that has already been launched earlier in the month of April 2018.