FRY EGG – Health is Wealth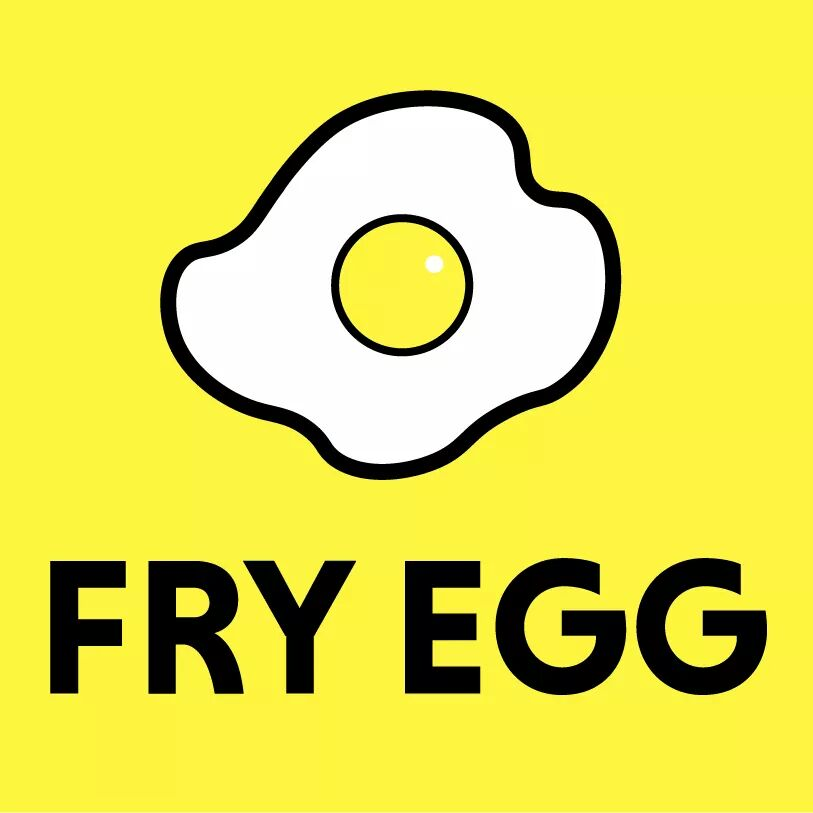 Let me introduce you to the amazing new yet successful project FRY EGG – Your Very Own Dedicated Coach For Any Health Goal. A storm has hit the investment market which we are not going to recover from. Crypto investment is that storm. With strict capital controls in place by most countries to control the flow of money and charge high taxes, cryptocurrency gained usage in circumventing capital controls and taxes, leading to an increase in demand. Cryptocurrency has been able to present an easy to use digital alternative to fiat currencies. Offering frictionless transactions and inflation control, investors have been prudent enough to add these currencies in their diversified portfolios as an asset, as the size of the market does not represent a systemic risk. Cryptocurrency employs the use of cryptography that assures high-security processes and verifies transactions personal to each user. Hence, counterfeiting and anonymous transactions are impossible to achieve.
While this revolution is gaining wide acceptance, The Fry Egg platform, which recruits and collects high-quality personal trainers, dietitians, nutritionists, and health coaches around the world and gives them the means to design their own health programs has arrived. A great innovation, yes?
ABOUT FRY EGG
The Fry Egg platform recruits and collects high-quality personal trainers, dietitians, nutritionists, and health coaches around the world and gives them the means to design their own health programs.
These programs are packaged and sold on Fry Egg s proprietary marketplace to clients worldwide, creating a one-stop shop for clients seeking customized fitness training and taking the marketing legwork away from trainers and coaches so they can focus on delivering the best fitness programs .
Our mission is to pair all Fry Egg clients with experienced coaches that will mentor them through each step until each goal is completed. Fry Egg coaches can tackle any health and wellness goal, whether it is a customized program to manage a chronic disease, a temporary physical limitation, or simply looking to blast fat and earn a cut body, Fry Egg has the perfect coach and personalized program for every individual.
Coach in your pocket
Fry Egg allows anyone around the world find a health program that fits their needs and budget. Each program is taught by a coach that guides you through your fitness journey, every step of the way. Clients now have access to their own personal coach anytime and anywhere.
Safe and Secure Communication
Fry Egg provides all the necessary tools for coaches and clients to communicate effectively and securely. Take advantage of our proprietary video chat, encrypted messaging, file sharing, notification, calendar and fitness device syncing technology.
A Program for Everybody
Find the perfect fitness program within your timeframe, budget, and describes what you are looking to accomplish with your health. Program goals can range from fat loss and muscle building, to body detox and stress reduction. Compare different programs and coaches, read reviews from other program users, and message Coaches if you would like more information.
Solution
FRY EGG offers individualized health and welfare service to the individuals from the most effective coaches and advisors at their doorsill. They will explore for numerous product and services to assist them to stay match and healthy. The shoppers can type a majority a part of the community since they're the actuation of the platform. IoT and Blockchain technology is utilized by the platform to supply a range of services to the users.

The community at FRY EGG consists of coaches, partners, and shoppers. The marketplace created at the platform is intended to suit the requirements of the shoppers. The relationship between the shoppers and therefore the coaches can outline the long run of the platform. There are numerous predefined health and welfare programs obtainable on the platform which is able to be completed by the shoppers with the assistance from the Coaches.
How does the Fry Egg platform work?
Fry Egg functions as an online marketplace for personalised healthcare. Coaches can use proprietary software to develop exercise programs (whether they are for weight loss, or overcoming a temporary disability, or bulking up) that will then be reviewed and made available on the platform. Likewise, validated partner businesses can offer their goods (such as supplements or sportswear) and purchase ad space on the platform. Clients are able to pick what goods and services fit their needs, making use of the reputation review system. All users of the platform will have access to an in-app chat. Fry Egg has begun to integrate health programs and devices to collect and upload health data in real time; blockchain technology will be used to secure this data and use it to ensure accountability on the part of all participants in a program.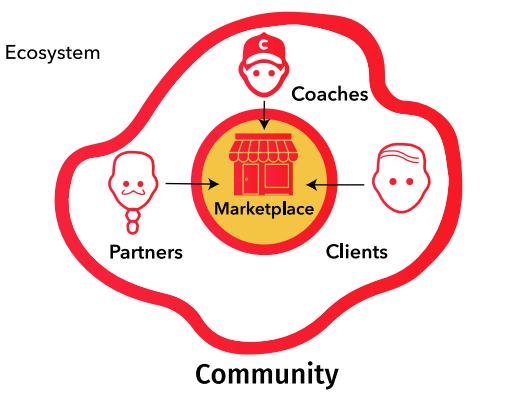 Where does the token come in?
Central to the platform's function is the EGG token. While it is possible to use fiat currency in the marketplace, it comes with an 18% fee. Using the EGG token for transactions instead provides a considerable discount. On completing a program, 3% of the price will be paid back to the client and (if the client rates the program at 3 stars or more) 2% to the coach.
The token's use does not stop at buying and selling, as the platform also includes social media features like a leaderboard and an Instagram-style feed. Clients who are willing to submit their data can share their results; community users (not just clients) can then upvote their posts, determining which of them will be rewarded with tokens. Likewise, clients can participate in daily Community Challenges to be rewarded through airdrops. Coaches can use the token to pay for creating new programs, redeem it in exchange for targeted advertising, and become validators by staking their reputations on reviewing new participants and products in exchange for a portion of the platform's token fees. Clients' health data (but not any identifying information) could be accessed from the "Locker Files" with the token. Lastly, the EGG can also be used to tip other participants and promote existing programs.
What does Fry Egg have to offer you?
If you want a healthier body, Fry Egg can make it easier and cheaper for you to find the specific kind of help you need. In addition to this, its community and token-based mechanisms help create the incentives we all can use to motivate us to stay in shape, while blockchain-based authentication will help keep everyone involved honest. Coaches can use Fry Egg to avoid many of the costs and complications of having to own their own businesses, instead tailoring their participation to their own preferences, expanding their client base and developing a reputation. Partner businesses will receive access to an expanded client base and be able to carry out precision marketing.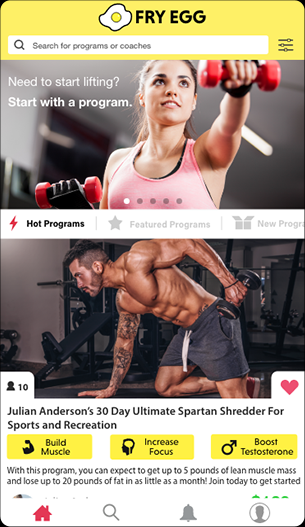 As for Fry Egg itself and its investors, their profits will be generated through the sale of the native token, leasing ad space, commission fees and upgrades for coach accounts, allowing them to take on more clients and more programs.
What are Fry Egg's unique selling points?
Fry Egg creates a streamlined, transparent way for its users to interact with each other, saving time, effort and money for clients, coaches and businesses. It leverages the EGG token and social media techniques to create material and psychological incentives for taking better care of yourself, fostering a community and a culture of health and wellness that, in turn, serves to expand and consolidate its customer base. Clients and coaches can use the token creatively to give themselves new ways to interact with the platform, and can take a greater part in its function, becoming more invested in it and helping its continued development.
TOKEN SALES INFORMATION
Token symbol: EGG
Total supply: 500 million EGG
Total token sold: 200 million tokens symbol EGG
Platform: Ethereum
Hardcap: $ 20 million
Presale: $ 10 million
Price: $ 0.04
ICO period: 1 May to 30 May 2018
TOKEN DISTRIBUTION
Fry Egg will be issuing a token sale in order to accomplish our road map milestones and release the tokens that will fuel the movement and growth of the Fry Egg tokenized application. There will be 400,000,000 EGG tokens allocated to our token generation event.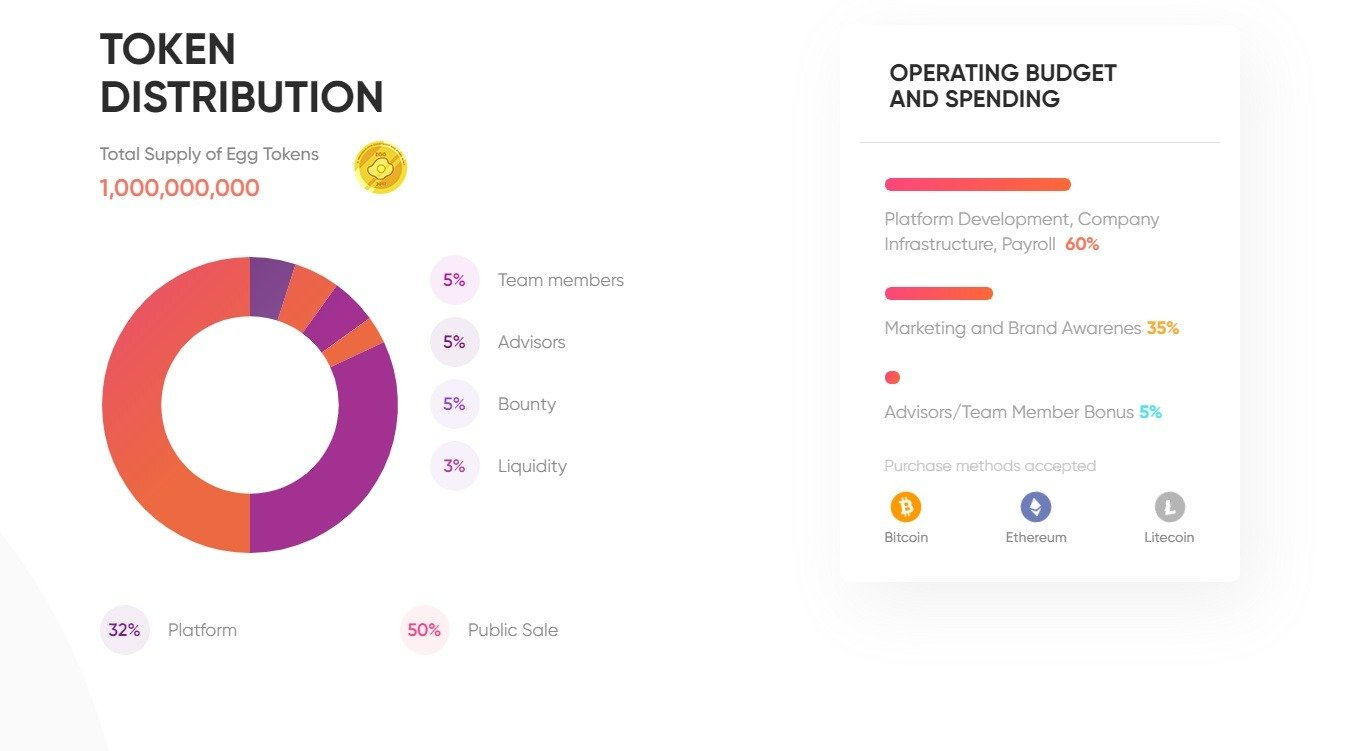 Operating Budget & Spending
Platform Development, Company Infrastructure, Payroll – 60%
Marketing and Brand Awareness – 35%
Advisors/Team Member Bonus – 5%
Purchase methods accepted – Bitcoin, Ethereum, Litecoin
ROADMAP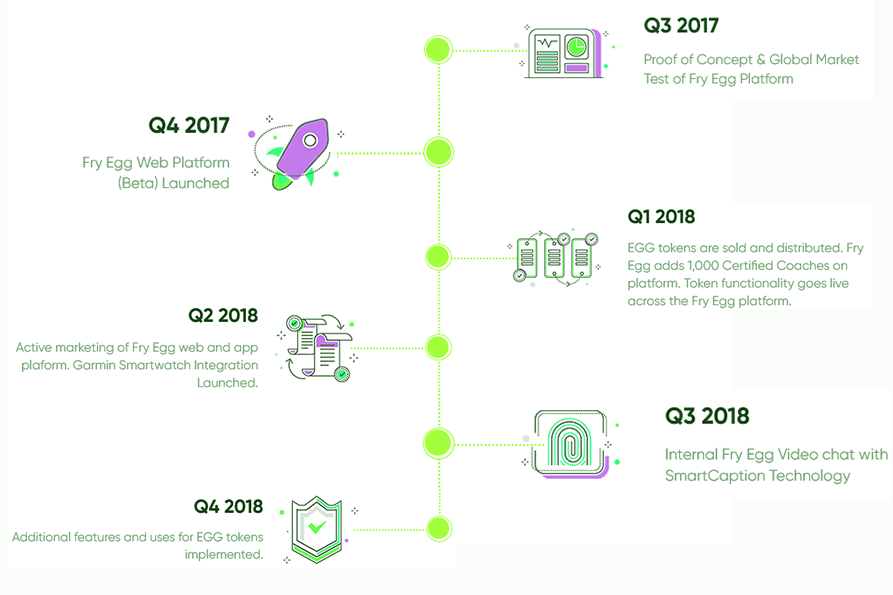 Meet the team behind this revolution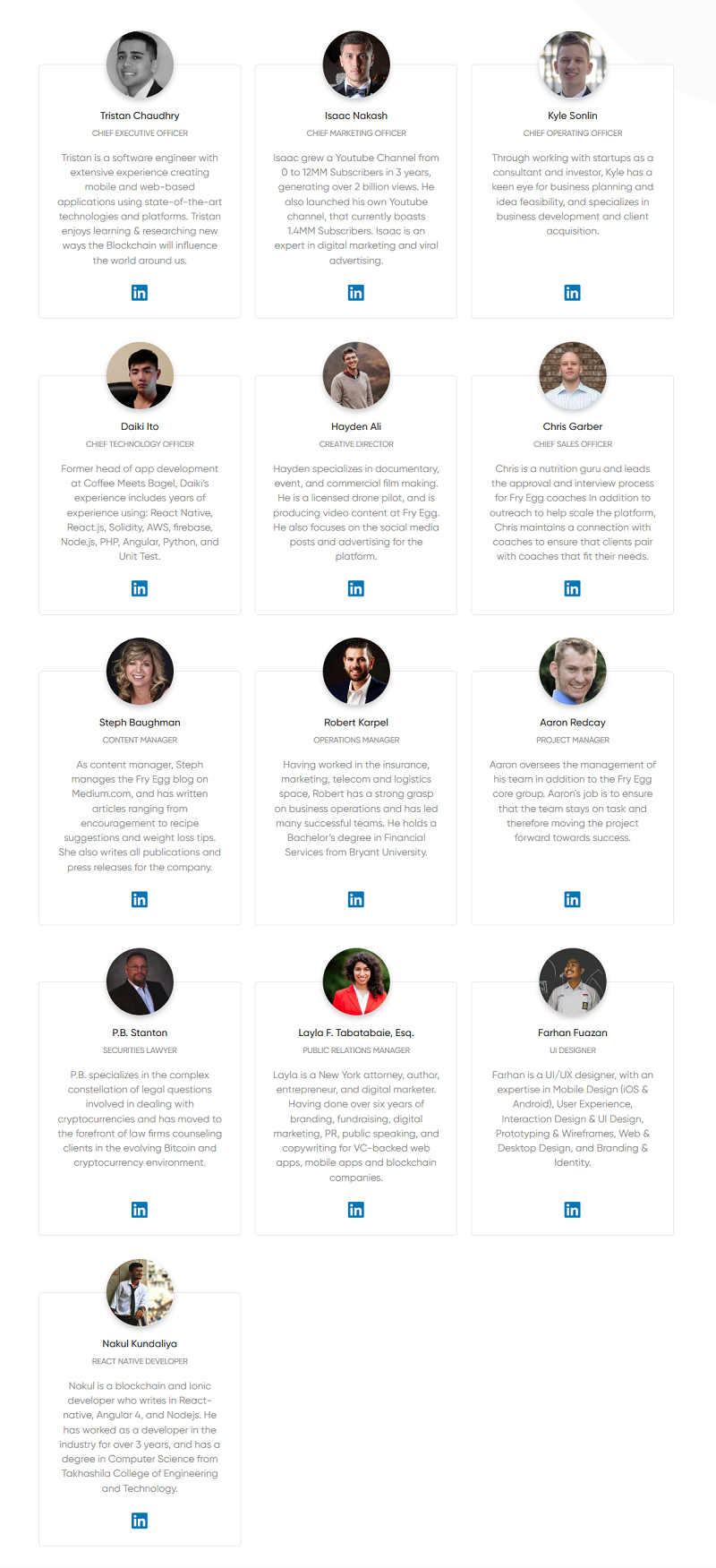 -Tristan Chaudhry ~ CHIEF EXECUTIVE OFFICER
-Isaac Nakash ~ CHIEF MARKETING OFFICER
-Kyle Sonlin ~ CHIEF OPERATING OFFICER
-Find Ito ~ CHIEF TECHNOLOGY OFFICER
-Hayden Ali ~ CREATIVE DIRECTOR
-Hayden Ali ~ CREATIVE DIRECTOR
-Steph Baughman ~ CONTENT MANAGER
-Robert Karpel ~ OPERATIONS MANAGER
-Aaron Redcay ~ PROJECT MANAGER
-PB Stanton ~ SECURITIES LAWYER
-Layla F. Tabatabaie, Esq. ~ PUBLIC RELATIONS MANAGER
-Farhan Fuazan ~ UI DESIGNER
-Nokul Kundaliya ~ REACT NATIVE DEVELOPER
For more information, please visit the links below:
Website: https://tokensale.fryegg.com/
WhitePaper: https://tokensale.fryegg.com/docs/fryeggwhitepaper.pdf
Telegram: https://t.me/FryEggCommunity
Facebook: https://www.facebook.com/fryegg
Twitter: https://twitter.com/FryEggOfficial
Medium: https://medium.com/fryegg
ANN: https://bitcointalk.org/index.php?topic=3188802.0
Author: Tosin David
My BitcoinTalk Profile: https://bitcointalk.org/index.php?action=profile;u=1180815