FTEC PLATFORM: digital cryptocurrency trading zone.
Ftec platform is the first trading digital/cryptocurrency ecosystem comprising of neutral networks and intelligent services for operating effective cryptocurrency markets or trading activities. The platform offer benefits like: efficient trading bots and artificial intelligence to give neural systems thereby minimize the probability of loss. Ftec platform saves time with good trading strategies, crypto knowledge guides and news to update the traders about the current trends of the market.
Their global mission is decreasing many of the unprofessional traders. The main aim behind this ideal project is the entire necessary tools for users with any level of knowledge and experience in the field of digital currencies. They have presently conducted projects which are based on algorithms for regular trading on crypto economy or markets. Therefore, they shifted on to fulfill all the ambitious goals.
TOKEN SALE
Ftec token can solve fundamental problem and provide token holders certain advantages. Due to a constant number of tokens, users will be able to influence their position in the queue by selling or buying tokens. The system will have a mechanism for calculating certain queue of users owing to the uneven distribution of tokens between holders. The place in this queue will determine potential profit of token holder because his orders will be executed earlier and at a more favorable price.
Besides that, FTEC holders who have a certain amount of tokens will be able to influence the further development of ecosystem by voting.
ICO DETAILS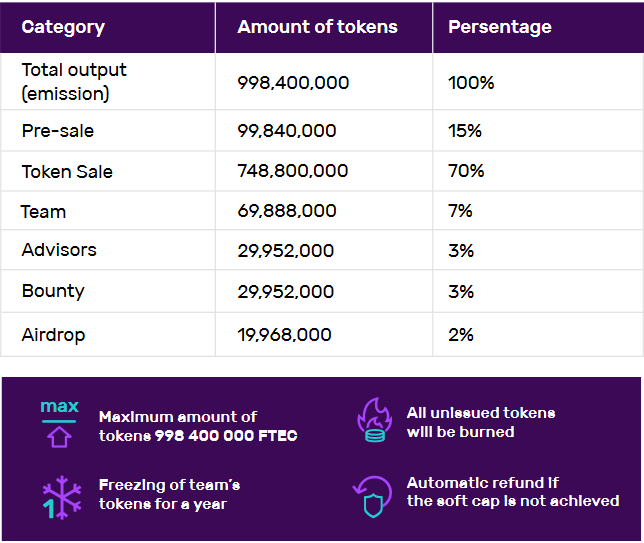 TOKEN SALE DETAILS
Token sales divided into 2 stage as follow:
Pre-sale – Tokens available for this stage is147,980,000FTEC & will last for 27 days, starting from 11/04/2018 14:00 GMT + 00 to 08/05/2018 14:00 GMT + 00. Soft cap on Pre- sale is 2000 ETH – Hard stamp on 4000 ETH with discount as follows.

Token sale – Tokens available for this stage is 700,660,000FTEC & will last for 23 days, starting from 29/05/2018 14:00 GMT + 00 to 21/06/2018 14:00 GMT + 00. Discount at this stage as follows.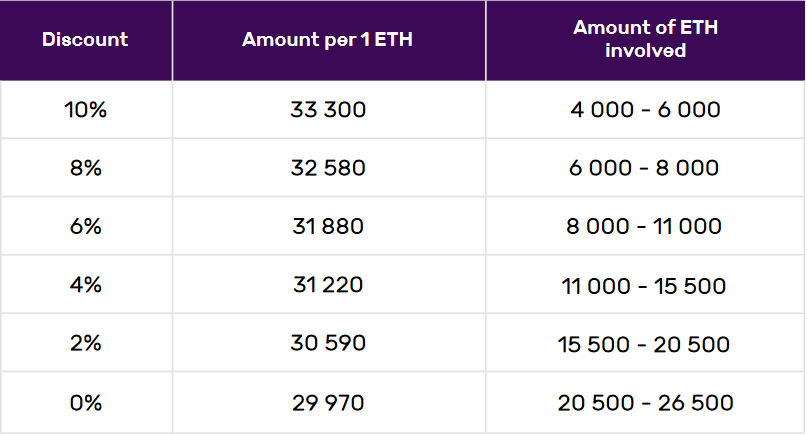 MEET THE BRILLIANT TEAM
– Ihor Torshyn~Chief Executive Officer
– Stanislav Ochkur~Business Development
– Viktor Daverman~Chief Technology Officer
– Julián Marcelo Bernal González ~Cyber Security Specialist
– Alena Tymoshenko~Head of Marketing
– Luis Felicio ~Software Web Developer
– Tim Marchini ~Content Manager
– Roscislav Gorbachov~Head Trader
– Vlad Nesmiian~Legal Advisor
– Evgeniy Sidelnikov~Financial Advisor
– Maxim Bashmakov~Art Director
– Andrea Meeld~Senior Trading Advisor
– Egor Osaulenko ~Software Developer
– Kateryna Klymko ~UX/UI Designer
– Denys Bannikov ~Blockchain Developer
– Janine Lakhotska~Public Relations
– Oleg Mazurok~Trading Analyst
ROADMAP TO SUCCESS
2017
July~ Ideology, teambuilding, setting a technical task, architecture development for Coinbot.club database.
August~ Template design development, signal subscription mode, 2FA connection.
September~Development of candlestick classifier, Orderbook analyzer.
October ~Creating a new logo, redesign
November~ Creating a coinbot.club blog, algorithms for intelligent trading modules.
December~ Decision tree architecture, Bittrex API connection, Poloniex, automatic API checking, affiliate program development.
2018
January~ Connecting the Binance API, Kraken, a support department was created.
February~ Updating the payment system, fixing bugs.
March~ Landing creation, White Paper, preparation of documentation
April~ Pre-sale, interview-sessions, advertising campaign. Report.
May~ Token Sale, full-fledged development. Report
June~ Summing up, connecting the API of new exchanges, creating Telegram Assistant, Adaptive Social Assistant, Arbitrage Assistant, Telegram Assistant, staff expanding. Report.
July~Mobile App, Service of Trader's Behavioral Analysis, statistics collection. Report.
August~ Exchange Order Management Module, interaction testing with other modules, Price Notification Module. Report.
September~ Development of network architecture, Analyzer of the News Background, materials collection and tests for Cryptoacademy, the launch of a full-scale marketing campaign. RoadMap update. Report.
October~ Anomalous Volume Dynamics Analyzer. Report.
November~ Roadmap update, Cryptoacademy, Global Price Analyzer. Report.
December~ Module for Cryptocurrency Portfolios Management. Report.
2019
January~ Desktop App. Report.
February~ Global testing, RoadMap update. Report.
March~ Trading Recommendation Platform. Report.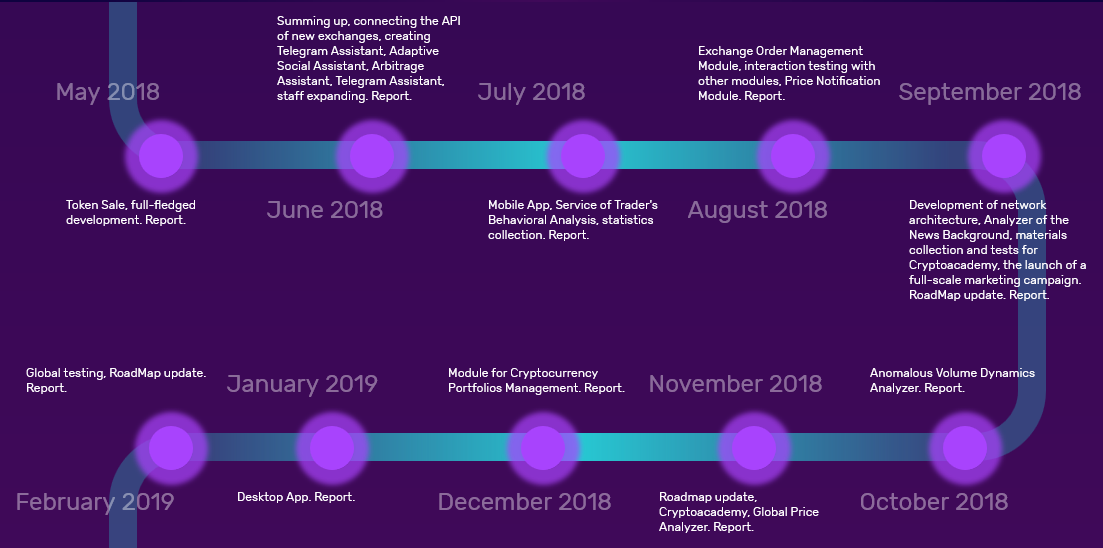 Kind Regards, ensure to join this incredible project.
FOR MORE DETAILS, CLICK/FOLLOW THE LINKS BELOW:
Website: https://ftec.ai/en
Facebook: https://web.facebook.com/FTEC.Foundation
Medium: https://medium.com/@ftecfound
Telegram: https://t.me/FTECofficial
YouTube: https://www.youtube.com/channel/UCxAjFLMR2_X-IZqkhZrt8rA
Linkedin: https://www.linkedin.com/company/ftec-io/
Reddit: https://www.reddit.com/user/ftecfound
Twitter: https://twitter.com/ftec_found
Bitcointalk Announcement: https://bitcointalk.org/index.php?topic=3161171
Author: Martilda
Profile link: https://bitcointalk.org/index.php?action=profile;u=1887582
Eth address: 0xd0D5d98857192B3931c831b7B809D47CD830da32