FTEC trading platform.
FTEC Ecosystem offers trading efficiency and saves time. FTEC platform provide trading strategies, crypto knowledge guides and news to update the traders about the current trends of the market. All of these features minimize the probability of loss. FTEC platform is powered by artificial intelligence to provide neural networks, intelligent trading bots and multiple smart trading strategies. FTEC Ecosystem promote the use of crypto currencies in processing payments, paying bills, purchasing from stores and any other activities that could be performed through Fiat currencies.
FTEC trading platform instantly executes buying and selling orders. Traders feel secure and confident when they know they have the full control over their trades to execute them at their desired time.
FEATURES
TOKEN SALE
Ftec token can solve fundamental problem and provide token holders certain advantages. Due to a constant number of tokens, users will be able to influence their position in the queue by selling or buying tokens. The system will have a mechanism for calculating certain queue of users owing to the uneven distribution of tokens between holders. The place in this queue will determine potential profit of token holder because his orders will be executed earlier and at a more favorable price. FTEC holders who have a certain amount of tokens will be able to influence the further development of ecosystem by voting.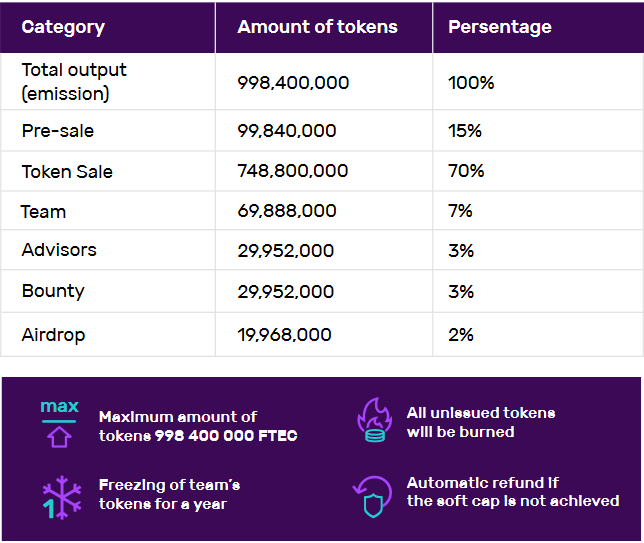 Token sales divided into 2 stage as follow:
Pre-sale – Tokens available for this stage is147,980,000FTEC & will last for 27 days, starting from 11/04/2018 14:00 GMT + 00 to 08/05/2018 14:00 GMT + 00. Soft cap on Pre- sale is 2000 ETH – Hard stamp on 4000 ETH with discount as follows.

Token sale – Tokens available for this stage is 700,660,000FTEC & will last for 23 days, starting from 29/05/2018 14:00 GMT + 00 to 21/06/2018 14:00 GMT + 00. Discount at this stage as follows.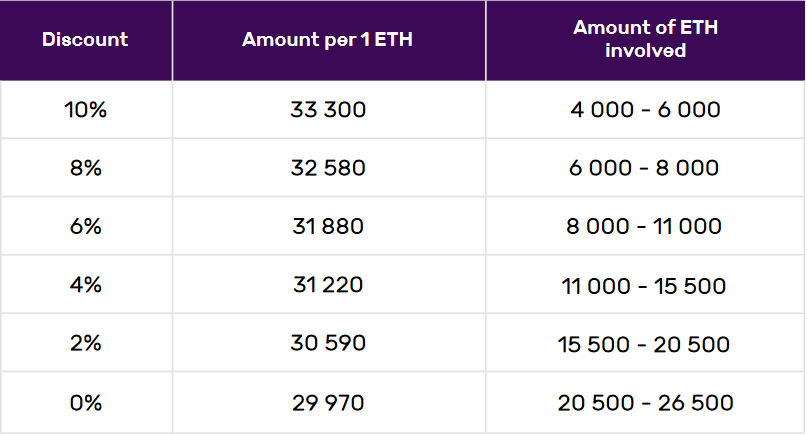 ROADMAP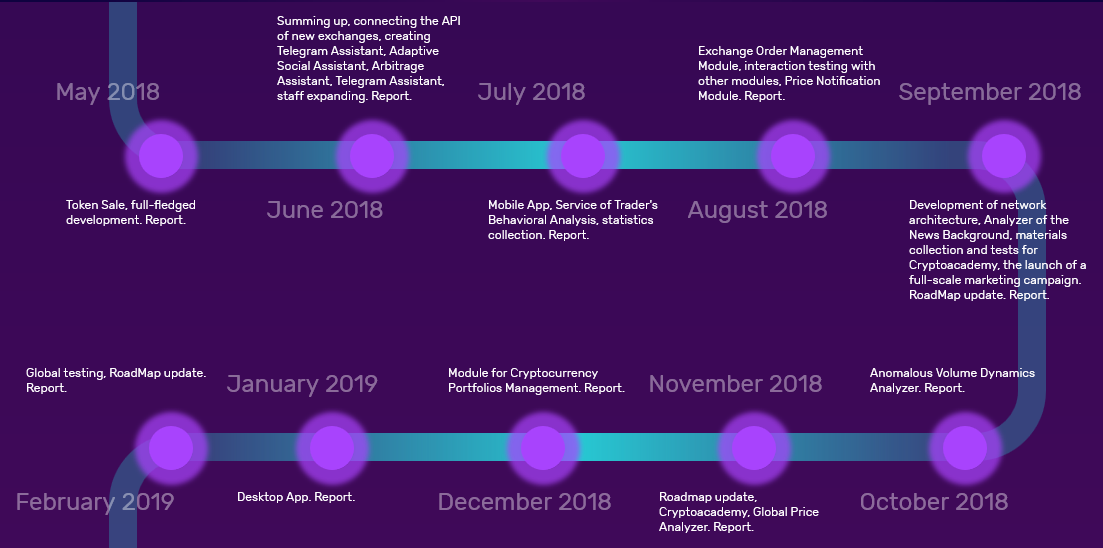 MEET THE TEAM
– Ihor Torshyn~Chief Executive Officer
– Stanislav Ochkur~Business Development
– Viktor Daverman~Chief Technology Officer
– Julián Marcelo Bernal González ~Cyber Security Specialist
– Alena Tymoshenko~Head of Marketing
– Luis Felicio ~Software Web Developer
– Tim Marchini ~Content Manager
– Roscislav Gorbachov~Head Trader
– Vlad Nesmiian~Legal Advisor
– Evgeniy Sidelnikov~Financial Advisor
– Maxim Bashmakov~Art Director
– Andrea Meeld~Senior Trading Advisor
– Egor Osaulenko ~Software Developer
– Kateryna Klymko ~UX/UI Designer
– Denys Bannikov ~Blockchain Developer
– Janine Lakhotska~Public Relations
– Oleg Mazurok~Trading Analyst
For more information:
Website: https://ftec.ai/en
Facebook: https://web.facebook.com/FTEC.Foundation
Medium: https://medium.com/@ftecfound
Telegram: https://t.me/FTECofficial
YouTube: https://www.youtube.com/channel/UCxAjFLMR2_X-IZqkhZrt8rA
Linkedin: https://www.linkedin.com/company/ftec-io/
Reddit: https://www.reddit.com/user/ftecfound
Twitter: https://twitter.com/ftec_found
Bitcointalk Announcement: https://bitcointalk.org/index.php?topic=3161171
Published by: Harleyberry
Bitcointalk profile link: https://bitcointalk.org/index.php?action=profile;u=1620264
Eth Address: 0x2F646B6A6085d34B0Efc88C1b0DCaa8B3af2E53C