🚀Future Energy – Cryptocurrency mining that benefits the environment🚀
Thanks to blockchain technology, people can find solutions with various projects for different solutions. One of the most important topics of our day is energy. Because the energy sector is a very large sector, it can contain many problems. A project to solve this problem comes to mind. The project name (FUTURE ENERGY) To briefly explain what this project represents.
FUTURE ENERGY uses unconventional sources of renewable electricity with a working component of 0, due to this circumstance, optimizes the operating costs of developing cryptocurrency.
The project generates its own electricity and does not depend on the central electrical networks and tariffs.
Environmentally friendly way to get energy. Developments in the field of power generation solve a number of environmental problems.
The project has an internal security system for intelligent modules and software protection.
FUTURE ENERGY has been developing cryptocurrency since 2014. The project team consists of world-renowned scientists and professors. The project has 49 patented developments in the field of renewable energy sources, most of which are implemented in practice.
CURRENT DEVELOPMENTS.
Gas for landfill.
Biogas.
Geothermal energy.
Hydraulic power.
Wave and tidal energy of the seas and oceans.
Thermodynamic installation and cycles on local fuels (peat, wood, organic waste).
Solar energy
Wind power.
The FUTURE ENERGY project consists of the best specialists from a variety of industries, including Blockchain, science, construction, business, IT, law, electrical installation specialists, commissioning and equipment maintenance.
SALE TOKEN.
FGY is an Ethereum token that is used as a form of hosting payment for a project to develop cryptocurrency technologies Future Energy.
The initial launch of tokens refers to the initial public sale of FGY tokens.
PRE ICO: from 11/01/2018 to 31/12/2018 of the year
ICO: from 01/01/2019 to 31/03/2019
Soft cover pre ICO: 500 ETH
Hard cover pre ICO: 1500 ETH
Soft cover ICO: 12500 ETH
Hard cover ICO: 50000 ETH
Price per token at the time of issue: equivalent to ETH 0.0035 to ETH 0.005 depending on the date of purchase.
Accepted payment methods: Ethereum.
The project FUTURE ENERGY solves the problem of mining, using non-standard solutions.
Every day, the profitability of mining equipment cryptocurrency is reduced due to the ever-increasing complexity of the network. The FUTURE ENERGY project was created to solve this problem. Optimization of production costs due to construction and acquisition of unconventional sources of electricity generated by renewable energy sources and nuclear energy.
Managing the cost of energy is the only and best way to ensure profitability due to the complex, unpredictable and ever-changing nature of cryptocurrency.
THE PROJECT TEAM.
The project team consists of highly qualified specialists, including a group of world-renowned scientists and professors with academic knowledge. Each team member has achieved great success in their field.
Andrey Kadochnikov (Founder), Sergey Shcheklein (Chief Researcher / Head of Research), Elizaveta Gulyakova (Public Relations and Marketing), Alexander Marakulin (Lawyer), Nemikhin Yury (Inventor), Olga Kolmogorova (Project Manager), Alexander Popov ( Inventor), Ilya Kochnev (Expert), Rinat Farhushin (Blockchain Support), Denis Kurennov (Technical Specialist).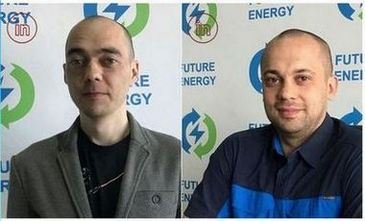 Conclusion
Scientists around the world have been raising alarms regarding the human carbon footprint for years. The environmental impact of technology as a whole, the international community will certainly fight in the coming decades.
While it is important to acknowledge Bitcoin's role as a contributor to much greater energy use, the public must also recognize that Bitcoin's rising popularity, unprecedented in the past year, has recently made this issue a leader ,
With all this, I strongly recommend that you become part of big opportunities and good projects that will help the world in general.
For more information, visit the following link:
Website: http://icoenergy.org/
White paper: https://icoenergy.org/docs/WP_eng.pdf
Facebook: https://www.facebook.com/futureenereng/
Twitter: https://twitter.com/Future___energy
Telegram: https://t.me/futureenergygo
Ann Topics: https://bitcointalk.org/index.php?topic=5035072

Author : hantu coin
Bitcointalk profile : https://bitcointalk.org/index.php?action=profile;u=2010241
Telegram : @hantu coin
ETH Address : 0x12989201B775034D2b4956D57C76C0009B76350E