GABROTECH: DEMOCRATISING LOYALTY REWARDS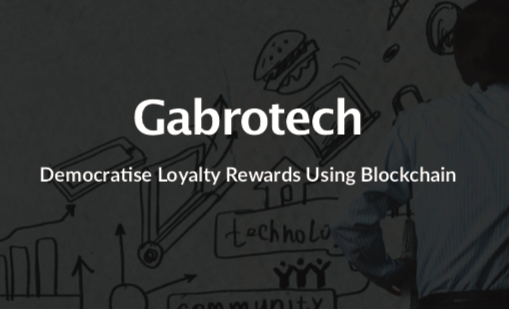 Gabrotech whitepaper
Your favourite airport has this amazing air mileage loyalty program. For every flight you pay for, they give you some points which you can later convert to mileage and is sure to some day earn you a free flight from the UK to Africa. But your cousin back in Africa is getting married, perfect excuse to get you back to the homeland. You check your pockets, and you just don't have enough to make that trip and get the perfect gift for the bride. But, and here's the catch, you have some coupons and shopping incentives from your supermarket. Yes, you guessed it. You can interchange those shopping incentives into points and just like that, you are in Africa enjoying a hot bowl of that homemade food you miss so much.
HOW IS THIS POSSIBLE?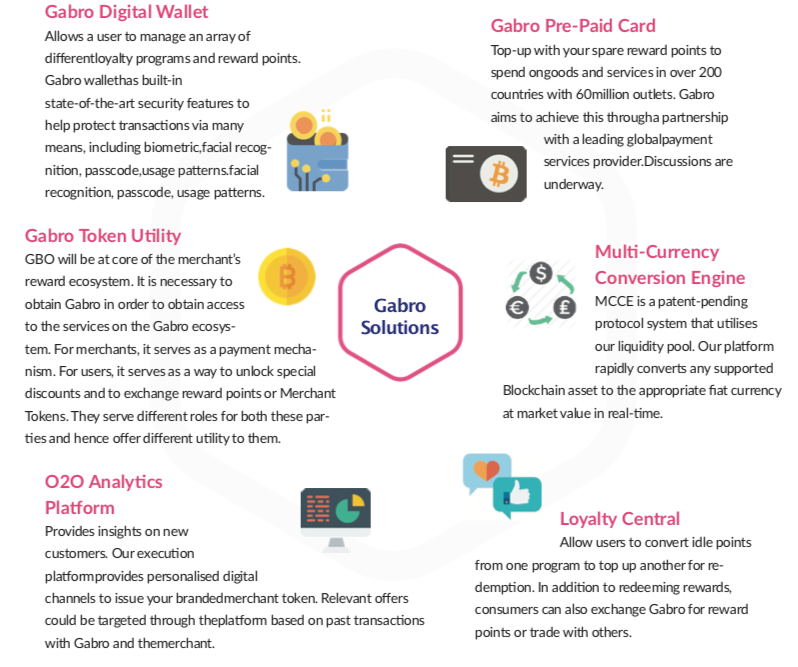 Garbo 6-in-1 solutions
1. THE GABRO DIGITAL WALLET 2.0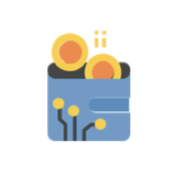 Source
Their whitepaper has this to say about the Gabro Wallet.
Gabro Wallet would permit storage of Ethereum, Bitcoin, Centra, Dash, Litecoin, Ripple, Zcash, Manero and no less than 15 loyalty programs reward points from airlines and hotels when launched.
Hey what do you know? You could probably covert your loyalties into coins like bitcoin and ethereum. Invest those in something worthwhile to gain more points.
2. THE GABRO TOKEN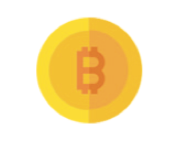 Source
This is what Gabrotech have to say about their tokens.
Gabro tokens (GBO) are not securities, shares, investment or ownership of Gabro tech. They are utility-based ERC20 tokens currently on the Ethereum blockchain and are designed to work within our ecosystem.
This however does not stop the token (GBO) from being available on crypto exchanges. Users can use GBO to gain access exchange reward points and loyalty.
3. THE GABRO PREPAID CARD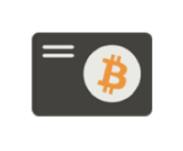 Source
With a Gabro prepaid card, one can withdraw cash from2 million ATMs worldwide. Gabro cards come in both physical and virtual forms. To gain access to your personal garb pre-paid card, you have to send in the request through your Gabro Wallet App or the Gabro token website
4. MULTI-CURENCY CONVERSION ENGINE(MCCE)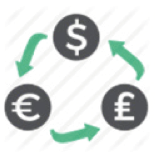 Source
MCCE is a protocol system that matches buy and sell orders through an auction system. It
utilises our liquidity pool and platform to rapidly convert any supported blockchain asset to the appropriate fiat currency at market value in real-time. This allows
blockchain assets to become spendable in any place in the world that accepts Mastercard. Gabro whitepaper
The MCCE is the mechanism that enables any coin that is supported by Gabro to actually become easily spendable almost anywhere in the world. MasterCard is said to be accepted in more than 210 countries and territories. source. Gabro enables you to spend in any of these 210 countries and territories.
5. LOYALTY CENTRAL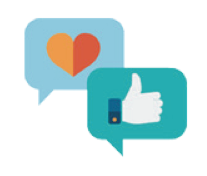 Source
A loyalty rewards platform that allows the converting of rewards from one brand to another. Customers can select their favorite loyalty program from a drop-down menu. After entering their credentials for the login process, the app would return available points or air miles to their accounts (and the equivalent amount in Gabro). Gabro whitepaper
This means that with your Gabro digital wallet 2.0 app, you can easily covert or exchange one loyalty plan for another without any hassle. You can watch a demonstration of how the app will work here
6. O2O analytics and execution platform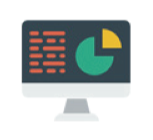 Source
For merchants targeting the various users of gabrotech, the O2O analytics and execution platform allows you to create your personal campaign and even issue out branded merchant tokens. In addition,
End-users who are in the proximity of the targeted location can receive
real-time offer notifications from the merchants based on the customers' demographics, interests and spending behaviour.
Get connected with Garbotech on Twitter, Facebook, Pinterest, Instagram, and LinkedIn. You can also visit their websitehere and do well to look through their whitepaper.
Author : https://bitcointalk.org/index.php?action=profile;u=1397196