GAME LOOT NETWORK- GAMING RE-IMAGINED; BUILD, PLAY, EARN.
In the past few years, the gaming industry has established itself as a significant contributor to the global entertainment economy. The industry is valued at $109 billion in the market today and is expected to rise in 2020 by $128 billion with 6%+ CAGR. The commercial importance of the video gaming industry in the 2010s is increasing especially that of mobile games on smartphones downloadable on apple or play store is driving the growth of the economy. More games are developed every day and a lot of us play different types of games on our computers, mobile phones and even online. However, just like every other industry, the gaming industry is faced with certain challenges. When it comes to mobile gaming, gamers download different games from centralized platforms like the App and Google play store which have a very large market audience but games which are not on these platforms struggle to have a user base. Also, independent developers who have the passion, creativity and really innovative ideas are mostly hindered and discouraged by lack of budget, design and marketing campaign cost necessary to deliver a successful game. They however are unable to compete with corporate colossus who has the necessary tools to pull off a successful game. Another issue is the fact that gamers are not properly rewarded for their contributions in the gaming ecosystem other than early access to anticipated games or in-app upgrade. The fact still remains that companies rely mostly on gamers for beta-testing, customer acquisition and game curation but even the feedback or desires of such players are not reflected on the blueprint stage development of the game which leads to unwanted features in most games. The GAME LOOT NETWORK presents a lasting solution to the challenges faced in the video gaming ecosystem. Game Loot Network aims to reward players effectively with real-value and help game developers create "any budget" game design. On the Game Loot Platform, players actually have a say in the blueprint of games; their desires would actually be reflected on the games. The native LOOT cryptocurrency based on blockchain technology enables the platform solve certain systematic challenges which users face. Here, users just enter the app, create a personal log in and load the Game Loot Network lobby and it also features three gateways: Build, Play and Earn.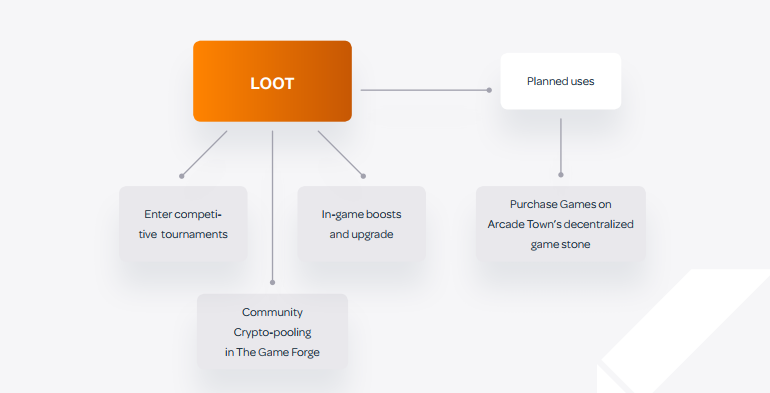 TOKEN DETAILS
The LOOT token is a utility token on the standard of Ethereum ERC20 token which allows specific interactions on the network to trigger cryptocoin allotments. The private sale is on and is scheduled to end on the 31st of July, 2018 with a hard cap of $41,600,000 after realizing the soft cap of $5,000,000. The total supply of tokens for the sale is 600,000,000 LOOT.
DISTRIBUTION OF PROCEEDS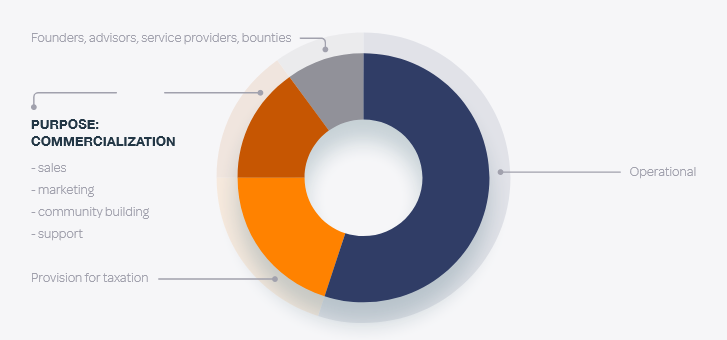 55%- Operational
20%- Provision for Taxation
15%- Commercialization
10%- Founders, Advisors, Service providers, Bounties
ROADMAP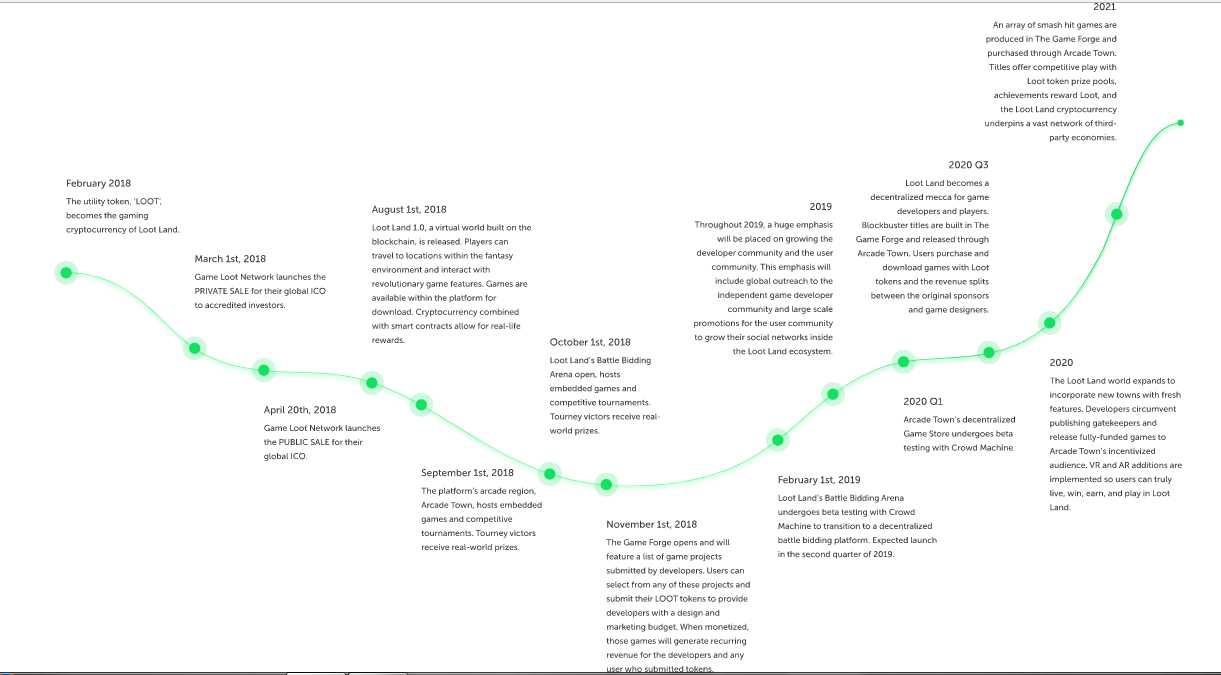 February 2018- The utility token, 'LOOT', becomes the gaming cryptocurrency of LOOT Land.
March 1st, 2018- Game Loot Network™ launches the PRIVATE
– SALE for their global ICO to accredited investors.
May 29th, 2018- Game Loot Network™ launches the PUBLIC
– SALE for their global ICO.
August 1st, 2018- GLN's 1.0, a virtual world built on the blockchain, is released.
September 1st, 2018- The platform's arcade region, Arcade Town, hosts embedded games and competitive tournaments.
October 1st, 2018- GLN's Battle Bidding Arena open, hosts embedded games and competitive tournaments.Tourney victors receive real-world prizes.
November 1st, 2018- The Game Forge opens and will feature a list of game projects submitted by developers
2019- Throughout 2019, a huge emphasis will be placed on growing the developer community and the user community
February 1st, 2019- Expected launch in the second quarter of 2019.
2020 Q1- Arcade Town's decentralized Game Store undergoes beta testing with Crowd Machine.
2020 Q3- GLN's virtual blockchain world becomes a decentralized mecca for game developers and players
2020- GLN's virtual blockchain world expands to incorporate new towns with fresh features.
2021- An array of smash hit games are produced in The Game Forge and purchased through Arcade Town.
TEAM
LANCE BAKER- President and Founder
DOUGLAS A. KINNEY- Chief Executive Officer
PATRICK BAGGETTE II- CFO/ General Counsel
SCOTT SIMPSON- Chief Strategy Officer
RICK MCMULLIN- Chief Technical Officer
PAUL WINTERHALDER- Chief Development Officer
HAYD SNAPE- Chief Marketing Officer
JAMES DUCHENNE- Blockchain & Tokenized Business Advisor
ADAM RICHARD- Director of Global Blockchain Development
PARTNERS


Game Loot Network is a platform aimed at revolutionizing the gaming industry forever!!!!! Join the winning team today and enjoy the awesome rewards that the platform offers. For more information please visit the website and join other users worldwide by following on any of the social media platforms listed below:
WEBSITE: https://gamelootnetwork.com/
WHITEPAPER: https://gamelootnetwork.com/assets/documents/gameloot-whitepaper.pdf
ANN THREAD: https://bitcointalk.org/index.php?topic=3180001.0
TELEGRAM: https://t.me/gamelootnetwork_ico
TWITTER: https://twitter.com/gamelootnetwork
FACEBOOK: https://www.facebook.com/gamelootnetwork/
authoured by: teejayrichard