gem4me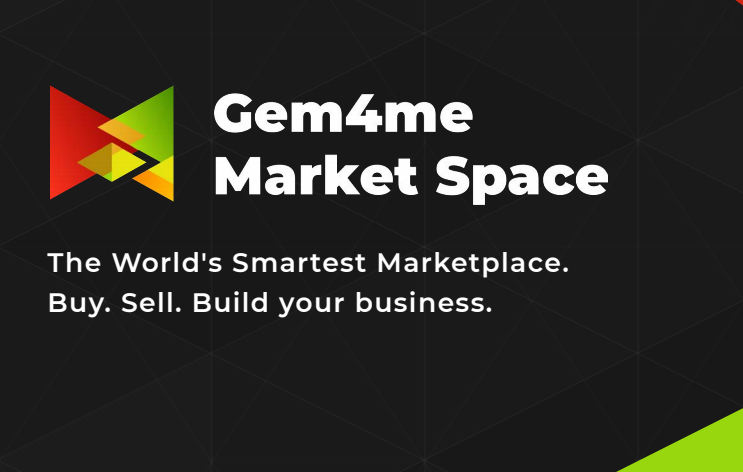 Gem4me Market Space dikembangkan berdasarkan teknologi terbaru dan mencakup teknologi canggih seperti chatbots, blockchain, FINTECH dan kecerdasan buatan. Tim menggabungkan mereka ke dalam satu proyek yang mereka kerjakan bersama, saling melengkapi dan saling menguatkan, untuk menawarkan layanan terbaik kepada pengguna platform.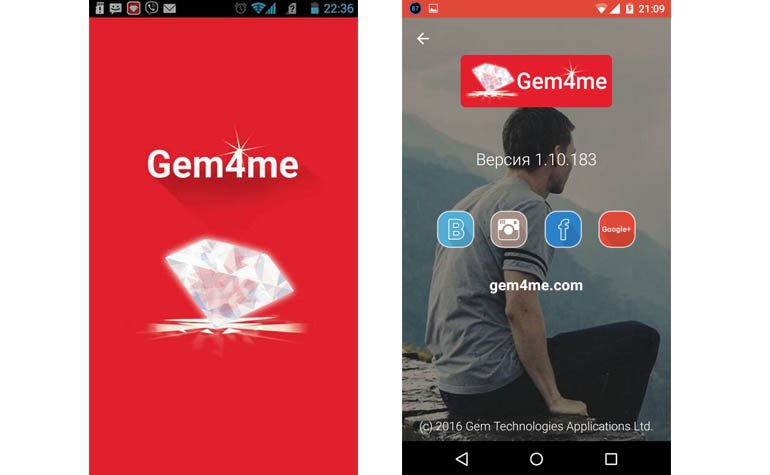 The main goal is to make Gem4me Market Space the most large-scale and convenient mobile application for fast sales and safe purchases. The use of modern technologies allows to create a convenient and secure platform Gem4me Market Space, which has undeniable advantages for customers.
At the end of April, a beta version of the chatbot Market Space was released, with which users can easily and quickly create their own stores.
Currently, the bot is being tested and the platform is being filled with stores.
Road map:
2015 Q3
The beginning of the development of the messenger Gem4me
Publication of the first versions on Android and iOS platforms
2016 Q1
Passed a mark in 1000 users Gem4me
2017 Q1
Passed the mark of 1 000 000 Gem4me users
2017 Q3
The beginning of the development platform Gem4me Market Space on the basis of Gem4me
2017 Q4
The development and release of the web version of the messenger Gem4me
Development and release of the alpha version of Back4Cash service
Start of cooperation with Icobox
2018 Q1
Development and release of voice conferences for 64 participants In gem4me messenger
The development and release of the telegram-bot Back4Cash
2018 Q2
The start of the private sale and public presale ICO Gemme Coin (GMC)
Passing the mark of 5 000 000 Gem4me users
The development and release Gem4me Market Space, pinplugin Dukascopy Bank
Development and release of the bot Stripe.com
The development and release of the telegram-bot RichLand
Development and release of Gem4me bot Back4Cash
Development and release of p2p video chats
2018 Q3
Start of public token sale, primary issue of Gemme Coin (GMC) tokens and their distribution
Development and release of Smart Wallet + Personal Finance services
The development and release of Crypto/Fiat Service
Develop and release an advertising platform, Ads Gemme
Development and release of Escrow
Development and release of social B2C and C2C services (local businesses) + Reputation
2018 Q4
Decentralization (bacchanale) platform Gem4me Market Space
AI for Back4Cash, RichLand and Gemme Ads services
KYC (know your client) / AML (anti money laundering)
Wallet/secure payment/microcredit
Multi-Client: Crypto + Fiat
2019 Q1-2
Online payment gateway for e-Commerce
Offline POS (place of sale, place of sale) and QR (quick response, quick response) terminals for businesses
2019 Q3-4
Split / messenger/p2p / micro-loans p2p + Reputation
Smart Wallet integration with Bank cards and Bank accounts from different regions of the world
Debit cards from different issuers and virtual debit cards
Completion of work on the creation of a global trading platform of a closed cycle " without borders»
General information about ICO
Token: GMC
Platform: Ethereum
Standard: ERC20
Quantity: 12,876,500,000 GMC
Price: 1 GMC = 0.01
Payment:
BTC, ETH, DASH, BCC, LTC, XRP, XMR
Soft cap: 3,000,000 USD
Hard cap: 70,000,000 USD
PreICO
Quantity: for the sales
Beginning: 01.07.2018
Completion: 14.08.2018
Bonus:
from 10,000 GMC 10%
from 150,000 GMC 15%
from 500,000 GMC 20%
from 1,000,000 GMC 25%
ICO
Quantity: 7,000,000,000 GMC
Beginning: 15.08.2018
Completion: 20.09.2018
Bonus:
days 1-7 10%
days 8-14 7.5%
at 15-21 days 5%
in 22-28 days 2.5%
at 29-37 days 1%
Valery Ostrikov
Co-founder, Chief Executive Officer
Natalia Arshavskaya
Co-founder, Chief Visionary Officer
Alexander Kachanovsky
Co-founder, Chief Operating Officer
Bruno Horn.
Chief Finance Officer
Mikhail Khusainov
Chief Digital Officer, CEO & Co-founder Crypto Cashback, Crypto Signals
Michael Small
Chief Information Officer, Crypto Cashback, Crypto Signals
Olga Finkel
CEO Gem4me Holdings, Ltd.
Marina Trofimova
Manajer proyek
Alexander Minakov
Kepala Hubungan Investor AS dan Eropa
Sergey Repko
Kepala Investor, Hubungan Asia
James Kehagias
Manajer Pengembangan Produk
Armands Buss
CEO Frigate
Alice Malina
Manajer IR
Stefano Virgil
Chief Strategy Officer, Asian Market Advisor
Penasihat
Simon Coking
Penasihat
Jason Hung
Penasihat
Philip Nunn
Penasihat
Vladimir Nikitin
Penasihat
Nikolay Shkilev
Penasihat
Semua informasi penting dapat ditemukan di sini:
https://www.instagram.com/gemmarketspace/https://medium.com/@marketspace.bizhttps://www.reddit.com/user/Gem4meMarketSpacehttps://www.linkedin.com/company/gem4me-market -judul / https: //www.youtube.com/channel/UCrn9d4SZHx1C4SV7sapZuaAhttps: //ico.marketspace.io/? utm_source = btt & utm_medium = ann_enghttps: //t.me/gemme_enhttps: //www.facebook.com/GemmeMarketSpace/ https://twitter.com/GemMarketSpace