GENESIS – Simple and Convenient Investment In Real Estate
GENESIS is a unique project created on the basis of digital technologies and innovative blockchain technology; it provides to its partners simple and reliable mechanisms for distributed investment in real estate, united in one fund, as well as a high stable income from their commercial usage.We have created an international multifunctional platform and we maintain the entire infrastructure that gives to its members the access to real estate of different commercial purposes and various value, situated in different parts of the world.GENESIS platform will allow investors to redistribute and transfer their assets expeditiously and for free between the objects of real estate and the projects that use other platforms through digital technologies and crypto-assets.
GENESIS platform is the united corporate structure that combines all the main features and legal aspects of classic company and technological decentralized projects created on the basis of blockchain technologies.A clear and informative user interface with a system of private accounts will provide investors with all necessary information about the investment objects, interests and payments, transactions, the current market rate of assets and other information.GENESIS will allow to invest in traditional investment tools, such as real estate, in a simple and convenient way. At the same time, it will give to investors the access to use the developing distributed economy of digital opportunities such as blockchain and cryptocurrency.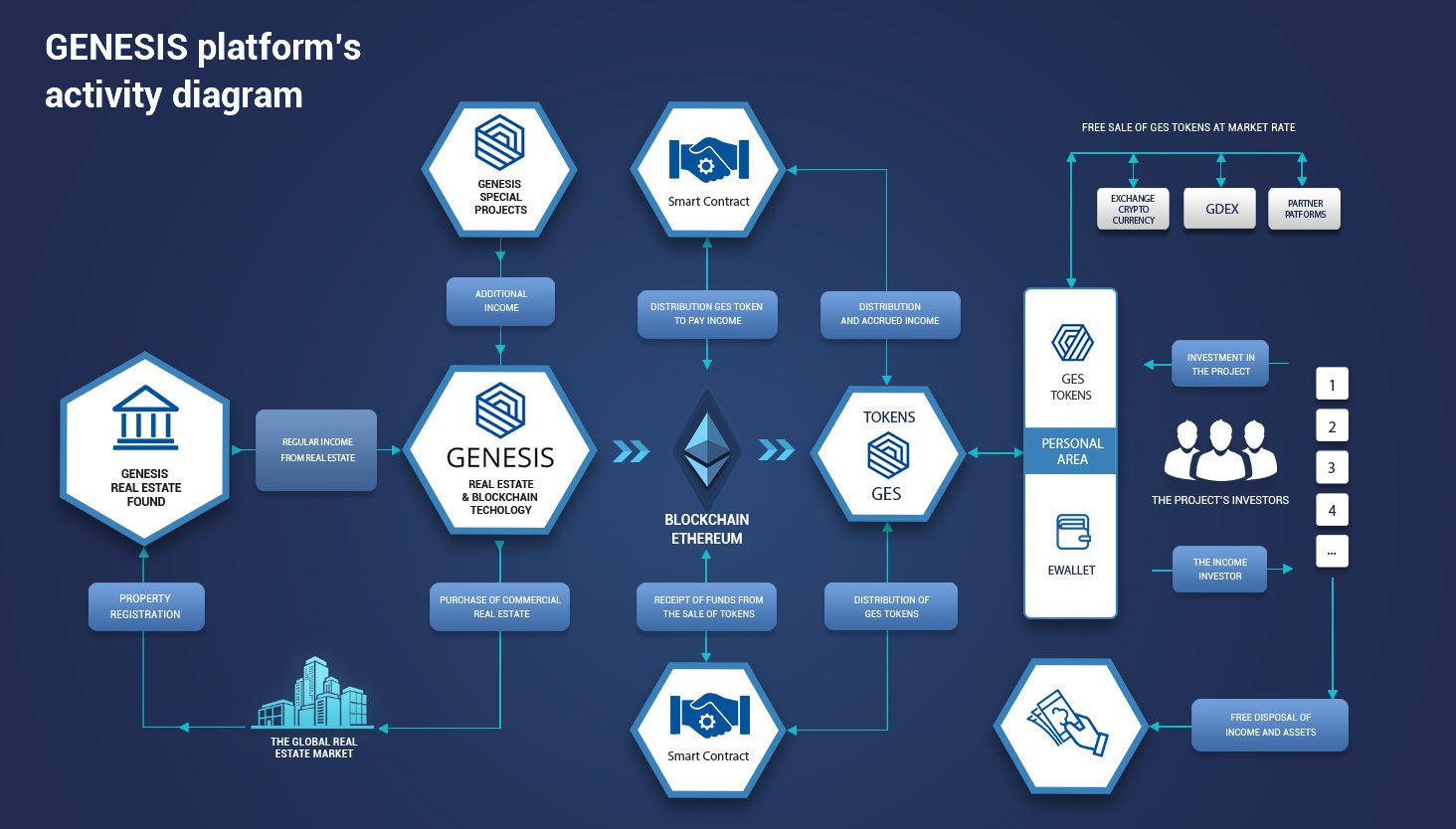 THE MULTIFUNCTIONAL BLOCKCHAIN PLATFORM
We chose the blockchain technology to create a reliable and convenient multi-platform, combining various services. We believe that the further development of company and blockchain is directly related to entering the market of the real sector of economy.The purpose of our ecosystem is to open the opportunities for investment and financial management for the public, regardless of geographical location, and to give the investors the opportunity to become the co — owners of real estate of various commercial purposes and different values.GENESIS's ecosystem will be connected with the world by the listing of GES token on exchanges and creation of GDEX, operating transactions which allows to buy/sell GES tokens and convert GES tokens to other tokens and cryptocurrencies.
ITO OF THE GENESIS PROJECT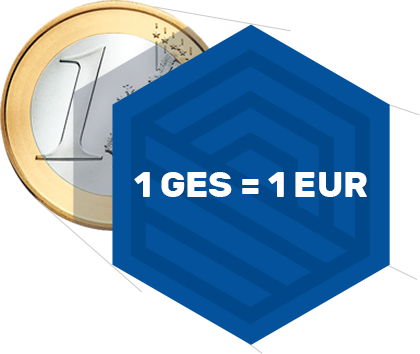 The distribution of GES tokens will be done in several stages, according to the investment strategy of project development. Until the full distribution of all issued tokens among investors, all undistributed tokens (tokens, which are not purchased during the ITO) will be placed in reserve.
Token info
Token GES
Platform Ethereum
Type ERC20
Price in ICO 1 GES = 1 EUR
BONUS
Preliminary registration – 15% April 1 – 6
 2018 – 7,5% April 7 – 13
2018 – 3,5% April 14 – 20
2018 – 2%
Investment info
Accepting BTC, ETH, LTC, XIN, Fiat
Distributed in ICO 80%
Soft cap 3000000 EUR
INVESTMENT STRATEGY
The medium-term investment strategy of GENESIS guarantees a phased and economically reasonable development of the project for the three-year period of 2018–2020.The strategy provides the main directions of the company's development, the forms and methods of reaching the declared medium-term goals. The plan of development of the project for the period after 2020 is included in long-term development strategy.The medium-term development strategy of GENESIS is based on establishing the Key Performance Indicators (KPI) as the main financial, economic and market (marketing) indicators of the company's activity.
ROE indexes forecast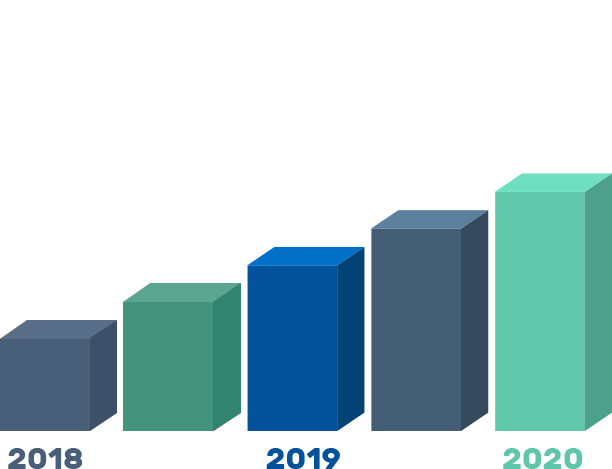 ROADMAP
January 2018
Start of pre-registration!
April 2018
Initial ITO of project
May 2018
Transferring tokens to the partners' personal accounts
June 2018
Evaluation, purchase and registration of real estate.
Launch of online platform.
Start of operating activities and launch of office
July 2018
Development of mobile application for investor's user accounts.
October 2018
First payment to investors. Launch of platform's internal exchange (GDEX)
Q4 2018
Token pool offering. Bringing the value of company's assets up to €50–60 million. Launch of first special project.
2019
Listing of GES token on exchanges. Token pool offering.
Bringing the value of company's assets up to €100–120 million.
2020
Token pool offering. Bringing the value of company's assets up to €250–300 million in the nominal GES token value.
More Information :
WEBSITE | WHITEPAPER | TELEGRAM | FACEBOOK | TWITTER | BOUNTY
My Bitcointalk Profile:https://bitcointalk.org/index.php?action=profile;u=931498