GifCoin and VitalBet — Gambling Investment Fund

The gambling industry's revenues in 2017 were more than $500 billion. GIFcoin gives you a chance to earn a juicy share of that market.
What is Gifcoin?
The GIF in GIFcoin stands for Gambling Investment Fund. This fund is backed by an already functioning betting website – VitalBet.com. Our aim is not to convince you that we are crafting something genius, like many ICOs declare. In fact, unlike the majority of other ICO campaigns, we already have a real working project.
The idea of GIFcoin Initial Coin Offering (ICO) is to raise capital, which we'll use to upgrade VitalBet's gambling platform, as well as popularize and promote the VitalBet Brand on the most promising betting markets (countries). After we have completed
all these steps, we expect a large increase in VitalBet's clients. As a result, we will share 80% of VitalBet's net profits with our GIFcoin token holders on a yearly basis. As simple as that.
How it works?
GIF will not be used either as a means of payment within the platform, nor as a utility token. Its purpose is to take into account the contributions made and be the basis for calculating the investment returns.
The investor who bought the coins is entered in the database indicating the number of tokens available. The developers promise to give 80% of the net profit received for the year to their investors, the amount of dividends paid will directly depend on the number of tokens at the address.
The ICO site has a tool that shows the amount of profit per GIF token, depending on the number of users of VitalBet.com.
The more active players, the higher the profit per each token.
VitalBet – Betting Site Overview
VitalBet is a fully-operational, online betting website. Following significant efforts, invested in marketing research, programming, and technology research, we launched www.VitalBet.com in mid-2015, covering all major sports for online betting, as well as casino, eSports, and virtual sports. VitalBet is a large bookmaker online service that covers all online betting sports like football, basketball, hockey, and others and casinos, more than 180 casino games and LIVE casinos, slot machines, roulette, blackjack, e-sports and virtual sports.
The main advantage is ability to make payments in bitcoins. This feature significantly distinguishes VitalBet from among other bookmaking sites, since only a few of them offer this function.
VitalBet also offers all payment methods in a fiat currency (Visa / MasterCard, Skrill, Playsafecard, etc.). At the moment, it is planned to expand the list of available cryptocurrencies to ETH, LTC, XRP, DASH in order to expand the base of client-players, all transaction using blockchain.
Now VitalBet offers players:
• to bet on events related to sports;
• to make sports bets when the event has already begun (inplay);
• to play in a virtual casino, including with a real banker;
• to play video games;
• to bet on the results of e-sports matches.
In the future, it is planned to launch an online broadcast of sports competitions.
The second important aspect to which the project is aimed is convenience for users. The team has experienced specialists who are constantly engaged in monitoring this issue and implementing it. They strive to do so that:
• The site had a simple, convenient, beautiful and intuitive interface;
• it would be possible to top up and withdraw funds using bitcoin, as well as to pay bets on the site;
• the most popular crypto-currencies (ETH, LTC, XRP, DASH and others) would be used for the same purposes;
• the rates on the resource would be fair and would not contain hidden commissions.
Investors who decided to participate in the Gaming Investment Fund become beneficiaries in a sustainable and profitable business that has good prospects in the long term.
The project involves expanding the geography of work to attract new customers. To this end, negotiations are under way with the relevant departments of different countries to allow access to local bookmaker markets.
VITALBET undertakes all reasonable measures to ensure the security and protection of client information. VITALBET can use cookies as a means of gathering information from a web server for the above purposes after the client uses the website. Cookies contain information that is transferred to the hard disk of the client computer. They help VITALBET improve the website and provide better and more personalized service. Some of the cookies that VITALBET uses are necessary for the operation of the website. And if the client wants to delete all the cookies already stored on the computer, or stop the cookies that track the browsing patterns on the website, the client can do this by deleting existing cookies or changing the privacy settings of his browser to block cookies.
Customer information security
We allow access to game games in the online casino / Sportsbook through secure networks using username and password encryption. The client can not play in the online casino / Sportsbook without going through the security login. The client can not use the online casino / sports magazine for any commercial use or on behalf of another person. Any use by a client of an online casino / sportsbook is for personal use only.
A client can have only one player account for which he will register using his own, correct name, and on each player account there should be only one personal holder of one account pertaining to one home address.
The client must keep his username and password confidential and must not disclose it to anyone. The client is responsible for all actions and operations performed on his player account. Every person who identifies himself by entering the correct username and password is considered by us to be this client, and all transactions in which the username and password entered are correctly entered will be deemed valid. Vitalbet is not responsible for the access of third parties to your Player account and under no circumstances will we be liable for any losses incurred by you as a result of misuse of the user name of the user and password by any person or for any unauthorized access to the user's account of the player, Vitalbet uses advanced methods of encrypting user name and password information and any other confidential information transmitted to the client application and servers, and from these servers, thereby protecting the player and Vitalbet from attempts at manipulating a third party. Vitalbet will use the client's personal information only in accordance with Vitalbet's privacy policy, which is fully described on VitalBet.com.
VITALBET – Expected Future Profits by 2020
Our aim by 2020 is to enter the ranks of the TOP 15 world betting
sites, which use FIAT currencies, and the TOP 3 world cryptocurrency betting sites. From the 300,000,000 users who will practice betting, using fiat money, in 2020, our target will be 0,6%, which is 1,800,000. From the 5,000,000 users who will practice betting, using cryptocurrencies, in 2020, our target will be 10 %, which is 500,000. The grand total will be 2,300,000 users. According to unofficial data, 90% of gamblers lose their bets. We aim at gathering 2,300,000 players by 2020. Out of them, around 2,100,000 will be active annually.
From our experience, each of them loses around $360 per year, or approximately $30 per month. 2,100,000 players x $360 lost wagers equals $756,000,000 losses, which will be our revenues.
The Gambling and Sports Betting Market
The following features typically characterize the global online sports betting market:
Large market size and top phase of growth. Seasonality of most sports – high season during world sports events (FIFA World Cup, for instance) or low season during the
summer. Big initial costs for entering new markets, mainly owing to expensive licensing and costly promotion campaigns. The large market share is attributed to a limited number of sports, such as soccer, horse racing, basketball, cricket, and greyhound racing. Illegal nature of sports betting in a number of Asian countries , including the enormous markets of China, India, Hong Kong, and South Korea; the entire market of sports betting is $1.5+ trillion, out of which legal betting (check the figure above) represents less than 20% of the total revenue.
Profit Share Distribution
The profit share distribution process includes two stages:
1) Getting the exact data about the GIF tokens distribution among users (Profit Share Report).
2) Sharing the Company's profit among the token holders in the end of every year.
Distribution of the Profit
GIFcoin is negotiating with all major exchanges in regards to the implementation of the profit share, accepting functionality. GIFcoin will inform all token owners when this feature will be available to any of them. GIFcoin's financial management will transfer 80% of the VitalBet's net profits to GIF token holders on a yearly basis. The date of the profit share distribution will be announced in advance at GIFcoin's
website. In addition, users will be notified via email twice.
The Team
The team of Vitalbet has not only great experiences in the gambling/betting section, but also has great blockchain and IT experts, as well as great marketing and PR knowledge. To find more about the team members of Vitalbet, simply go to their official website, where you can view the linkedin profile with more detailed information about their team members.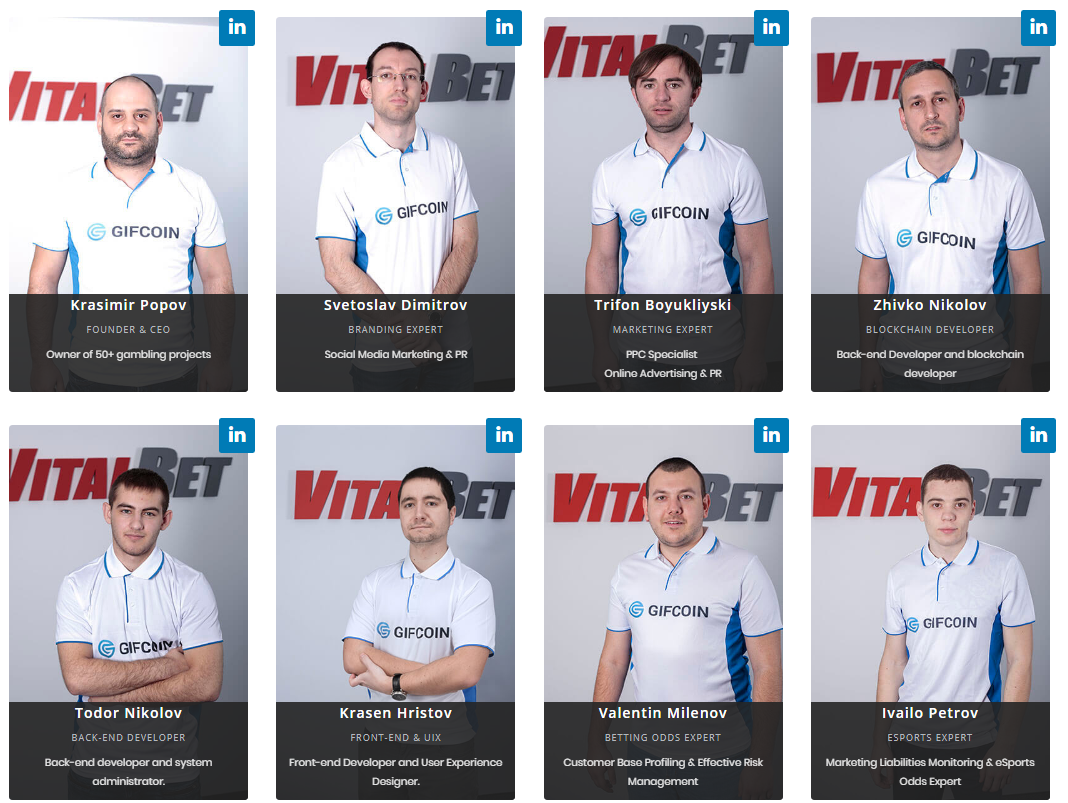 The basic staff of the team now consists of eight people.
The founder and executive director is Krasimir Popov. He has extensive experience in the gambling industry – he owns more than 50 projects.
Svetoslav Dimitrov is responsible for brand promotion and marketing in social networks. Trifon Boyukliyski is engaged in online advertising and marketing.
Zhivko Nikolov is a specialist in blockchain technology, the developer of the project. Todor Nikolov specializes in developing and maintaining the hardware and software part of the platform, he has the functions of system administration of the site. Krasen Hristov leads the front-end project, responsible for its appearance and user interface.
Valentin Milenov is an expert in bookmaker's bets, responsible for the creation and operation of user profiles and manages the betting bank. Ivailo Petrov leads the project in the direction of electronic sports.
Some experts consider it a drawback that all members of the team from one country and that there are no known consultants in it.
The presence of only one specialist in blockchain technology in the team – this is clearly not enough. In addition, White Paper says that he began to study this technology in early 2017. None of the other specialists involved in the project are not reported anywhere.
ICO
Token Name: GIFcoin
Toke price during ICO: 1 ETH = 10,000 GIF.
Total Supply: 300,000,000 GIF Tokens
Minimum Purchase (per Investor): 0.01 ETH
Purchase Maximum (per Investor): NO LIMIT
Accepted Cryptocurrency: Ethereum Only


THE TOKEN
Distribution & Usage
The GIFcoin is an ERC20 token and smart contract system built on the Ethereum blockchain.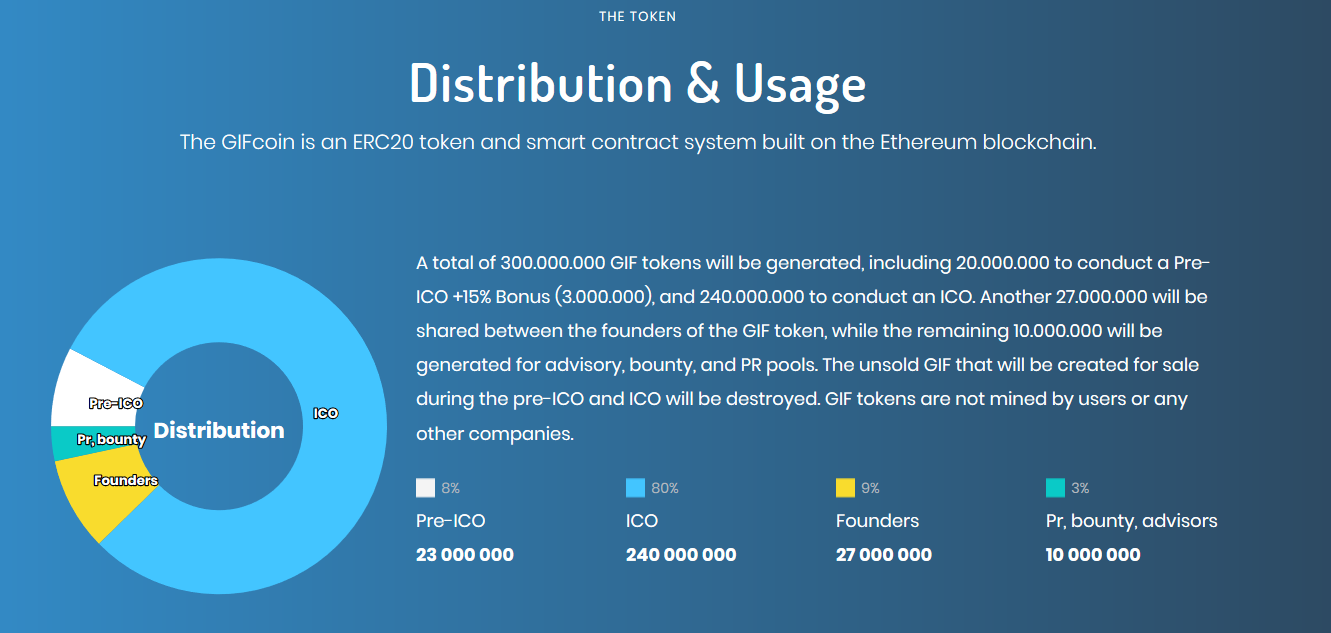 After a successful ICO campaign and reaching the hard cap (24,000 ETH ~ $24,000,000), $1,000,000 will be used to update our platform and create a mobile application for best user experience. $4,000,000 will be used for a marketing campaign. $12,000,000 will be used for an aggressive advertising campaign. $5,000,000 will be added to the existing bank – operational money for wins and loses. And $2,000,000 will serve as legal agreements in different countries.
Road Map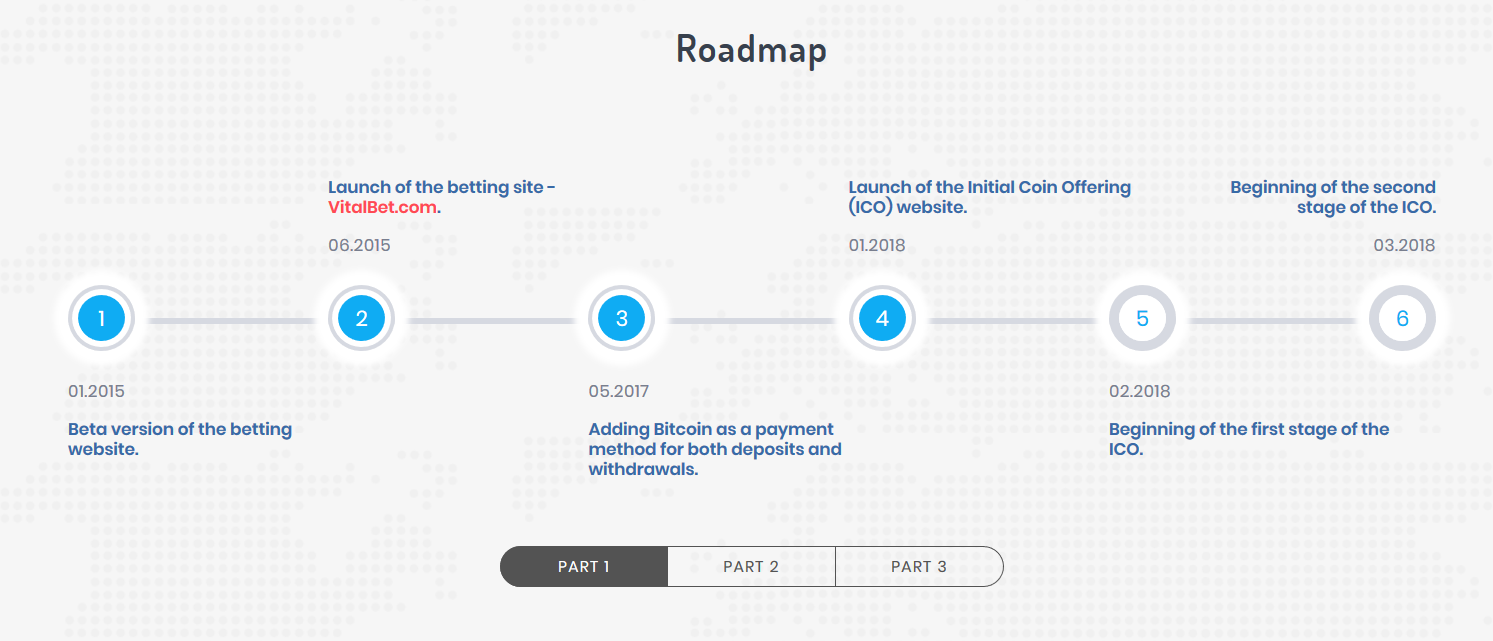 Why GIFcoin will succeed:
GIFcoin not only has a great project idea, but also, unlike many other ICOs, have an already working product/project with the betting website vitalbet
With their crowdfunding campaign (ICO), GIFcoin is raising money to grow their business, so everyone can participate together in the success of the project
Great marketing and advertising will bring in more users, increasing the overall profit of the project
With the gambling market growing every day, it is a perfect time to join the fast growing market
GIFcoin/Vitalbet will not keep all their profits for themselves, but rather distribute 80% of their annual profits to all token holders, which maintains a sustainable growth of the token value
Besides Bitcoin, also Ethereum, Litecoin, Ripple, Dash and more will be added as a payment method on Vitalbet, expanding the user experience and attracting even more customers
Cryptocurrencies offer fast transaction times and secure transactions over the blockchain
Join the revolution by taking part in an ICO, which is backed by an already functioning and profitable website –

http://

vitalbet.com

 

. Others just have ideas, we realize dreams. Join our whitelist –

https://

gifcoin.io

/

 
We can do it together!

Website: https://www.gifcoin.io/
Whitepaper: https://www.gifcoin.io/GifCoin-WhitePaper.pdf
Twitter: https://twitter.com/gifcoin_io
Facebook: https://www.facebook.com/gifcoin.io
Telegram Chat: https://t.me/gifcoin
Bitcointalk ANN: https://bitcointalk.org/index.php?topic=2785607.0
My Bitcointalk Profile: https://bitcointalk.org/index.php?action=profile;u=1204319