Glitzkoin – The Blockchain for the Diamond Industry

Introduction:
Everyone wants to have them, but not everyone can afford them, diamonds. According to a statistic from statista.com, yearly over 15 billion USD worth of diamonds are produced each year. The demand for diamonds is also growing each year with a sales currently worth over 79 billion USD. With that a lot of problems came up.
Current Problems:
Currently known problems in the diamond industries are for example:
Expensive middlemans
Complicated storage of records of diamonds old-fashioned with paper
Fraudaulent transactions
High fees due to currency conversions and bank fees through international transactions
The Solution:
A currently ongoing project called "Glitzkoin" is facing those problems and have found a solution by using the blockchain technology. The blockchain technology not only offers secure transactions and transparency, but also opens a lot more opportunities to improve processes and business for the diamond industry. Not only does Glitzkoin want to cut expensive middlemans, store records of diamonds on the blockchain, eliminate fraud and cut expensive transaction fees, but also their goal is to build up a global marketplace for diamonds trading on the blockchain, which allows everyone to simply buy and sell their diamonds at a maximum profit and with less time required for the whole transaction. Additionally to that Glitzkoin aims to have a track and trace function for each diamond allowing to have all the records for the diamond saved on the blockchain. Thanks to that origin and history of each diamond is recorded which especially prevents fraud. Overall Glitzkoin aims to build a blockchain based open ecosystem for diamonds, so that trading and records can be easily conducted. For third parties, Glitzkoin will also offer the opportunity to build customizable applications with data privacy.
A short preview how diamond transaction using Glitzkoin works can be seen here:


Glitzkoin ICO – Based on Stellar:
Glitzkoin is currently doing their ICO (Initial Coin Offering) to gather funds for their development as well as expansion of the team and project. What is special about this project is that Glitzkoin is not a token based on the Ethereum Blockchain like almost 90% of the current blockchain projects, but rather chooses to build on the Stellar blockchain.
In total there are 999 million Glitzkoin tokens
25% of that can be acquired through the token sale, the rest is for the company, community and market making
The sales is currently ongoing and will last until 25th june 2018
Already 12 mio USD is raised and therefore the softcap is already reached
Payment methods are besides BTC and ETH also XLM
The price for 1 Glitzkoin depends on how many where sold already and ranges from 0.12$ to 0.2$ each
The current token price is 0.16$
The token economics can be seen in this table below:

Roadmap – What to expect?
With the currently ongoing token sale in Q2 we can also expect some marketing efforts globally in this quarter. The third quarter mainly will be beta testing as well as token listing on the crypto exchanges. Most of the final functions and launches of the Decentralized Exchange as well as the Global Diamond Track and Trace System can be expected by the end of the year. For further details take a look at the Glitzkoin Roadmap.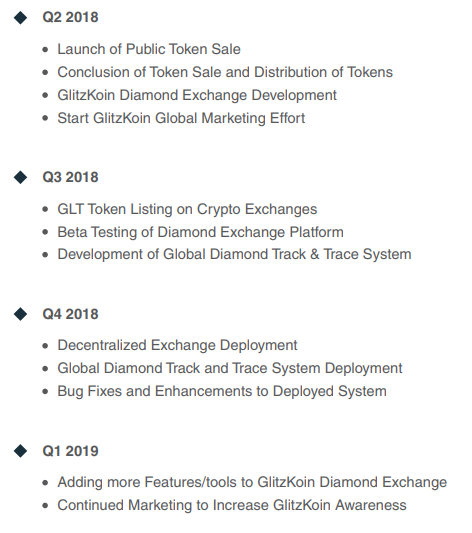 My Opinion:
In my opinion Glitzkoin has a great future, because it focuses on a growing industry. Personally I like their project idea and I'm very excited to see how this project will develop soon. With Glitzkoin offering a new marketplace for buyers and sellers using the blockchain technology, I think that trading will be more simplified as well as safe and therefore more and more people will be going to use the marketplace that before didn't know how to buy or sell their diamonds. Overall I'm very positive on Glitzkoin and I'm sure that Glitzkoin will help to boost the diamond sales in the upcoming years.
Further Information:
Want to know more about the Glitzkoin project? Take a look at their official website and their whitepaper for more information. Also subscribe to their official communication channels to stay up to date. Any questions, feel free to comment below.
Website: https://glitzkoin.com/
Whitepaper: https://glitzkoin.com/dist/img/pdf/Glitzkoin-Brochure.pdf
Twitter: https://twitter.com/GlitzkoinToken
Facebook: https://www.facebook.com/GlitzKoin-193241214767377/
Telegram: https://t.me/joinchat/H2lmsxLwenY3S8Fp_CFQBA
Bitcointalk ANN: https://bitcointalk.org/index.php?topic=3355944.0
SvetikB
GCOGG3MQY6PJO543ZZDGJJ2657D4WO23RP44G2Q2KUWNO63STBESHGJC