Global REIT [ICO]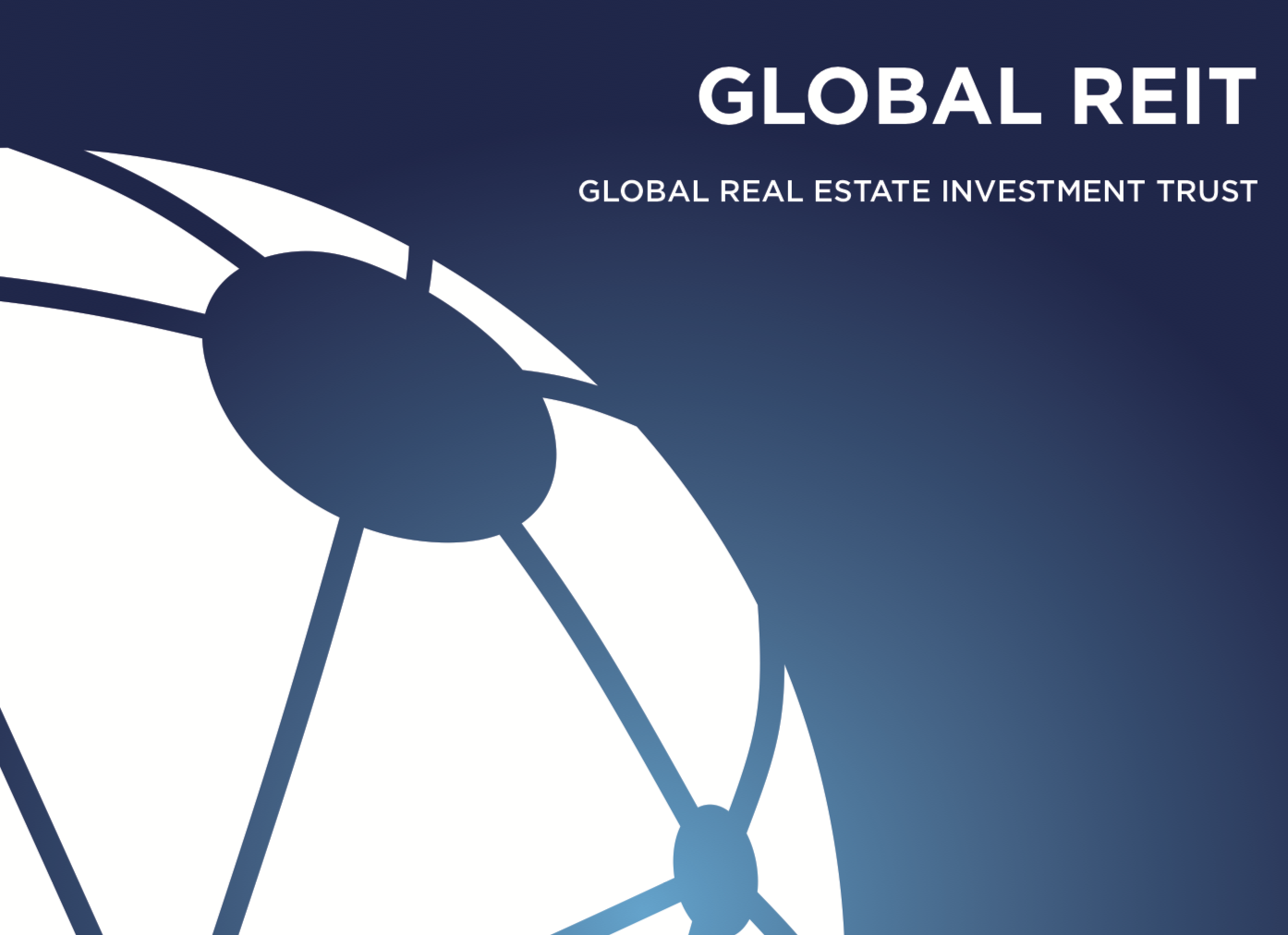 What is Global REIT?
Global REIT is the first ever Blockchain-Based Sharia-Compliant REIT to be launched in the market. It works on the same mechanism as traditional REITs. REITs as you know offer dividends to its unit holders based on the income of its Assets under Management. Each subscriber will get 2 tokens upon subscription " – GREM – GRET Both GREM & GRET tokens are utility tokens & will provide future access to all its Assets under Management. Where token holders will receive discounts and benefits. Global REIT is welcoming its subscribers to participate both in the Fund Manager (GREM) returns as well as the income on the Assets under Management (GRET).
Global REIT is the first ever Blockchain based Sharia-compliant REIT to be launched in the market. It is offering investors exposure to global real estate markets without the necessity of acquiring an entire property and shift the management and compliance obligations to the fund management. Global REIT will acquire assets starting from U.A.E. and rapidly enter properties in jurisdictions worldwide. The first Asset under Management (AUM) will have a Net Asset Value (NAV) of USD 75 million and the total portfolio value of Global REIT is projected to reach USD 10 billion by end of 5 years.
The ICO of Global REIT will offer Dual Utility tokens to its subscribers –
Global REIT Fund Manager Token (GREM) and
Global REIT Asset Token (GRET)
This means that each subscriber will get share in the Fund Management Company (GREM) returns and the Asset Owning Company (GRET) returns besides the utility attached with both the tokens. In the Pre-ICO stage, bonus tokens are offered to subscribers in 4 tranches with the maximum bonus tokens given to those subscribing in the 1st Tranche. Ethereum (ERC-20), Bitcoin (BTC) and Fiat Currency will be accepted for subscription to these tokens and in return, the dividends will be paid in USD and USDT (Tether).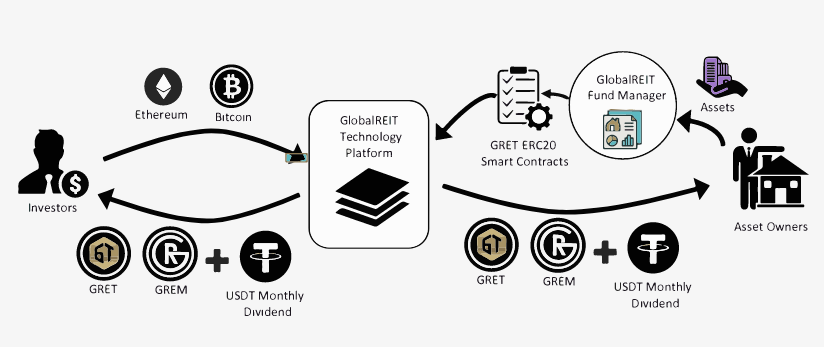 Global REIT is about to create true diversification across multiple real estate asset classes to enable users to invest seamlessly into a broad asset-backed portfolio. Our vision is to not only revolutionize the REIT industry within focused regions and geographies but to create a diverse and vibrant platform for assets from multiple REITs across the globe to plug into, unlocking a wave of cross-investment potential and opportunities worldwide. GlobalREIT's infrastructure, and in particular the Asset Management Module, is built on top of the Ethereum network. Asset owners and worldwide REITS can register their assets with our Fund Manager, bringing the asset under our management and in turn being listed for broad-scale investment opportunities on our platform. GlobalREIT will run deep background checks and follow all KYC compliance with evaluators before listing any property. Investors will have a list of highly diversified world class assets to choose from with all details listed on the platform such as exchange rates, NAVs, dividends, hold intervals, and minimum investments. This comprehensive view will give investors comparative oversight into investment opportunities unlike any other REIT or platform before, thereby unlocking a new wave of potential investment.
For a successful blockchain based REIT to function, proof of asset ownership is a vital component in the value chain. Our proprietary protocol to ingest real estate assets and tokenize them via a smart contract lies at the heart of the system. The architecture of the system is based upon developing a smart contract to establish trust between three key parties: 1) The Investor, 2) The Asset Owner (or broker), and 3) The GlobalREIT Fund Management Company The investor deposits either Ethereum or Bitcoin into the contract while the asset owner or broker registers their asset with the GlobalREIT Fund Manager (GRFM). The GRFM then proves receipt of the asset in notarized form and the investor can be confident that the contract will activate only when the validity of the asset has been established via the smart contract. At that stage, the investment currency is passed over to the asset owner and in return, an asset backed token, GRET, is issued to the investor. The token implements the ERC20 protocol and can be traded on all global exchanges listing the coin.
The Technical Aspect of Global REIT.
Perhaps the key thing to mention here is that the technical side of things is more straightforward than their product perhaps alludes to. At first, you may think that it involves purchasing aspects of real estate, but that's not the case. Instead, view tokens as being something similar to shares in the parent company and the assets that they manage, which is solely different forms of real estate, and you will have a better picture of what to expect.
Upon subscribing, you are given two different types of tokens, GRET and GREM. The GREM token refers to the fund management part of the company while the GRET refers to the asset management aspect of the company.
From the technical perspective, you simply purchase the tokens and can then hold onto them in order to get the revenue or trade them as the price fluctuates. This is the company seeking to raise additional funds for their investments with you able to take part via the creation of a Smart Contract in relation to the number of tokens that you own with the transaction taking place via the blockchain to provide complete transparency at all times.
The Advantages of Global REIT.
There are various advantages associated with the Global REIT opportunity with perhaps the main one being that it is a method to invest in property without diving in too deep or risking too much money. Also, having tokens in both areas does spread the risk even further as they are two different arms of the same company so being involved in both does make a lot of sense.
Furthermore, if you have more than 5000 tokens, then you will be provided with free stays at the properties every single year as a reward. If you have more than 100,000 tokens, then you will also be able to sell them back to Global REIT.
The Financial Aspect and the ICO
Clearly as we are dealing with an investment opportunity, then the financial side of things will prove to be even more important than usual. When we look at the financial aspect, then it provides us with a clearer idea of what to expect from the company in general, and it makes it easier for us to decide if this is something that is worthy of our investment.
For the ICO, they are looking at accepting fiat currencies as well as BTC and ETH providing you with a number of options to explore. However, there is a minimum investment to take part in this project, and the minimum investment has been set at $100. If you live in either the United States or Japan then you will be unable to take part thanks to various restrictions that are in place.
There has also been both a soft and hard cap put into place for this ICO. The soft cap has been set at $5,000,000 while the hard cap has been set at $20,000,000 which is still not that high compared to other opportunities that are out there.
There will be a total of 16,650,000 tokens made available for the ICO, and this is going to equate to 22% of the total tokens that are being created. There is an exchange rate in place of 1 GERT equating to $1 providing you with a sense of what to expect and how the company is viewing its financial position.
Overall Conclusion About Global REIT and the ICO
This is one of those opportunities where it is certainly far more about the investment aspect rather than expecting a service or product at the end of it all. To be honest, there's no real need to have a firm understanding of real estate and investing in a portfolio as the key here is in the way that the tokens themselves can operate.
Having tokens in both spheres of the business is certainly a good idea as it does spread the risk, as well as the possibility of making money, but overall the most important thing is how they then use the investment and whether or not they can turn it into revenue. If they can, and they are starting in the Middle East, then this is the kind of investment that could generate monthly revenue without you having to do anything. If not, then there could be a real sense of frustration and a need to try to sell those tokens on the open market.
The real estate market is always going to grow at some point, so using the blockchain in order to build assets and a portfolio is a good idea. Whether or not this is the opportunity for you remains to be seen since it depends on where the parent company is planning on investing the money as to whether or not this all works.
Project Team: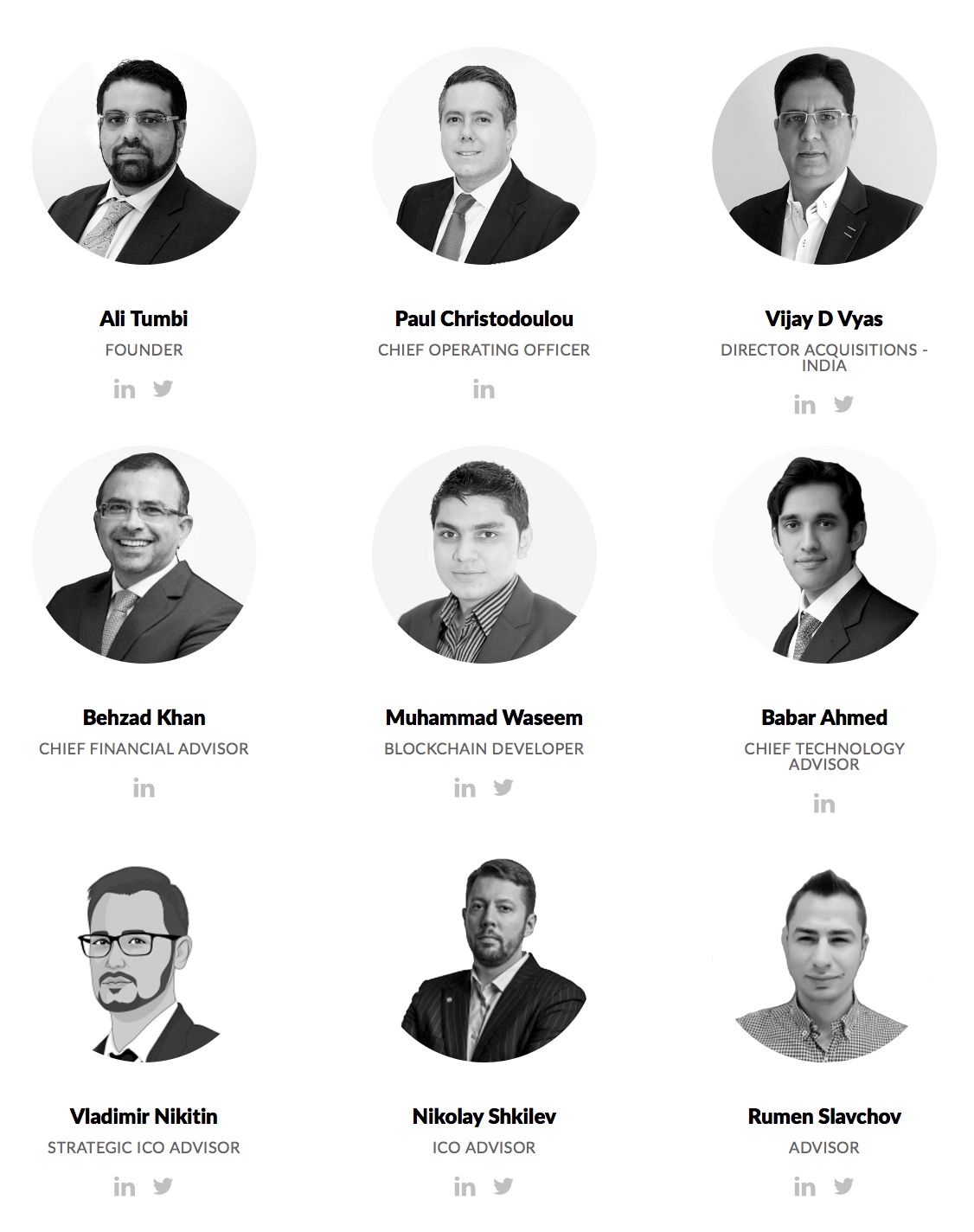 Token Details:
The token holders of GREM and GRET will get future access to all Assets Under Management (AUM) of Global REIT. Regarding the Hospitality Assets, token holders with minimum 5,000 tokens of GRET or GREM can avail free stays every year. Furthermore, reward points will be offered in the Loyalty Programs attached with its AUM and these points can be used to avail free services up to a certain limit.
Token GRET
PreICO Price 1 GRET = 1 USD
Price 1 GRET = 1 USD
Platform Ethereum
Accepting ETH,BTC, Fiat
Minimum investment 100 USD
Soft cap 5,000,000 USD
Hard cap 20,000,000 USD
Country United Arab Emirates
Whitelist/KYC KYC & Whitelist
Restricted areas USA, Japan
Verdict:
Global REIT is the first ever Blockchain-Based Sharia-Compliant REIT to be launched in the market. It is supported by a team of talented people with huge experience from conceptualizing to the design and client support which proves to be a winning combination.
MY BTT: