Globatalent: Sports market that you can invest in your idols of the world.!
The sports industry is very diverse. Millions of sports fans around the world get vivid impressions when they follow the success of their idols. But not clubs and athletes receive sufficient sponsorship, as a result of which they can not achieve success and break into the top League.
Basically, the income of sports clubs comes from several sources: television, sponsors, fees for tickets, prize awards, etc.the Main problem of the sports industry is centralized. Several companies that control the market, buy rights and sponsor sports clubs and athletes. If funding from them stops coming or is insufficient, the sports club will not be able to exist, and its activities will stop.
Companies Finance" chosen " athletes, which does not exclude bias. As a result, the rest of the teams remain "behind". In addition, by providing funding, organizations take most of the revenue, making athletes dependent on sponsors.
Sport should be decentralized, and sports teams should not depend on monopolists. Financial support of the community will help young talented athletes and clubs to reach their potential. This goal is pursued by Globatalent Platform, which provides a decentralized environment in which fans and investors can sponsor sports clubs and players by buying rights to them, which allows to provide passive income in the future.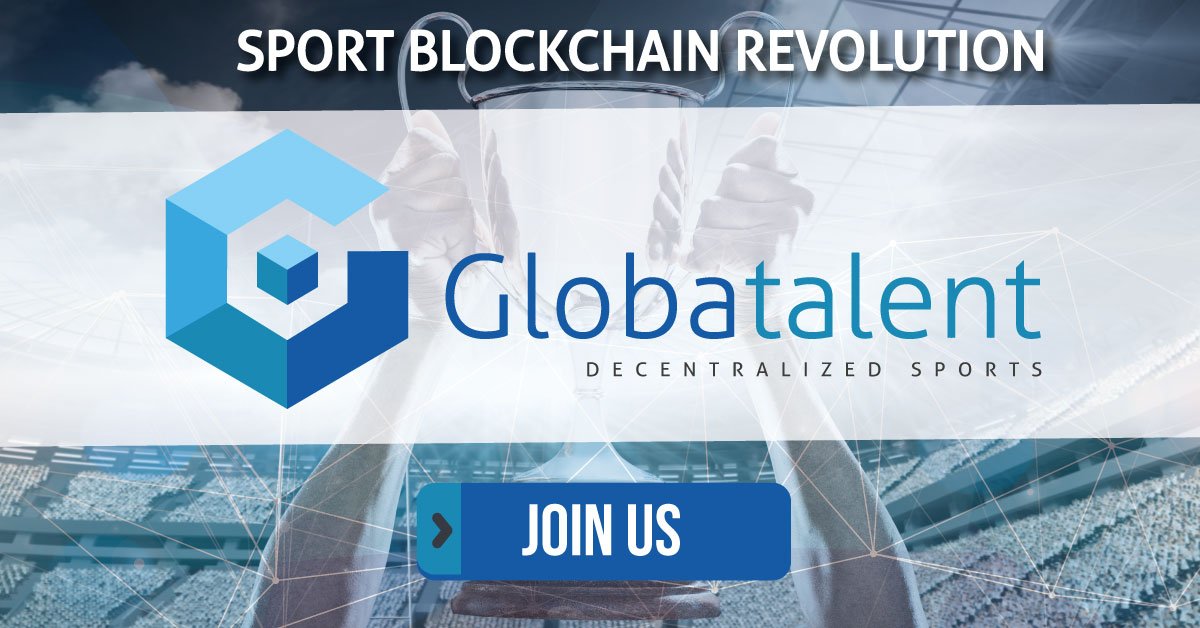 Globaltent is a blockchain platform where clubs and players can finance themselves by selling their future copyrights and all fans can invest in their idols.By integrating existing blocking technology, we will create a platform that will connect you to various sports teams and you can invest in their games.
They designed a decentralized platform using blockchain technology, where you and the wider community get access to different sports teams / players. You will benefit from investing in players or teams in the markets we provide. Profits are derived from buying and selling future benefits guaranteed by the right of withdrawal, player transfer, prize money, salary, ticket sales, TV contracts or other income. No need to spend a large amount of money, you can invest with a small amount of money and use it. In addition to investing in this player or team, you also participate in the development of these sports players.We will also help players or teams who need financial support for their achievements, by decentralizing the sports industry and letting fans invest in their teams to make a profit. Every 33% of the fees we earn will be used to support the GLOBATALENT Youth Program which is a fund support program for young athletes with no economic resources to develop their sports and academic careers.
Advantages Of Globatalent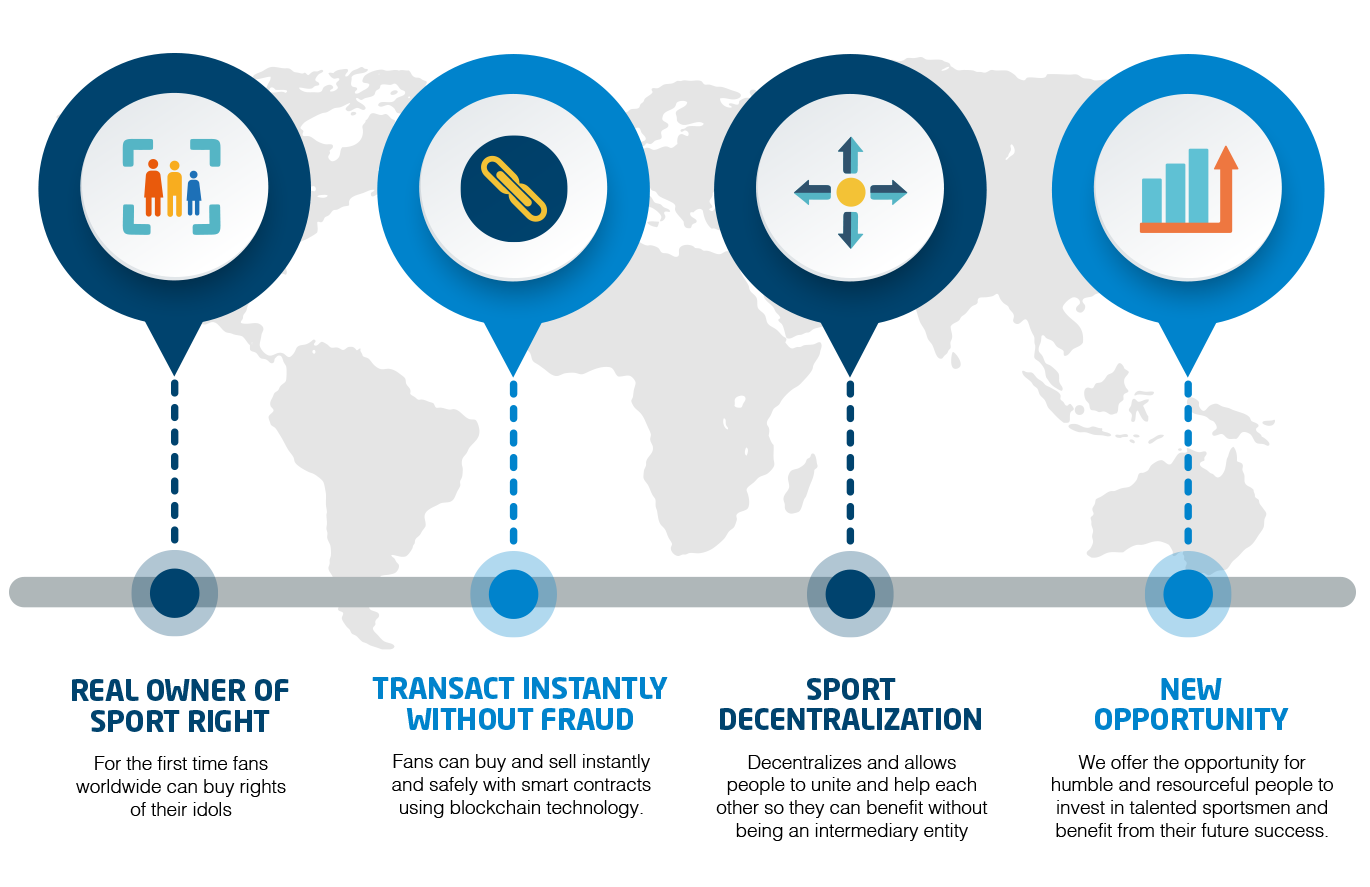 The purchase of sports clubs 'and players' copyrights is available to every investor anywhere in the world, as it does not require large sums for investments.
Smart contract provides high security and transparency of all transactions, excluding fraud. Users will automatically receive rewards for their investments. No one will be able to challenge the rights of users.
Opportunity to invest directly. The middlemen take most of the profits for themselves. In addition, the cryptocurrency economy allows to reduce the cost of banking services.
Decentralization provides support to the whole community and not only a narrow circle of people. This means that the really talented players will be able to obtain financing from various investors and fans.
Globatalent Ecosystem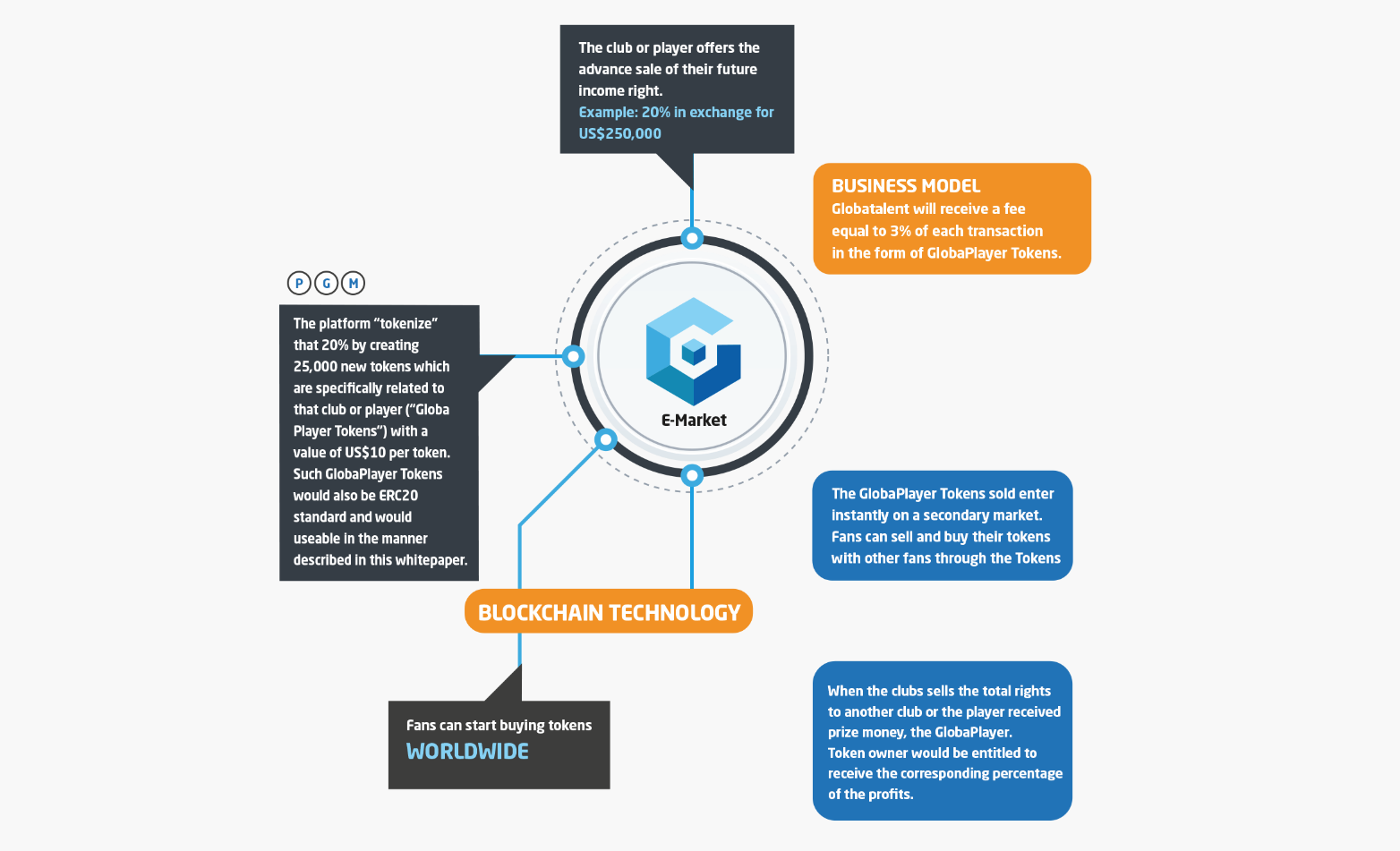 There are two types of tokens in the Globatalent ecosystem.
ERC-20 GBT tokens are based on the Ethereum blockchain. Tokens are designed to support the Globatalent infrastructure and projects built on the platform.
Another type of tokens is GlobalPlayer. Tokens are intended for tokenization of individual clubs and athletes, for example, GlobalPlayer1, GlobalPlayer2, etc.
Ico and Token details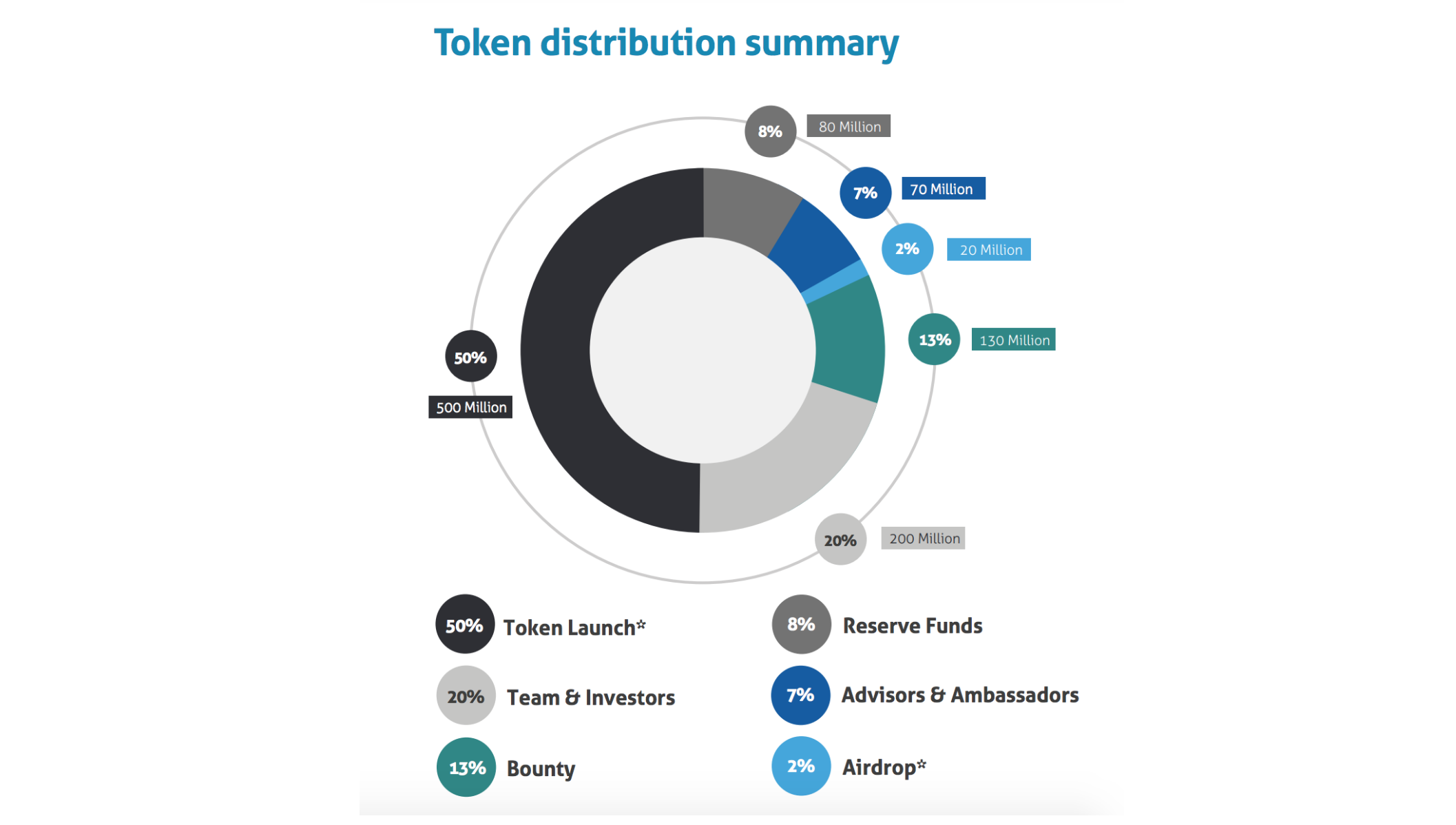 The pre-sale of PRE-SALE will be open from April 16, 2018 to May 18, 2018. In the presale there will be a discount on the Globatalent tokens of 30%. There will be a maximum of 200 million tokens of Globatalent tokens valued at $ 22,000,000 USD = at a price of $ 0.11 / GBT per 1 Globatalent token.
ICO Start of the first phase of the ICO from May 21 to May 23, 2018, a discount of 18% on the Globatalent tokens. The second stage of the ICO begins from May 24 to May 27, 2018 = a 10% discount in Globatalent tokens. The third stage of the ICO begins from May 28 to May 31, 2018, with a discount of 0%. Possible changes that will be announced before the ICO begins. In total, more than 300 million Globatalent tokens worth $ 39 million will not be offered for sale. Price 1 record = 0.13 $ / GBT
Roadmap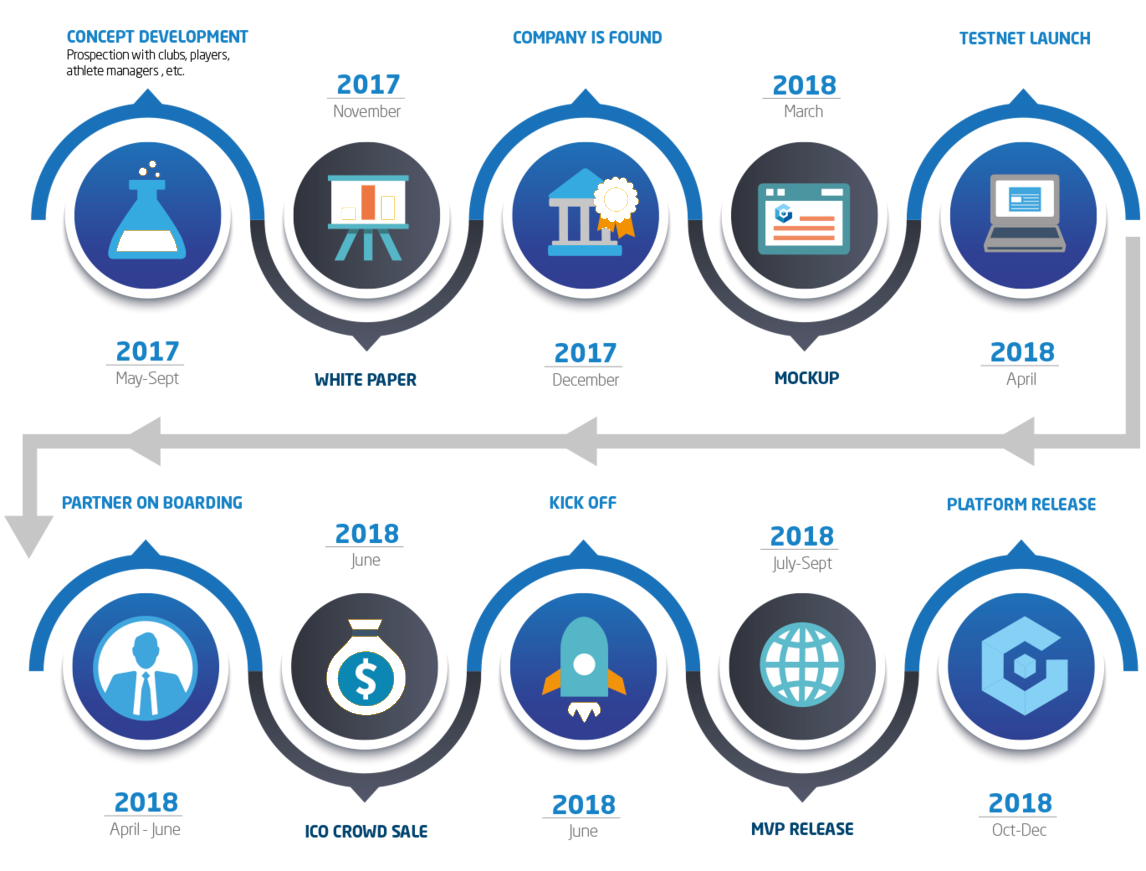 Conclusion
The project is a promising idea, seeking to unite all the sports community-sports players and fans, which will not only provide great benefits to both sides, but also strengthen the relationship between them.Young players will receive support from the whole community and will be able to achieve their goals, having received sufficient funding. The team's global vision and innovative idea will make the project popular in the future and will bring high returns to its investors. 
For More information follows;
Website || Whitepaper || ANN Thread || Telegram ||  TWITTER  ||  LINKEDIN  ||  INSTAGRAM 
Keep Tabs On Me Daily articles about cryptocurrency and blockchain based projects.