goeureka
About GOeureka
GOeureka is a travel technology company that uses blockchain technology to build a hotel reservation platform. The GOeureka (GO) platform leverages blockchain technology to position itself as an impartial and transparent technology partner for hotels, transforming traditional loyalty systems and delivering increasing value to all hotels and their clients. GO aims to create a new symbiosis in which hotels maintain control of their brand while unlocking an unprecedented value for consumers on their platform. GO's vision for the future of the travel industry is an online support ecosystem in which all companies have the opportunity to thrive and benefit by providing the best products or services to travelers.
GOeureka is a blockchain GOeureka hotel booking platform that opens new values ​​for hotels and consumers globally and can be said as a NEXT-GEN solution in shaping the future of hotel bookings online.
because in today's era, everything is online and for those of you who want to find a hotel you don't have to bother to go here and there and see the facilities. because GOeureka has made it easier for you to order it. with complete hotel details ranging from One Star hotels to Five star hotels, ranging from high facilities to cheap facilities you can look for it as you wish.
The presence of Goeureka itself is due to the many problems that consumers complain about. The problem that has been resolved by the GOeureka Team is with a very long experience. and this is a problem that the teams have solved for consumers,
The first is the lack of Transparent which leads to higher prices from the Commission which are unfair to OTAs which ultimately reduce hotel margins and increase prices for consumers.
The second, the occurrence of abandoned hotel loyalty programs that can make consumers lose points and then free hotel prizes.
and finally, search bias produced through search results that are modified and rearranged in OTA finally determines consumer choice and value.
For problems the hotel that will be completed by the team is,
the first is the impact on hotel bookings from online travel agents dominating the sector, pushing up to 70% of all online bookings.
secondly, a high commission resulted in OTA charging hotel fees of 15% -30% of the commission, impacting the hotel margin.
and finally, the lack of access to increasing OTA dominance limits hotel access to consumers who are looking for hotels
GOeureka also has a Vision and Mission
GO's vision is to enable hotels to focus more resources on providing better intrinsic value and services to tourists around the world.
The mission of GOeureka is to decentralize the hotel booking sector and provide better transparency by allowing hotels to connect directly with their customers.
The thing that GOeureka teams want to know is to find a definite point to disrupt the domination of Online Travel Agencies (OTA) today. OTA currently manages 70% of online bookings, this has an impact on hotel direct bookings and profit margins. OTAs usually serve unfavorable terms to the hotel, with parity level clauses and high commission rates. Because of that As a hotel technology partner, GOeureka wants to try to maintain the hotel brand and their direct communication to customers so that customers do not misinterpret the price of the hotel.
With GOeureka you will no longer pay / search for hotels through OTA. which will make you spend more money to book hotels. with GOeureka you can save more, and be more eager to find a hotel.
so you don't have to think long or doubt.
Another flexible way to facilitate users GOeureka, GOeureka will launch with a mobile application for iOS and Android. let users be easier and use their cellular phones.
This time I will explain the Tokens owned by GOeureka. GO Tokens is an ERC20 standard token that will be used to facilitate faster and cheaper transactions on the GOeureka platform.
GO Tokens will be used to purchase products and services on the GOeureka platform. GO Token users will enjoy discount rates, prizes and other value added benefits. After you buy the token you will receive a GO Token after the ICO result audit is complete. You can sell GO Tokens on the exchange in the near future or spend them on our platform with better value and greater benefits.
ICO
—-Token NameTGO-PreICO Price1 GOT = 0.10 USD-Price1 GOT = 0.10 USD-PlatformEthereum-AcceptingETH-Soft cap4,000,000 USD-Hard cap60,000,000 USDI hope this news can help you and can also be useful for you travelers or hotel seekers, and this is all I can explain.
ICO
Token name TGO
PreICO price 1 GOT = 0.10 USD
Price 1 GOT = 0.10 USD
Platform Ethereum
Accepting ETH
Softcap 4.000.000 USD
Hard shell 60,000,000 USD
DETAILS OF TOKEN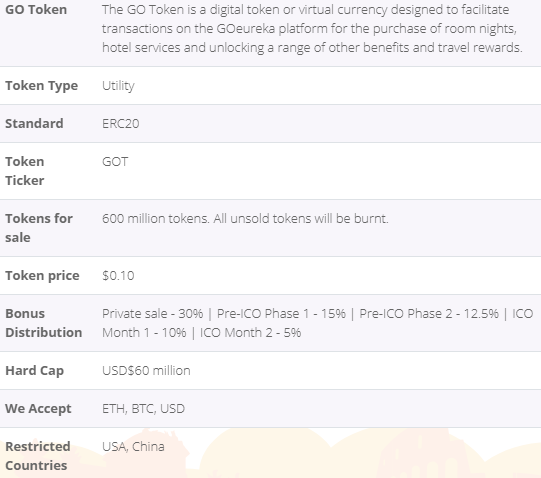 TOKEN DISTRIBUTION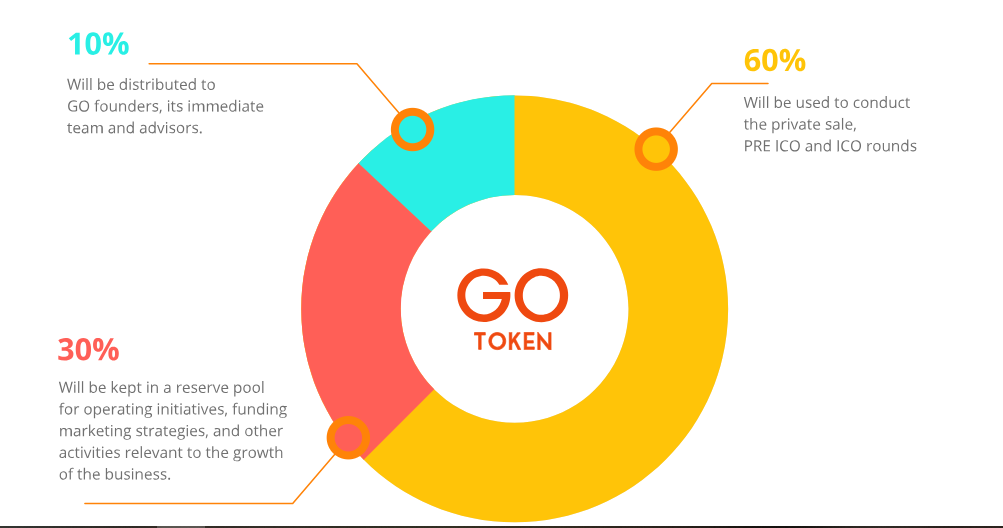 ROAD MAP

For more information
Author : maharani700
Eth Address : 0xE56d229DD55619bc6ae3AEbd3657BA31cF3D448c