GOLDIAM

Goldiam is an innovation on the blockchain that seeks to digitize the process of mining Gold and Diamond making it easier to make investments and receive assets. The Goldiam platform is designed to take care of the problem of volatility in exchange rates of Gold and Diamond which is one of the banes associated with gold and diamond business. This would attract more people to invest in gold and diamond markets without worrying about fall in rates when they want to sell off. Since Goldiam is a blockchain powered platform, it is safe, transparent, and easy to access and allow the exchange of gold and diamonds to be made using cryptocurrencies.
Goldiam has partnered with licensed gold and diamond trading companions. Upon demand one's gold or diamond could be shipped right to his or her address, with all the necessary security and license. The blockchain generates a smart contract for every transaction made. This contract cannot be altered by men hence any error that occur in the cause of business transactions is re-traceable. There is a special platform on which gold and diamond are exchanged. The smart gold and diamond is the gold and diamond marketplace on the Goldiam platform. It makes purchase of gold and diamond very easy for people from the comfort of their homes without any special device or enablement even if they want it delivered on their doorstep.
 https://youtu.be/53LMA7h3Hb4
Goldiam is a technology platform based on the blockchain. With Goldiam.io, users can easily tap into the gold and diamond mining industry and make transactions and investments in an easier way using a cryptographic asset called Goldiam Coin. Goldiam provides its users with some special features which include multi-currency acceptance, money transfer, cryptocurrency exchange, monthly reward for asset-holders, pure gold or diamond(s) shipping, and security. Another exciting news about the Goldaim project is its proposed blockchain, since private blockchain would allow Goldiam to better provide its users in terms of faster, more cost effective and secure platform because private blockchains in comparison to centralized databases, are the cryptographic auditing and known identities.
Asides the mining opportunity that Goldiam offers, there are three core projects laced on Goldiam.
Smart Gold and diamond
Goldiam has partnered with some reputable gold and diamond companies all over the world to ensure that its user's can easily anad safely buy gold and diamonds even if it means shipping the gold/diamonds to the users doorstep.
GoldiamBox Wallet
This feature will provide reward its users on keeping the Goldiam Coins for at least a month in the Goldiam smart platform. If you must earn more, you will have to hold more goldiam coins in your box wallet.
GlobeUnion Platform
This allows you to convert your GOL into fiat of any choice. At its core, GlobeUnion is a payment platform for family members, workers, and individuals all over the world to withdraw their money in fiat or cryptocurrency.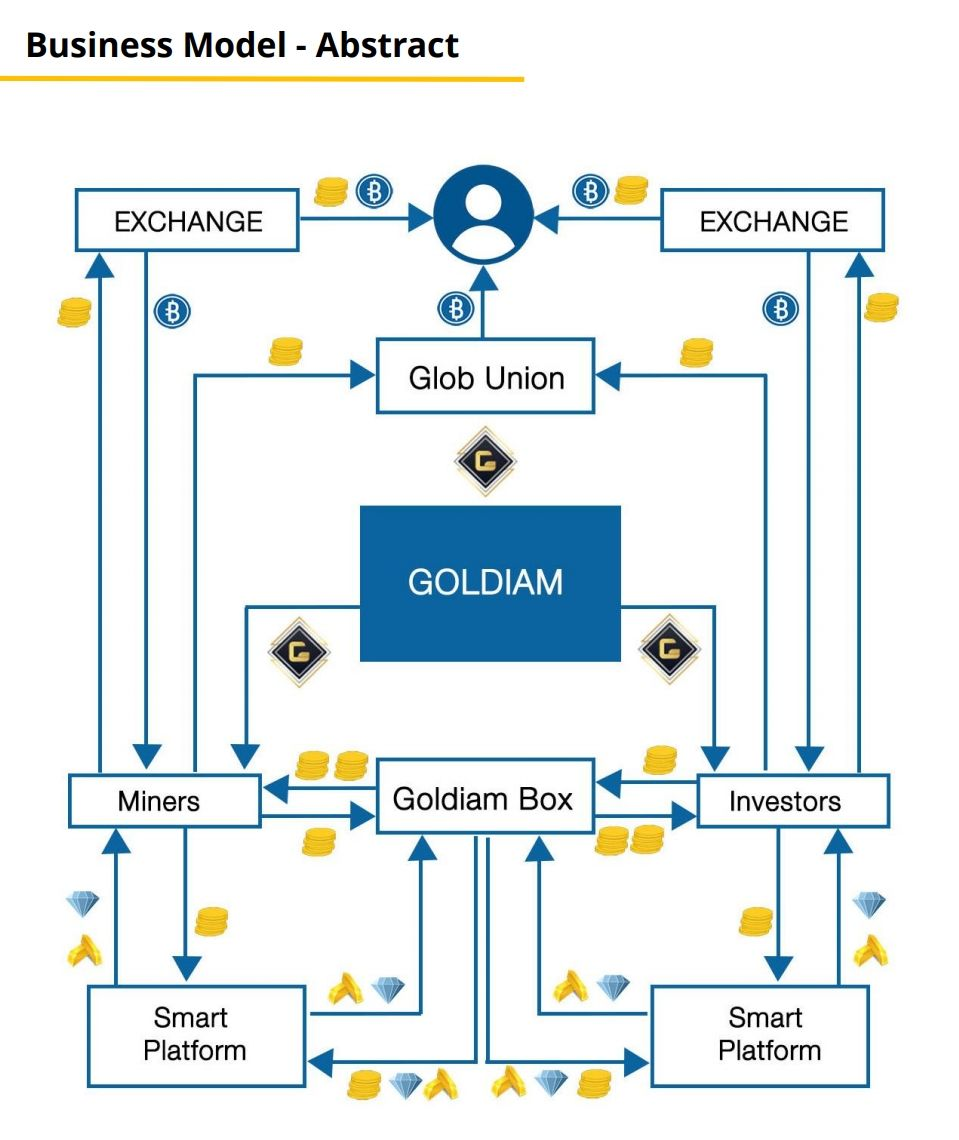 Goldiam is building its own blockchain so as to achieve many purpose which include but not limited to:
• Security of data
• Decentralization: No single authority
• No third party: P2P system
• Faster transaction
• Users being in control of their funds
FEATURES
The Goldiam platform will be endowed with the following features:
• Money Transfer: Investors will be able to send and receive funds through the GlobeUnion
Pure Gold and or Diamond Shipment
• Security: This is one of the key aspect of this project. The best security measures will be deployed in this project to protect the system and assets of investors
• Monthly Reward: Reward for investors who hold their Goldiam Coin in their wallet for at least a month
• Know Your Customer (KYC): This is to keep in line with regulations of various jurisdictions. This is necessary as a measure to prevent money laundry. Goldiam will keep in line with best practices to prevent litigation
• Smart Contract: This will be deployed in all transactions within the Goldiam platform. This is a way of ensuring transparency and speedy delivery.
• Trading Platform: The Goldiam Coin will be tradable on exchanges and within the Goldiam platform.
BENEFITS OF GOLDIAM
Multicurrency Acceptance
Whether you've got BTC, ETH, or XRP, Goldiam accepts it all. therefore worrying for currency format isn't any a lot of a problem.
Money Transfer
With our GlobeUnion platform you'll currently send and receive cash from any part of the globe to any part of the globe anytime.
Cryptocurrency exchange
Our Goldiam Cryptocurrency platform permits you to induce your coins changed to the other cryptocurrency or order as and once needed.
Monthly reward for asset-holders
Earn coins by doing nothing. simply hold your coins, and acquire your monthly reward within your billfold. Invest and Enjoy!
Pure Gold or Diamond cargo
With Goldiam, you'll withdraw the gold or diamond anytime you would like and that we can ship it to your door steps beside the license and everything needed.
Security
Goldiam takes care of the protection of your valuable assets. therefore it's secure within the blockchain if it's within the billfold and that we offer you with license once withdrawn.
Goldiam Token Supply
The total Goldiam token (GOL) supply is 32,300,000 and will be distributed as shown below:
Pre-sale 8,000,000GOL which represents 24.77%
Pre-ICO 8,000,000GOL which represents 24.77%
ICO 12,300,000GOLwhich represents 38.08%
Bounty 1,000,000GOL which represents 3.10%
Reserve 3,000,000GOL which represents 9.29%
TOKEN SALE
The sales details for the Goldiam token is as shown below
Hardcap 17,000ETH
Softcap 2,000ETH
Price 1ETH=1,300 GOL
Pre-sale 20/03/2018-29/03/2018 with 30% bonus
Pre-ICO 30/03/2018-08/04/2018 with 25% bonus
ICO 1st week 09/04/2018-18/04/2018 with 20% bonus
ICO 2nd week 19/04/2018-28/04/2018 with 10% bonus
ICO 3rd week 29/04/2018-08/05/2018 with 5% bonus
Rest of the ICO 09/05/2018-18/05/2018 with no bonus
Token Details and Funds Allocation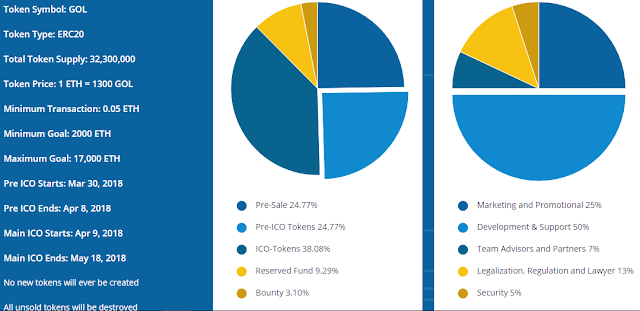 Funds raised during the toke sale will be allocated as shown below:
• Development and Support for Launching the Project 50%
• Marketing and Promotional 25%
• Team Advisors and Partners 7%
• Legal Services 13%
• Security 5%
Goldiam Smart Card;
• Mutual Authentication
For applications requiring secure card access, the Goldiam smart card can verify that the reader is authentic and can prove its own authenticity to the reader before starting a secure transaction.
• Secure & Reliable
Full transparency and enhanced security thanks to blockchain safeguards user data, transaction and brand information.
• Replace Fiat Money
No need to carry cash and credit cards everywhere you go. Pay with Goldiam Smart Card whenever you want.
• Instant Payment
Now pay instantly with our Goldiam smart card, at your favorite shops and brands.
ROADMAP
• Q4 2017: Preparing ICO project
• Q1 2018: Pre Sale , Pre-ICO
• Q2 2018: Main ICO, Launching our own blockchain Goldiam, Calypsum wallet and Goldiambox Wallet, Listing Goldiam on Exchanges
Sign Legal agreement For Trading Gold And Diamond Physically
• Q3 2018: Start platform and app mobile to withdraw Gold and Diamond(s), Smart Goldiam Builder, Launch "GlobUnion" solution smart contract on the Goldiam blockchain
• Q4 2018: Sign the contract with company VISA/MASTERCARD , Smart Goldiam Exchange
• Q1 2019: Goldiam hardware wallet
• Q2 2019: ATM + Shopping App smart contract
• Q3 2019: Deploying smart contract "Open heart" on Goldiam blockchain, Goldiam Cryptocurrency Exchange.
TEAM
The goldiam.io team is made up of well-rounded individuals with robust knowledge on blockchain development, Security, investment and entrepreneurship. Some of them include;
Mourad Redjar – Founder and CEO
Mourad have a strong interest in new technologies, developer for three years, a great interest in crypto currencies, trader and holder since 2011
Nenad Balog – CTO
Nenad is a persistent, result-oriented, and avid learner having vast knowledge regarding principles of software engineering, latest development tools and techniques, and technical aspects of blockchain technology. He has bachelors in Computer Software and IT from University of Novi Sad faculty of technical sciences. He has worked for Serbian consulting network as a programmer.
Aleksandar – full Stack Developer
He is an end-to-end product developer. He is a full stack web developer who is fiercely passionate about the user experience and interaction of a product.
Nikola Miloradovic – Web/Blockchain Developer
He has a Bachelors degree in Computer Sciences from High Technical School of Vocational Studies in Kragujevac. He had been working as a freelance web developer for 2 years and has worked as project coordinator at Voluntary Organization Svilajnac -VOS. Nikola is cofounder and CEO at EduBar app and he is currently working as a front-end developer at Mirror code.
Zoran Loncar – Lawyer/Head Of Legal Deparment
Zoran has a PhD in law and 30+ years of experience in law practice. Specializing in many aspects of law from labour to corporate his recent interest in cryptocurrencies and blockchain has given him an opportunity to expand his already vast law skillset and be part of a project that aims to revolutionize the crypto space.
For more information, please visit the links below;
Website: https://goldiam.io
Whitepaper Link: https://goldiam.io/storage/Whitepaper.pdf
Facebook: https://www.facebook.com/goldiamico
Twitter: https://twitter.com/goldiam_ico
Slack Chat: https://goldiam-ico.slack.com
Telegram Chat: https://t.me/Goldiamico_EN
ANN Thread: https://bitcointalk.org/index.php?topic=2994626
Author: BrainerdPaul
BitcoinTalk profile link: https://bitcointalk.org/index.php?action=profile;u=1680409