Together, Bitcoin and Ethereum have proven that blockchain technology, decentralized systems, and global collaborative communities can work. But, at the same time, vast improvements and innovations are needed to meet the true promise of blockchain technology in the Human Resources Development Industry.


 is an artificial intelligence (AI) system for helping small enterprise executives and employees of personnel services to make HR decisions. The system analyzes data from social media and publicly available sources and uses a blockchain-based architecture for data storage.
Overview
https://youtu.be/XxdHv2nDLPI
In an era when technology rules, recruiting and hiring has changed significantly over the years and continues to evolve. It's important for job seekers to be aware of how companies recruit so they can take advantage of the ways that companies are finding qualified applicants to hire.
The recruitment phase of a hiring process takes place when companies try to reach a pool of candidates through job postings on company and external websites, job referrals, help wanted advertisements, and through other resources on college campuses and social media.
Job applicants who respond to recruitment efforts are then screened to determine if they are qualified to move on to the next step of the recruitment process. That might involve interviews and other methods of assessment. Employers might check the backgrounds of prospective employees, as well as check references prior to moving forward in an interview process.
GoRecruit will provide companies with the tool set to significantly reduce the time and the cost of finding a perfect employee and improve the quality of decision-making.
The Brains behind GoRecruit
I am going to get straight to the point of who they are since this is such an important factor, as I like to put it, "The Brains behind GoRecruit ". If the team behind the product or service in question haven't the resources or knowledge, then we know the product or service delivered will possibly not have the quality it should have. We need to know two very important things when we look at a new starting up company:
Who are the people/team behind this?
What experience and knowledge do they possess?Okay, so, because I've already done all the research needed beforehand and thoroughly GoRecruit I can very happily confirm that this company has a fabulous team onboard. Here they are: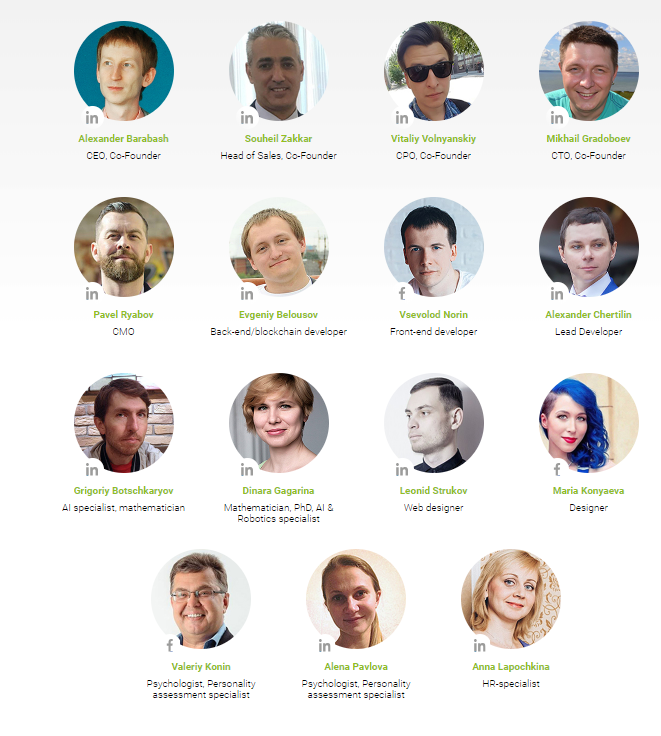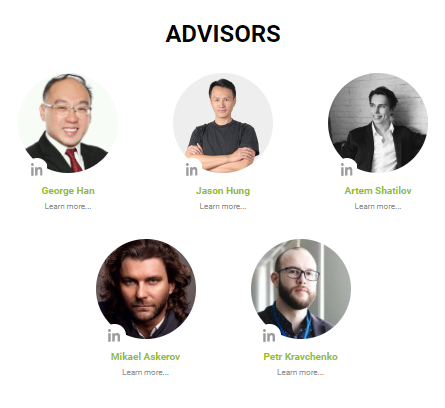 On their website, https://grt.gorecru.it/ you can visit the "Team" section and simply by clicking on each team member's image or name you will be redirected to their professional linkedin profiles. Here you may consult and analyse each individual's expertise as much as you like. It's all been put there for us to see that they have what it takes to achieve their goals with ease and ultimately inspiring more confidence in all of us.
What we can deliver
GoRecruit project is aimed at building objective criteria for selection of candidates for general positions (up to a level of a head of the department), which do not require assessment of highly-specialized professional skills. When making HR decisions and predicting possible outcomes, a decision maker usually faces a complex system of interdependent components (education, experience, psychological profile, social adequacy, etc.) that are to be analyzed. The solution can be found in building an AI system, which will model a natural process of human thinking, aimed at making an objective decision based on the set of available parameters (characteristics).
A working, fast developing product with complete architecture and a system of collecting data from social media and publicly available sources
Algorithm of expert evaluation with user-friendly interface
A project which was successfully tested in companies with more than 1,000 employees
A service already used by 470 companies
GoRecruit compared to traditional methods of HR decision-making:
• hiring people predisposed to certain professions, thus improving the efficiency of team work;
• objectivity (creating uniform transparent rules of employment for all branches of a company);
• reducing HR service costs by optimizing its performance;
• acceleration of the process of hiring new employees (no need to wait several weeks since a decision can be made after remote authorization of a candidate);
• decrease in staff turnover by making more informed decisions;
• reducing the number of force majeure situations caused by new employees, due to better initial assessment;
• improving company's manageability by creating a universal database of employees, as well as
a personnel pool of all candidates who responded to an invitation;
• providing more open access to new vacancies and eliminating the human error in an employment process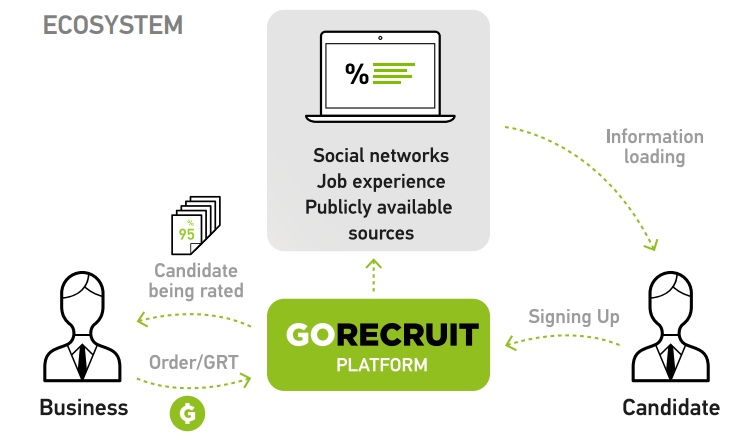 Token Details
TICKER: GRT
TOKEN RATE THROUGHOUT THE CAMPAIGN: 1 GRT = $3
PRE-SALE: $2 000 000
ICO SOFTCAP: $2 000 000
ICO HARDCAP: $12 500 000
ACCEPTED CRYPTOCURRENCIES: BTC, ETH
ACCEPTED FIAT CURRENCIES: US DOLLAR, EURO
EMISSION: INITIAL RELEASE 8 275 642 GRT
no future emissions are planned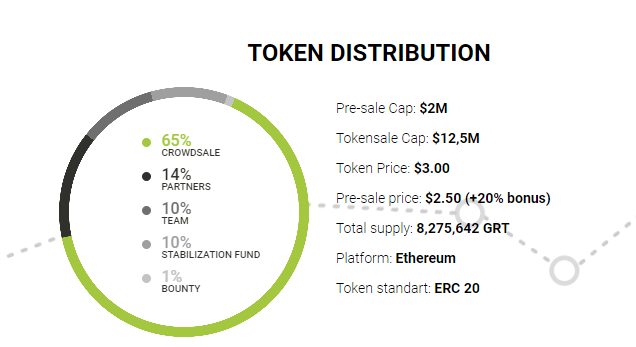 Roadmap

Useful Links
Website: https://grt.gorecru.it/
Whitepaper: https://grt.gorecru.it/doc/GoRecruit_Whitepaper.pdf
Facebook: https://www.facebook.com/GoRecruitEN/
Telegram: https://t.me/GoRecruit_EN
Twitter: https://twitter.com/Gorecruit_ENBitcointalk Username : funkyies
BITCOINTALK PROFILE: https://bitcointalk.org/index.php?action=profile;u=1971452