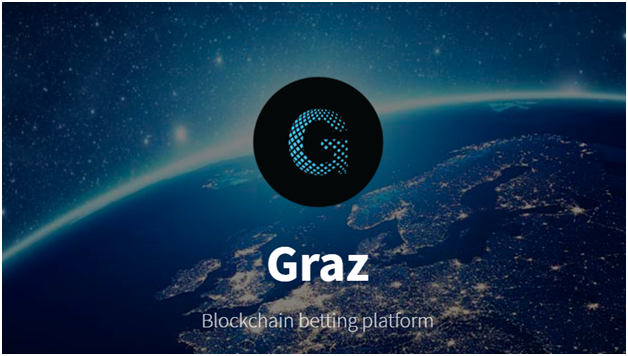 Graz is a unique platform that makes it possible for people all around the globe to make wagers without worrying about getting their winnings. The platform offers users a set of various events in different domains including betting lines, politics, economics, science, film industry etc., within which users can make bets and win money. At the same time the coefficient is proposed by the one who initiates the bet, and that makes the platform more advantageous and interesting than placing bets in betting stores on predefined coefficients. Therefore, users can propose either their own wagers or choose appropriate wagers proposed by other users.
Graz will change usual conception of bets taking it to a new level. Many people dreamed of such a platform, and now thanks to blockchain and smart contract technologies it can be qualitatively implemented. Graz has a number of advantages over competitors:
• Clear and simple scheme of operations
• Completely decentralized structure. Direct interaction between users making bets with each other.
• No risk of non-payment due to smart contracts
• Low fees (1% of winnings)
• Broad range of events within which you can propose any bet with higher coefficients
With Graz you can make any bet within a broad range of events proposed by the platform. For instance, you find your favorite team's tomorrow's game and propose a bet to other users with the following conditions: 1:5 coefficient that your team wins with an initial amount of 100 GRZ coins. Accordingly, the other bet participant must have at least 500 GRZ coins to make bet with you. You can also propose an unusual bet that a player from your favorite team will do a flip when celebrating a goal. In short, there are no limits to imagination when proposing an event. Such unusual events are checked and approved by moderators.
At the moment, users make bets in betting stores that set coefficients in a special way adding a margin of 5-20% to always make a profit. That is why the long term winning in betting stores is an almost impossible task. Graz gives you an opportunity to be in bookmaker's shoes and make bets with people like you around the world.
• Opportunity to make up the bet's subject yourself.
• Opportunity to bet unlimited amount of money.
• Opportunity to set any coefficient.
• No actions are taken against users who always win.
Advantages over booking stores are quite obvious. The future has come through the development of blockchain technology. It is smart contracts that let users be assured in getting their winnings.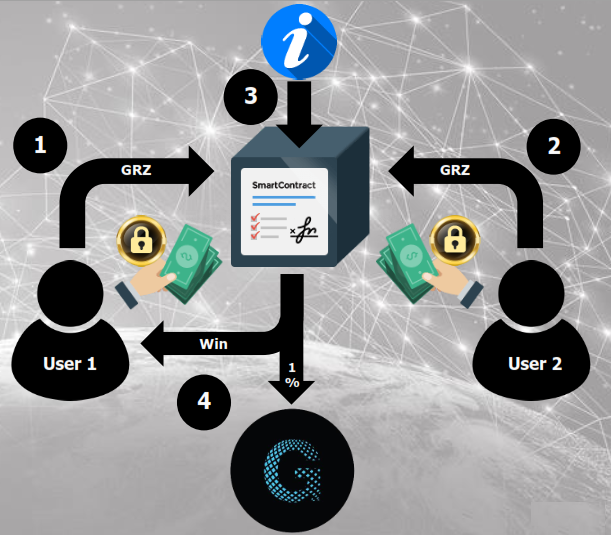 The platform flowchart is pretty simple and consists of the following stages.
User 1 creates his own bet within the range of the offered events and proposes a coefficient and a maximum value to be bet.
User 2 finds the bet in the list and accepts it. In so doing, a smart contract between the users is created which freezes their GRZ coins until the completion of the event.
All the information about the events is passed to smart contracts which determine the winner of a bet.
Upon completion of the event, the smart contract obtains information about the outcome and automatically transfers the winning amount to the winner, having charged 1% platform fee from the amount.
GRZ token
• 100 million grazcoins (GRZ) according to the ERC20 token standart will be created using the Ethereum blockchain.
• 1 200 GRZ = 1 ETH* (1GRZ ≈ 1USD)
• Minimum amount of 30% of the tokens will be held by the project team.
• No more than 0.1% of all tokens will be allocated to Bounty campaign.
• During the pre-ICO maximum amount of 3 mln tokens will be offered.
• During the ICO 82 mln tokens will be offered.
• Unsold tokens will remain with the project team and, if necessary, will be offered at the stock exchange further.
• Soft cap = 7 mln GRZ (≈5 mln USD).
• Hard cap = 85 mln GRZ (≈60 млн USD).
• Upon completion of the ICO we are planning to transfer the tokens to the main cryptocurrency exchanges in order for our users to buy them freely and make bets.
• Token redemption is not expected. Either is burning or additional emission. We expect the price of grazcoin to be rising constantly without any kind of artificial manipulation.
• Tokens are not securities, they do not grant the right to vote or the right to receive a part of the company's profit.
GRZ token distribution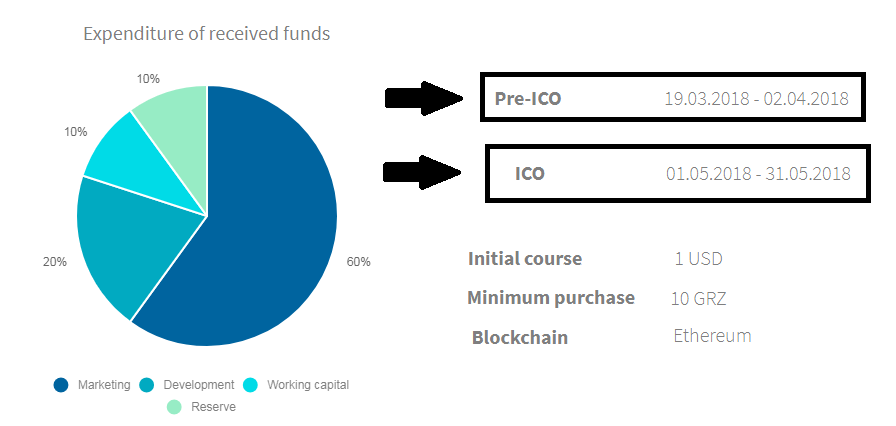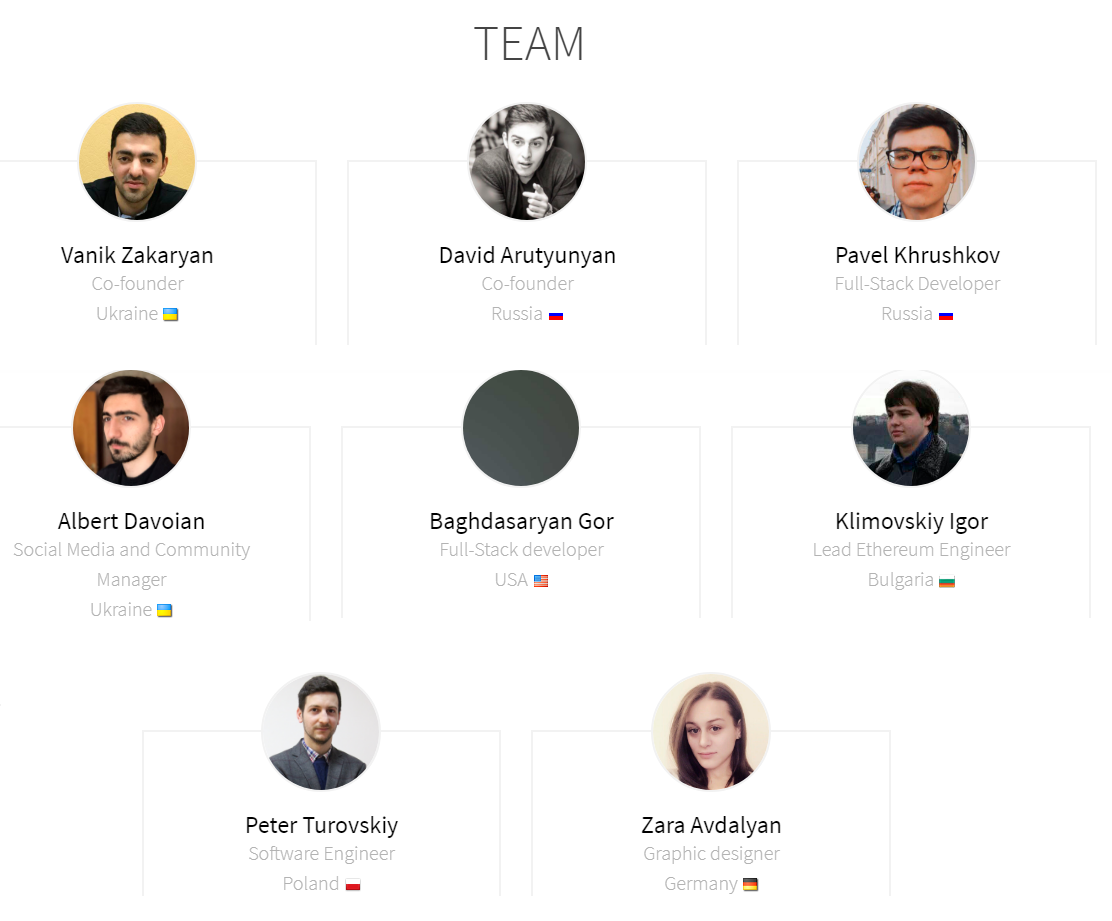 For more information please visit:
Facebook: https://www.facebook.com/GrazPlatform/
Twitter: https://twitter.com/grazplatform
Github: https://github.com/Graz-blockchain-betting-platform
Telegram: https://t.me/grazplatform
Whitepaper: http://graz-ico.com/whitepaper.pdf
Website: http://graz-ico.com
Author: Crator Touch
BCT Profile Link:https://bitcointalk.org/index.php?action=profile;u=1612381