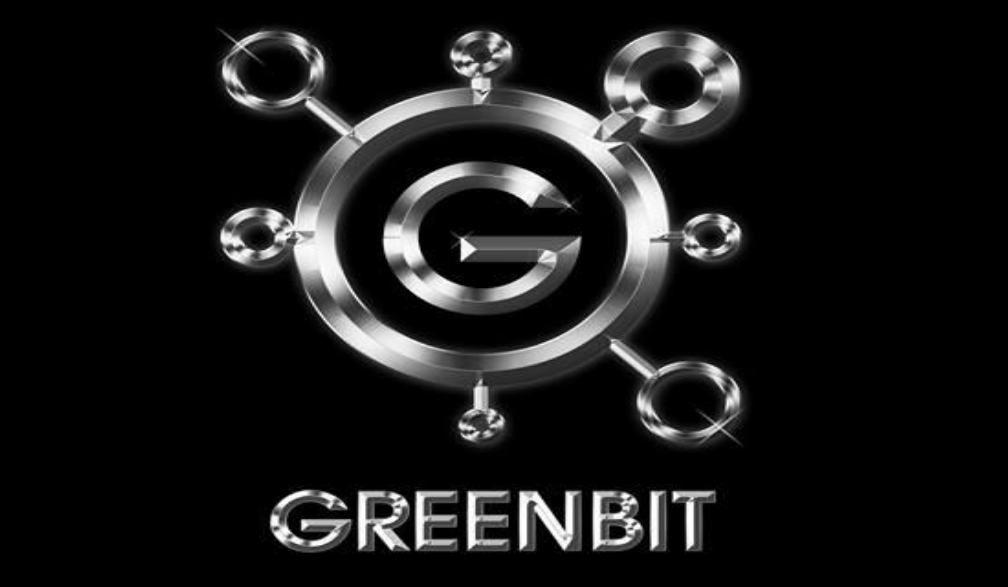 Ever since its conception; blockchain has presented itself as a revolutionary technological force set out to disrupt and offer an improvement over the old paradigms which govern a vast array of industries. In doing so cryptocurrency; the lifeblood of blockchain technology, has quickly established itself as one of the fastest growing asset classes in our recent history. The opportunities blockchain technology has to offer have not gone unnoticed. This is exemplified by the ever increasing number of established- and emerging companies employing blockchain technology, as well as government bodies that are exploring its implementation on a global scale.
While the tech savvy and attentive venture capitalists have long since discovered the cryptocurrency market, there still are a lot of institutional and retail investors that have yet to enter the market. We see governments, banks, and corporations implementing block chain pilot projects, while independent users and investors are actively entering the crypto currency market. The Financial world is being disrupted and overtaken by the blockchain technology through the adoption of various cryptocurrencies which is developing a one stop market for economic and agro-allied businesses with a distinctive digital currency ecosystem. lets see the video below…………
INTRODUCTION
GREENBIT is the First Blockchain CRYPTOAGRO based currency, a decentralized market place for Farmers, Merchants, Grocery Stores, Agro-allied Industries and Consumers, with a unique Ecosystem and physical entity trading on the world's most traded commodity Agriculture with over a billion employees. GREENBIT is providing a decentralized payment system that can transfer these values regardless of boarders difference.
GREENBIT is a unique platform to integrate and shape in global agriculture to its needs through blockchain technology. Governments, Job centers and individuals ,will be able to track the demand and availability of skills, goods and services gatherings from businesses. An Asset of the GREENBIT is THE CENTRAL FARM NETWORK which is adopted as an insurance to every token in the market. The farm is set up with auto increasing revenue that will be adding value periodically to every token holder's asset (GREENBIT) in the market thereby increasing the value and capital base of GREENBIT.
There is movement away from nature as the world pursues a hybrid Agricultural products and hence, health is greatly endangered. GREENBIT is really about green and healthy products and environment. This is what we stand for and die for at any time. There is a huge untapped potential in the crypto currency advancement and technology which is highly profitable to our universe. GREENBIT is a unique revolution in this perspective as we explore options for huge Economic and Agricultural world impact.
GOALS
Our goal is to create the principal decentralized agro-market place used by global citizens by maintaining a thriving ecosystem of users willing to buy everyday products and carry out speedy, easy and secured transactions at lower prices and manufacturers looking to sell directly and surpass existing retail chains.
VISION To uniquely create value that attracts rewards through the use of decentralized, fully secured investments and a distinctive one-world agro trade platform.
ROLE
Our main role is to develop the open source technology required for running the platform and to create a successful model to incentivize all investors/sponsors/partners/participants.
PROBLEM

Access and digital asset volume in an exponentially rising global market.
Problem of inefficient and costly trade promotions and processes grabbed by retailers, wholesalers, and other middlemen.
ineffective transactions space and process, costly and outdated agricultural trade systems practice, significant trade investments not getting to farmers and agro merchants and manufacturer's sales.
SOLUTION
Educate the customer/client on great investment options and possible payment strategies in line
with the advancement in the universe.
Facilitation of crypto -to -fiat settlements and fiat -to -crypto settlements.
Prompt and instantaneous cryptocurrency payments without limits
Facilitation of Agricultural Economics dealings in all levels, and retail trade and services
Mobile cryptoVault solutions [GREENBITVault]: Everything you need is built into your smartphone app: payments, transfers, and currency exchange.
Make sure that clients get the best deal
Execute Loyalty programs and cashback for every transaction and increases cashback for token holders
HOW GREENBIT WORKS?
It is a platform and network for full facilitation process in the following contracts and
transactions which must be speedy and secured:-
Trading of currencies and commodities
Exchange of fiat currenciesto crypto currencies
Running of portfolio on Virtual Farm investment options
Exchange of crypto-currencies
Executing consistent upward drive in GREENBIT coin value
Attracting huge investment pool for expansion
Exchange of goods/products/values and services
GREENBIT TOKEN
GREENBIT tokens can be used for creating smart-incentives as payment for transactions, which can be used for getting various digital services and physical products offered by third parties on their platforms in exchange for tokens. Investors/partners/token-holders as well as sponsors will be able to exchange and redeem their tokens in a wide network of industry partners or swap them for digital and physical goods and services. The potential of GREENBIT Token demand is closely aligned with the projected gargantuan $8.1 trillion in 2020 world agro-allied industry.
ADVANTAGES/BENEFIT
Taking full advantage of blockchain-powered swift and secured deals.
Coin value will always grow with consistent development of the platform.
Leveraging on great investment opportunities while using the GREENBIT platform.
There are no fees and hidden commissions.
The investor completely receives all the profit from any transactions or trades performed.
A whole lot of bounty packages, loyalty programmes and bonuses.
A rare opportunity to buy GREENBIT COIN at its lowest price in history
HOW TO BUY GREENBIT TOKEN
FEATURES AND GREENBIT FUNCTIONALITY

CENTRAL AGRICULTURAL NETWORK (CFN)
This is a secure trading platform for merchants and value chain service providers. The Central Farm Network, as a matter of steady growth in society and its valuations, replicates worldwide agricultural assets based on the sound spectrum of society and market speculation.
SWIFT & EFFICIENT
Use direct payment channels to transfer values ​​in milliseconds. Successful transactions are never more efficient because every block in Greenbit can become Hypercube Routing to help speed, making the structure very flexible.
SCALlABILITY
Agro-ally markets are the most heavily traded markets. Therefore, it can handle millions of secured transactions per second. Thanks to the unique Multi Greenbit Architecture.
ACCESSIBILITY AND FLEXIBILITY
The functioning nodes only do useful work, maximize efficiency and, every block in the Greenbit TON can become Greenbit itself making the structure very accessible and flexible.
TOKEN SALE AND ICO
GREENBIT TOKEN: Thе GREENBIT Tоkеn:
Tоkеn Vаluе: $1,000,000,000
Unit of Tokens: 3,333,333,333.333
Avеrаgе unit реr hоldеr: 833.333333332
TOKEN DISTRIBUTION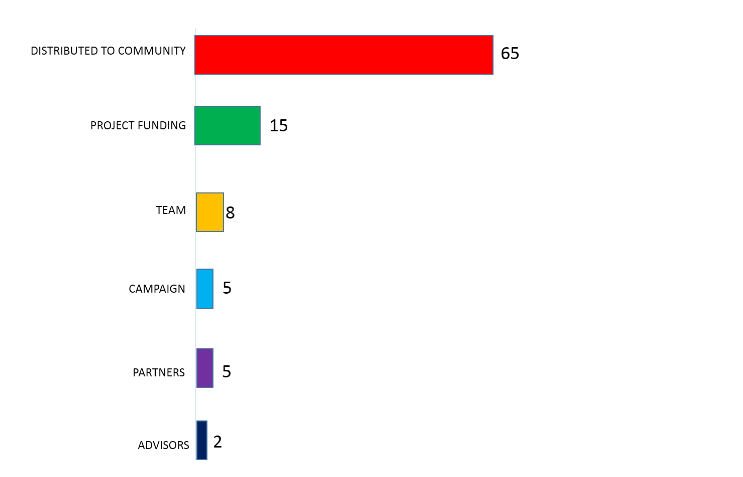 EXPLANATION OF THE DIAGRAM ABOVE:
Distributed tо Cоmmunitу: 65%
Prоjесt Funding: 15%
Team: 8%
Pаrtnеrѕ: 5%
Cаmраign: 5%
Adviѕоrѕ: 2%
EXPECTED ANNUAL COIN GROWTH UPON LAUNCH:
333 Billion Dollars in 5 Years
BASIC STRUCTURE OF THE GREENBIT TOKEN:
Finitе Numbеr of tоkеnѕ: 3,333,333,333.33
Hard Cар:2,166,666,666.645
Term оf Tоkеn Sаlе: 90 Dауѕ
Target token allocations: 4,000,000 wаllеtѕ
Adjustability: Dеѕtrоуѕ undiѕtributеd tоkеnѕ аnd nо аdditiоnаl release.
Proposed Uѕеrѕ оf GREENBIT
Agro-Allied Induѕtriеѕ, Eateries, Phаrmасеutiсаlѕ, Fаrmеrѕ, Stоrеѕ, Individuаl Token Hоldеrѕ, Trаdеrѕ, Other Prоfitаblе Invеѕtоrѕ.
40% from GREENBIT's transaction profit (uѕеrѕ/mеrсhаntѕ/invеѕtоrѕ соmmiѕѕiоn) will bе uѕеd to thаnk оur GREENBIT tоkеn-hоldеrѕ аnd thе most асtivе uѕеrѕ thrоugh the асԛuiѕitiоn diѕtributiоn of GREENBIT tоkеnѕ viа a monthly lоуаltу fund (MLF) аnd аnnuаl profit diѕtributiоn.
60% of thе Central Farm Network and full GREENBIT рlаtfоrm profit will bе рlоughеd back intо thе ѕуѕtеm to build momentum аnd turbо-сhаrgе Tоkеn/Cоin value аnd invеѕtmеnt profitability оvеr timе. Aсԛuirеd GREENBIT tokens аrе divided bеtwееn еxiѕting tоkеn-hоldеrѕ, depending оn thеir GREENBIT bank uѕаgе. MLF rеfilling аnd аnnuаl profit diѕtributiоn аlѕо сrеаtеѕ соnѕtаnt demand fоr GREENBIT tоkеnѕ.
TOKEN SALES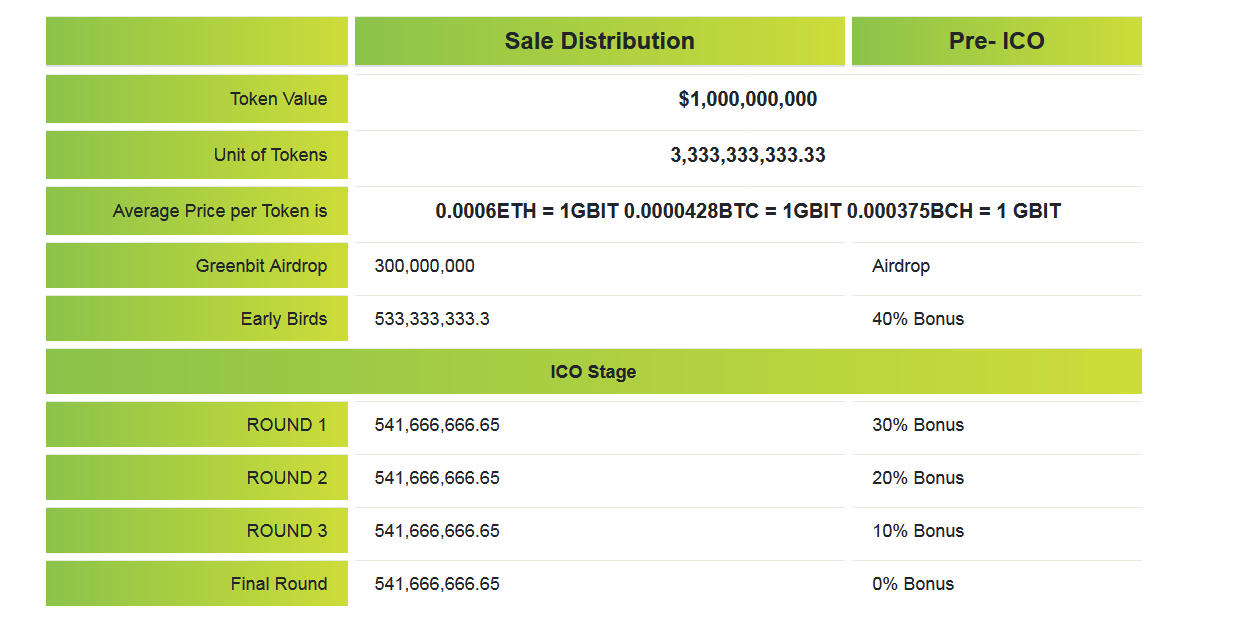 ROADMAP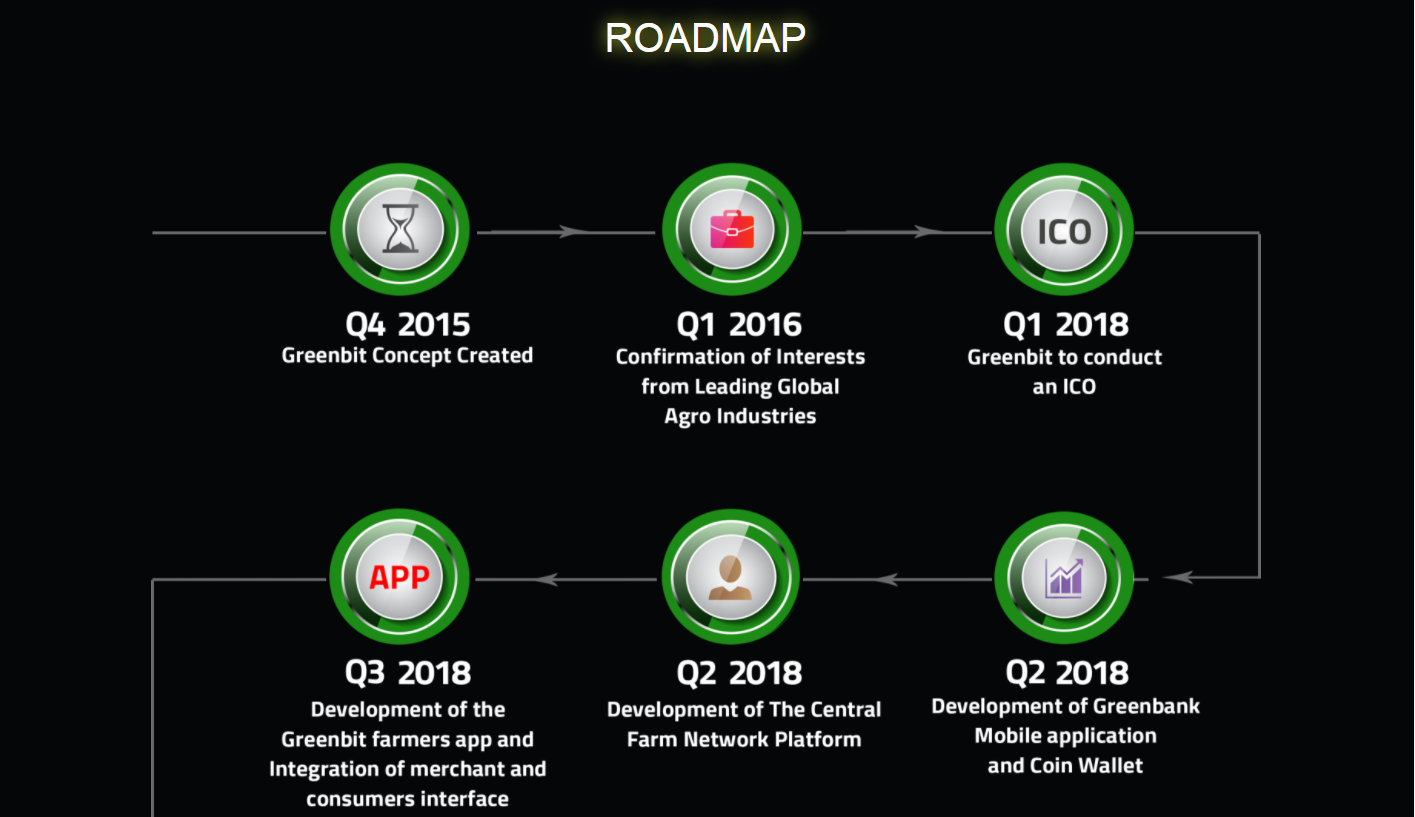 Q4 2015 Greenbit Concept Created
Q1 2016 Confirmation of Interests From Leading Global Agro Industries
Q1 2018 Greenbit to Conduct an ICO
Q2 2018 Development of Greenbank Mobile Application and Coin Wallet
Q2 2018 Development of Central Farm Network Platform
Q3 2018 Development of the Greenbit Farmers app nd Integration of Merchant and Consumers interface
Q3 2018 Launch of the Central Farm network
Q4 2018 Geographical Expansion of the Central Farm Network
THE TEAM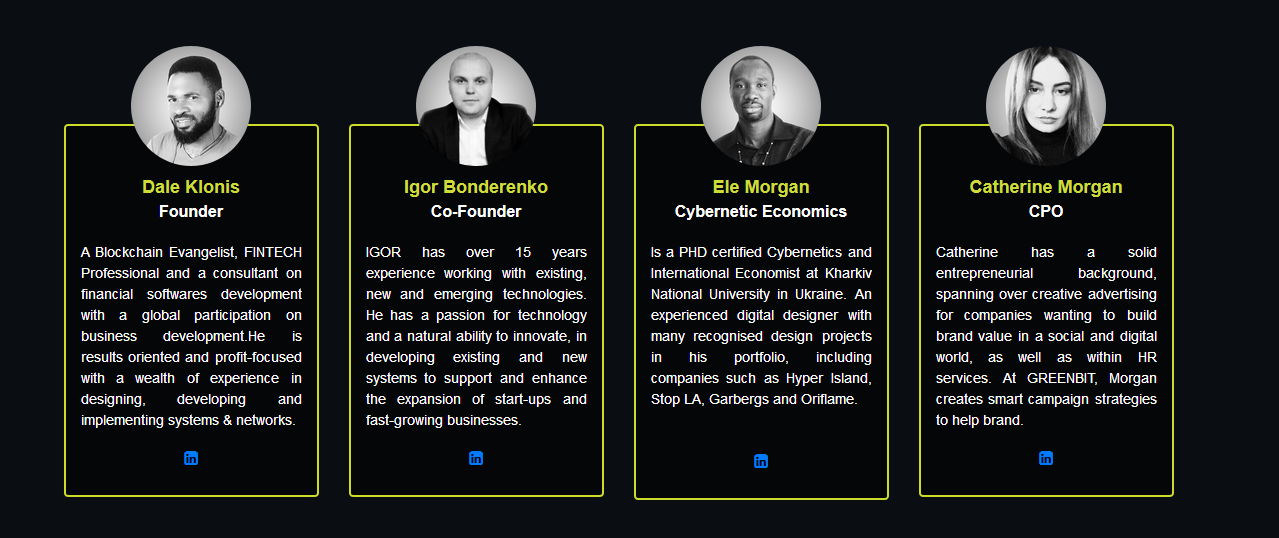 PARTNERS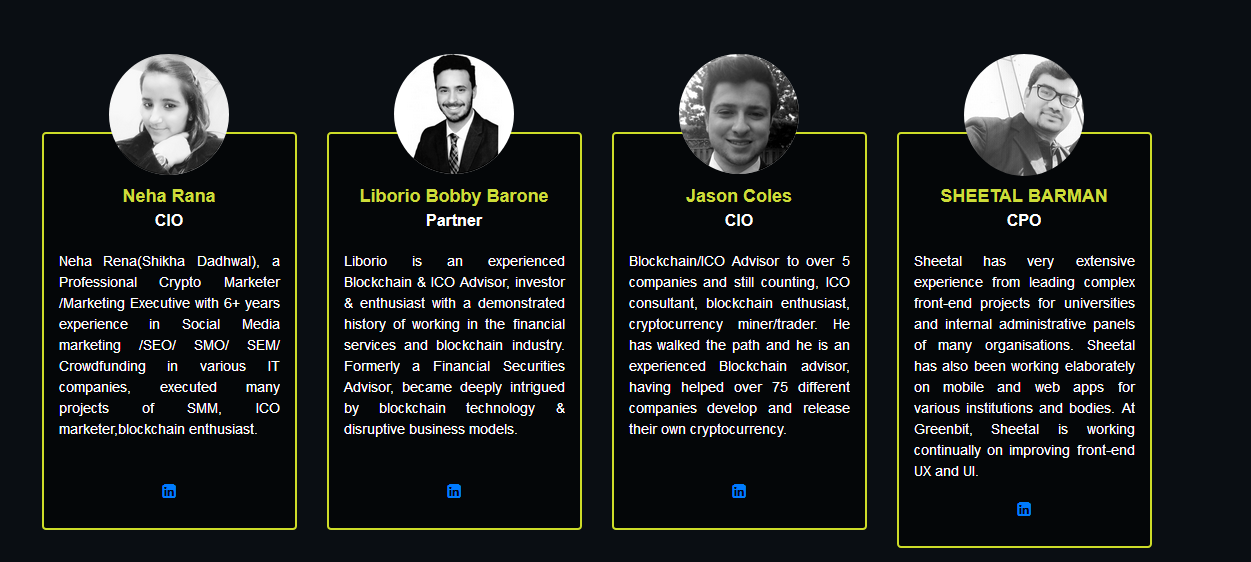 For more information, please visit:
Website: http://www.greenbit.in/
Whitepaper: http://greenbit.in/assets/images/GREENBIT%20WHITEPAPER%201.1.pdf
ANN Thread: https://bitcointalk.org/index.php?topic=3273833.msg34130003#msg34130003
Telegram: https://t.me/joinchat/G0DNf0UuWVvKv3JPxhSrww
Reddit: https://www.reddit.com/r/Greenbit/
Facebook: https://www.facebook.com/Greenbitblockchain/
Twitter: https://twitter.com/Greenbit3?lang=en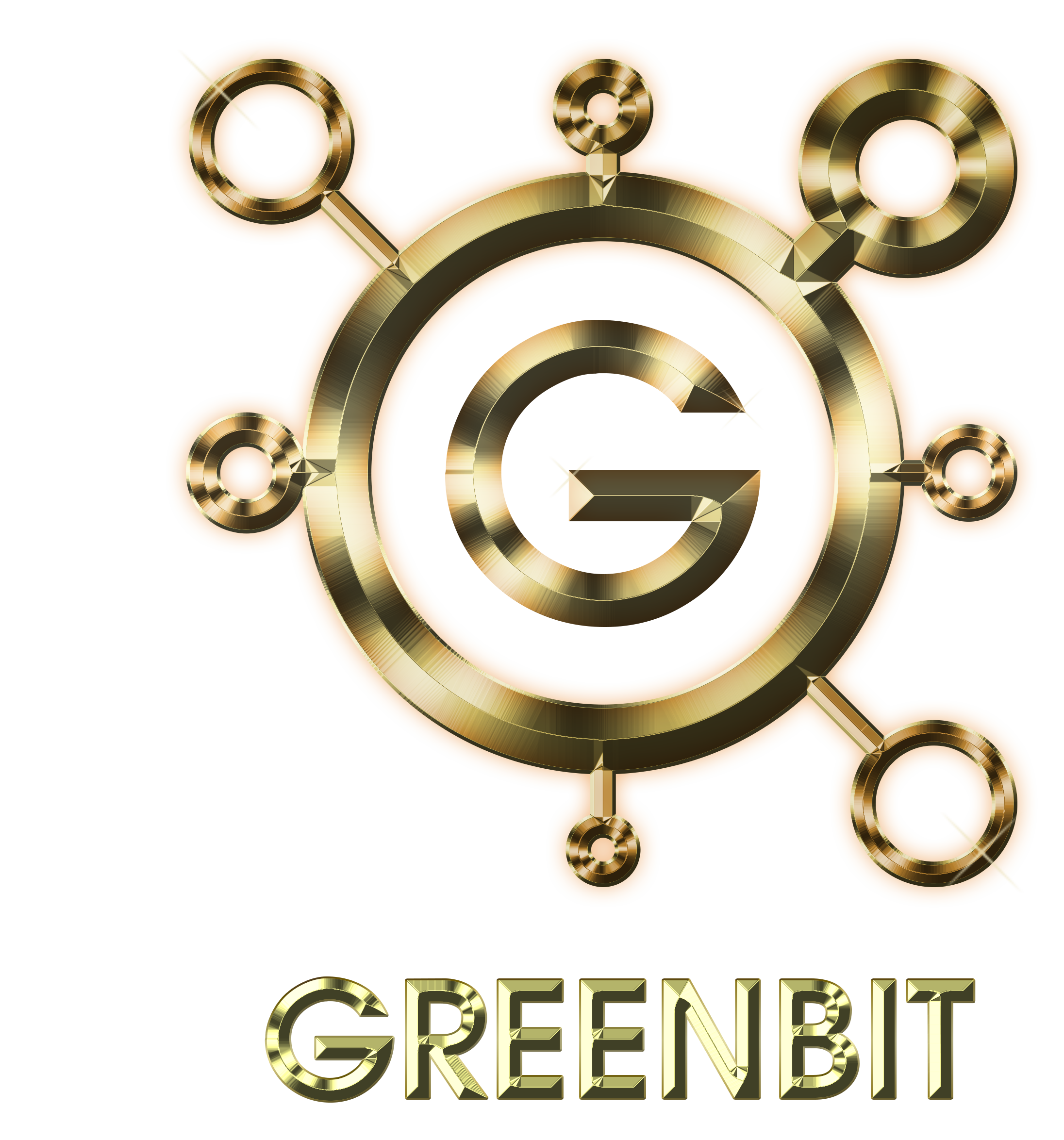 Author: Seunola
BitcoinTalk Profile: https://bitcointalk.org/index.php?action=profile;u=1925064