GREENX ICO REVIEW
GREENX
GreenX is a blockchain that allows individuals and institutions who enjoy investing their resources in worthwhile ventures to discover and invest in high profit yielding, low-risk and renewable energy projects around the globe.
People who develop renewable energy projects often experience difficulties in raising funding for their projects because of the high resources often needed to start up such projects. Also, institutions who want to invest in renewable energy projects do encounter certain risks of having to invest in one to few mega projects because of liquidity limits with their investment funds as the duration of the development timeline of these projects may take longer period. Added to this, some individual investors find it difficult to participate in some of these projects directly as more often than not, they possess a minimal contributions requirement which is mostly out of what they can afford. It could be as high as $100,000 in some cases.
This is the problem GreenX is poised to providing solutions to, between the developer and the investors. This it does by building ecosystem that comprises of two global marketplaces which are, the GreenX Capital Market and the GreenX Global Exchange. The GreenX Capital Market is a crowd funding platform built on blockchain technology while the GreenX Global Exchange is an energy investment marketplace that operate worldwide.
Listing on the GreenX Capital Market is subject to an independent due diligence process along with an AI-based comparative risk analysis. Also GreenX seeks to bridge the gap between the crypto platform and the real world by setting up GreenX subsidiaries that are registered in the various projects countries along with shared cash accounts with the developer through which all investments and their returns are channelled. On the other hand, GreenX Global Exchange allows the investors to purchase equities of investment-ready, developed projects immediately where they do not wish to wait during the developing period of the projects.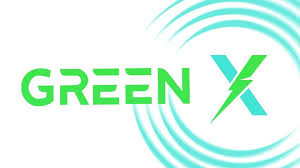 THE GREEN ENERGY MARKET
This market covers renewable energy production and has continued to grow at a steady rate in terms of capacity. For instance, in 2007, the world produced 99 Gigawatts (GW) of renewaable energy. However, by the year 2016, production skyrocketed to a record high 2011.3 GW. What this means is that green energy sources contributed 24% of the total electricity produced in 2016 mostly consisting of hydro power which was closely followed by wind and solar energy.
Although a very significant milestone has been achieved, policies of the governments have been very supportive in pushing for innovation and increase in capacity. Multiple cities which include Las Vegas have made the switched a 100% renewable energy supply with others making frantic efforts to achieve the same feat. Many countries across the world have set goals that agree with the Paris agreement and are consistently and persistently funding numerous green energy projects. For example, Germany has set a target to switch totally to renewable energy sources in 2050. Clearly, the demand for green energy has been on the rise among countries.
WHY DEMAND FOR GREEN ENERGY IS HIGH
High production Capacity at Lower Cost: As stated above, as of 2016, roughly 2011.3 GW of green energy was produced by renewable sources. This accounts for nealy 25% of all electricity consumed across the world. Solar power produced 47% of newly added renewable power while wind contributed 34% and hydro power 15.5%. The green energy market continuously experiences rapid growth and increase in demand. A general trend can be observed. The production of fossil fuel and nuclear energy are on the decline while that of green energy continues to climb at an average rate of 4.7%. As countries phase out their old energy sources, we continue to record a drop in energy produced in non renewable sources.
Supportive Policy of Governments: The driving force behind the remarkable growth in the green energy sector is the policies of government. In a global trend, nations have been providing tax incentives and appealing funding incentives. As a result, significant improvements have been put forth in renewable energy technology.
Expanding Global Funding: In 2016, global investment in new renewable energy was $241.6bn. It marked the fifth year in a row that investment in new renewable power capacity was roughly double that of fossil fuel. The International Energy Agency has estimated that a global investment in green energy would need a total $730bn by 2035 to achieve global targets. As current investment is about $225bn per year, the global market would have to triple to meet energy demand.
Bright Future: The future of green energy is certainly promising. With adverse effects of climate change thrusting the industry forward, these projects pose minimal risk and very exciting returns.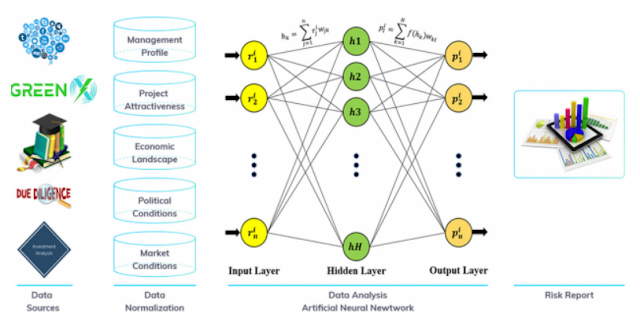 ADVANTAGES OF GREEN ENERGY TO:
DEVELOPERS
Easily tap into global pool of funds.
Normal legal procedure just like a normal JV contract.
All investments are paid upfront by investors and are available for immediate development. No risk of delay.
Streamlined due to diligence process, preventing leakage of sensitive information.
INVESTORS
Allowing small investors participate.
Rights and economic interests are protected by smart contracts. GreenX takes care of all legal proceedings.
Have access to professional due diligence reports as well as AI-generated project statement.
Have access to the secondary GreenX Global Exchange for liquidity.
The crypto-backed platform allows capitalists to invest any where in the world without giving up their privacy.
CHALLENGES OF GREEN ENERGY TO:
DEVELOPERS
Face difficulties raising raising funds due to financial market limitations.
Have low negotiation power when dealing with large investors
Slow fund release causes delay in constructions.
INSTITUTIONAL INVESTORS
Must bear large exposure due to high stake of free energy projects.
Have difficulties finding projects due to geographical limitations.
INDIVIDUAL INVESTORS
Cannot invest with little capital
Do not have resources to conduct proper due diligence
Have concerns regarding privacy protection
TOKEN AND ICO DETAILS
Total GEX token offer: 375 million GEX
Total GEX tokens allocated for token sales: 60% of total token supply
Target Funding: $ 30,000,000
Soft Cap: 2,500 Ethereum
Contribution received: Ethereum
Token Price: 1 GREENX = $ 0.20

Terms of Sale Token
GreenX Token is sold through smart contract. To participate in a token sale event, an investor must first register at our token sales portal at https://ico.greenx.network and complete the KYC / AML check. Upon signing up, contributors can easily send Ethereum from a supported wallet to the GreenX smart contract address to claim the GEX tokens.
The Early Bird Sale starts on the 15th of May, while the main ICO is scheduled for 15th of June. Total of 225,000,000 tokens are devoted to be distributed among token buyers and investors. The initial exchange rate is set at $0.2 for 1 GREENX token. They want to devote 80% of raised funds to the development of the ecosystem, as well as marketing and operation costs. Within 2 weeks after the successful coin offering, they aim to be listed on few exchanges.
GreenX aims to build a sustainable business. Therefore, we always try to comply with all compliance rules and instructions. There are some restrictions on individuals wishing to participate in the sale of our tokens.
Token Distribution
GreenX sells 60% of all token supplies during the token sales round. Tokens sold to the public will be locked during the ICO period. After ICO is completed on July 31st, all tokens will be opened and become transferable.
16% of GEX's total supply is allocated to GreenX Founders, Core Team, and team backup. These coins are locked by a smart contract for 12 months after the ICO ends.
7% of GEX's total supply is allocated to GreenX's advisors and business partners. This token also includes a backup for future business partnerships.
10% of GEX's total supply is the token ordered. This token is provided for referral bonuses, gift programs, and many people's sales rewards.
GreenX also allocated a 4% bonus fund. These funds are to attract future employees and allocate for future community programs.
GreenX reserves 2% of our token supply total for rewards program, and 1% additional airdrop for our community.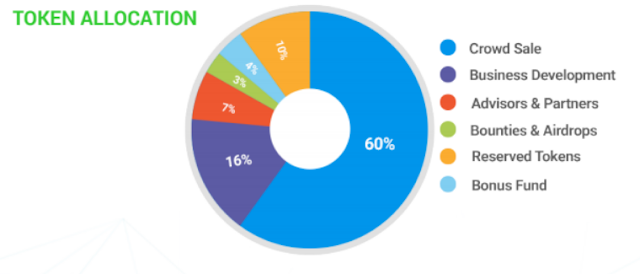 Budget allocation
Funds gained during the sale of GreenX tokens will be used to increase the benefit of the GEX token holders. ICO results are used to build sustainable businesses that will continue to bring exciting projects to the ecosystem, increase the use and value of GreenX. We therefore allocate ICO funds as follows, to create not only short-term but long-term value to all stakeholders.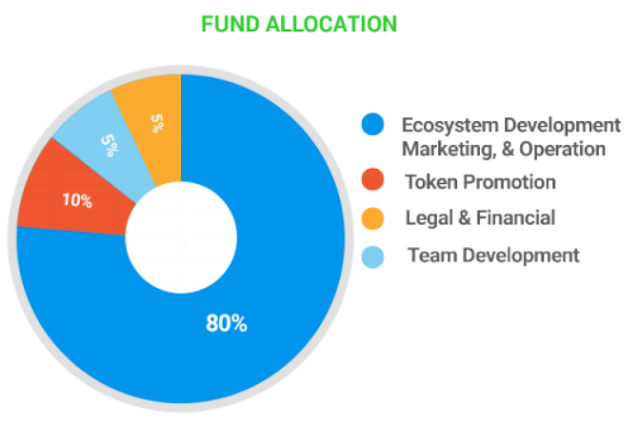 CONCLUSION
There is a hugely rapid paradigm shift from the conventional fossil fuel the world while attention is being heavily centred on renewable energy. The future of the business is beyond every reasonable doubt very bright and holds huge potential resource base for all. It is a choice area for investment for people and nations who want to key into the growing sector for national and economic development.
ROADMAP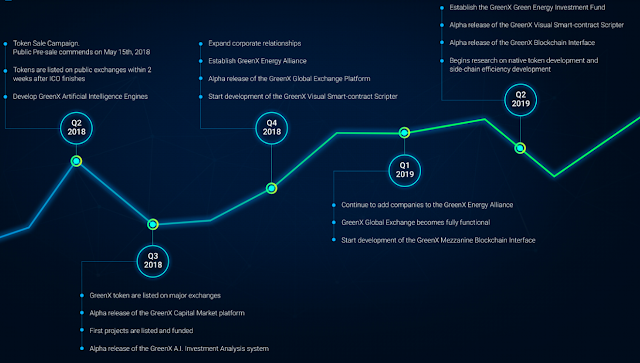 TEAM AND ADVISORS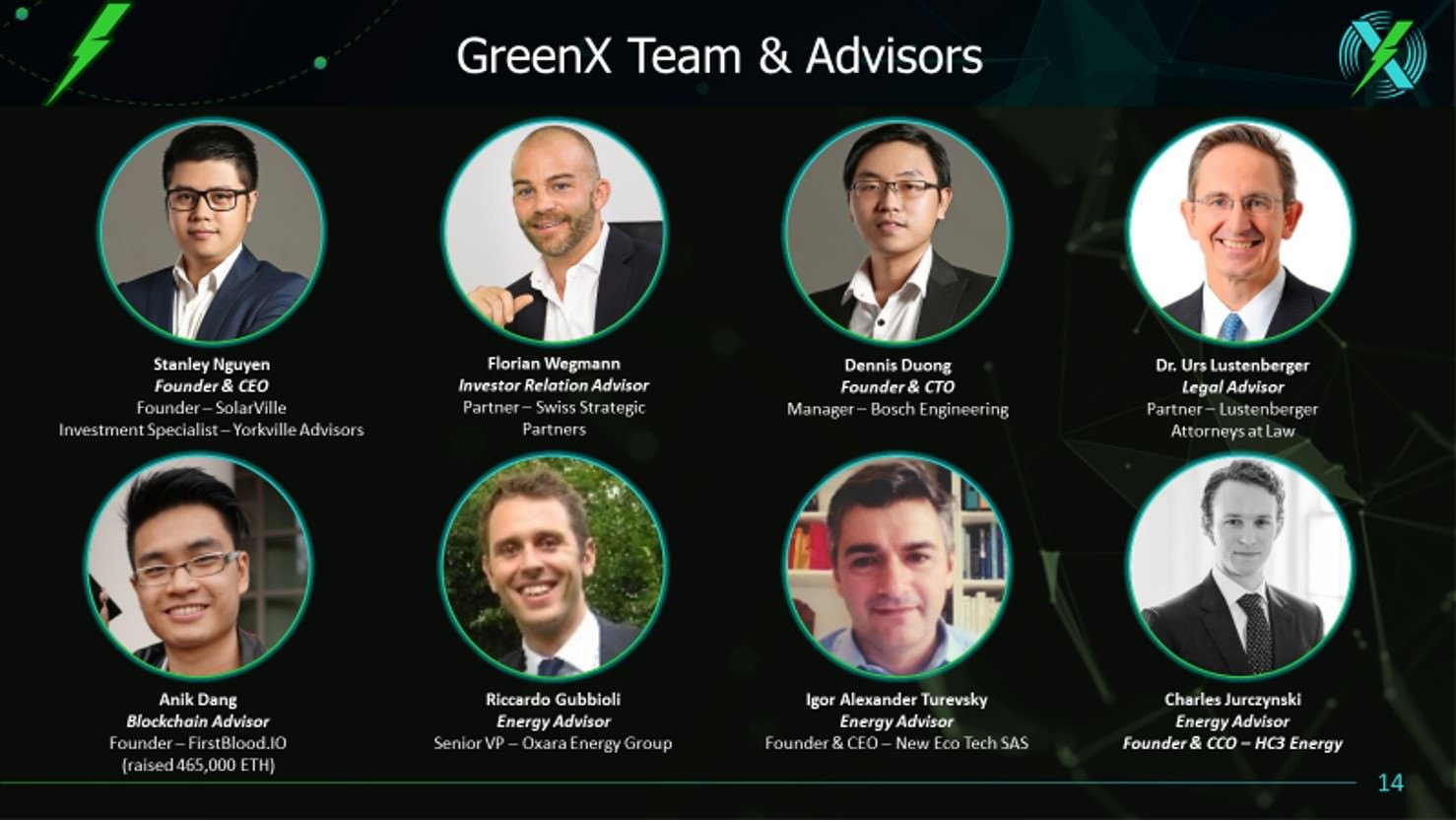 Stanley Nguyen – Chief Executive Officer
Florian Wegmann – Investor Relations
Dennis Duong – Chief Technical Officer
Akin Dang – Blockchain Advisor
Dr. Urs Lustenberge – Legal Advisor
Teresa Dang – Chief Marketing Officer
Charles Jurczynski – Energy Advisor
Igor Turevsky – Energy Advisor
Riccardo Gubbioli – Energy Advisor
Dung Nguyen – Senior Blockchain Developer
Tung Kieu – A.I Scientist
Gabriel Dinh – Product Manager
Hayden Bui – Senior Software Engineer
Jacob Tang – Database Developer
Nolan Le – Blockchain Developer
Phi Ho – Software Engineer
For more information, please visit the links below;
Website: https://greenx.network/
WhitePaper: https://drive.google.com/file/d/1rNMpBTW6VyuF6isuZt_FHUR5NdXcKwSI/view
ANN Bitcointalk Thread: https://bitcointalk.org/index.php?topic=3336435.0
Telegram: https://t.me/GreenXOfficial
Twitter: https://twitter.com/GreenXOfficial
Facebook: https://www.facebook.com/GreenXOfficial/
Author: BrainerdPaul
BitcoinTalk profile link: https://bitcointalk.org/index.php?action=profile;u=1680409