HADA DBANK: THE DIGITAL BANK TO FUSE ISLAMIC BANKING MODULE WITH BLOCKCHAIN TECHNOLOGY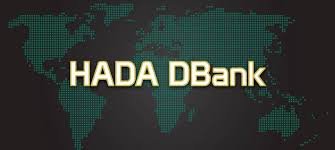 The banking sector is one important aspect of the financial industry. Many people go to banks for borrowing or financing, making the bank an intricate part of the worlds financial system. However, as important as the bank is, it is also delicate, as an act of irresponsibility can lead to ripple effects on an economy, both locally or globally, as seen with the 2007/08 global financial crisis. Traditional banks have a history of not being fair with their customers. They create systems through which they exploit their customers via debt and interest. Also, with conventional banks, customers are fed up with the high service fees and the lack of empathy from banks to customers. This can be a lot improved, which is where the HADA DBank comes to play. The HADA DBank is developing a robust digital bank that is decentralized and based on blockchain technology. It is important to note that the HADA DBank is an Islamic Bank that is transparent and runs a profit and loss sharing concept. It will eliminate the tendency for the banking system to be doctored and will handle any ripple effects in the case of a crash in the global financial system. The HADA DBank will ensure that there is no collection of interest by lenders and investors, as is with Islamic banking. For the HADA DBank to be developed, capital needs to be raised, hence the HADACoin sale. HADACoin buyers can use their coin in banking transactions or daily activities. Note that, HADA DBank customers will be issued a Debit Card that will enable them perform transactions with the HADACoin and the debit card can be used within the HADA DBank platform or other merchants around the globe.
COMPARISON OF ISLAMIC BANKING AGAINST TRADITIONAL BANKING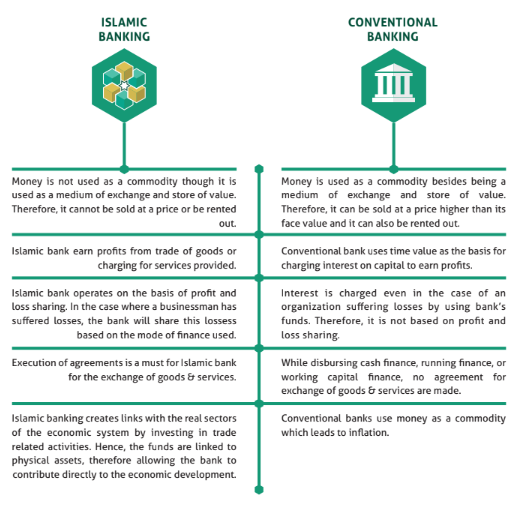 FEATURES AND ADVANTAGES OF THE HADA DBANK
• Free Encrypted Account & e-Wallet
Smartphone – Banking App
Non-smart Mobile phone – SMS / USSD Code
• Saving & Withdrawal
Probable 5% Saving Hibah per annum
No withdrawal fee
• Transfer, Remittance & Exchange
Free Transfer / Remittance of funds (FIAT & Cryptocurrency) between personal savings accounts and e-wallets
0% fee on exchange transactions via HADA Exchange (between cryptocurrencies). No charges on major FIAT currencies during FIAT/Crypto exchanges
Connect with partners or open APIs for better rate for other currencies
• Loan & Investment
0% Loan Interest
Probable 10% Investment Return
• Real-Time Payment
Real-Time Payment using HADACoin and other Cryptocurrencies / Tokens through the Hada DBank Debit Card
Note that, the HADA DBank also has other exclusive features that include managing its users daily or monthly expenditure, reminding its users of due bills, advising its users and paying them accordingly, etc. Please visit the white paper https://drive.google.com/file/d/1Nj1HuvLUzvP3QXKRbpxPaUOGXM2IodmS/view for more details.
COIN DISTRIBUTION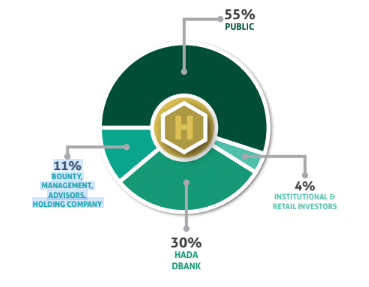 55% – Public
4% – Institutional & Retail Investors
30% – HADA DBank
11% – Bounty, Management, Advisors, Holding company
FUND USE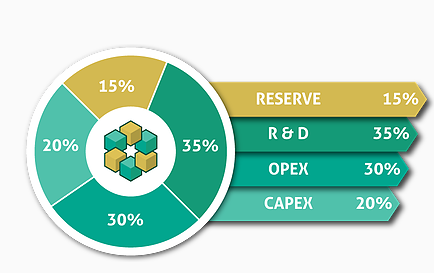 35% – Research & Development
30% – Operating Expenditure
20% – Capital Expenditure
15% – Reserve
ROADMAP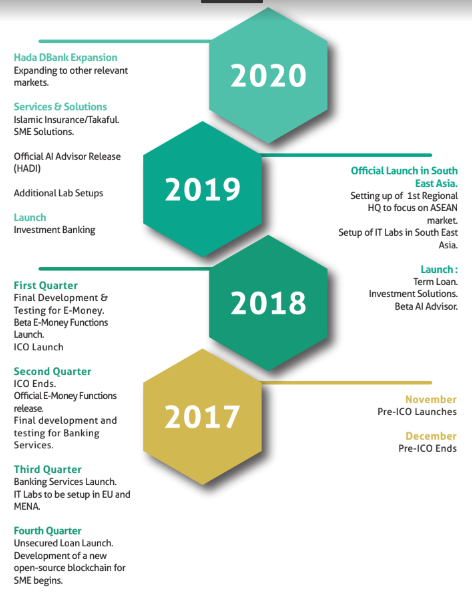 November 2017 – Pre-ICO Launches
December 2017 – Pre-ICO Ends
Q1 2018 – Final Development & Testing for E-Money
Beta E-Money Functions Launch
ICO Launch
Q2 2018 – ICO Ends.
Official E-Money Functions release
Final development and testing for Banking Services
Q3 2018 – Banking Services Launch
IT Labs to be setup in EU and MENA
Q4 2018 – Unsecured Loan Launch.
Development of a new open-source blockchain for SME begins
2019 – Official Launch in South East Asia.
Setting up of 1st Regional HQ to focus on ASEAN market
Setup of IT Labs in South East Asia
2019 – Launch
Term Loan
Investment Solutions
Beta AI Advisor
2020 – Hada DBank Expansion
Expanding to other relevant markets
2020 – Services & Solutions
Islamic Insurance/Takaful.
SME Solutions.
Official AI Advisor Release (HADI)
Additional Lab Setups
2020 – Launch
Investment Banking
TEAM
Mohamad Hisyam Mokhtar – Chairman, Interim CEO
Mohd Al-Shazanous – Interim CFO, Co-Founder
Linda Azmi – Interim CMO, Co-Founder
Juan Mahussin – CTO, Co-Founder
Marcos Macias – COO
ADVISORS
Prof. Emeritus Dr. Barjoyai Bardai – Islamic Banking & Finance
Ayad Almutairi – Management Islamic Banking & Investment
Guan Seng Khoo (PhD) – Risk & Data Scientist
Yousuf Ikram – Risk Management & Consultant
Richard Gora – Investor Expert
David Drake – Investor Relations
Robby Schwertner – Blockchain Economy Expert
Zahid Rashid Mir – Blockchain Investment & Development
Darrell Emmanuel – Investment & Asset Management
Zahid Ali – Strategic Business Development
Kevin Koo S.K. – Legal
Faiz Ahmed Faiz – Marketing & Cryptocurrency
Colonel Loc Hamaca Nawi – Security
PARTNERS
DE ASSET MANAGEMENT
Baker Green Ltd.
Kameelan Consortium
LDJ Capital
F1 Cryptos
ECLII VENTURES
VOSTAD
Banking will reach an impeccable height with the introduction of the HADA DBank. The HADA DBank has unique features that will make it a stand out. I, therefore, urge everyone to partake in its token sale event and share in its benefits.
Should you require more information on this project or want to connect with other unique participants across the globe, please feel free to click on any of the following links:
Website: https://www.hada-dbank.com/
ANN thread: https://bitcointalk.org/index.php?topic=2607739.0
Whitepaper: https://drive.google.com/open?id=1Nj1HuvLUzvP3QXKRbpxPaUOGXM2IodmS
Facebook: https://www.facebook.com/hadadbank.official/
Twitter: https://twitter.com/hada_ico
Telegram: https://t.me/HADADBank
Published by: charleyles
Bitcointalk URL: https://bitcointalk.org/index.php?action=profile;u=1344011
Ethereum wallet address: 0x69C516900e939e97C7c60Ca59bdaF15295556838