HAI Project: First Hybrid Artificial Intelligence Platform
What is HAI Project?
This is the first Artificial Intelligence Hybrid that incorporates 3 important sectors that govern our economic environment even though we can not see it very clearly. The ultimate goal of HAI is to provide the opportunity for small business owners to compete with large companies with millions of dollars destined to market research and marketing, have the opportunity to do profitable trading and ultimately protect themselves and their businesses from criminals from around the world. Creating powerful Hybrid-AIs combined with environmentally friendly infrastructure has no limit, providing an opportunity to operate this HAI system through the use of blockchain technology (Token ERC20 & Smart Contract) all users with HAI tokens will be able to benefit from the project.
VISION
Overview
Vision for the HAI Project is to create the first Hybrid Artificial Intelligence capable of detecting new cyber-threats, the opportunity both traditional financial markets and dataapplied to business intelligence.
Multiple infrastructures in every industry have flaws or misconfigured elements, allowingmalicious users to abuse their systems or even try to attack them in order to get a personal benefit at the expense of other people, this is why we need more than just power.It has been proven in multiple competitions that Artificial Intelligence is superior to humans when it is transformed raw information into usable knowledge. The most critical industries that the HAI Project Team identified were Financial, CyberSecurity and Business Intelligence sectors.
How does the HAI Ecosystem function?
The Ecosystem depends on 3 key parts, the backend HAI system powered by a green office housing registering power and principle hosting plant, HAIper a stage designed to enable users to interact with HAI and set the different options desired in order to make HAI generate reports, strategies or perform an active action such as network firewall or threat chasing and the last key piece of the ecosystem are the HAI tokens, required to interact with HAIper by using the blockchain technology of ETH called Smart Contracts which are a key piece of the lending program as well, each HAI token represents a direct relationship with HAI's processing power with the completely HAI tokens supply representing it.
HAIper and Smart Contracts
In order to make HAIper a reality a trustful mediating part was needed and it should be possible with the Ethereum Block chain technology: Smart Contracts. With smart contracts HAIper is able to bolt up tokens for certain periods of time depending on the task desired to be performed by HAI enabling tokens to have a stable price (which can go higher because of locked up tokens) and in order to dodge spikes in the price and enable HAI owners to earn a passive income we created a lending program.
Lending Program
The lending program allows HAI holders to get a passive income by just owning HAI tokens, this program resides in the HAIper stage in which the owner of the tokens puts the tokens in the market with a bolt up period from 1 week up to 6 months and a fixed lending percentage based on the market price of HAI tokens, then again anyone who wants to use HAI for a specific reason and doesn't have any desire to deal with market prices or enormous acquisitions of HAI tokens can get any sum required from other users using the inner market in which the user can locate the best offer depending on the bolt up time and lending rate.
Lend HAl Token
To draw in holders of HAl, Smart-Contract platforms will be released that enable users to lend their HAl tokens to other users who need to use HAl for personal/business purposes. Credit Percentage increases up to 10% of aggregate Loan token value, each token It will be taken from exchange with the most volume to take Liquidity as a factor.
The benefit from the Loan program will be released at the same time as the HAl token. Each Smart-Contract created from our stage will differ as per the requirements of each user, referring to: Duration, Number of HAl required, and Option to extend the span or/and sum required, Lend with purchase options et cetera. Customization comes from the two sides of the application, which previously was from the buyer's perspective, as for the token adjustment provider comes with the Loan preferences eg desired credit rate, advance processing span, options to sell, the alternative to extend the Loan time and other options.
HAI Box
In order to hit the business sector in HAI's large corporate physical examples will be provided to be connected inside the corporate network, enabling HAI to shine in cyber security that works as a sheriff inside the network that acts as almost every security network. devices generally found inside the network as well as for the monetary sector, the same HAI box can be used, however with benefits, examine the day by day actions of brokers and results that provide more accurate predictions in the future, yet not the HAI examples can function as well in research work by an authorized agent.
A HAI Box is a physical device with the capacity to run nearby instances of HAI (internet connection required) as it will go about as an extension of HAI with a simplified dashboard and customized by the client's requirements. From a more technical perspective, each HAI Box will uniquely use typical computer components with a dedicated Linux distro created to interact with the primary HAI network and with a limited set of capabilities to run just the activities specified in service contracts signed with clients to protect the borrower us and maintain a strategic distance from network abuse.
Token Distribution
Total Supply: 100,000,000 HAI
5% (5,000,000) Bounty Fund – To provide incentives to the community, we will have different referral programs and gift campaigns.
5% (5,000,000) HAI Project Team – Allows the team to continue working on projects that receive the same token section.
5% (5,000,000) Advisory Fund – To give something back to our advisors, we will lock funds for everyone who wants to help realize the HAI Project.
5% (5,000,000) Research Fund – To keep innovating, the Project will have a share of all
HAI computing power.
15% (15,000,000) Pre-ICO- The first token sales phase requires a fixed number of tokens to start the fundraising process.
65% (65,000,000) ICO – Shared in 2 phases of major token sales will give everyone in the world to have tokens and use the soon-to-be released HAI platform.
Calendar
Pre-ICO April 30th to May 13th
ICO Phase 1 May 14th to May 27th
ICO Phase 2 May 28th to June 11th
Pre-ICO
Price: 0.0004ETH for each HAI token
This will include a 20% bonus.
ICO Phase 1
Price: 0.0005ETH for each HAI token
A 15% bonus will be included.
ICO Phase 2
Price: 0.0005ETH for each HAI token
A 10% bonus will be included
Roadmap
Once enough funds are raised we will start below. Note. A confidential HAI instance is already under development.
2018
Q2
The goal is to find at least 20+ experts in the industry. These are: Artificial Intelligence, Front-end, Back-End, Marketing, Financial, Cybersecurity and Big Data.
Facility Arrangements: Acquire the entire infrastructure needed to build the hosting supercomputer where the hardware will be adjusted to the raised funds in the ICO. Partnership Agreements: In order to get the high-scope clients it is possible to help us build a good and stable organization / infrastructure. Release of test-net V1: The first version of our AI powered by our own facility will be released at a 5% capacity in order to start testing the deep learning capabilities of the system.
Exchanges Trading: Multiple exchanges will allow HAI trading in order to allow investors to start buying tokens for computing power assignation.
Q3
Product Development: Once research has been done and the test-net v1 released, the future services and / or products to be released will be fully structured, in order to deliver them at the beginning of 2019. Test-Net Upgrade: After a lot of research and testing, the main test-net of the AI will get an upgrade of the AI to decrease its learning curve. Multiple industries learning: Once the learning curve of the AI has decreased, the mass learning process will start allowing it to actively gather more knowledge.
Q4
Product Lineup Release: After legal issues have been settled and strategic partnerships signed, the product will be released allowing business to take advantage of the HAI Artificial Intelligence. Facility Upgrade: According to the AI an upgrade will be made increasing the computing power depending on the projected needs. Main-net Release: The Main-Net allowing customers touse the AI in real time will be released to the public. Lending Platform Release: Allowing HAI holders to lend tokens through our web application using the power of smart contracts.
2019
Q1
New facility creation: In the plan of expanding the business scope, another facility will be created adding 1,000+ GPUs to the main net, decreasing the learning curve of the AI.
Business Expansion: Multiple locations will be opened in critical countries allowing HAI to have a worldwide presence.
Product Lineup Expansion: As planned previously developed products and services will be released to the public for business inquires.
Q2
HAI Box: Once HAI Boxes to interested companies, HAI Boxes has been tested for a long period and the self-learning capabilities have been developed…
The three stages of token sale are synchronized and yield similar ratio in terms of output. The Ico has the highest token distribution in the HAI distribution hierarchy. The current distribution of token in HAI platform is judged as follows
Bonuses: 5%
Research: 5%
Team: 5%
Advisor: 5%
Pre-ICO: 15%
ICO: 65%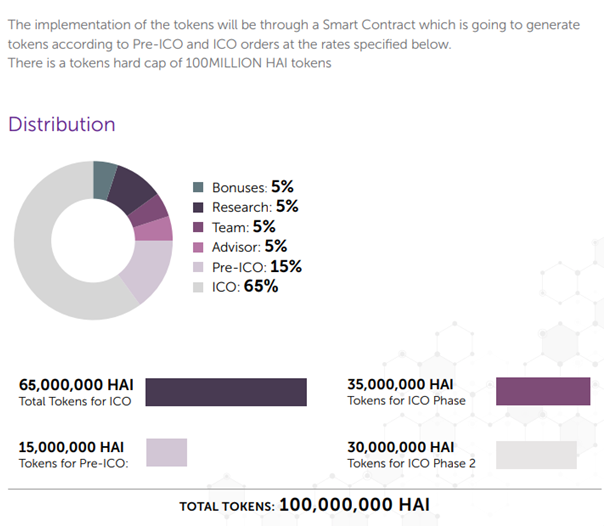 Funds Allocation
In case the ICO process doesn't reach the hard cap the remaining tokens will be burned giving a higher value to bought HAI tokens in the Pre-ICO and ICO phase since HAI Project is public and open to the funds allocation will be too, the main plain for the funds is for research hardware operations and marketing.
RoadMap
Team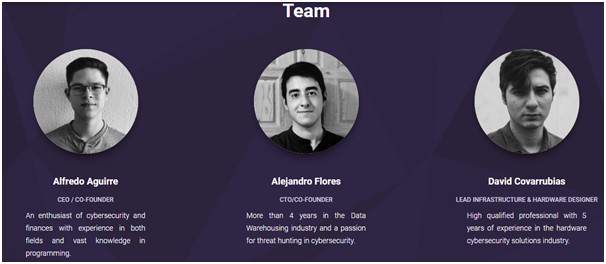 Alfredo Aguirre: CEO/CO-FOUNDER
Alejandro Flores: CTO/CO-FOUNDER
David Covarrubias: LEAD INFRASTRUCTURE & HARDWARE DESIGNER
Keyla Garza: PR MANAGER
Grecia Villegas: UX/UI LEAD DESIGNER
Lui Ferrandiz: AI DEVELOPER
Advisors