HEARTBOUT
Social network HeartBout was designed to convert the time spent in social networking to user earnings, where users get their profit in the form of HBC tokens for their activity as authors and voters. The design and functionality of the social network HeartBout has been developed through deep analysis of different services. In HeartBout users can post photos, videos and video links from popular sources like Youtube. Within HeartBout we have developed a unique functionality – the creation of categories accumulating tags and challenges/bouts between user publications.
Convenient interface
The design of HeartBout app was carefully thought out. Through analysiszed of a large number of products with similar functionality, we chose the best way of presenting the application interface.
The reward for activity
In HeartBout social network authors and voters can earn income with HBC tokens.The more often the user uses the social network, the higher the probability he/she has in earning HBC tokens.
Competition
A unique feature is the "bout" function which allows you to create a competition between users and their content in whichwhere other users will be able to vote for their favorite publication. The winner of the challenge receives the originally placed bet and the amount of tokens bet by the opponent minus the fee of HeartBout. The bet can be placed with unlimited value.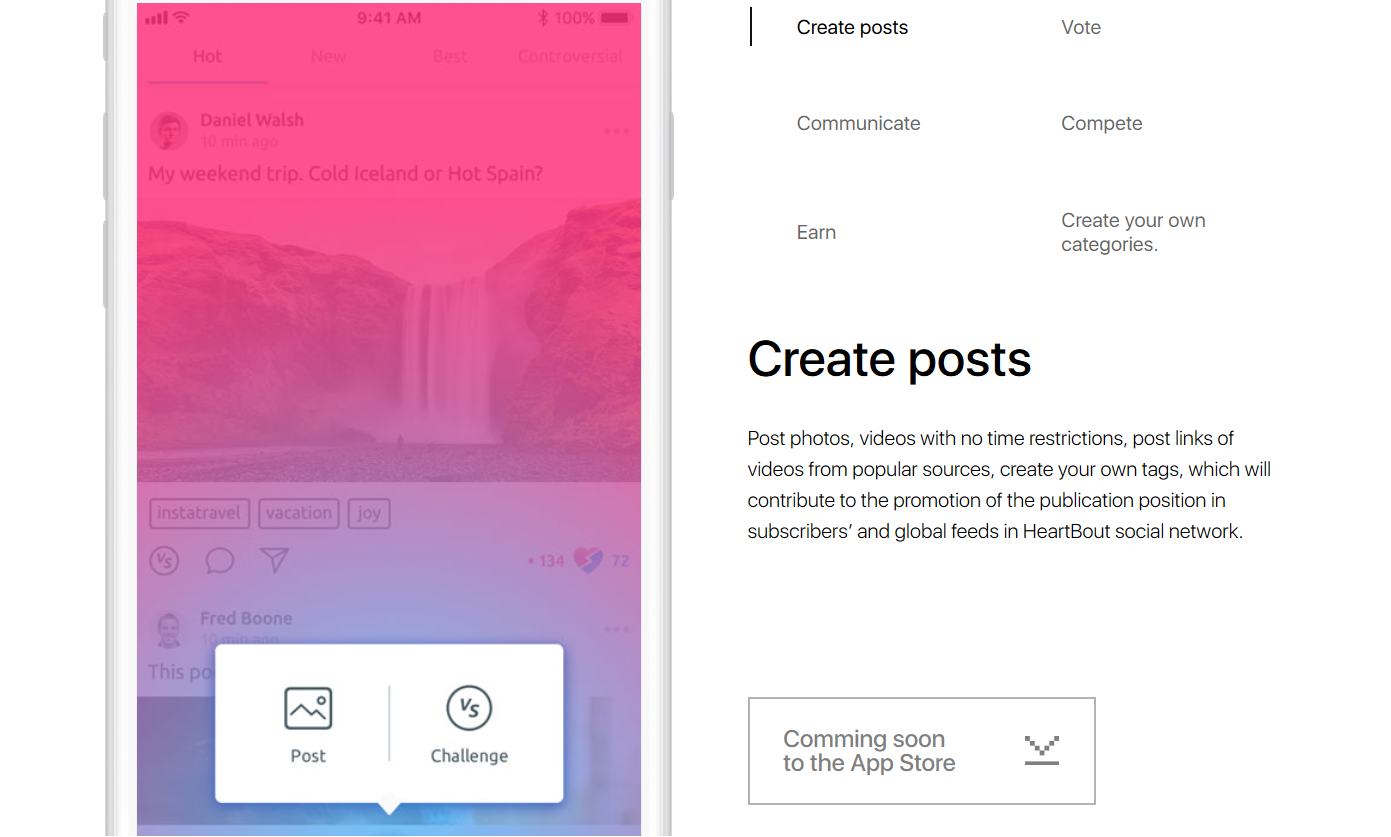 The maximum number of tokens issued for crowdsale are up to 44 million. The sum of the maximum collection amount of ETH is up to 6 thousand. The kind of token is ERC20 while the price of token is 0.051 dollar. One ETH is equal to350 dollar. The one ETHis equal to 6,863 HBC.The minimum purchase sum is 0.1 ETH crypto currency for payment.In pre-ICO, the number of tokens are 8 million. The bonuses includesa discount of 35% of the price for limited number of tokens initiating in December 15 while end in December 31, 2018. Second bonus will be provided fromJanuary 30 to February 28 which offers 20% discount ICO having 35 million. From April 1 to April 30, 15% bonus will be offer. From May 10 to June 30, 10%bonus will be offer. In December 2018 the number of tokens and the sale rate will be calculated according to the results of the system.The advantages of the HeartBout are safety and fault tolerance, input transmission speed, compatibility and speed of blockchain.The distribution of the funds are 6% for the team, 5% for the first investor, 2% for the advisers, 81.5% for the token buyers, 1.5% for marketing and 4% for the bounty. The funds are used as40% for the advancement, 5% for the operating expenses, 47% for the marketing, 1.3% for the equipment and 6.7% for other expenses.In April 2018, a chief executive officer will receive 5 thousand dollar per month. 2 iOS developers will receive 8.5 thousand dollar.2 backend developers will receive 8 thousanddollar. A technical director will receive 5 thousand dollar. A tester will receive 3 thousanddollar. A designer will receive 4 thousanddollar. A marketer will receive 3 thousanddollar. Overall the blockchain advancement includes 20 thousanddollar.The growth of new applicants will be 30% from synthetic.The average applicantcost is 1.3dollar.
Website: https://heartbout.com/
Announcement https://bitcointalk.org/index.php?topic=2559327.0
Whitepaper: http://heartbout.com/HB-Whitepapper_eng.pdf
My profile Bitcointalk:https://bitcointalk.org/index.php?action=profile;u=1063026