HeartBout: How Users can Use the System?
HeartBout is a unique, innovative and unconventional project with the vision behind to convert the time spent on social media accounts into revenue generation. Social media has changed the meaning of communication resources and allowed its users to be in contact with anyone anywhere they want to. You can post your feeling, can share your pictures, videos and create stories of your own life. Users have the freedom to make online friends, having chats with them, get information from online resources and what not the social media is providing to its users. According to a recent estimate, an average individual spends two hours daily on his social media accounts which means that out of 60 years (average age of a normal human being), we are wasting 5 years and 4 months on our social media life. These states and figures are astonishing enough to appeal us in designing such platform that can not only provide new meaning of social media entertaining but can also help its users in earning revenue by those activities they are having on their accounts. The share in revenue is given to users in the form of HBC tokens, native tokens of HeartBout system (https://heartbout.com/HB-Whitepapper_eng.pdf).
The next important question comes to mind is the how HeartBout works? The answer is very simple and can be described by a list of few points given below.
Registration: Opening up the main page, user is shown with four sections to be filled to get registered. Name, Last Name, Email Address and Password are the sections required to be filled along with the option of password re-set. It is helpful in case if the user forgets his password. After the authentication process, users get access to main News Feed screen with five different tabs including: Subscription Feed, User Feed, Add Content, My Activity and My Profile".
Feed: This screen shows the publications (also known as user challenges). Each posted information or post has a text header, photo or video, information data, cold or hot hearts and comment section.
Comments: Comments are of much importance to get enough reward. Each post can be rated by other users by suing Cold or Hot heart options shown in comment section of respective post.
Filter: The next functionality is filter that gives the option of filtering each new post. The filters include four different options including: Hot, Best, New and Not Sure. Users reaction towards some content decides its destiny such as number of hot and cold hearts posted for the respective content.
Profile Setting: Every user can customize his profile setting according to his will and wish. Majority of the available categories are private and are not shown to other users to ensure maximum privacy of users' data and personal information.
When the idea of HeartBout was planned to be executed, the most difficult things was to create an architecture that is different and is reliable enough for everyone involved in the system. The architecture of HeartBout is distributed and is operated based on streaming. The infrastructure of HeartBout is dynamic enough that it has the ability of working in a single thread to deal with hundreds of servers at the same time. This structure gives assurance of complete working even if the sockets are unavailable. Users and account holders will not face any kind of interruption in services during and replacement of any of the main servers (https://heartbout.com/HB-Whitepapper_eng.pdf).
HeartBout system is empowered by the latest blockchain technology that allows you to work with the maximum level of safety and security either to keep information hidden or transaction any amount. It keeps your work to go through without any outages, continuously it speeding up.
Safety is one of the biggest concerns in social media life and the safety measurements taken by the HeartBout system owners are established on the basis of existing safety products available in this sector. Our security department and developers are working very hard to introduce new standards of safety by bringing reliable safety products.
HeartBout ensures you with the maximum efficiency and efficacy of system and the data transfer speed of HeartBout platform as the special protocol used for designing is system allows our users to work with the maximum speed.
HBC tokens are the next attribute of our system which is going to serve as the fuel to operate the engine of economy of our HeartBout system. HBC is the abbreviation of HeartBout Coin and are the native tokens of our platform. They will not only serve in rewarding the users will also play their part in early, easy and fast adaptation of crypto currency among its users. Main ICO (Initial Coin Offering) event will be live from 31st January 2018 and will be continued till 39th June 2018. After the end of sale event, these tokens will be enlisted on international exchanges for trading purposes (https://heartbout.com/).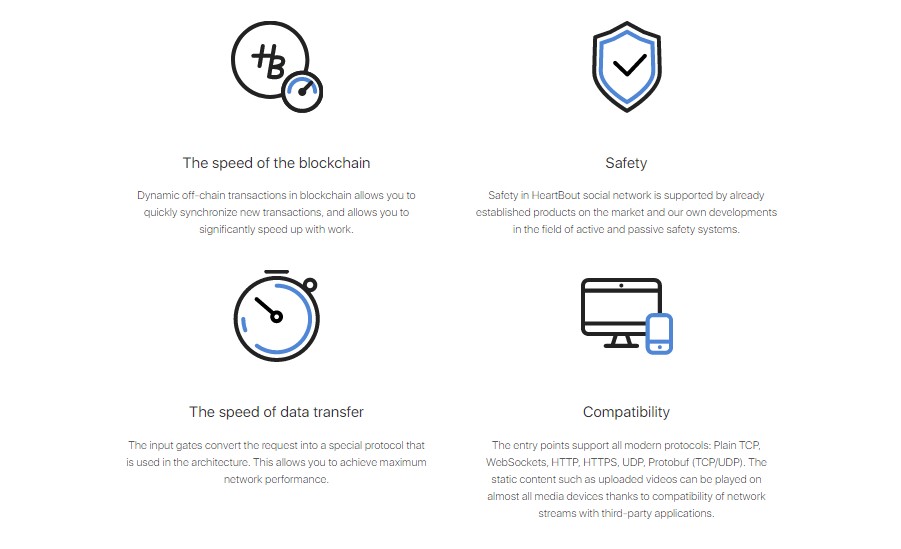 To get further updates:
Website: https://heartbout.com/
Whitepaper: http://heartbout.com/HB-Whitepapper_eng.pdf
My BitcoinTalk Profile:https://bitcointalk.org/index.php?action=profile;u=332256