HEARTBOUT- NEXT GENERATION SOCIAL NETWORK
HeartBout is a social network with a decentralized reward system based on a blockchain technology. Users taking part in creation and promotion of content receive rewards in the form of HBC cryptocurrency.
The HeartBout social network monetizes activity of users for publications, votes or comments providing issuance of HBC through its advertising capabilities.
The HBC tokens can be spent on promotion of a publication (advertisement). Besides, the coins can be taken out to an accredited stock and converted to other currencies in future.
Users assess content using "hot" (like) and "cold" (dislike) hearts. It means that the more often a user uses the social network, the more HBC they can get.
The HeartBout social network will become a revolution of communication in social networks. The HeartBout users will be rewarded for their activity, both authors and voters, and such rewards will stimulate their involvement and encourage to spend more time there than in common social networks.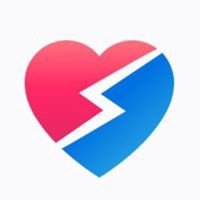 The economics of HeartBout is built on the basis of the advertising standard 100 HBC = DAU *U, guaranteeing the exchange of the issued HBC tokens at the request of the holder on the relevant number of ad impressions at the social network. Where DAU is the number of unique users who have visited the app during 24 hours U — advertising.The Reward system of HeartBout social network is built on a decentralized platform using blockchain technology. The authors, voters and miners get a reward in HBC tokens.
Blockchain Speed
Dynamic off-chain blockchain transactions. This method will enable the synchronization of new transactions quickly and will significantly speed up work with blockchain. Our service has a distributing blockchain system, which allows users to work decently with Hacked Hacker crypto.
Interaction diagram between Etherium, Blockchain HeartBout Server, Web Client, and Mobile apps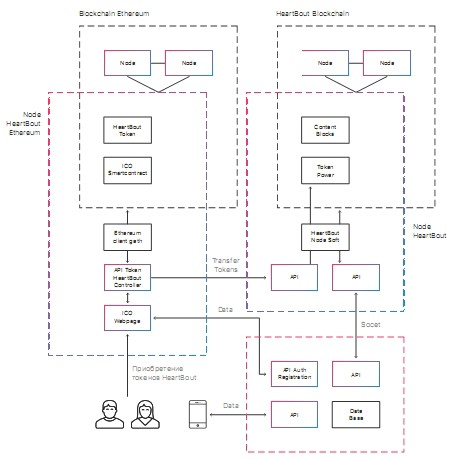 The cost of the HBC token
Internal cost of 1 HBC is calculated based on the value of one impression costing $0.02 multiplied by the DAU divided by 1000 ($0,02 * DAU/1000). Starting from June of 2018, we expect growth of DAU from 30 000 to 252 970 users in December. Thus, we expect growth in price of 1 HBC from $0,6 to $5.1.
HeartBout ICO
Pre-ICO
The number of tokens — 8 235 600
Bonuses:
December 15—31 — a discount of 35% of the price (for limited number of tokens)
January 30—February 28 — 20% discount
ICO
The number of tokens — 35 962 120
Bonuses:
April 1—30 — 15%
May 10—30 June — 10%
• The maximum number of tokens issued for sale — 44,197,720
• The sum of the maximum collection amount of ETH — 6 440
• The name of token: Heart Bout Coin
• The kind of token: ERC20
• The price of token: 0.051 $, 1 ETH (at the dollar rate 1 ETH — $ 350) = 6 863 HBC
• The minimum purchase : 1 HBC
• Crypto currency for payment: ETH
Crwodsale occasion for HBC tokens will begin from 31st January 2018. It is a magnificent chance to purchase HBC tokens by getting some reward.
For more information;
Website: https://heartbout.com/
Announcement https://bitcointalk.org/index.php?topic=2559327.0
Whitepaper: http://heartbout.com/HB-Whitepapper_eng.pdf
My profile Bitcointalk:https://bitcointalk.org/index.php?action=profile;u=1071473