HI:HEALTH – IMPROVING THE QUALITY AND DURATION OF MAN'S LIFE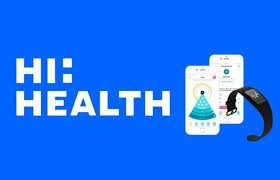 The importance of quality health to humans cannot be overstated. Poor health means poor life and can also have a ripple effect on economic activities, both personally and generally. The importance of sound health has been brought to the fore when the increasing rate of illnesses and sicknesses all over the world is considered. Sadly, a huge percentage of the illnesses are not getting any better as revealed by the World Health Organization (W.H.O). Yes, preventive measures can be taken to prevent illnesses and diseases, but often times, people only get to find out the state of their health when it is already deteriorating. Some examples of the illnesses include diabetes, bronchial asthma and various cardiovascular diseases, etc. Could this be due to negligence or lack of reliable medical predictions? Your guess is as good as mine. For a fact, doctors in various regions all over the world have had huge cases of misdiagnosis which have led to alarming death rates and humongous economic losses. Also, all over the world, there are many unqualified medical staff who also contribute immensely to the poor health state of the many people. These failing health conditions have resulted to huge sums of money being spent on a daily basis just to keep life, the very free life given to us by our maker, going. However, don't you think the situation can be better? Don't you think being able to strategically manage your health in a way that you can determine in details possible health risks and diseases and take necessary steps to curb them before they become full blown or are incurable will be good for us as humans? Modern self-educating systems can very accurately and in real-time holistically diagnose human organism to find previously unknown patterns between indexes in activities of the human body and the state or rate of being ill. Imagine a syncretic combination of medicine and artificial intellect for strategic personal health management. Great right? Its personal and economic importance can, indeed, not be overstated. This is what the Hi:Health project brings to our world.
Hi:Health is a global medical ecosystem that is based on artificial language for complex real-time personalized diagnosis of the human organism. AI has the ability to analyze the slightest health deviations that are undetectable by humans. Hi:Health uses the data of medical examinations of patients, coupled with health monitoring gadgets to train AI to conduct early diagnosis of various diseases. Hi:Health does it diagnosis on a cause-effect basis, i.e it uses AI to conduct early diagnosis of various diseases and to find the previously uncovered cause-effect relationships between the functioning of the systems and organs of the body and the occurrence of diseases. Note that, Hi-Helath has its mobile app which will help make its processes easier.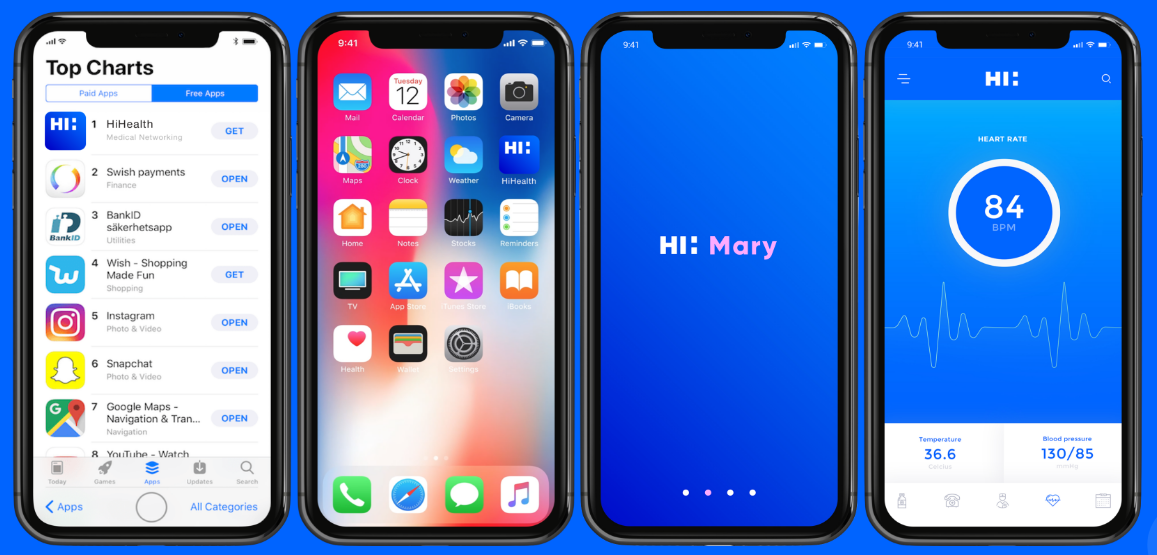 The Hi:Health platform has various ecosystem for a doctor, for business,
Using the Hi:Health platform, the healthcare industry will be able to have the following benefits:
• Earnings on the sale of personal medical data for individuals
• Identifying the probability of diseases without visiting doctor
• Monitoring patients' health in real-time
• DNA testing for recognizing the predisposition to diseases, for choosing the most suitable diet, the method of keeping oneself in shape, etc.
• Increased profitability for pharmaceutical, insurance, medical and other companies. Database analysis of companies by Hi:Health ecosystem
Also, the Hi:Health platform has the following components in its ecosystem: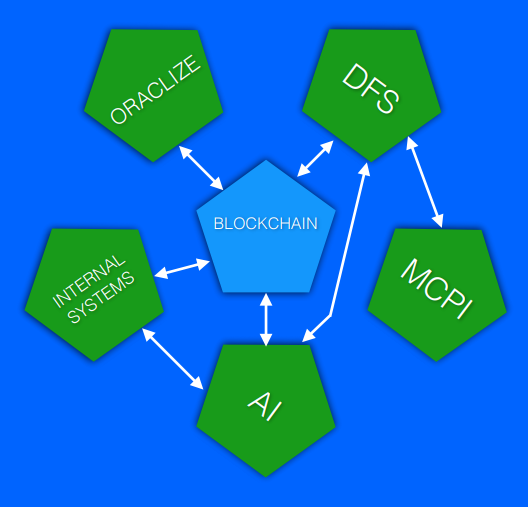 • Blockchain
• Decentralized file sharing service
• AI analyzer
• Oraclize
• Certificated (MCPI)
• Smart contract.
For more details on this project, please read the whitepaper https://hihealth.io/assets/_HiHealthWPv0.2ENG.pdf or visit the website https://hihealth.io/ .
BENEFITS OF THE HI:HEALTH PLATFORM TO ITS USERS
• Searching and purchasing proven drugs.
• Downloading personal medical data.
• Secure and anonymous storage of medical data.
• Rewarding in the form of getting tokens (tokens allow extending the application functionality, purchasing health and life insurance).
• Anonymous sales of your data for platform tokens.
• Analysing data using artificial intelligence for diagnosing diseases at early stages.
• Purchasing and connecting tested devices (gadgets) for express diagnosing of the organism.
• Making appointments for undergoing medical examination.
HI:HEALTH TOKENS AND DETAILS OF ITS SALE
Hi:Health tokens (HIH) are going to be issued during the its ICO so that funds generated will be used to further develop the Hi:Health platform, machine learning neural networks as well as enable the platform to become more stable i.e. self-sufficient. A total of 1 billion HIH tokens and no more will be available for sale during the ICO. It is important to know that HIH tokens are based on the Ethereum blockchain and are needed in order to use the full features of the Hi:Health platform apart from the basic features which are accessible for free. An increase in demand of HIH tokens as time goes on (because they are the only means for payment within the Hi:Health platform), coupled with the fact that the tokens are limited in supply, will lead to an increase in the value of the tokens. Please visit the website here https://hihealth.io/ or read the whitepaper https://hihealth.io/assets/_HiHealthWPv0.2ENG.pdf for more details on the pricing of each HIH token.
TOKEN DISTRIBUTION


8% – Bounty
15% – Team
7% – Advisers
10% – Pre-Sale
60% – Public Sale
ROADMAP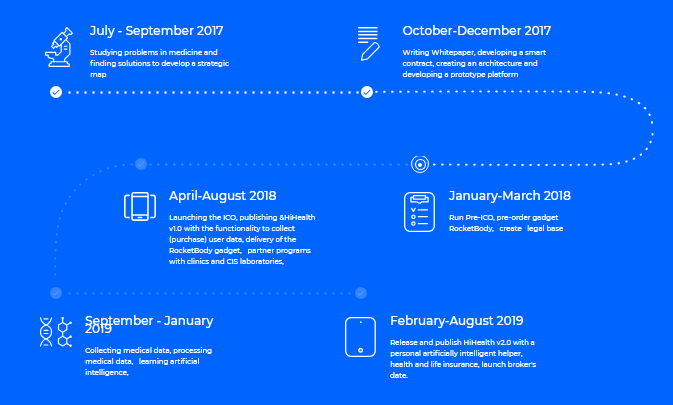 July-September 2017 – Studying problems in medicine and finding solutions to develop a strategic map
October-December 2017 – Writing Whitepaper, developing a smart contract, creating an architecture and developing a prototype platform, preparing marketing strategy.
January-March 2018 – Run Pre-ICO, pre-order gadget RocketBody, create legal base
April-August 2018 – Launching of ICO, Hi: Health v1.0 publication with functionality for collecting (purchasing) user data, concluding partner programs with CIS clinics and laboratories.
September-January 2019 – Сollecting medical data, processing medical data, learning artificial intelligence,
February-August 2019 – Release and publish HiHealth v2.0 with a personal artificially intelligent helper, health and life insurance, launch broker's date.
TEAM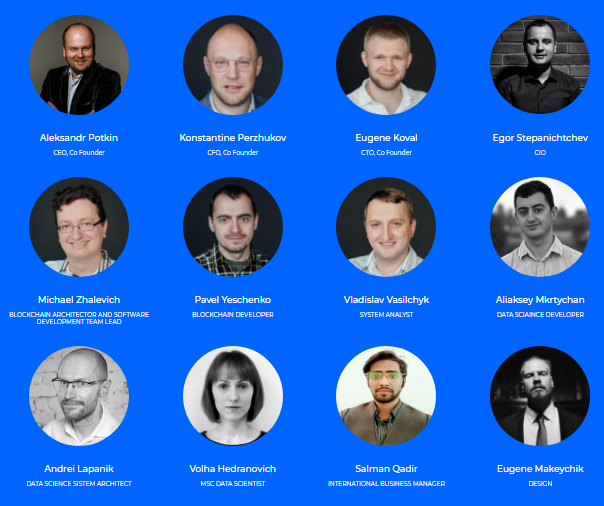 Aleksandr Potkin – CEO, Co-Founder
Konstantine Perzhukov – CFO, Co-Founder
Michael Zhalevich – Blockchain Architector and Software
Pavel Yeschenko – Blockchain Developer
Egor Stepanichtchev – CIO
Aliaksey Mkrtychan – Data Science Developer
Eugene Koval – CTO, Co-Founder
Vladislav Vasilchyk – System Analyst
Eugene Makeychik – Design
Salman Qadir – International Business Manager
Volha Hedranovich – MSC Data Scientist
Andrei Lapanik – Data Science Sistem Architect
ADVISORS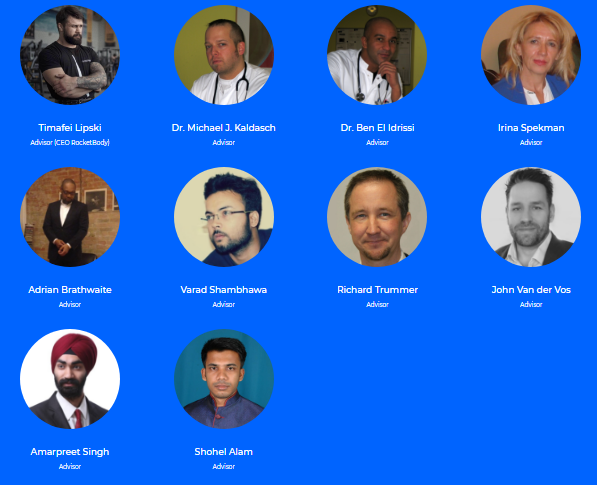 Timafei Lipski – Advisor (CEO RocketBody)
Dr. Michael J. Kaldasch – Advisor
Dr. Ben El Idrissi – Advisor
Irina Spekman – Advisor
Adrian Brathwaite – Advisor
Varad Shambhawa – Advisor
Richard Trummer – Advisor
John Van der Vos – Advisor
Shohel Alam – Advisor
Amarpreet Singh – Advisor
Human morbidity will be well tended to with the use of the Hi:Health platform. I can already imagine the efficacy of its use on a wider scale. I hereby urge everyone to become a part of the token sale so as to not miss out on this exciting project.
Should you require more information on this project or want to connect with other unique token sale participants across the globe, please feel free to click on any of the following links:
Website: https://hihealth.io/
ANN thread:
Whitepaper: https://hihealth.io/assets/_HiHealthWPv0.2ENG.pdf
Facebook: https://www.facebook.com/hihealthapp/
Twitter: https://twitter.com/hihealthapp
Telegram: https://t.me/HiHealth0
LinkedIn: https://www.linkedin.com/groups/12093592
VK: https://vk.com/club162297930
Reddit: https://www.reddit.com/user/HiHealth
Published by: charleyles
Bitcointalk URL: https://bitcointalk.org/index.php?action=profile;u=1344011
Ethereum wallet address: 0x69C516900e939e97C7c60Ca59bdaF15295556838