HORIZON COMMUNICATION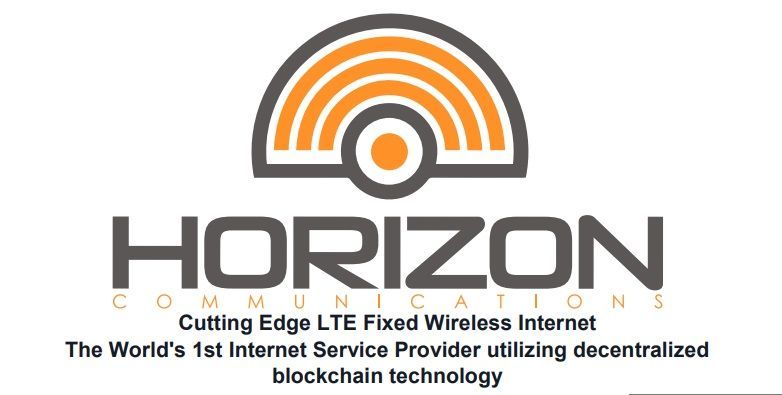 Horizon Communications is a wireless Internet Service Provider (ISP) that uses high-speed blockchain technology up to 150 Mbps by 2018 and will be expanded faster to 300 Mbps faster by the end of 2018/2019 using fixed wireless 4G LTE technology with a radius area of ​​up to 15 Miles based in the Bermuda region (a British overseas territory in the northern Atlantic Ocean, about 933 km from the coast of North Carolina, USA).
The issue of critically slow Internet, unreliable, and poor Internet services in Bermuda has led to the integration of a blockchain network that will help solve problems that Internet users among the people of Bermuda are facing. This same issue has made a group of well-established and skilled personnel, who are well versed as far as the Internet is concerned, to set up an Internet service provider that will rely on various technologies to better Internet services at an affordable cost. This will be good news for Internet users among the people of Bermuda, simply because, the new Internet Service Provider (ISP) Horizon Communications – a high-speed Internet service provider will be based in Bermuda and serve the entire Caribbean.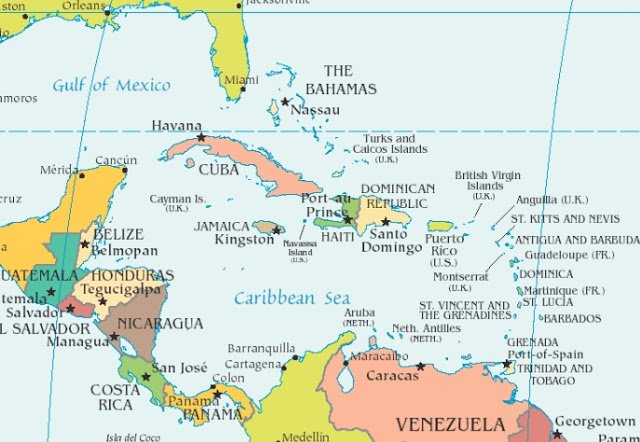 Horizon will utilize LTE fixed wireless for last-mile delivery to end users. The service offering will include Internet speeds of up to 150 Mbps in 2018 and 300 Mbps and faster in late 2018 / 2019. Alongside high speed Internet services, Horizon will provide High Definition TV services as well as Voice over Internet Protocol (VoIP) Telephone services. This wireless network infrastructure will be delivered over a software defined radio system custom built using 4G LTE-Advanced (Release 13) standards.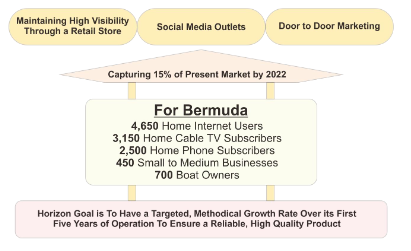 WHAT IS FIXED WIRELESS?
Fixed Wireless is an internet industry term to describe the network technology used to connect our customers homes and businesses to a wireless infrastructure that will be owned and operated by Horizon. The term "fixed" is a system that provides broad band internet access to a single location using radio waves, eliminating the need for overhead or underground phone and cable lines. Horizon customer's will have an exterior mounted antenna to capture Horizon's service, ensuring a very high quality of connection. Although many customers within 1–2 miles of our towers will not need an external antenna, Horizon will install one to ensure quality.
HORIZON COMMUNICATION
Horizon Communications — this high-speed Internet provider will be based in Bermuda and serve the entire Caribbean. They will use LTE wireless communication to deliver user communications. Their service will include Internet speeds of up to 150 Mbps in 2018 and 300 Mbps and even faster at the end of 2018 in early 2019.
In addition to high-speed Internet, they transmit high-definition television services. Internet Protocol (VoIP) Telephone services. This wireless infrastructure will be transferred through the user software using the 4G LTE-Advanced standards. After attracting and successfully growing capital, Horizon plans to launch a business in Bermuda in mid-2018. Using this technology, they will be distributed to the countries of the Caribbean and other countries of Central America. It is expected that Horizon will cover with its network more than 95% of Bermuda's houses and businesses with a small number of towers. The sea cover will cover about 15 miles from the shore. They want to build the most reliable network.
Schwartz intends to enter the Bermuda market within 5 months after the infusion of capital. At the same time, Horizon plans to cover at least 15% of the Bermuda market in 4–5 years. Five-year financial forecasts of Horizon in Bermuda will be about 44 million dollars. The US, compared to the cost of spending about 26 million dollars. USA. Thus, the total profit is 18 million. USA They plan to use blockchain technology in many ways. Horizon created its own unique marker based on Ethereum, which is called Horizon and is denoted by the symbol HRZN. Owners of tokens are eligible for discounts on services. In addition, they are going to divide a part of the profit with the holders of markers and execute a program for the repurchase of the marker with a partial profit. The target amount for profit distribution is 15%, and about 5% is intended for the buy-out program.
Customers will be able to pay for services using the HRZN token. Employees can also be given tokens. It is planned that the token will be available for trading on different exchanges. Blockchain will also be used by Horizon to provide a data warehouse with integrated blockchain technology. Client portals will have access to an encrypted, decentralized repository. Horizon also plans to offer VPN services or a virtual private network, also using blockchain solutions.
There is a great opportunity to improve wireless network offerings in the Caribbean region and especially in Bermuda. Current proposals in these regions can be very slow and unreliable. Most competitors can only offer speeds of 10 Mbps. A fast and reliable Internet has become important for many people and businesses. Tourism and cruise ships provide an additional opportunity for wireless Internet providers. In 2016 more than six hundred thousand tourists visited Bermuda. Horizon plans to offer services for tourists and cruise ship ports.
HORIZON COMMUNICATIONS TECHNOLOGY
Horizons current 4G LTE-Advanced equipment will be able to deliver speeds of up to 300 Mbps per client utilizing outdoor antennas and fixed wireless client premise equipment. In the future, when faster customer premise equipment becomes available, speeds of up to 1 Gbps per client will be possible. The LTE technology provides a software upgrade option to update our LTE to the latest 4G and pre-5G standards without a major hardware upgrade to the network. Our network will continue to be compatible with legacy 4G LTE equipment, even as we advance towards 5G LTE.
HORIZON will also be using a self healing combination of wireless microwave and fiber technologies to provide high speed, very low latency transport between our communications towers. The wireless technologies include both licensed 2 Gbps point to point links as well as 10 Gbps millimeter microwave (MMW) point to point communications systems to build a highly resilient mesh network topology. Where available, fiber will be used as a 3rd layer fail over backbone. It is our goal to build and maintain the highest reliability wireless network that will surpass the benefits of traditional fiber networks or coax, while maintaining the ability to expand our network without the need to string wire or fiber across miles of terrain.
is using 4G LTE technology to provide Fixed High Speed Internet access, by deploying 4G LTE-Advanced Software Dined Radio (SDR) equipment by way of Carrier Grade front-haul Remote Radio Heads and LTE Base stations.
Distribution of Token Horizon
Token sales will last for 30 days. Horizon Communications targets to receive up to 40mil USD from our original token contributor (including pre-sales). The HRZN smart contract will stop accepting commitments when it reaches ETH hardcap.
Less than 3% of total tokens for sale will be available during the first 24 hours with a special bonus of 60%.
• Token Name: HRZN
• Minimum Purchase: 0.15 ETH / 150 HRZN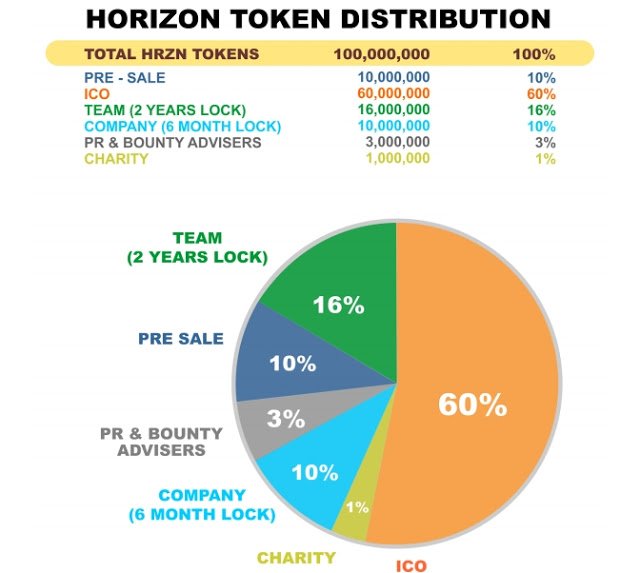 For more information about the project please visit the links below;
Website: https://www.horizoncomm.co/
WhitePaper: https://www.horizoncomm.co/feast-content/uploads/Horizon-Whitepaper.pdf
Facebook: https://www.facebook.com/HorizonCommICO/
Twitter: https://twitter.com/HorizonCoin
Telegram: https://t.me/HorizonCommICO
Youtube: https://www.youtube.com/channel/UCsG1ioVuUE-QC8fKcvzq90w/videos
Author: Brainerdpaul
BitcoinTalk profile link: https://bitcointalk.org/index.php?action=profile;u=1680409