HUSSY
Sex work (or prostitution) is the business or practice of engaging in sexual activity in exchange for payment either as money, goods, services or some other benefit agreed upon by the transacting parties.There is expected to be around 40-45 million sex workers living all over the world with generated annual revenue of almost $200 billion.
What Is HUSSY.io ?
HUSSY.io is a distributed escorting and due diligence infrastructure. The value proposition is to create a platform and to provide incentives for sex workers around the globe for safe execution of their profession.
VISION
We have a simple but clear vision – to defend the free market and self-ownership. We believe in a future, where all women are in control of their own sexuality, including consensual exchange of money for sex with ability to set a fair price, timing and circumstances of the sexual act.visit https://hussy.io/app/assets/whitepaper.pdf more information.
How it works
The Blockchain revolution allows to reshape the old order of engaging in sexual activity in exchange for a payment for the better.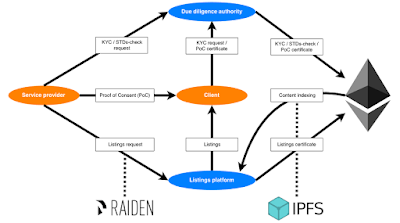 Problem
problems faced by participants in this industry – namely, illegal sex work, human trafficking,violence against women and children,increased probability of transferring sexually transmitted diseases (STDs), time-wasting clients or false rape accusations.
Blockchain is the solution
Our solution will revolutionize engaging in sexual activity in exchange for payment by utilizing the Blockchain technology. The Blockchain will enable to increase the privacy, safety and the trust in the sex work industry like never seen before.and The solution we offer provides anonymized but verifiable KYC compliance, professional health certification and Proof of Consent stored on the Blockchain.In this paper we describe in detail the problems with the status quo, our proposed solution,roadmap, business plan and conditions of the crowdsale.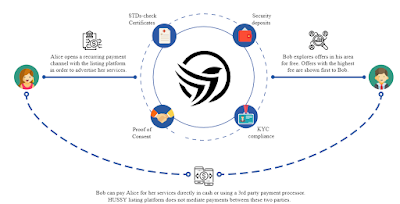 Open to 3rd party platforms
HUSSY is not just another another escorting platform, but rather a whole escorting infrastructure. We are legally able to operate our own escorting platform only in selected countries, however anyone can open their own escorting platform anonymously in any country and join the distributed HUSSY infrastructure in order to improve the status quo of the global sex work industry.
Decentralized nature of the HUSSY infrastructure makes it near impossible to shut down. Our solution is not dependend on a central server, which makes it resistant to harmful regulations like FOSTA / SESTA. Only the data owners are in control of their data, nobody else is able to delete or modify the data — not even us, not even the listing platforms and not even the law enforcement.
Fair & flexible fee schedule
Monetizing of listing platforms is based on a fair advertising fees that are updated according to demand for sex services in a given time and location. Every service provider can choose an optional fee for a listing — the higher the fee, the more often will be the offer shown to potential clients. All fees are payable in ERC-20 tokens.
No time-wasting or abusive clients
Clients are incentivized to make a security deposit before arranging a meeting. In case of an inappropriate or abusive behaviour, the client risks losing of his deposit. Furthermore, service providers may require a client to make a booking deposit in order to filter out time-wasting clients that make a reservation but never appears on a meeting.
Main features
Due diligence
anonymized but verifiable KYC compliance
professional health certification
Proof of Consent stored on the Blockchain[/b]
Listings platform
flexible fee schedule based on Raiden network
security deposits for clients on the Blockchain to avoid time-wasting clients that arrange a meeting but never arrive
utilization of machine learning in order to find the near-optimal fees strategy for a given time and location
Crowdsourcing campaign
Crowdsale fundraising goals are given in terms of soft cap (lower limit) and hard cap (upper limit). The crowdsale is considered as successful once the soft cap has been reached. In case of unsuccessful token sale, all funds collected during the public sale are returned to backers. Total number of 100,000,000 HUS tokens have been issued. The token is sold in two phases – private (10,000,000 HUS including bonuses) and public (50,000,000 HUS). All unsold tokens will be burned. More information and enquiries at info[at]hussy.io or through our social media.
Soft cap: $2,000,000
Hard cap: $20,000,000
Target token price: 1 HUS = $0.36
Token crowdsale
The HUSSY platform is built on top of Ethereum Blockchain. We have issued ERC20-compliant utility token that will be sold in the form of a private and public token offering. No security tokens will be sold during the public token sale (also called Initial Coin Offering or ICO). Tokens will be primarily used by service providers for paying listing fees on the HUSSY platform and for security deposits from clients.

Token Distribution and Allocation of Funds

Roadmap
Q2 2017
Initial idea formulated.
Q4 2017
Research and analysis
Q1 2018
Website deployed
Q1 2018
Whitepaper published
Q2 2018
Bitcointalk announcement
Q2 2018
Bounty program started
Q2 2018
Private token sale
Q3 2018
Working product demo (MVP)
Q4 2018
Public token sale
Q1 2019
Official launch in selected countries
Q2 2019
Official launch in EU
Q3 2019
Official launch Asia & South America
Q3 2019
Health certificates
Q4 2019
10.000 active listings
For more information please visit:
Website: https://hussy.io
Whitepaper: https://hussy.io/app/assets/whitepaper.pdf
Telegram: https://t.me/hussy_io
Twitter: https://twitter.com/hussy_io
Bitcointalk profile link:https://bitcointalk.org/index.php?action=profile;u=1925101
ETH address:0x5B606c2F10687e77dc7Fe644E429320C6a39Df63
DISCLAIMER:This post was brought to you by Opeyemi being my personal project on Hussy campaign project