HUSSY.IO: DISRUPTING THE OLDEST PROFESSION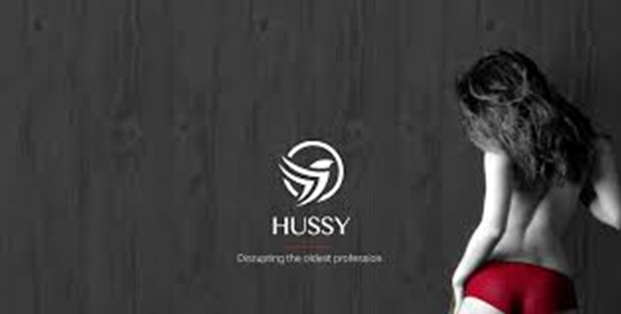 One of the most persuasive myths about prostitution is that it is "the oldest profession". Feminist abolitionists, who wish to see an end to the sex trade, call it "the oldest oppression" and resist the notion that prostitution is merely "a job like any other". Global changes in migration, health, employment, and public policy are having a major impact on the sex industry. Major drivers of change in the sex industry are economic, demographic, ideological, and technological.
Globalization is the umbrella term used to express many of these changes, which include increased economic interdependence of different countries through trade, the extension of the world market to areas of the world previously isolated, increased movement of people and of capital, and the rapid spread of new technologies and media across wide sections of the globe. Each of these aspects actually has had an impact on the sex industry.
HUSSY.io is a distributed escorting and due diligence infrastructure. The value proposition is to create a platform and to provide incentives for sex workers around the globe for safe execution of their profession. The launch of HUSSY is funded mostly through a crowdsourcing campaign. Crypto tokens that can be spent in HUSSY infrastructure will be sold during this campaign.
The value proposition of HUSSY is to create a decentralized due diligence and escorting infrastructure that is safe by design. The solution we offer provides anonymzed but verifiable KYC compliance, professional health certification and Proof of Consent stored on the Blockchain. HUSSY is not just another escorting platform, but rather a whole escorting infrastructure. We are legally able to operate our own escorting platform only in selected countries; however anyone can open their own escorting platform anonymously in any country and join the distributed HUSSY infrastructure in order to improve the status quo of the global sex work industry.
TOKEN INFORMATION
Name – HUSSY
Symbol – HUS
Supply – 100,000,000
Decimals – 18
ENS – Hussytoken.eth
Soft cap – $2M
Hard cap – $20M
TOKEN DISTRIBUTION
Token Sale – 60%
Bounty Program – 3%
Early adopters – 3%
Treasury – 21%
Team members – 10%
Advisory board – 3%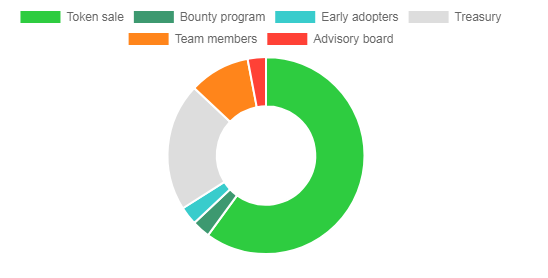 ALLOCATION OF FUNDS
Development – 30%
Marketing – 20%
Acquisitions – 20%
Administrative – 5%
Legal – 5%
Reserve – 20%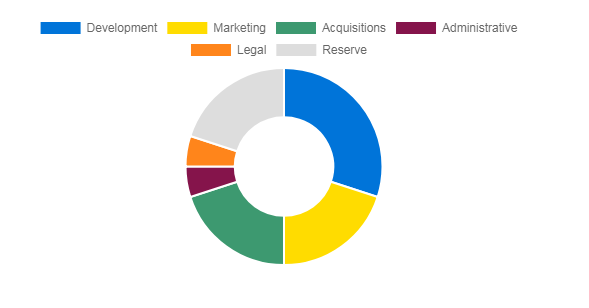 ROADMAP
Q2 2017 – Initial idea
Q4 2017 – Research and analysis
Q1 2018 – Website deployed
Q1 2018 – Whitepaper published
Q2 2018 – Bitcointalk announcement
Q2 2018 – Bounty program started
Q2 2018 – Public token pre-sale
Q3 2018 – Minimum viable product (MVP)
Q4 2018 – Public token sale
Q1 2019 – Platform launch in selected countries
Q2 2019 – Official launch in EU
Q3 2019 – Platform launch Asia & South America
Q3 2019 – 1,000 active listings
Q4 2019 – 10,000 active listings
For more details on the roadmap, please visit the website: https://hussy.io/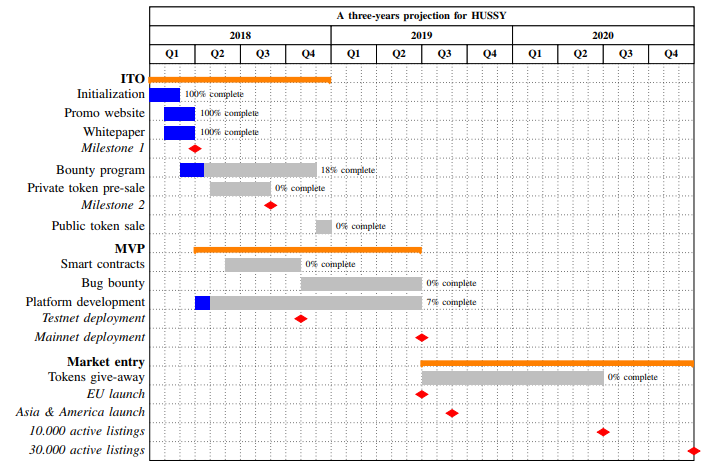 TEAM
Peter Tuala – Founder & Software Engineer
Mina Vucinic – Marketing Manager
Antonio Campos – Full Stack Engineer
Natasha Ivanovic – Content Writer
Thomas Bolleyer – Community Manger – Dach
Lenzie Santillan – Bounty Program Manager

ADVISORY BOARD
Jonathan Dunsmoor – US Securities Attorney
John Allen – Blockchain Consultant
James Kupka – Business Growth Expert
Jan Dudek – Adult Industry Expert

For more details on this project, please feel free to click on any of the following links:
Website: https://hussy.io/
Whitepaper: https://hussy.io/app/assets/whitepaper.pdf
Telegram: https://t.me/hussy_io
Twitter: https://twitter.com/hussy_io
Reddit: https://www.reddit.com/r/hussyio/
Facebook: https://fb.me/hussy.io
Medium: https://medium.com/hussy-io
Instagram: https://www.instagram.com/hussy.io/
Linkedin: https://www.linkedin.com/company/hussy/
Published by: tszone
Bitcointalk URL: https://bitcointalk.org/index.php?action=profile;u=1742409
Ethereum wallet address: 0x684c9d1c004AB2023E1d3ae9aEb902B514B703d1