What is HyperQuant?
It is a decentralized platform for investments in automated encryption based on smart contracts, guaranteeing transparency in investments stimulating small investors, large investors or even capital professionals. With the advance in the technology of numbers the platform leads to an increase of liquidity in trading instruments, as well as lower volatility of trading instruments. In short, everyone will have access to a wide variety of intelligent solutions that cover all aspects of cryptographic investment and encryption processes.
What problems does HyperQuant solve?
The infrastructure created by the developers of the HyperQuant project would not be so valuable if it did not allow solving really important and complex problems.
Here are at least some:
the lack of transparency of the crypto market – not all users are sure that trading tokens is safe and open;
lack of control in the transfer of funds to the management – today the funds that manage cryptocurrency investments, do not guarantee that the money will reach them;
dependence on the investment Fund – the owner of the capital, who transferred the money to the management, can not influence the decisions of managers;
a small number of profitable strategies – actions that bring results, have long been known, and revolutionary things do not appear on the market.
HyperQuant solves all these problems. The platform allows you to trade through a mobile application and do it as safely and transparently as possible. The money invested in HyperQuant remains under the control of the user – he can withdraw them at any time. Well, the fact that the management of funds is carried out by a computer, not a person, causes a variety of asset management, which ordinary people often can not oppose anything.
HyperQuant Benefits
The main advantage of HyperQuant, due to which the developers plan to win the competition – fully automated investment. This is a very important advantage: it gives the opportunity to invest in tokens and earn even those people who do not understand anything in investments. It is enough to set how much you need to earn and what risk is acceptable, and the platform will do everything on its own.
It is also important that HyperQuant allows participants to develop trading bots "for themselves". Sites where you can do quite a bit, and HyperQuant is one of them.
Thus, HyperQuant attracts not only those who would like to completely outsource the process of earning. The platform is also of interest to investors who are well versed in the crypto-currency sphere, but want to automate the process of generating income.
HyperQuant Tokens
It issues a utility tokens called HyperQuant Tokens (HQT) to use within the platform
It offers a chance to users to become creators of revolutionary platform. Users will get different levels of access to products and solutions based on the platform
Token – HQT
Total Token Supply – 320,000,000 HQT
Token Price – 1HQT = 0.00028ETH
Accepting – ETH
Soft Cap – 5000ETH ($2.9M USD)
Hard Cap – 41,143ETH ($23.8M USD)
Private Sale – May to June 2018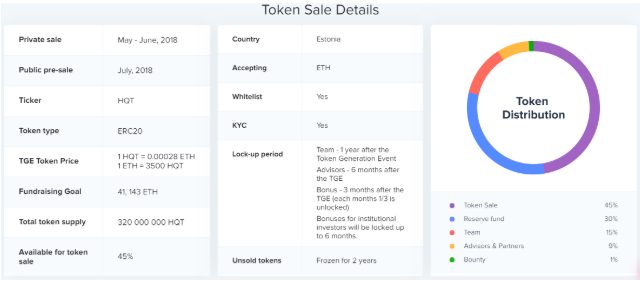 HyperQuant Features
This project is truly global, it is created for the effective interaction of small companies, as well as large corporations and venture funds. Everything related to investments in the crypto currency was taken into account by the developers. They managed to create a truly unique trading platform, which has many advantages over existing services.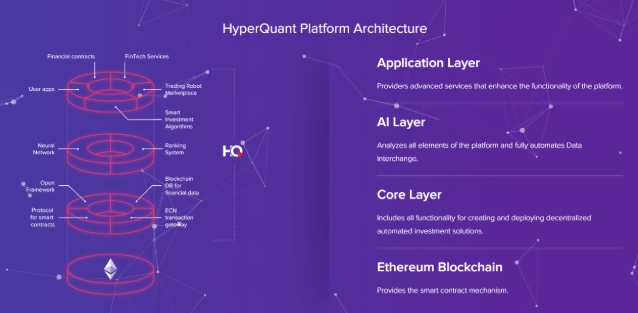 The developers want to create, and in the future improve the trading bot – it will be able to perform any necessary transactions, as quickly and safely as possible. Thanks to constantly improving artificial intelligence, the bot can take into account any changes in the market. This is a very effective, innovative solution, which will certainly be in demand among investors in this segment.
For more information access the links below:
WEBSITE: https://hyperquant.net/en
WHITEPAPER: https://hyperquant.net/en/whitepaper/
TWITTER: https://twitter.com/HyperQuant_net
FACEBOOK: https://www.facebook.com/hyperquant.net/
TELEGRAM: https://t.me/hyperquant
YOUTUBE: https://www.youtube.com/channel/UCOgRfmQR-GKJlbnF1tRQPgw
ANN THREAD: https://bitcointalk.org/index.php?topic=2104362.0
Bitcointalk Link: https://bitcointalk.org/index.php?action=profile;u=2001712