HYPNOXYS: DECENTRALIZING THE CHATTING INDUSTRY THROUGH BLOCKCHAIN TECHNOLOGY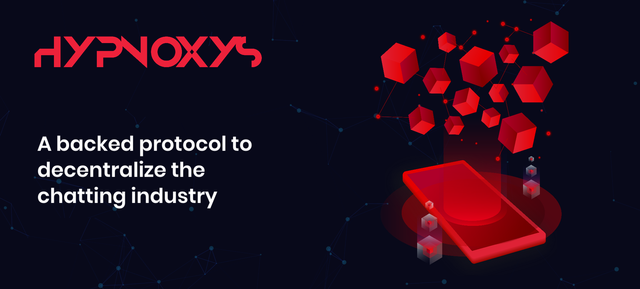 INTRODUCTION
The wide spread of internet services has grown exponential over the years. Our social lives, schools, companies and every areas of our lives have been impacted with so many technological innovations through internet.
Focusing on the communication industry, internet access through computers and smart phones brought about tremendous success in their services. Today you can easily communicate, share photos and videos with anyone globally using different instant messaging service application at the comfort of your home.
Available are various messaging and chatting applications such as Facebook messenger, WhatsApp messenger, telegram etc with centralized form of operations where users private data are collected without incentivizing the user and this data are prone to theft from cyber hackers. Sometimes this Centralized messaging platform even go as far as monetizing the personal data of it's users without their consent to other companies which inturn put the Security of users data in risk. This security threat and privacy of users data brought about HYPNOXYS.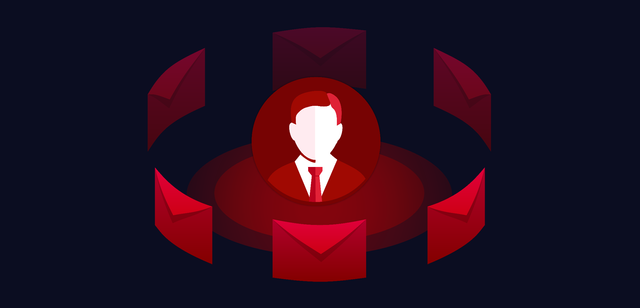 WHAT IS HYPNOXYS
Hypnoxys is the solution to the underlying insecurities and privacy of the personal datas you use on social media with its decentralized dynamic blockchain technology and reliable encryption service protocol that incentivizes users of it application.
Hypnoxys with it aim to decentralized the chatting industry developed it's chatting app whose principle of operation is based on Peer to peer communication mode with the elimination of servers as well removing the possibility of interference to aid communication between participants with required end to end encryption of participants data for security against cyber attacks
FEATURES OF HYPNOXYS
After extensive research and findings, the hypnoxys team incorporated quite a number of useful features in the hypnoxys app to enhance communication and social needs of individuals as well as well bringing an increase in the rate of blockchain adoption globally.
Hypnoxys app will offer users access to initiate individual and group text chats, public group chats, make audio and video calls between one another. Hypnoxys token will also made transferable through the app between as they use the platform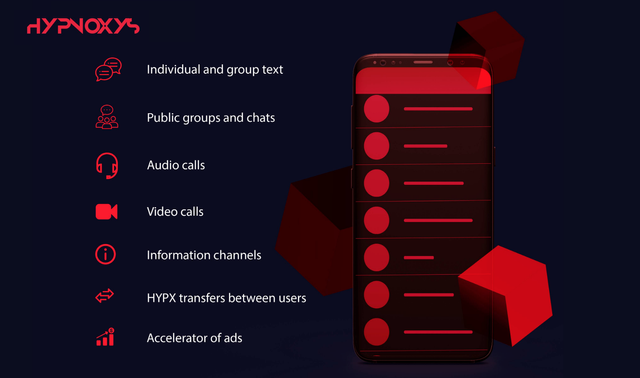 WHAT HYPNOXYS STANDS TO ACHIEVE
The aim of hypnoxys is to decentralize the chatting industry using it messaging app through blockchain technology by achieving the following objectives.
• Hypnoxys will offer solutions to the current problems users face using centralized chatting services such eliminating the risk of cyber attack and also provide opportunity for users to access cryptocurrency payment system at low cost of operation and transaction.
• Hypnoxys strives to make flexible and improve the chatting experience of it holders. With the aid of it incentives program where users will be paid for spending time on the app and the end to end data encryption, more people will be encouraged to adopt the hypnoxys platform for to reduce their data security cost as well earn revenue.
• Providing access to public group and chats with the capacity to accommodate very high participants and strengthen the unity of hypnoxys users.
• Increase the wide spread adoption of Blockchain all over the world and
HYPNOXYS TOKEN
Hypnoxys token (HPX) is the native currency of the platform currently running on Ethereum smart contract. Hypnoxys token can be purchased using Btc or Ethereum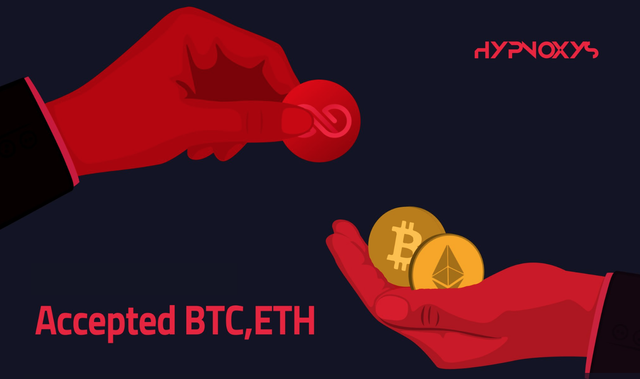 CONCLUSION
Hypnoxys platform is just what the world needs in the chatting industry for privacy and secured communication socially. Hypnoxys strives to maintain reliability and encouraging users to chat through incentives.
For more insights into the hypnoxys project, please spare sometime to read through the website and whitepaper links below.
Website : https://www.hypnoxys.com
Whitepaper : https://hypnoxys.com/docs/HYPX-whitepaper-0.8.pdf
Telegram : https://t.me/hypnoxys
BTT Thread : https://bitcointalk.org/index.php?topic=5112908
Twitter : https://twitter.com/hypnoxys
Medium :https://medium.com/@hypnoxys
Android APP:https://hypnoxys.com/apps/android/hypx_0.6.2.apk
Username: lani123lani
Bitcointalk profile: https://bitcointalk.org/index.php?action=profile;u=1220105
Eth's address: 0xaeC6B59a69a13FBea61AC87b27Cc50d8F594F923