iAM
Access the Instant Medical Blockchain Mobile Project Health Application 

Introducing iAM
The iAM integrated platform solves the biggest health problems including insurance fraud, medication compliance, prescription abuse, and also the problem of portability of medical data. With Guardtime, Healthcare Gateway, and DXS company partners our solutions will be accessible to more than 70% of the UK population. Users can share their records (guaranteed by the blockchain) and pay for services with iAM tokens. Our health care economy is governed by smart contracts. Patients, doctors, insurance companies, researchers, public health institutions and large pharmacies often have different goals. iAM reconciles conflicting goals and provides win-win results for all participants. We call it a consensus point.
Problem
Patients want their best health outcomes, the lowest out-of-pocket costs, and the ability to manage their health records directly from their cellphones.

Patients are very concerned about cyber criminals who target their medical data.

This data is now worth 100x more than the number of credit cards!

They want to guarantee their personal and safe health records.

Doctors and providers want to increase their productivity and income while giving patients high-quality care and the lowest possible costs.

Insurers want to predict risk, increase efficiency, and reduce costs.

This is possible with high-quality risk assessment and claim handling.

All insurance needs to be appropriate, current health information, and the desire to significantly reduce health care fraud.

Such fraud is currently a $ 260 billion problem worldwide.

Researchers want to gain access to anonymous longitudinal personal health care data for health analysts.

Partners want to strengthen influence, attract and retain more customers, and access the broader health care market.

AI analysts are very hungry for health data.
Solution
iAM makes patient health data actively active by automatically creating unique and personalized care pathways specifically for each patient.

This application combines multilingual warnings, reminders, and follow-up to guide patients to their best health outcomes.

These can all be accessed on the patient's cellphone.

Decentralized technology also guarantees the safety of health data for each patient.

IAM's personal care records are digital, proactive, and can be accessed anywhere in the health care setting.

This saves doctors time, and time is the same as money.

Our records use the world's best evidence to improve the quality of patient care.

Personalized care lines ensure that our solutions provide the best costumes at the lowest cost.

Patient data is stored and shared safely.

It can only be accessed and updated with the owner's concentration.

With concentration, insurance companies gain access to comprehensive, real-time data through the iAM personal care record platform.

All care records are personalized according to athlete's evidence-based care.

Insurers will be able to conduct risk assessments to optimize efficiency and reduce claims handling costs.

Decentralized allows the safe distribution of irreversible personal health care data which is evidence of fraud and evidence of damage.

IAM's personal care record allows researchers to access patient data that is comprehensive, longitudinal, multilingual, structured, coded, and anonymous.

Patients also benefit from sharing their personal identification data by getting iAM prizes and discounts.

iAM allows partners to temporarily label iAM personal care records and package them with their own solutions.

This increases efficiency, reduces costs, brings in new customers, and increases customer loyalty

There is no source of health data for AI that is better than a complete, comprehensive, elongated, multilingual, structured personal care record.

IAM personal care records provide real time access to the best data for AI Analystics.
Principle of operation
Interaction within the framework of this platform will be carried out through smart contracts between the following categories:
patient;

doctor;

insurance company;

researcher;

analytic center.
At the same time, all site participants will interact with each other using special applications, the main users being patients. This application will store the following information:
data about the patient's current state (blood test results, pressure level information, and more);

case history;

notes and reminders to visit your doctor;

history of used medical products and data about their effectiveness.
By using this application, users can at any time read the data above. In addition, with this program, patients can open chat and consult with a doctor first.
In addition, patients can use this application to anonymously sell personal medical data to various research laboratories and analysis centers. For data transfer, users will be given an IAM coin, which can then be used to pay for doctor services and medical centers.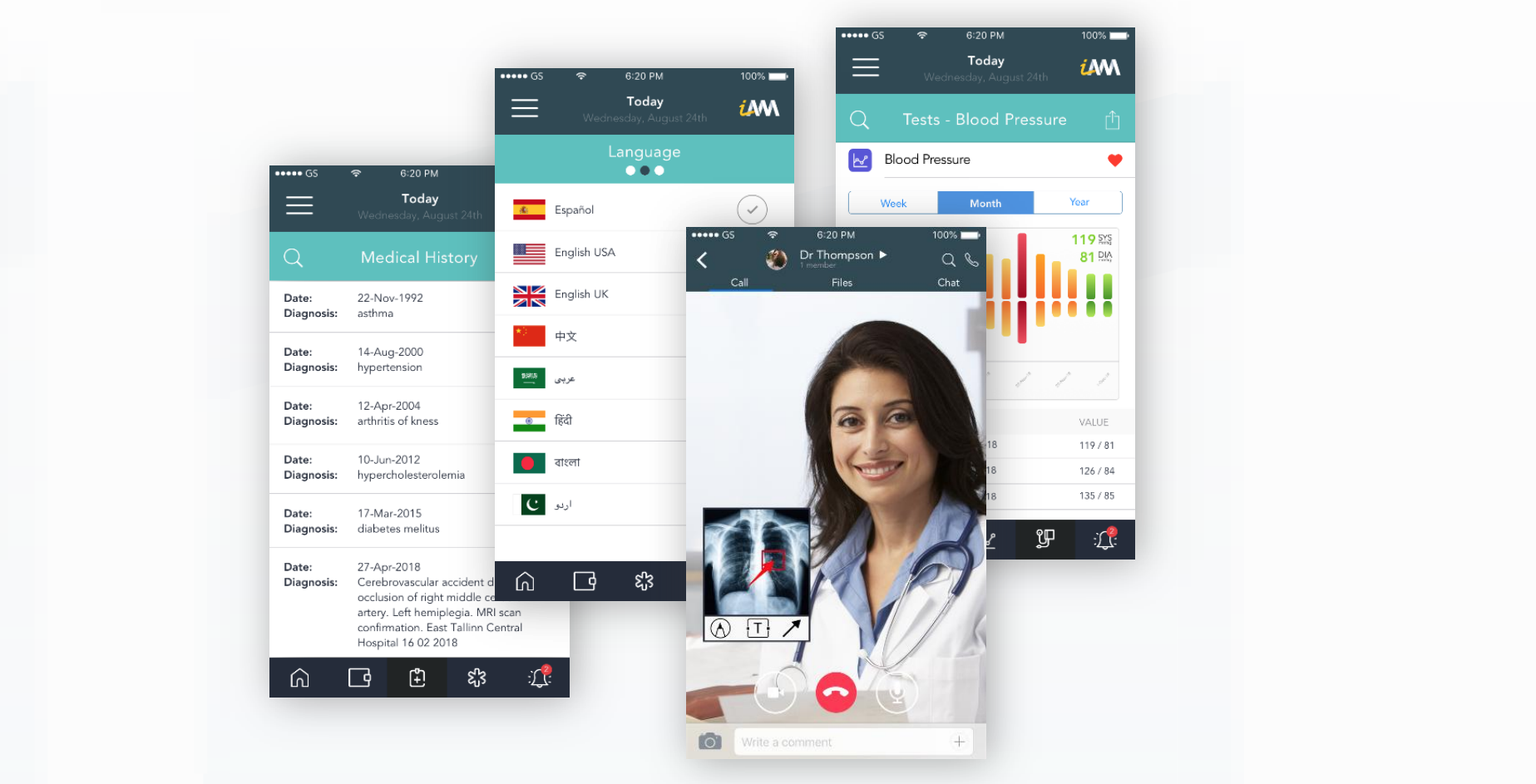 This application can also be used by doctors to make the most effective treatment program for patients, which not only saves time but also money.
After receiving approval from the client, this application can be used by insurance companies, which will enable them to assess risks, and reduce costs and eliminate the possibility of fraud.
Research and analytical companies will be able to buy reliable data directly from customers, not including the possibility of selling data by scammers. This will increase the efficiency of medicines produced by pharmaceutical companies and reduce their costs.
The main resource used on this platform is IAM coins, which can be purchased during ICO.


ICO date and details
Public sales of IAM coins will be conducted from January 16 to March 14 2019. A total of 500 million coins will be sold. The cost of one token will be $ 0.16 in the first weeks of sales and $ 0.4 in the period from March 1 to 14.
The hardcap of this project is $ 35 million.
The token distribution is as follows: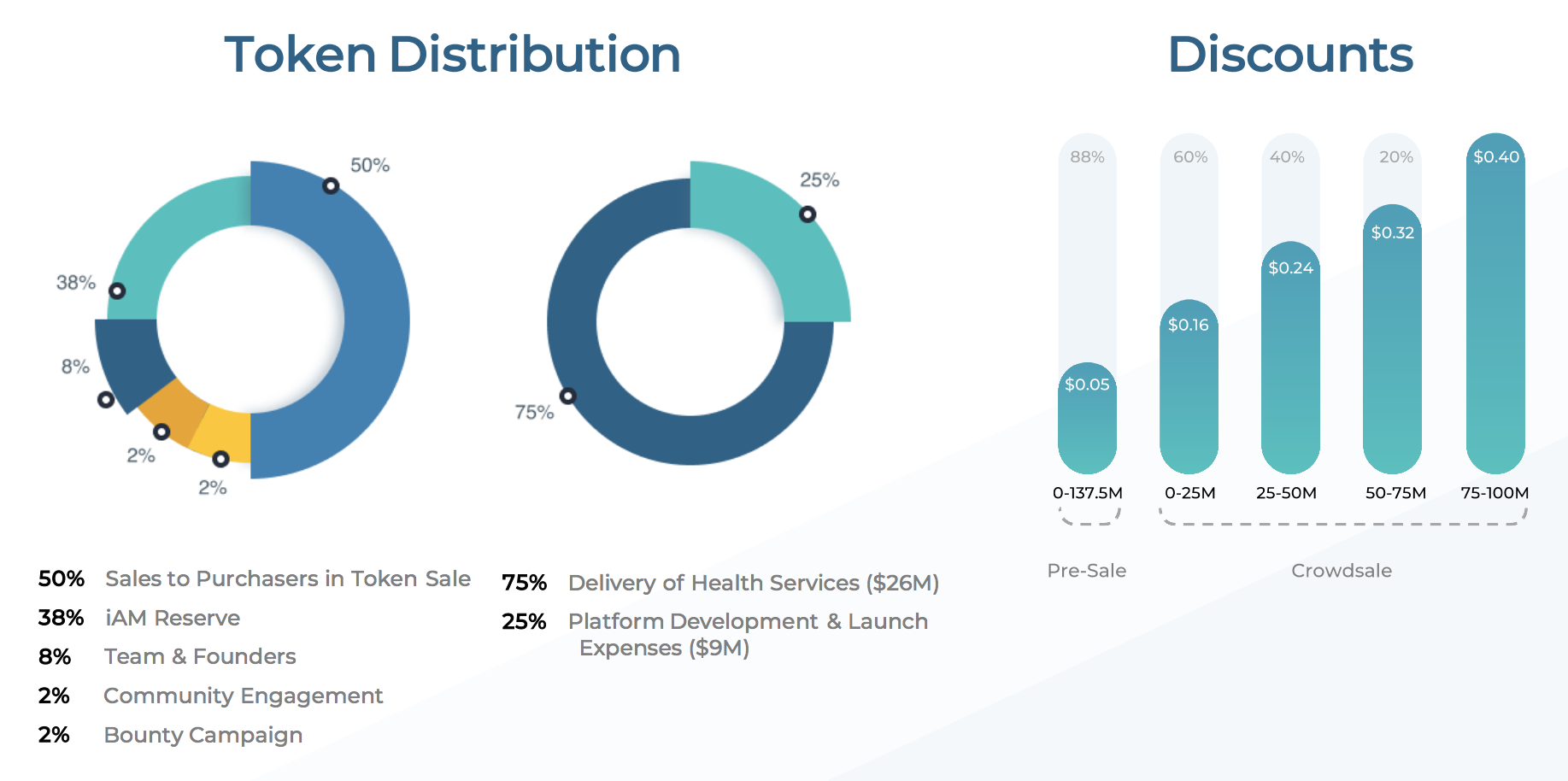 Roadmap
iAM has used MVP in the form of a fully operational personal care record mobile application.

We have also demonstrated the success of integration with Guardtime.

IAM HealthAM is the foundation for the Healthy Athlete Software system used by the Special Olympics.

This system has recorded data for more than 1.8 million athletes since 2003. The HealthOne iAM architecture is used by more than 3,000 doctors in five countries.

He manages the lives of more than 6 million patients.
Lay the foundation for the iAM Health Care economy
2018 Q4
now crowdfunding

Further integration with DXS, Healthcare Gateway and Patient Advocate
2019 Q1
Integrate Guardtime technology solutions (KSI & HSX)

Increase iAM Web and Cellular Application UI.

Ioa IoT platform integration

Integrate decentralized Wallet embedded in iAM mobile applications and for Fiat "on ramp"

Improved note sharing through smart contracts

Activate the iAM Platform Store.

Write, Share, Pay and Get through digital health care economic transactions.
Deploy personal care records of medical insurance companies.

Integrate Validic
2019 Q4
Deploy plans to scale to the United States and Australia
Conclusion
The idea of ​​this platform to solve many health problems is very relevant. The success of this project is provided by a number of important factors, a team of experienced specialists working on its manufacture and the project already has a mobile application, which is used by 1.8 million athletes and 3,000 employees of medical institutions in 5 different countries.
In this case, investing in this project, you don't take any risks, like you are investing in a ready business, designed not only for UK citizens, but also for people from all over the world
The official source of the Instant Medical Access project:

 WEB SITE:   https://www.instantaccessmedical.io 


 TELEGRAM:   https://t.me/iAMcommunity 


 ANN THREAD:   https://bitcointalk.org/index.php?topic=5039302.0 


 FACEBOOK:   https: //www.facebook . com / instantaccessmedical / 


 TWITTER:   https://twitter.com/health_iam/ 


 LINKEDIN:   https://www.linkedin.com/company/instant-access-medical/ 


 REDDIT:   https://www.reddit.com/r/ InstantAccessMedical / 


 YOUTUBE:  https://www.youtube.com/channel/UCJjoVE28KculQy8PlbvzbyA/
Username: Schildhauer
Link: https://bitcointalk.org/index.php?action=profile;u=2354217
Ethereum address: 0xc94bE4b50259F72D21ff9d9099b6b132713F7a17