IATokens Providing Real World Solutions & Utilities
Despite the potential of the real estate market, investors continue to face numerous problems and limitations when investing in the overseas market. IAT aims to utilize the blockchain technology to provide solutions to these issues.
High Charges and Fees
The initial purchase of a property entails costs such as documentary stamp tax, transfer tax and the title registration fee, which ranges between 2.25 % — 3%. Coupled with administrative and miscellaneous charges, the total would usually amount to 5% — 6%. Developers may also pass certain fees and taxes onto you and will increase the total sum of fees payable to as high as 12%. One has to also note that property of a certain value will also have a 12% value-added tax (VAT) included into the property price.
Selling a property presents a different set of charges and fees which includes capital gains tax of 6% (charged based on the resale value, bank valuation or government zonal value whichever is higher) that is essentially a sales tax as it is being charged on the entire resale value. Lastly, agent commission will be between 5% to 6% of resale value.
As such, all-around transactional costs for a property owner in the Philippines will range between 17% to 24% which is extremely high. However, we are able to reduce the total costs drastically by at least 50% with the IAT ecosystem. By setting up legal holding companies, we are able to achieve the major reduction of the above charges and fees.
Transparency of Process and Documentations
The degree of documentation transparency has always come into question for the retail buyers. One has to often put trust in the developer, broker or whoever has been engaged to handle the entire process. At times, it is made even worse when the sales contract is not written in a common language like English.
IAT aims to resolve this by utilizing the blockchain technology to obtain a high level of transparency and immutability. For example, the terms and conditions between a tenant, landlord, and their brokers will be immutable once it has been agreed and executed on the blockchain and with the utility of the IA Tokens as the currency of transfer.
High Annual Fees for Property Owners
Besides the high costs when acquiring a property, the costs of maintaining one is relatively high as well. Taxes are as high as 30% and even if an owner were to operate their property with Airbnb, the company takes 15–20% margin from the rent.
By utilizing the IAT platform, transactions can happen by utilizing IA tokens which would reduce the costs above. Even if the property owner were to utilize the platform to secure a short-term lease, the company will only charge a nominal fee of 5% which would give the owner a cost savings of 15% over using the Airbnb platform.
Restrictions to Foreign Investors
Countries have been known to implement regulations to curb a growing real estate market by imposing restrictions on foreign purchases in an attempt to slow or stop that market from ballooning or forming a bubble. Utilizing the blockchain technology and IAT platform, we are able to break through these traditional barriers.
IAT Beta
To break the real estate traditional channels, IAT will develop its own web portal to cater individual owners, agents/brokers, clients and all the IA Token holders. The portal will feature various functionalities and wide range of services.
Utilities & Benefits
The IAT ecosystem encourages the use of NIAT for these benefits.
The IAT Tokens Ecosystem
We want to create an ecosystem where token holders freely trade and interact with other token holders and as well as investors who are looking to acquire IA Tokens for their portfolio. As such, the company commits to acquire listing with various exchanges so as to facilitate the trading and liquidity of the tokens.
We look towards maintaining the high liquidity of the IA tokens by creating various channels of token utility to reduce the supply of the tokens and acquiring quality properties to be digitized into the ecosystem of IAT.
We will be reserving a portion of the funds raised to form a liquidity pool for the purchase of NIAT using the IA Tokens.
IAT Token
IAT will be issued via a Token sale with a total supply of 4,500,000,000 IA Tokens. The price of the IA Tokens will be pegged to US$0.01 per token, ETH and BTC will be accepted. Value of tokens for sale will be US$20 million (inclusive of Early Investors, Pre-sale and Crowd-sale) with distribution according to the table below. Unsold IA Tokens (cap at 40,000,000 IA Tokens) will be given to charity organizations and remaining IA Tokens will be burned. Pre-Sale will commence in early April with the crowd sale subsequently commencing in 15 June 2018.
Token Info
Platform – Ethereum
Type – ERC20
Price in ICO – 1 IAT = 0.01 USD
Tokens for sale – 2,000,000,000
Min. investment – 0.1 ETH
Accepting – BTC, ETH, Fiat
Distributed in ICO – 44.44 %
Soft cap – 1,000,000 USD
Hard cap – 20,000,000 USD
Roadmap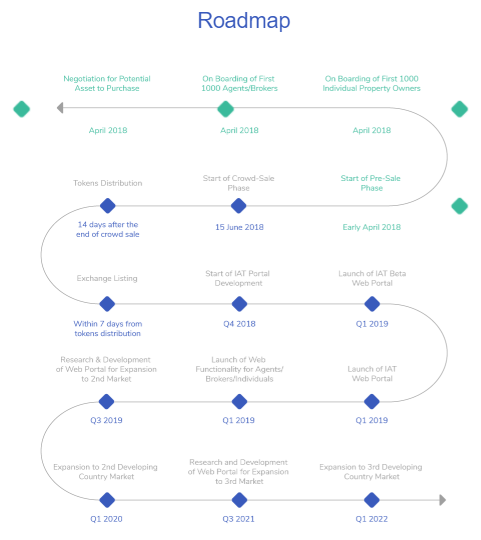 IAT plans to take a leading role in all facets of real estate locally and hopefully globally to make this a reality, starting with disrupting the rental and property market and tokenizing large real estate assets
The IA Tokens concept aims to revolutionize the real estate industry using Blockchain technology through the development of the IAT Platform. Funds raised from this ICO will be used to develop the IAT blockchain and the asset management will be undertaken by our existing management company that is currently operational. The Platform will cater to the Philippines market first and we look to expand into other developing markets in Asia.
Visit IATokens on :
Website : https://www.iatokens.com
Whitepaper : https://iatokens.com/docs/IAT%20WHITEPAPER.pdf
Twitter : https://twitter.com/IA_Tokens
Facebook : https://www.facebook.com/IATOfficial/
Telegram : https://t.me/iatokens
Writter
Bitcointalk Username: Kenzio2016
Bitcointalk Profile: https://bitcointalk.org/index.php?action=profile;u=1999681
ETH Address: 0x152095898a7Aa50a716508f5997790beEdd276Ec