Lately, a steadily increasing number of ICOs are being launched, and consequently, there is an increase in problems that plague these kinds of investments, such is the mistrust that potential investors have in the Crypto-Asset industry, because it's somehow hard to differentiate between a legitimate and illegitimate ICO project. As a result, even high quality and legitimate startups or existing companies struggle to have a successful ICO.
This calls for many stages of verification and due diligence to ensure that an investment is sound, well-organized and have general quality assurance.
As a Crypto-Assets writer and enthusiast, it's a must to carry out research/due diligence in validating the legitimacy of an ICO project before writing on or recommending it. I have a number of questions I ask and things I look for in an ICO project before I could give such a project a yes-yes. One of the things I look for is "the Goals, the Team and the Partners" of the project. And in this particular ICO project I'm writing about, it's a yes-yes.
Ice Rock Mining (IRM)
Ice Rock Mining is here to bring bitcoin mining to the investment world. The company believes that bitcoin has a long and significant role in the new monetary system that is forming. And it goal is to raise capital and scale it mining business; it's currently in operation and already delivering returns to it investors. With Ice Rock, investors become partners and share in the realization of profits, while assuring themselves a stable and passive income. Because of it efficiencies, it's able to operate on lower costs and thereby pass those savings on to it investors. With today's hashrates, it ROI to investors is over 200% per year, and could increase if the price of bitcoin appreciates.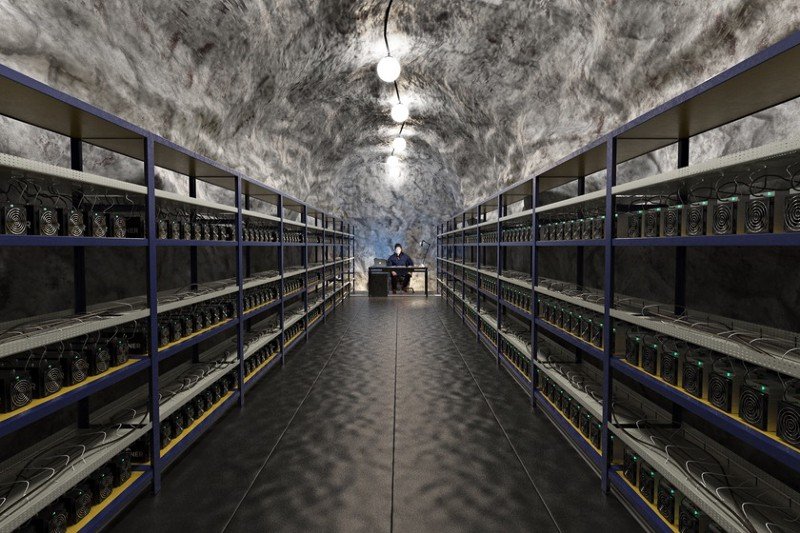 Ice Rock Mining is trying to offer an alternative method of mining, through cloud mining, but additionally, it hope to make cloud mining profitable as it has managed to increase its own margins through cost-cutting measures.
What Ice Rock Mining is accomplishing is seemingly taking the costs of mining, and mitigating them through the use of an ideal underground space. Electricity and cooling costs are extremely low and rent is negated as it owns the entire cave system. By allowing the investor to be a part of this, the margins are naturally much larger than competitive cloud mining operations.
Ice Rock Mining is looking to combine a few facets of cryptocurrency in order to enact a business. It sees that there is the opportunity to share it mining space with others who also want to profit on their large margins. It's creating an ICO to make this happen.
How is Ice Rock Mining different from other mining based platforms? What are the advantages that it holds over the competitors?
There is a constant temperature of 12 degrees Celsius (53.6 degrees Fahrenheit) throughout the whole year inside the cave. It makes crypto mining in such mountain very effective as there is no necessity of active GPU and ASICs' cooling and construction of accompanying heavy fabrications. Due to location of the mountain in the countryside, the company has an agricultural subsidy for electricity which provides it an opportunity to receive one of the best electricity prices in the world. All of these above-mentioned factors reduce the capital costs for cryptocurrency mining by 25 %, which makes it more efficient and economical.
Other advantages are:
• IRM uses 100% green hydroelectric energy
• IRM uses natural building materials to house mining rigs
• IRM has an equal or even lower carbon footprint as HydroMiner
• IRM has no rent or lease to pay
• IRM has ultra low cooling costs
• IRM has ultra low capital investment costs
• IRM has BTC, ETH, LTC and Dash to mine along with future Altcoin selection
• IRM has return rates as high as 200% in 6 months
• IRM is not top heavy; there are not a lot of people on the payroll
I have done a lot of digging on IRM and I am yet to find any major red flag that would make me give up on investing in their ICO. The team is absolutely amazing and they have been working on IRM as a whole for sometimes now. I have tracked the records of various members of the team and I can say that they are incredibly professional.
IRM is the best cloud mining option available. And, as far as a low carbon footprint operation, this is the best. At today's ICO prices, there is no other cloud mining company that offers 200% returns in 6 months or less. They have the lowest capital and operational costs in all of mining. These savings are passed onto the investor whether buyback investor or contract miner.
ICO Details
The main ICO began on March 20, 2018 and will end on May 25, 2018, with a hard cap of 13500000 USD
Token Information
Token: ROCK2
Price: 1 ROCK2 = 1 USD
Platform: Ethereum
Accepting: BTC, ETH, LTC and BCH
Minimum investment: 100 USD during Pre-sale and 50 USD during Main Sale
Hard cap: 13500000 USD
Country: Kazakhstan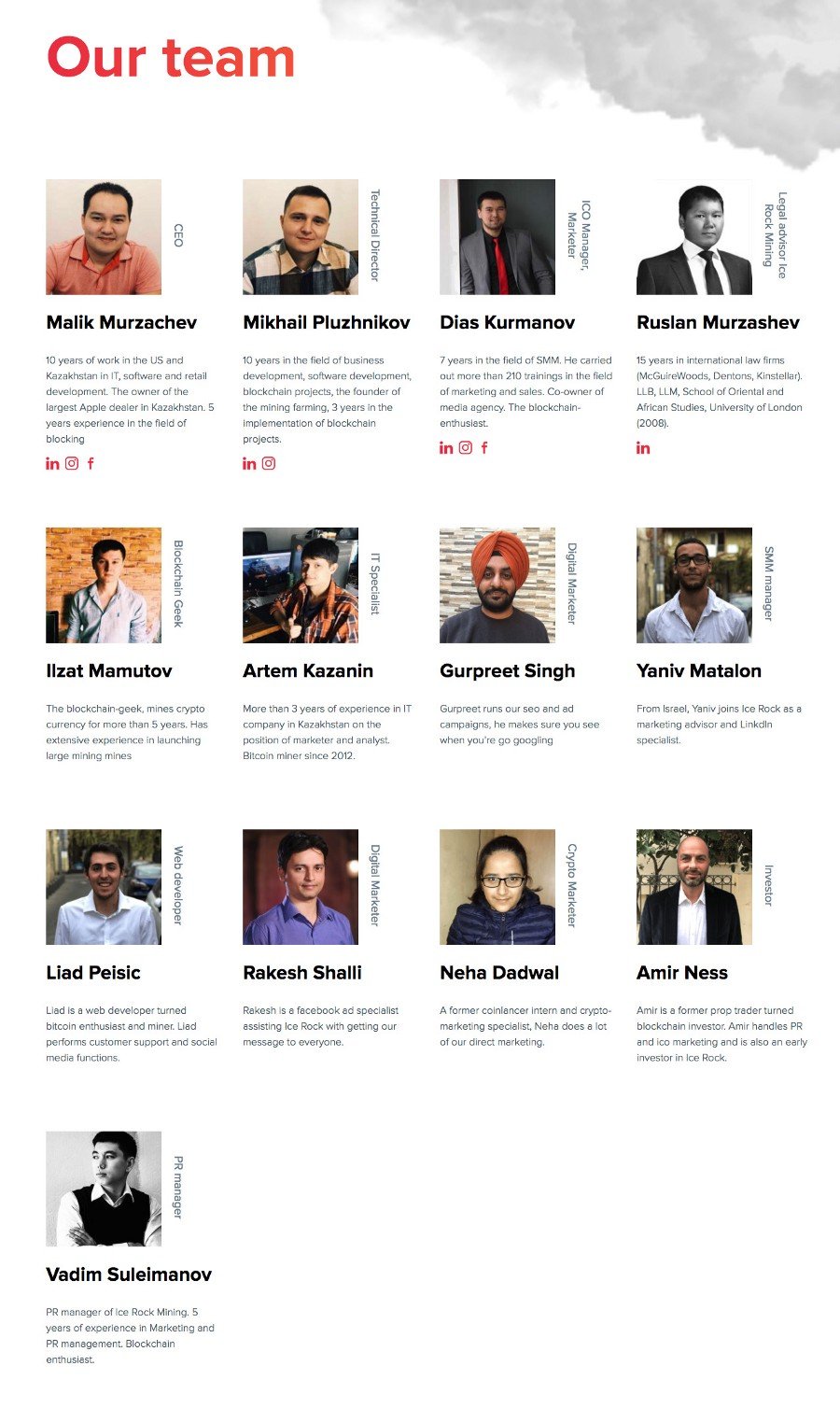 For More Info:
WEB: https://icerockmining.io/
WHITEPAPER: https://drive.google.com/file/d/1h8Njerb8qePWsjxrAon4jgHg–nt_cF1/view
TELEGRAM: https://t.me/joinchat/Emenog0u3kyNRusZjFbFWA
TWITTER: https://twitter.com/icerockmining
FACEBOOK: https://www.facebook.com/IceRockMiningICO/
BTT Profile: https://bitcointalk.org/index.php?action=profile;u=1112636
Author: Cryptocraz
Bitcointalk Address: https://bitcointalk.org/index.php?action=profile;u=1698372