Ideal Data Memory (IDM) – A technological breakthrough in security and safety of stored and transmit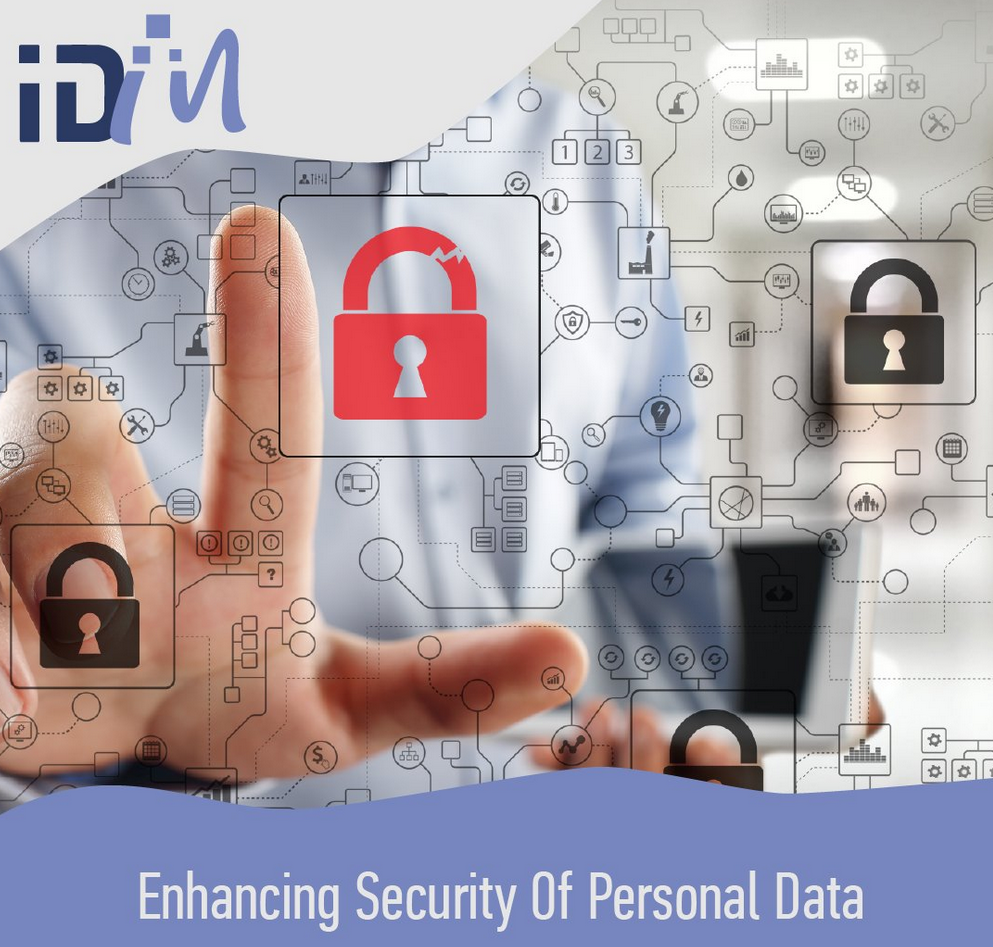 The 21st century is the age of information. More and more data are generated on the daily basis creating an ever-increasing demand for storage space. Not every home computer, let alone a mobile device, can store all its own generated data. The capacity of the built-in memory is growing along with requirements for data safety. The increased volume of generated data proportionally increases the number of potential threats to the storage of this data
With the growth in the number of devices, cloud storage services are becoming increasingly important. Many cloud storage providers promise fast, reliable and convenient services. However, the things are a bit more complicated.
The year 2013 was marked by a scandal involving the outdated SSL service certificate by Microsoft Azure which provided criminals with an opportunity to hack the Xbox Live system;
The so-called Celebgate incident, which happened in 2015, when hackers stole intimate photos of some celebrities from the iCloud (Apple) cloud storage;
The number of hacks inflicted on cloud services is growing every year at the rate around 50%;
Approximately 70% of companies have at least one application running in a cloud;
Lloyd's of London and Cyence believe that a massive attack on cloud storage can cause losses in excess of $ 5 billion, and only 15-17% of the total amount will be covered by insurance;
In 2017, the data storage of Equifax, the US leading consumer credit report agency, had been hacked resulting a personal data loss of 143 million customers. Consequently, the value of company's stocks has plummeted by 13%;
The absence of two-factor authentication resulted in a personal data theft of 80 million customers of Anthem, an American health insurance company.
Countermeasures to emerging threats
The encryption of data by the user could be a viable method of countering cyber-attacks and potential data theft;
Another way is to select an additional option offered by cloud service, which provides uploaded data to be encrypted by the service;
The two-factor authentication (2FA) allows to increase the level of data access protection with minimum costs; 4. An anti-virus software which is a more conservative method of data protection.
IDM
IDM has its own patented data protection technology called SIZE and is preparing to launch a new service – a global decentralized ecosystem that connects users who want to store information safely and miners who provide memory on their devices to generate income. Our development team has created a working prototype of a cloud storage service called BoobookBox. The service was launched in 2015 and has more than 2 thousand active users. The working prototype was launched to test the technology, both by developers and third- party organizations.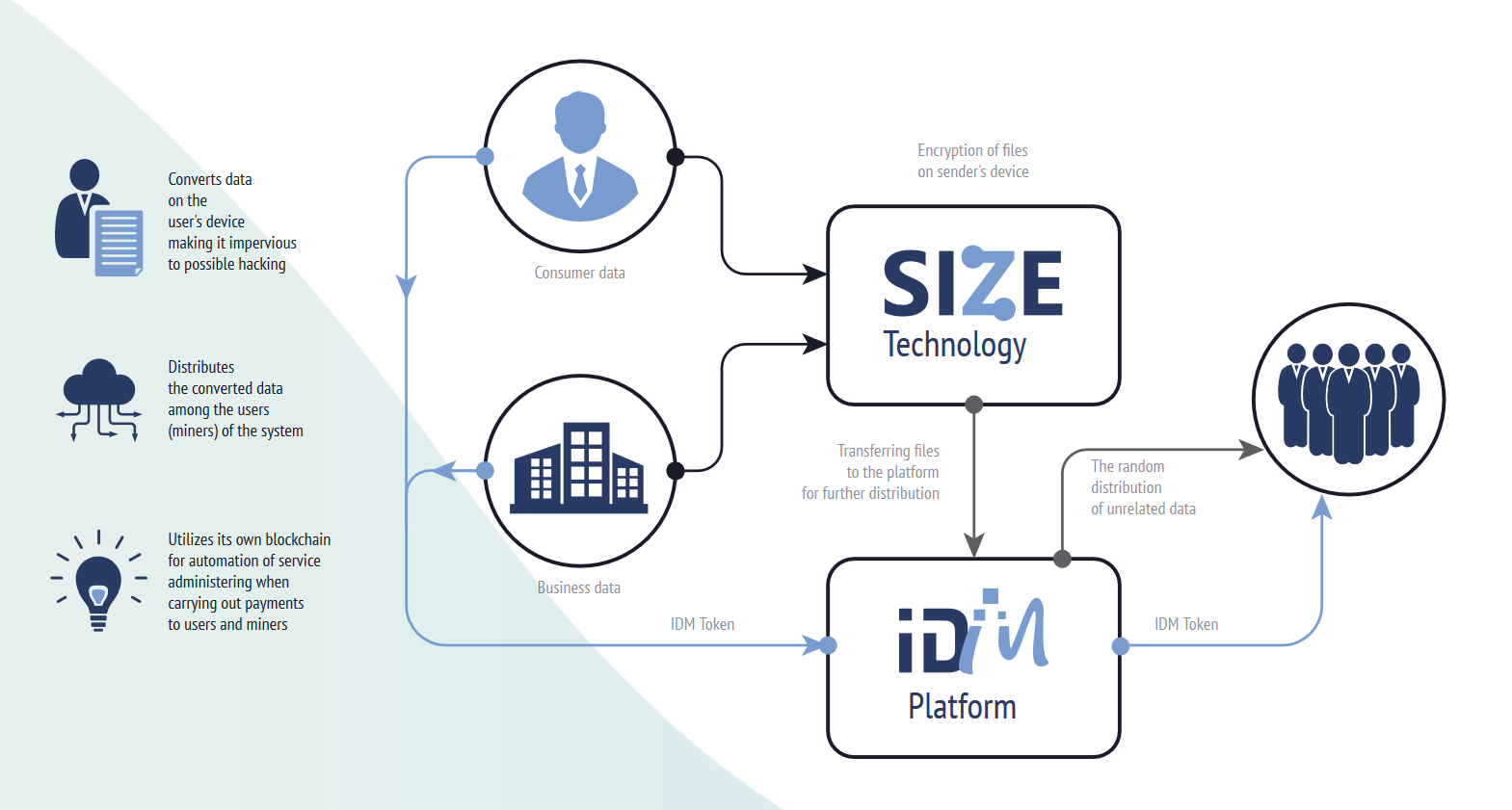 IDM can successfully compete with all cloud data storage services, as it offers following exclusive features:
o The most safe and secure data storage system and data transmission
o Affordable price
o The only player on the market offering this level of data protection
o Savvy marketing strategy
o Legal guarantee on data security
IDM focuses on strictly defined segments of the consumer and business market, and takes advantage of a competitive market opportunity, namely the demand for secure data storage.
Solution to the global problem
Global expansion of the IDM data storage service powered by SIZE technology, will prevent consumers and businesses from losing data, and therefore, from suffering losses associated with hacker attacks and theft of information
PROJECT OBJECTIVES
The main objective of this project is to raise funds for the development and scaling of the existing data storage service, combining SIZE, the innovative technology of post-quantum encryption, with the blockchain.
Protect your information today and tomorrow
In the foreseeable future quantum computers will be able to break practically all existing types of cipher. For this reason, it is vitally important to start solving the problem of future data protection today. IDM service has solved this problem
Secure data storage is a vital necessity
The highest level of data protection, previously available only to government structures, is now available to public. IDM will become the new important attribute of everyone's life just like an ID card.
IDM is a public service with protection surpassing existing government standards for secure storage of information
The need for the guaranteed security of stored documents
Currently, there isn't a single data storage on the market that can guarantee the absolute security of the documents that have special value and, at the same time, is accessible for the ordinary people.
The consumers have the demand for secure storage of their personal and classified documents of particular importance
IDM introduces the service that can boast the superior level of security which is way higher than the one offered by any of the similar providers on the market and exceeds all State standards regarding the secure data storage
Despite the fact that almost all State services have the highest level of data protection, they also experience the leak of data
ICO & TOKEN DISTRIBUTION
TOKEN DETAILS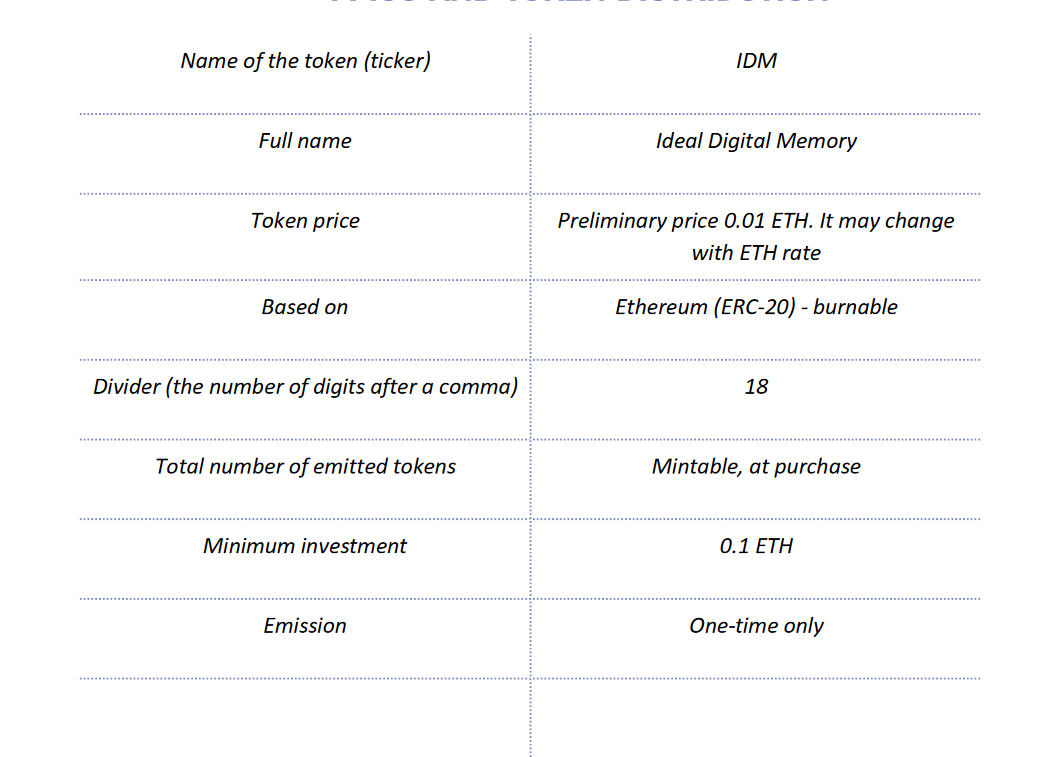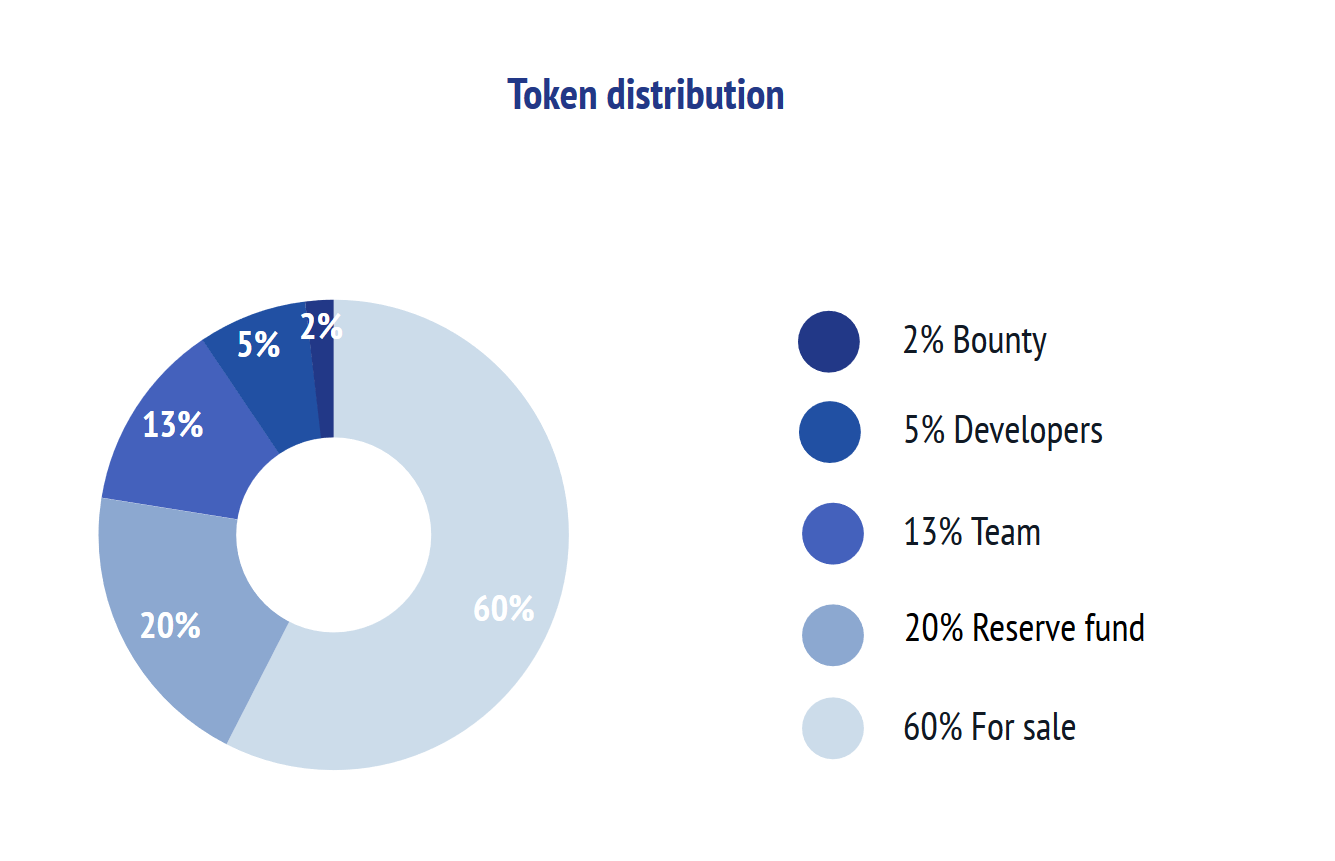 ROADMAP
2010-The SIZE algorithm was successfully tested on CamGrid network at the Cavendish Laboratory at the University of Cambridge in the United Kingdom.
2012 –Foundation of Equivalence AG
2014-An ultra-secure file-sharingprogram based on SIZE technology was introduced at "Hack in Paris" where the global hacker community tried to crack the algorithm without success.
2015-The launch of a publicly available version of the BoobookBox for business and private users.
March 2018-Technology has been successfully tested in European cybersecurity laboratories.
April 2018-ICO for the global decentralized ultra-secure storage service IDM
2019 –Launch of IDM service
2019-Development of the cloud blockchain platform (SaaS) based on SIZE data protection technology
2019 -2020 -Implementation of a marketing strategy for the promotion of the IDM service and SIZE technology
2020 – 2022- Development of a decentralized and distributed cloud platform (PaaS)
MEET THE AMAZING TEAM BEHIND THIS GREAT PROJECT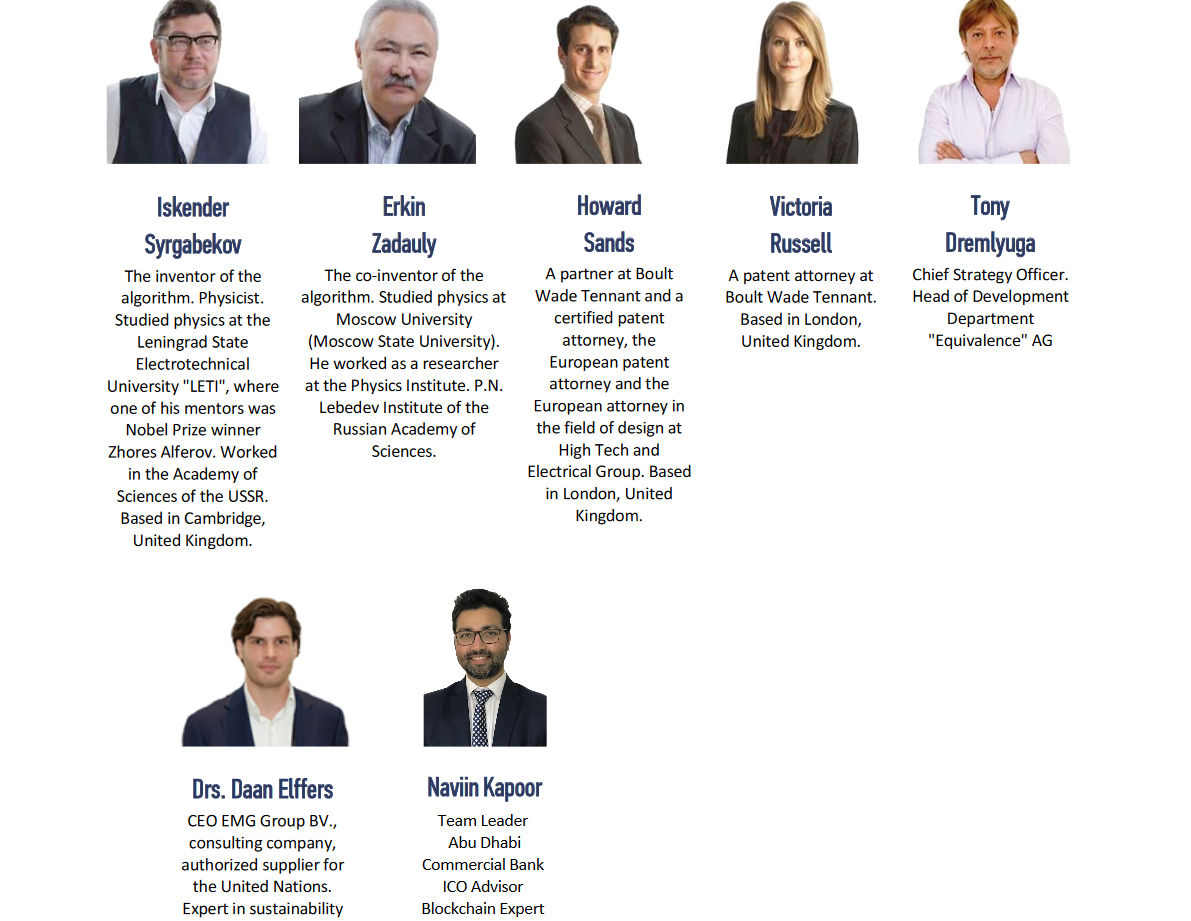 For more information, please visit the links below:
Website : https://myidm.io/
Whitepaper : https://myidm.io/img/doc/wp_en.pdf
Ann Thread : https://bitcointalk.org/index.php?topic=3395543.msg35555064#msg35555064
Video : https://myidm.io/video/idm_720p_en.mp4
Facebook: https://www.facebook.com/IDMdatasec
Twitter: https://twitter.com/IDMdatasecurity
Reddit: https://www.reddit.com/user/IDMdatasecurity
Telegram : https://t.me/idmprotect_en
Author: Chinedum
My BitcoinTalk Profile: https://bitcointalk.org/index.php?action=profile;u=2010004