IDM(Ideal Dat Memory)
We live in an age in which the number of threats against our digital data is growing on a regular basis. This is why it is important to seek out and use solutions that are designed to protect data as efficiently as possible. IDM is a cloud data storage system that is enhanced by its patented SIZE technology. SIZE technology is immune to attacks from hackers and viruses.
IDM offers the safest storage system available at a competitive price. The level of protection offered is unparalleled and comes with a legal guarantee of data security. This is an excellent solution for companies and individuals alike.
IDM protects you with an absolute cypher and the one-time pad principle. Our post-quantum technology is able to fully protect your personal communication and independent metadata management enables users to manage, protect, and search through information that users have chosen to store on the service. What's more, it is possible to recover files even if up to 98% of data has been lost.
IDM is able to automatically recover and replicate information from unreliable storage nodes. This keeps information safe from dropping to a critical level which would make recovery impossible.
Data theft and data loss are serious problems in today's digital world. IDM has the solution with a unique system that is the first and only erasure code algorithm featuring integrated data protection, security, and data management functions and not requiring significant computing power.
Global problem
Rough estimates suggest, as a result of a cybercriminals' activity, the global economy loses$ 114 billion annually. Since the emergence of the WorldWide Web, the United Stated alone suffered losses of around $400 billion. This is three times more than the country's annual budget for education.
Solution to the global problem
Global expansion of the IDM data storage service powered by SIZE technology, will prevent consumers and businesses from losing data, and therefore, from suffering losses associated with hacker attacks and theft of information
Architecture
Countermeasures to emerging threats
The encryption of data by the user could be a viable method of countering cyber-attacks and potential data theft;
Another way is to select an additional option offered by cloud service, which provides uploaded data to be encrypted by the service;
The two-factor authentication (2FA) allows to increase the level of data access protection with minimum costs; 4. An anti-virus software which is a more conservative method of data protection.
Safety rating of popular cloud storage services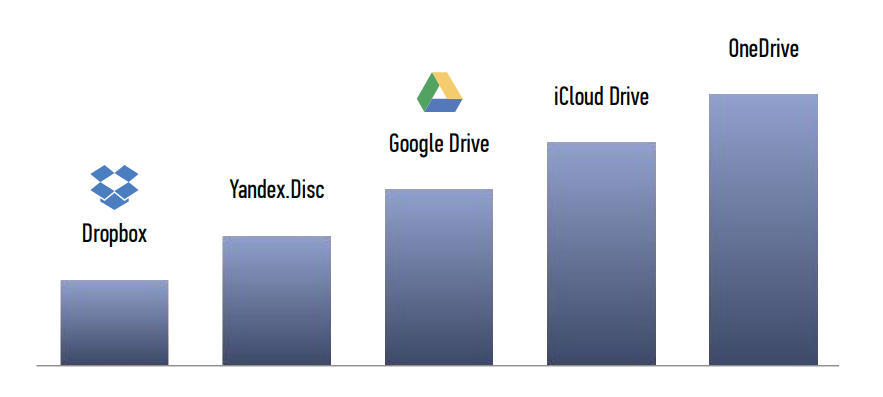 The world-famous company UBER was subjected to a massive cyber attack, as a result, the data of 57 million drivers and customers had been stolen.
The most disturbing thing was covering by the company the very fact of hacking and theft, and the payment to the perpetrators a ransom of $ 100 thousand dollars. The attack was interesting in itself because hackers got access to the company's data through the GitHub service, where they hacked several accounts, downloaded data from Uber employees and with this data accessed a huge array of Uber data in the Amazon Web Services used by Uber for calculations.
Several years earlier, Yahoo and Equifax were hacked, along with many other companies and private accounts.
The need for the guaranteed security of stored documents
Currently, there isn't a single data storage on the market that can guarantee the absolute security of the documents that have special value and, at the same time, is accessible for the ordinary people